Donate to childrens charity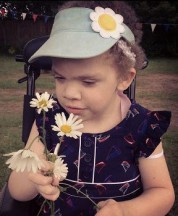 Contact Details
NB: this is a forwarding address, we do NOT disclose home addresses
Other Information
Parents/Guardians - Stephanie and Andy
Interests - Looking at colourful books, drawing and painting, dancing and listening to music, playing with dollies and tea sets, watching Cbeebies. Obsessed with Thomas the Tank Engine, doesn't like cuddly toys.
Favourite Colour - Pink
Able to read? - No
Able to use hands? - Yes
Visually/hearing impaired? - Yes - Daisy is registered partially blind.
Suffers from any developmental delay? - Daisy is developmentally delayed. Her receptive skills are very good in that she understands a lot, but her communication skills are limited. She uses Makaton to communicate.
Siblings - aged 3 to 16 wishing to receive post
About - Daisy N
Update 10th August 2009
We have been home for two weeks now, the first spent at home and the second at our hospice, just spending time together as a family. We are slowly getting into the swing of things, but it is impossible to really relax, as Daisy coming home does not mean she is better, it just means that we have now been trained to manage her care to have her at home. However the bonus is that we are all under the same roof at long last!
Life is not without its worries – she is neutropenic at the moment which means we cannot mix at all, and her orthopaedic issues are getting worse and worse, probably meaning that surgery is not far off. We are managing the TPN at home and keeping everything crossed she stays infection free and out of hospital for a while.
Thank you so much, as always, to all our pals all over the world who make sure Daisy and her siblings are remembered. Jules was especially pleased with the birthday cards he received. Thank you Viks and Post Pals – you are all truly fantastic!!
Update July 2009
After 10 months in hospital, we are HOME!
Update 16th June 2009
Just to let you know that Daisy has taken a bit of a backward step and will not be discharged home as hoped on the 24th June. Instead, she is on Rainforest Ward at Great Ormond Street for the forseeable future. Everyone is working to get her home at some point but we just don't know when – next month she will have been in hospital 10 months. We are all missing being together as a family – particularly while we are in Great Ormond Street as I rarely see the other children and Daisy is currently too poorly to cope with a visit from them.
Thanks as always for the lovely mail and cards – some of the pals are so clever with their cross stiching, arts and crafts and photography! And the Peppa Pig sticker book from one Pal has been the biggest hit ever – it arrived at a time when Daisy was feeling really poorly and really cheered her up. Thank you everyone xxxx
Update 9th June 2009
Daisy got yet another line infection in May, this time during a respite stay at our hospice away from the hospital for a while. This resulted in her being blue lighted from our hospice to Royal Surrey Hospital, stabilised and then transferred back to Queen Mary's. Last weeek she was transferred back to our other second home, Rainforest Ward at Great Ormond Street, and she will be here for the forseeable future. She has already had a couple of blood transfusions and a procedure under general anaesthetic and is waiting for another detailed scan of her kidneys to see if they are damaged and causing her high blood pressure.
The exciting news is that we have begun training to administer Daisy's TPN and IV drugs and the plan is that when we actually leave here we will go home!! The reality is that after nearly 10 long months in hospital, the end is in sight! We are trying to put the support in place for when we go home and are also getting help from the palliative care team in managing Daisy's pain. The other children are so excited that Daisy will be coming home at last but there will be a massive amount of readjusting to do for all of us. I feel very institutionalised and will need to get used to caring for all four children under one roof!
We are constantly cheered up by the Post Pals mail and Daisy absolutely adored the "You are my sunshine" balloon, demonstrating it to all of the doctors! I have kept all of the cards and envelopes with addresses at home and we will write thank yous when we get back home. Thank you so much Post Pals for brightening up our long, long hospital stay.
Update 25th April 2009
We are back in Queen Mary's after a months stay at Great Ormond Street. Within 24 hours of being back Daisy had spiked a 40.2 temp and was back on antibiotics. I learned today she has staph in her line and they are still wondering if she also has Cdiff.
However, we were so cheered up by the MASSIVE amount of post waiting for us all. Daisy particularly loves her Chemo duck and has been showing it to everyone. Her cubicle is having a deep clean on Monday so we can't put anything up on the walls yet but I will be putting strings up after the clean to get all the cards and pictures on display. We just do not have enough time in the day to write thank you's yet but we will be doing so very very soon. Thanks Post Pals!!!
Update 23rd March 2009
Daisy is currently dealing with another infection and has been transferred back to Great Ormond Street to have her Hickman Line taken out. She is also going to have an upper and lower endoscopy to see if the drug therapy has helped heal some of the damage and lesions in her gastrointestinal system. She will also have a jejunostomy placed at the top of her intestine so that we can try and get more milk into her and reduce her need for TPN.
We have been so excited to receive the lovely cards and gifts from our Post Pal friends. All the staff on the ward get excited when there is new post for Daisy and her cards are decorating her cubicle walls beautifully. It's so nice to know that although she has been in hospital for 6 months she is not forgotten! Thank you from us all.