Donate to childrens charity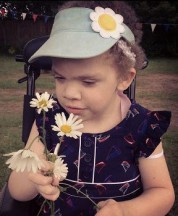 Contact Details
NB: this is a forwarding address, we do NOT disclose home addresses
Other Information
Parents/Guardians - Stephanie and Andy
Interests - Looking at colourful books, drawing and painting, dancing and listening to music, playing with dollies and tea sets, watching Cbeebies. Obsessed with Thomas the Tank Engine, doesn't like cuddly toys.
Favourite Colour - Pink
Able to read? - No
Able to use hands? - Yes
Visually/hearing impaired? - Yes - Daisy is registered partially blind.
Suffers from any developmental delay? - Daisy is developmentally delayed. Her receptive skills are very good in that she understands a lot, but her communication skills are limited. She uses Makaton to communicate.
Siblings - aged 3 to 16 wishing to receive post
About - Daisy N
Update 23rd July 2010
Hi Post Pals – I just wanted to let you all know how exited Daisy is when the porter brings the post to the ward, there is always something there for her courtesy of you lovely people.
It's tough for us at the moment as we have learnt that Daisy's condition is truly incurable. Everything we do for her is palliative and she will spend the rest of her life on TPN and transplant is probably not an option because of all her other problems. However, to know people are thinking of her gives us a lot of strength. Thank you to everyone that has sent a message, card, gift – your kindness means a great deal to us xxxxx
Update 7th July 2010
Daisy goes back into GOSH tomorrow for her surgery on Friday. As we know with all gastro children, things can take a long time to settle, so we are anticipating another long haul on rainforest and at our home hospital – or should I say bracing ourselves for a long haul and then we'll be surprised if it turns out not to be! We don't even know if the surgery will help but Daisy has an unacceptable level of pain and discomfort every night so we have to try. When she comes home she will hopefully start on oral ketamine for the pain which should help as long as her gut absorbs it.
Daisy loves receiving post – as she is visually impaired the brighter the picture the better. She is still a big Peppa and Thomas fan but a simple card or drawing will guarantee a smile and brighten her day. A big thanks to everyone who has sent Daisy and her siblings post recently.
Update 28th May 2010
Hi all – well another rollercoaster month has passed and this ride is not stopping!! Daisy ended up staying 3 weeks in GOSH and for 7 days needed continuous infusion of ketamine plus boluses to help with the massive amount of pain she was in. Her casts have now been removed and she is back to wearing splints for 24hours a day (not fun in the heat) – she is still unable to walk independently but we are really hoping that a two week stay at GOSH (which starts on Monday) for intensive rehabilitation therapy will get her on her feet and semi-independent again. At this stage we don't really know if the orthopaedic surgery has helped – her feet are flat to the ground but her Achilles tendons are inflamed and painful – only time will tell!
We were very excited to get a call this week asking us to come in for Daisy's ileostomy surgery at last – sadly a few hours later it was cancelled as no long term high dependency bed was available, so we continue to wait for the surgery which we hope will help with her pain.
We met with the palliative care consultant at our hospice and at long last have a pain management plan! She has prescribed some new medications which hopefully, once we get the doses right, will help with the awful discomfort she can often feel at night.
Andy and I worked out the other day that over the past 2 years Daisy has not had more that 4 weeks at home between hospital stays – in her life she has probably spent a total of 3 years in hospital – and she's only 5!
I tell everyone about Post Pals and how fantastic it is that people out there think of our family. I must thank Granny Ruth this month for Daisy's fairy outfit – she is a girl who loves dressing up and her tutu and flowery headdress are so gorgeous! And the students from Stourbridge College who designed and made books for Daisy are so talented – the book about Daisy's holiday is amazing – you have the family off to a tee!!! Thank you to everyone who remembers us – your kindness and generosity makes such a huge difference and really does put smiles on all our faces.
Update 23rd April 2010
Daisy came into GOSH for her orthopaedic surgery and TPN review on Monday, but true to form threw several spanners in the works. She did not do too well after the anaesthetic and had an allergic reaction to one of the drugs. Her tummy has shut down causing her a lot of pain and now to cap it all she has a line infection. She is back on 24 hour TPN, IV antibiotics, morphine for the pain, and her legs are in casts. She will be here until she is stable then they will try and get her back to the local. In the meantime the need for an ileostomy has become more urgent and the team are working to come up with a date. We are dreading this but it looks like the only solution to get her put off pain, the worrying thing is how she will cope with surgery.
Andy tells me there is tons of post at home for her; I can't wait to get her to the local so she can open it!
Update 15th April 2010
Theo was sent a fantastic book from Sara and Meggie recently – he could not find the address to say thank you – please could you tell them the book and joke set are so up his street. He was really chuffed to be remembered too – though he is 13 he is still a little boy at heart, although he thinks he is more grown up than the others!!
Daisy is going into hospital for the week on 19th April for her surgery on her feet which will mean that she should be able to walk again!! She will also have a lot of tests to look at how she is coping being dependent on TPN. She'll have two anaesthetics that week and then will go to our hospice to recuperate for a few days as she does not respond well to anaesthetic and straightforward procedures can sometimes be quite problematic. We have decided to ask for the ileostomy to be put back to the autumn as she needs it but it will set her back so much and at this point we really want to have some quality time together as a family over the summer with minimal hospital stays.
Update 31st March 2010
Daisy has had 6 hospital admissions this year (mainly through infections) and this sets her back, but the moment she is able to she wants to be back at school with her friends.
We met with her surgeons at GOS and an ileostomy is now the way forward to try and give Daisy some relief from her tummy pain and try and reduce her dependency on TPN. However, this is major surgery and as Daisy is already immunsuppressed, it will likely not be straightforward and involve a protracted hospital stay. After much soul searching on what is the right thing to do to improve Daisy's quality of life, Andy and I have asked the surgeons to delay surgery until early autumn, giving Daisy a summer (hopefully) at home with the rest of the family.
However, in the meantime, her orthopaedic surgery to correct her foot deformity has been booked for 19th April. She will also have lots of other tests that week including another upper and lower endoscopy under general anaesthetic. She will stay in GOS for the week and then transfer to our local hospital and then after the weekend to our hospice for some respite.
Her muscles in her legs have become wasted and she now is reduced to shuffling around on her knees to move around the house, so once her plaster casts have come off and she has recovered from her surgery and procedures, she will then go back to GOS for a two week intensive rehab stay to try and get her built up again and walking independently. Of course all of this assumes she is infection free, which based on this year's track record is not looking promising! However, as always, Daisy is smiling, happy and brave; she is the one who gets us through it all!
Thanks to everyone who sends post, we try and write back when we can but at the moment we have weekly hospital visits (when not an inpatient) and my time is so precious. Every card is kept and every gift is treasured. I was particularly grateful to receive my Spa in a Box from Petra! And this week Daisy received the most fantastic dolly and baby buggy from Libby – just to let you know she has been called Lola and sleeps in Daisy's cot with her (and all her other cuddlies!). All the children get great pleasure from the mail and letters, even when it is for one of their siblings. They read the Post Pals site regularly and talk about some of the other children who are going through tough times – I think they find it reassuring that they are not alone. Thanks as always Post Pals xxx
Update 29th January 2010
Daisy is home but there are lots of things going on – we are able to get her home mainly because we can do home TPN and her bloods from here. She is still chronically anaemic and in spite of having iron in her TPN and enteral feed she is still losing it, probably as a result of her gut inflammation.
We are waiting for our date to come through to meet with the surgeon to discuss taking out the diseased bit of her colon and performing an ileostomy – we really don't want to rush into this as Daisy has so many issues going on and it's not a straightforward procedure at the best of times but could be even worse in her case.
Her endocrinologist is fixing a date to bring her back to GOSH to look at why her blood sugars keep dropping even though she is on treatment to manage this.
The other big thing we are dealing with is the problem with Daisy's tight heel cords. Having originally thought this would be the most straightforward of her procedures this year, we have been contacted by some of the other Costello syndrome families urging us to rule out tethered cord syndrome, as apparently some of the children with Costello have developed a condition where the spinal cord remains attached to the spine and this causes the tight Achilles tendons to develop if the child has a growth spurt or is treated with growth hormone (as Daisy is!). This would then mean complex neurosurgery added into the mix.
We try and protect the rest of the children from all of this but Theo had quite a set back when Daisy was readmitted to hospital and he is now getting support from a counsellor in school to help him talk through things. Jules and Xanthe are becoming real experts at signing and we are all learning more and more signs to help Daisy with her communication which is coming on in leaps and bounds.
We are so touched by the kindness and generosity of our Pals – we must mention Claudia from Germany who has sent the most brilliant presents through to the children – Jules has had the best time with the Dinosaur dig it out kit! We also have four lovely eggs on our windowsill growing assorted mermaids, princes and swans thanks to you! I will email Alison, our elf, properly and thank her for the lovely Christmas gifts. As always, we are so grateful to Charis and Lydia for their cards, messages and gifts for Daisy.
We are hoping that whatever happens medically for Daisy this year will no longer be emergencies but will be planned and focused on her quality of life.
Thanks to everyone at Post Pals for your wonderful work – you really are making a difference.
Update 4th January 2010
Tomorrow Daisy goes back to GOSH for a new Hickman Line. She was poorly with a chest infection over the latter part of Christmas/New Year so I am hoping this doesn't make her recovery longer.
The doctors are now talking about placing an ileostomy as her colon is so damaged. This is such a big step and we are really torn as it would hopefully relieve some of the pain she experiences but it is such a major thing with no guarantees. She also has to have the Achilles tendon surgery followed by at least 6 weeks in casts. Once these are off she will be back into GOSH for a fortnight of intensive rehabilitation under the rheumatology team.
I wasn't quick enough to get a picture of the children opening their elf boxes but have taken a lovely picture of them all by the tree with all the cards they received so I will email it when we get back from GOSH.
Happy New Year and thanks for everything!
Update 8th December 2009
Sorry have not updated for a while – we have been in and out of hospital with the usual high temperature crisis. Although they don't seem to be line infections it is all related to Daisy's gut going completely on slowdown and bugs moving around, being immunosuppressed doesn't help either.
We have been meeting with some of the consultant's looking after Daisy recently and the consensus seems to be that her already non-functioning bowel and gut has been damaged by the inflammatory bowel disease, this means that she faces the possibility of an ileostomy next year to see if it will help her gut restart and repair itself.
Before that she needs surgery on her heel cords which have become so tight that she will soon not be able to walk anymore until this is done.
Her hickman line is also going to have to be replaced electively as the repair to the tear in it that was done has become weak as she throws herself around so much in pain and pulls on it.
In spite of all of this she manages to get to school whenever she can and embraces everything life can offer her. We are really, really hoping that she will not be in hospital for Christmas or her birthday on the 22nd and have somewhat optimistically booked a trip to Center Parcs for a couple of nights for her birthday – since she has been on TPN we have never been further than our hospice in Guildford so we are keeping everything crossed that we can get away and really celebrate her 5th birthday in style. However, at the end of the day it doesn't matter where we are as long as we are all together.
Thank you so much for the mail, particularly the fantastic letters from Reindeer and Elves – Jules and Daisy are really loving these. As always Lydia makes Daisy's day with a mutual love of all things Peppa Pig.
Update 22nd November 2009
Well, Daisy is back in hospital. We thought it was a line infection but it is looking more like her inflammation in her gut is back. We recently had a big meeting with her consultants where it was decided to try an increase her enteral feeds with a view to trying to reduce the dependency on TPN, but unfortunately the tiny teaspoon an hour increase has sent her poor tummy on strike and made her poorly, so it is back to the drawing board. She's chronically anaemic and will need another transfusion soon. We hope that she can go to our lovely hospice at Chase for a few days next week for a break and to stay away from germs as she is also neutropenic.
She is still smiling and happy in spite of her pain and the ongoing pain in her hips and feet which we are still waiting surgery for – life is just a waiting game for us at the moment.
However, we are busy making big plans for a Christmas to remember – it's Daisy's 5th birthday is on the 22nd of December and that will mark the start of Christmas for us – every other birthday has been spent in hospital or at our hospice so we are really hoping that now we are trained to administer her TPN and IVs at home, we can keep her at home for the festive period!!!
Thanks to everyone who sends cards/messages, it is lovely to know that in our day to day struggles we are not forgotten.
Update 3rd November 2009
Daisy has been home for nearly two months now which is so wonderful. Being home has thrown new challenges – Andy and I are managing all the medical needs as we battle for the support she needs, this takes up so much of our time and is mentally and physically exhausting. She has added a rheumatologist to her team of consultants as she now has inflammation in her hips and knees – they are trying to decide if it is caused by inflammatory arthritis or a side effect of her hypermobility – whatever it is another MRI under general anaesthetic is looming. We are also waiting for the date for surgery on Daisy's Achilles tendons as they are so tight she cannot physically put her feet to the ground – this would also involve 6 weeks in plaster casts as a minimum – fun!
Nothing has changed with the intestinal failure issues – Daisy is still TPN dependent and it looks like this will always be the case, a small bowel transplant is probably not an option for her, this will be confirmed once and for all at our appointment at Great Ormond Street on Thursday, so all care is palliative. We are still struggling with the amount of pain she is in, particularly at night time, but this is outweighed by the benefit that we have her all to ourselves and not cared for by a medical team!
Since being home Daisy's cognitive development has increased massively – she is loving being back with her siblings and is so happy all the time.
Thanks so much for the Legoland tickets – they were used for our first family day out a month after she came home from hospital, it was so nice to do something normal again as a family. Thanks as always for the post we have received, the children loved their Halloween cards from the US, and Lydia and Charis just know that Peppa Pig is the thing that makes Daisy happiest in the world. So sorry for not updating for so long, we just don't stop and life, though so much better than being full time hospital, is one big juggling act!
Update 15th August 2009
Unfortunately Daisy only managed 18 days at home before going back into hospital with an infection. The fluid on her hip is back and the doctors think it is linked to her Inflammatory Bowel Disease. On top of all of this, her jejunostomy has come out and will need replacing surgically.
We are transferring back to Great Ormond Street from Queen Marys on Monday and really hope that she will be home soon. We are missing being a complete family again.