On the 25th of June over 100 people came from all over the UK to the Post Pals fun fair party.
Everyone was handed a bag of tokens when they arrived, which could be redeemed on everything from a helium balloon to hook a duck game plays and ice-cream. The kids were all excited to look through the tokens and put them to use.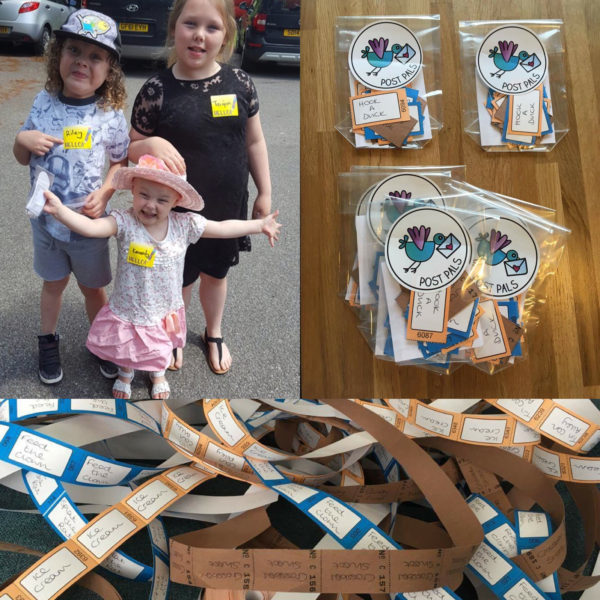 Lots of the children headed straight to our giant inflatables, sliding down the Helter Skelter, playing shark island on the Gladiator platform, dancing in the Disco Dome, doing the Safari Challenge or bouncing on the castle.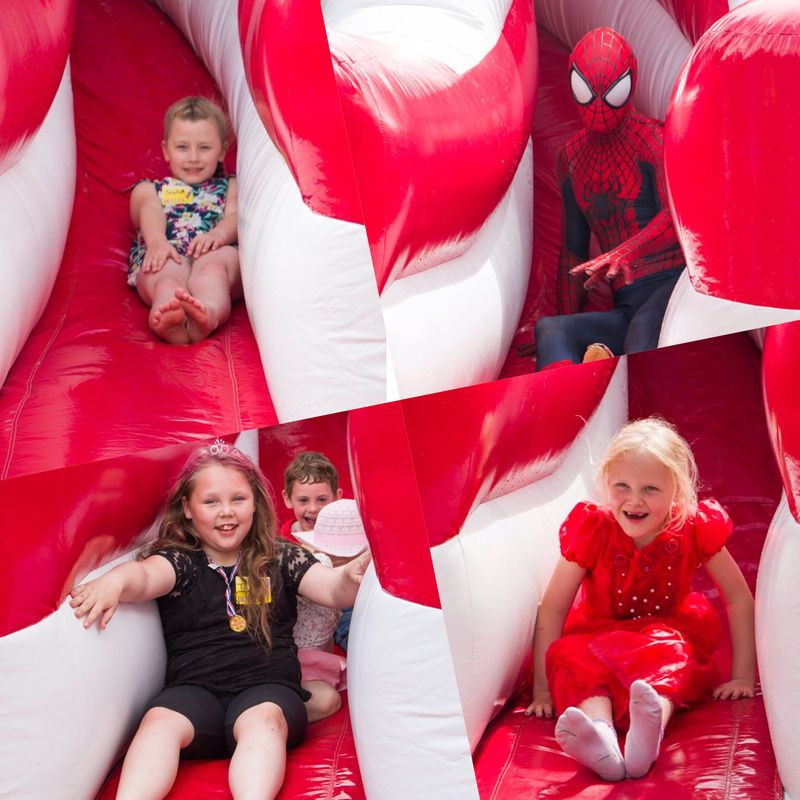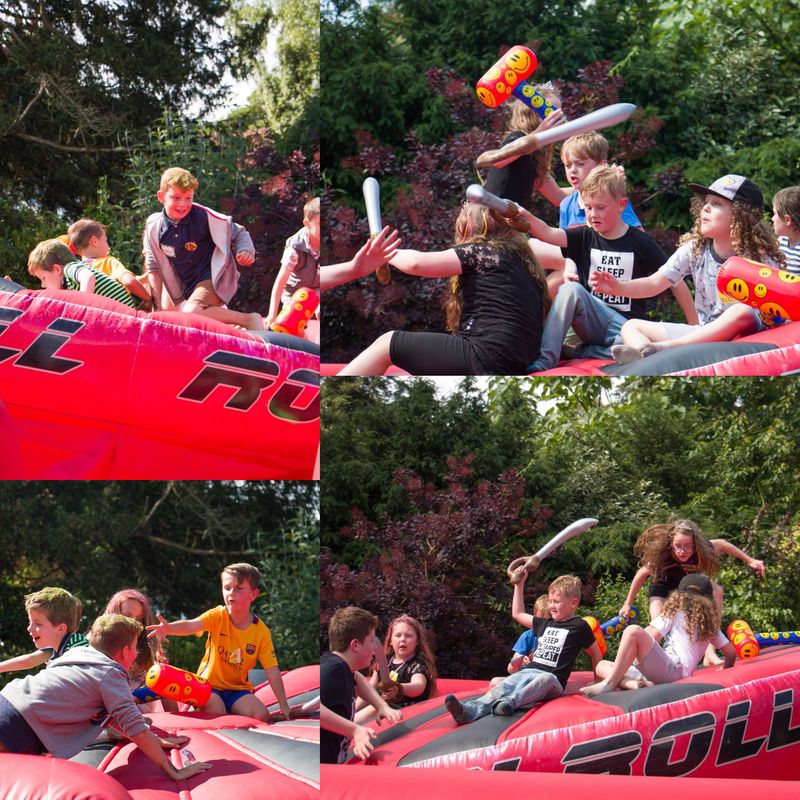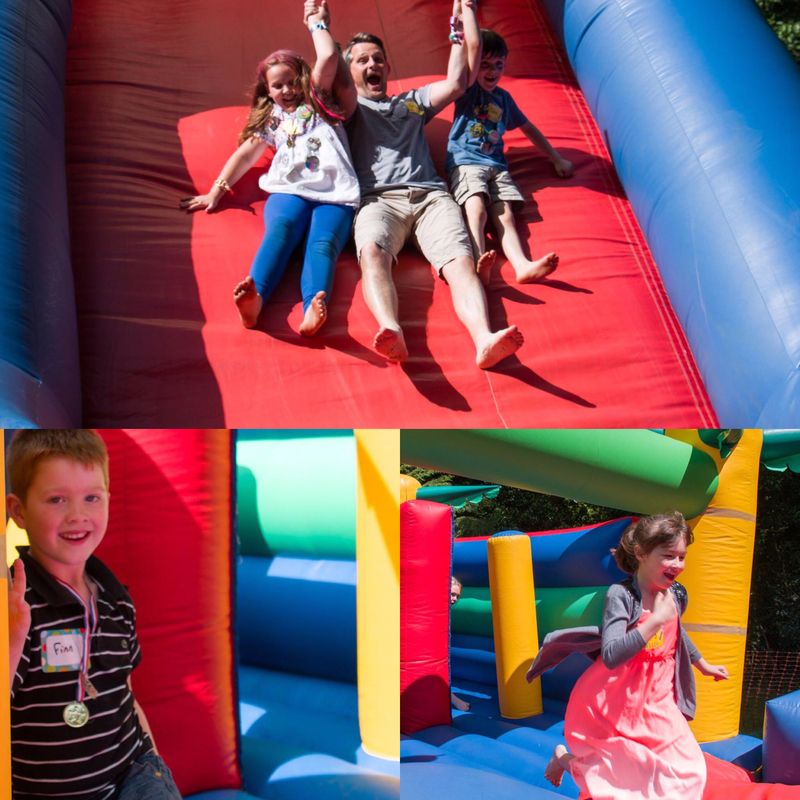 Other children headed straight to the Pop N Candy tables to redeem their token for a Pop N Candy boxes. Pop N Candy/Candy Chaos had asked Underworld if they would give a discount on 200 Pops for the party and with help from Charlotte they kindly donated all 200. Pop N Candy/Candy Chaos then donated over £2000 worth of candy, made exclusive badges and gave it all away. This was extremely popular and due to Facebook live videos the children knew what to expect. One was trying to climb over her sister in the car, so she could rush in because 'Pop N Candy is here'!
Outside we had side show games, with Hook a Duck (donated in memory of Amelia P), Splat the Rat, Cross Bow Shoot, Tin Can Alley and Feed the Clown. Prizes including goldfish from our fish bowl (we did receive one complaint on Facebook about cruelty, they are actually plastic water shooters in the shape of fish!), inflatables and toys.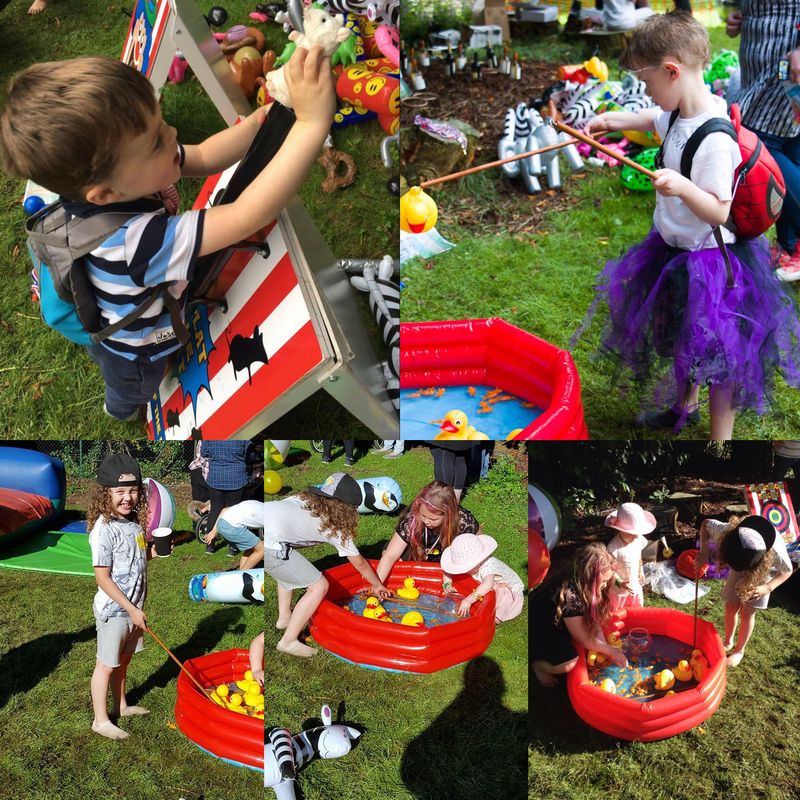 We had hair make-overs going on, with Vicki doing fantastic French plaits and Elsa adding colour and sparkle, as well as presenting tiaras to Post Pal princesses. It started with little girls having tiaras, but soon everyone was wearing one! We also had beautiful bows, clip in colour extensions and bandanas. Issy was especially excited to meet Elsa and had her face painted to be like her.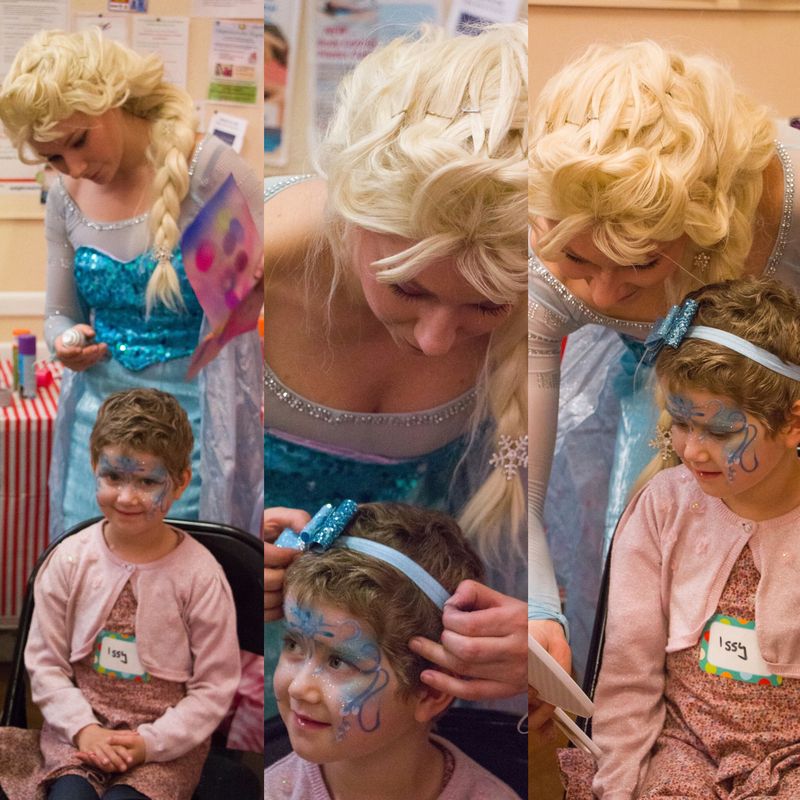 Elsa wasn't the only Princess at the party, Ariel, Belle, Aurora, Rapunzel and Merida spent the whole day there too.They presented tiaras, twirled with the children in skirts volunteers had made, bounced on castles and played with the children.
Other characters dropped in too, Spider-Man was going to 'drop in' via our roof, but the rain had other ideas at that point.But he still showed us all his moves, fist bumped, had the children doing their favourite superhero poses, did his nails at the nail bar and slowly made friends with Kennedy. Kennedy was scared of him at first, but he slowly kept talking to her and after a high five they became best friends.She made him go round and round the Safari Challenge with her.Well it's not every day Spider-Man catches you at the bottom of a slide is it?! Iggle Piggle and Upsy Daisy are special friends of Lewis so they came along too and Iggle stroked Faith's face with his blanket so she could feel how soft it was.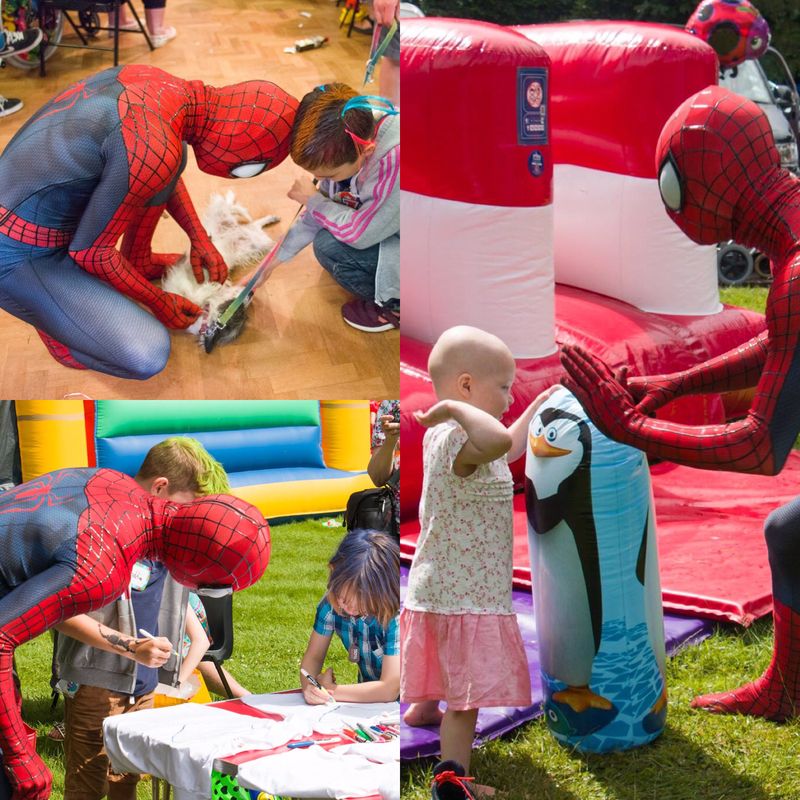 Despite the forecast it only rained briefly, but we decided to do the butterfly release as we had sunshine and blue skies. We remembered all the Post Pals children who had passed away, as well as children from Share a Star, Spider-Man's son Jayden and Liam Fairhurst whose family had donated £500 to make the day possible. A butterfly sat on Olivia (sister to Rocco), Nico (brother to Alicia) and Spider-Man's hand.

The full release
We had a fun show from Sublime Science, a round of ice-creams, cut our amazing Helter Skelter cake, sung Happy Birthday to Cam with his cake from volunteer Alison and then the crazy raffle started! The raffle where the kids just keep winning and get so excited! We start with 1 prize per ticket, and then move to 2 prizes per a ticket and then 3! Connor won the giant cuddly toy and Elsa won the fantastic dog donated by Hedgehog.co.uk before donating it to Trustee Steve. He had become very attached to it in the lead up to the party (but then a Pal fell in love with it, so it went home with her).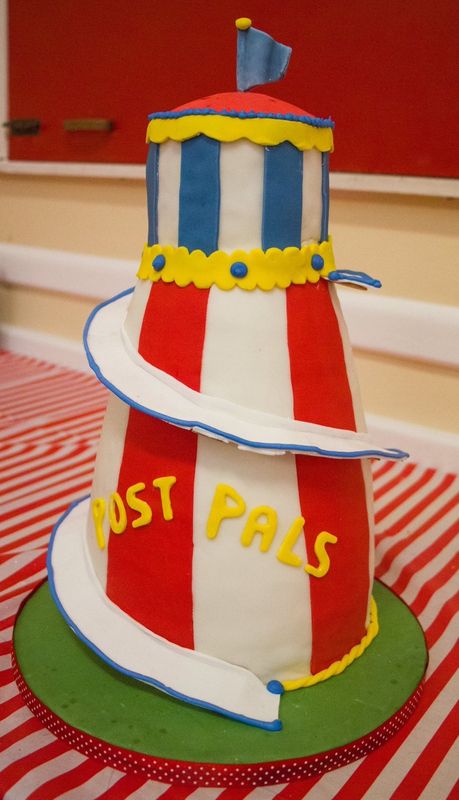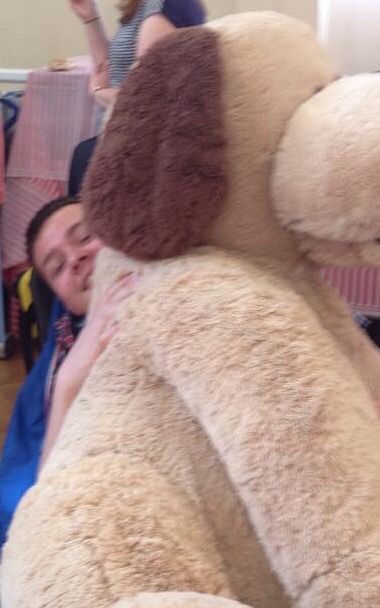 The party always finishes with the annual wheelchair race! This year Elle, Connor, Lewis and Vikki lined up at the start line before being joined by an imposter, as Jaymee from Candy Chaos clearly didn't want to miss out. Vikki came last in all 3 races, but did pick up a passenger and had a 3 year old driving for 2 of the races (that's her excuse).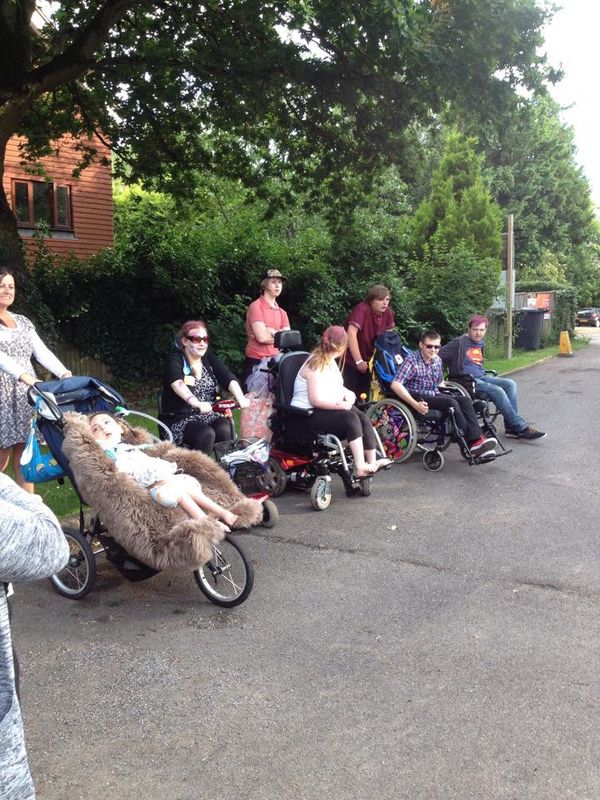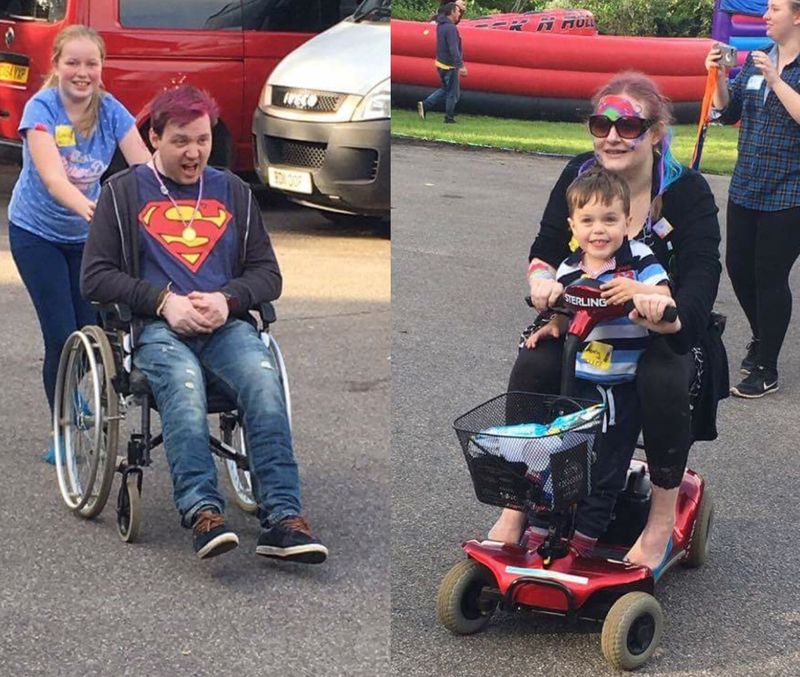 Volunteers and family made friends, this is volunteer Grace and Lewis, Grace has been supporting Lewis since they were both 4.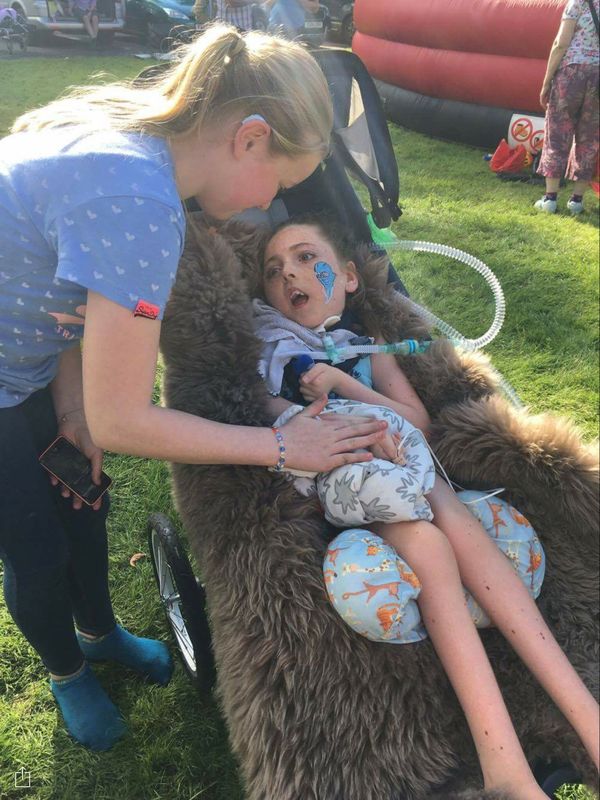 Lots of families stayed later, playing on the inflatables, enjoying new found friendships and making plans to stay in touch. Everyone said they are already looking forward to next years party, which brings me onto…
June 24th 2017, put it in your diary as we will be throwing another party. We have launched a fundraising page for it, check it out if you want to know the theme!
A few quotes from the day:
"I wish I could take Lewis and everybody back to Saturday and stay there forever. It truly was the most magical day. No words can come close to describing how much love was at that party. Totally overwhelmed. #making memories"
"I felt relaxed for the first time in a very long time"
Now to start the very long list of thank you's,
To Jill and Grace, who helped with everything from wrapping prizes, bouncing ideas around, being at the hall until midnight 2 days in a row, and listening to 4am text messages panicking about the weather!
Jaymee who had the fun fair theme idea, spent countless hours discussing it, planning and donating thousands of pounds of candy and getting 200 Pops donated, travelling down for the weekend and getting his customers involved. Not forgetting dealing with me being stressed in the final week! Jaymee runs Candy Chaos and Pop N Candy and the more orders they receive the more they donate to Post Pals,so check out their sites.
Pamela for all the help sourcing quotes, finding entertainment and making calls, you saved me so much energy and made things possible. Thank you also for all your help on the day and for bringing your family to help too.
Connor for helping on the candy table.
Angel who came down on the Friday and didn't stop until nearly 1am Sunday. Thank you for all your hard work, I don't think we would have got set up on time without you.The packing up has never been so organised and condensed before! It was adorable seeing the children's reactions to Elsa.
Pixie Dust Parties/Vicki who contacted us offering a full day of Princesses for free. It was magical to see the children's reactions and wonderful that none of the interactions were rushed. It's not often a child can spend all afternoon with their favourite character!
Bexi who had all the adults believing the Scottish accent for being the most amazing Merida. I doubt Isla or Kennedy will ever forget their afternoon playing with you. Not only was the accent so believable, we also are totally amazed you made those curls! Check out BexiBeans Cosplay page.
Jenna for being the most perfect Sleeping Beauty and making Issy's day
SpiderDad honestly the best Spider-Man ever! The way you slowly won the trust of a shy child and then happily spent so long being dragged around the assault course by her.All your cool tricks, jokes and interactions has left everyone saying you are the best Spider-Man. If anyone is looking to hire a character look no further, all the profit is also donated to Naomi Children's Hospice although he very kindly did our party for free. Spider-Dad
Fancy a Fudge for donating fudge to the party and for us to fundraise beforehand. EVERYONE said unprompted that it was the best fudge they had ever had. A couple of people said no thank you they didn't like fudge, but after trying it have decided now they do! The Elmo bars, Cookie Monster and Frozen themed ones were so clever as well as yummy! People can order through the website fancyafudge.co.uk
Leanne our fabulous photographer and her Dad Bill, they did an 8 hour round trip to volunteer at the party and help capture precious memories on camera. Leanne's site is here
Caitlin who also had a very long journey and who was a huge help on the day. We hope you caught a sun tan as well as getting soaking wet while overseeing the slide!
Lyn and Naomi who spent a very long time planning craft activities and running them on the day. So much thought went into all the items and they even made pom pom kits for 80 children to take home.
Kristina for getting to the party, despite your car problems and helping all day! The kids also loved your bracelets, not forgetting your Colour Run fundraiser.
Bookham Village Tea rooms for donating 100 cupcakes.
Alexandra and her little boy for baking fun cookies on sticks, these were very popular and at one point nearly all the children were walking around with them!
Louisa for offering to do another Post Pals cake and for not backing out when I asked for a Helter Skelter!
Steve for all our art work, from the invitations to our t-shirts.
St Lawrence Church Hall committee and Be, for kindly donating the hire of the hall.
Alpha Bouncy Castles for giving us a very good deal and being very helpful.
Bev for the wonderful party bags.
laren and Kirsten for running the kitchen and giving out party bags.
Julie for painting nails.
To everyone who ordered from our Amazon wish list, made items, volunteered beforehand, turned up on the day or helped clear up.
Vicki and Jay for your hard work.
Alison who became very good at candy floss and has been collecting all the Disney donations.
I am very sorry if I missed you off the list, but everyone's help was much appreciated.
'Grumpy' who let us fill his house 3 months in advance, who gave up lots of time in the lead up to the party and after.
Last, but far from least, to Dawn and Steve who the party wouldn't happen without. I know it created so much work for 3 months, caused stress and completely took over our house, so you couldn't even walk across a room with falling over, but a very big thank you.