Donate to childrens charity
Awards
Post Pals has been honoured to receive several awards including;
Points of Light Award – December 2014
In December 2014, Vikki George received an award from the Prime Minister on her 30th birthday. Vikki was named a Point of Light by David Cameron in recognition of the charity Post Pals, which endeavours to cheer up seriously ill children with cards, letters and gifts.
The Point of Light award recognises "outstanding individual volunteers" and a single recipient is chosen by the Prime Minister every day.
Vikki said "I was completely shocked when I found out I had won a Point of Light award and feel very honoured. You don't expect to get a letter from the Prime Minister on your birthday."
Women on their Way – Woman in the Community Award 2010
Vikki won this award in 2010 and was invited to an award ceremony where some top business women had also won awards in other categories. As she was unable to go, Jo Cameron kindly visited Vikki in hospital and presented her with the award.
Red Cross Humanitarian Citizen 2009
Vikki was told she had been short listed along with around 25 others for the Red Cross Humanitarian Citizen award and was invited to the Houses of Parliament. Each person there was presented with a certificate. After everyone had been given theirs they said there was one over all winner and when they called Vikki's name out people noticed she went very white and looked rather absent for 5 minutes due to such a surprise!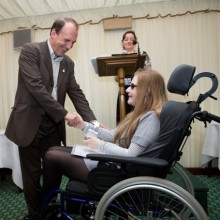 Robin Wells from the Red Cross said, "Vikki works day in day out from her bed, giving Pals a reason to wake up each day and something to look forward to. She provides a listening ear for families and always remembers when a child has a scan or important tests coming up. She was chosen as our winner because of her continued determination to support others despite her own difficult condition."  Robin Wells, Red Cross.
Queen's Award for Voluntary Services 2008 (group equivalent of an MBE)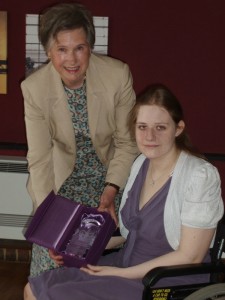 The award was presented to us at our local cathedral and we were invited to the Queen's garden party at Buckingham Palace which was a real honour. We were nominated by Post Pals families and then a lady came to interview Vikki in her bedroom. At the award presentation we were shown the report of the interview which said;
"In my time I have come across a lot of charities but this is simply one of the best."
One nomination from a Post Pal family read;
"Post Pals was a first. Nobody else had thought of this way of bringing sunshine into the lives of seriously ill children. When they first started, people thought it would collapse through lack of public support – how wrong they were. It has grown and receives tremendous support from the public. The girls that run Post Pals have faced great difficulties themselves and do most things from their beds at home or in hospital. They often do things at night as illness can reverse your sleep patterns. They still persevere even though they are sometimes very sick themselves."
 The Beacon Fellowship – Young philanthropist 2008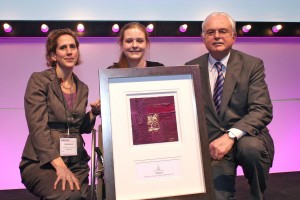 Vikki was nominated for this award by several Post Pal parents. Dylan from the Community Channel visited Vikki to make a short video to be shown at the awards and on the channel. Vikki saw one of the pages of nominations and got all misty eyed! Earlier in the day of the awards event, Vikki and her Mum joined Fellows for lunch at Coutts bank, they had never felt so humble than when listening to others talking about their life's work changing the world around them. In the evening a formal award ceremony was held, where the video Dylan had made was shown and the award presented by Martyn Lewis. The video was fantastic and we still use it to this day!
The Beacon Award is a huge honour, Gordon Brown described it as;
"The voluntary sector equivalent of a Nobel Prize." Gordon Brown
Martyn Lewis CBE, who is most famous for presenting BBC news, is chairman of the Beacon Awards as well as the Queen's Award said;
"I think Vikki is one of the most amazing people it has been my privilege to meet. Post Pals as a concept is completely outstanding. It's one of those wonderful ideas that you wonder why no-one had thought of it before, maybe because everyone thought it existed. But Vikki thought about it and did something; she had the initiative and energy to get it all together and is now helping a growing number of young people in similar positions to her. I think it's a really terrific organisation and deserves to be supported." Martyn Lewis
The video made for the Beacon Awards was shown on the Community Channel several times and in 2011 for their 10th birthday the channel chose the 5 most inspiring stories from the last 10 years. What an amazing surprise to be told that Post Pals was one of those 5. You can watch the feature here (we are the first story) http://www.youtube.com/watch?v=tDpmd8rnNVY&feature=youtube_gdata_player
National Lottery Favourite Funded Project South East 2006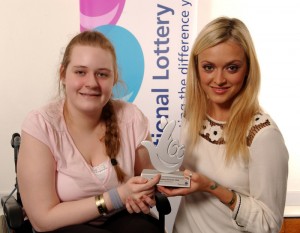 Post Pals started with a lottery grant via the Princes Trust. In 2006 we were invited to an award ceremony at the BBC studios in London. The team organising it were very kind and made lots of provisions which enabled Vikki to attend – her first trip out the house for 6 years. The award in our category was presented by Fearne Cotton. Vikki asked her if she would send a card to James who was finishing his chemotherapy, so she took our site details and has been involved ever since! She very kindly went on to become our patron.
Readers Digest Hero of the Year 2005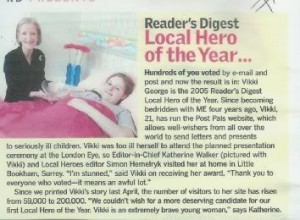 Vikki was contacted by Reader's Digest who had heard about Post Pals and wanted to write an article. Much to our surprise when the article came out it was actually a 3 page article and back cover entitled "hero of the month".
In December later that year, Post Pals was featured again along with all the other heroes that had been in Reader's Digest throughout the year and readers were asked to vote for their favourite. Much to her surprise Vikki won and we were told votes were a landslide! An award ceremony was planned to take place at the London Eye, however being bedbound, Vikki was unable to go. The Editor and Deputy Editor of Reader' Digest visited Vikki at home and presented the award to her. The presentation was in the next issue of Reader's Digest. This article was seen by Jan who got in touch and went on to become our treasurer!
"We couldn't wish for a more deserving candidate for our first Hero of the Year. Vikki is an extremely brave young woman" Katherine Walker Editor in Chief Readers Digest.