Donate to childrens charity
guide to writing post
Quite a few people ask "What do I say?" when writing to our Pals. Some people even put off writing because they aren't sure what to say, or are worried about saying something 'wrong'. We thought we'd make some suggestions as a guide to help people.
Suggestions on what you could say, bearing in mind the specific Pal's age;
Talk about yourself – are you a teenager, do you have kids, whereabouts in the world do you live, do you work in a school with other children or something else? What you think might be boring is really interesting to the Pals and it's nice for them to hear about other peoples lives free from hospitals.
Do you have pets, are they cute, do they do silly things like hide your slippers behind the radiator, does your parrot say funny things, does a squirrel in your garden do strange things to get to the bird seeds?
Have you been on any day trips or a holiday? It's great to pick up a postcard from where you have been (gift shops often have them) and write on the back. Was it a fun day, any funny bits of history about the place, did a bird poop on you or did you drop your icecream everywhere? Does your local shop sell postcards of where you live?
Jokes and funny poems are always good, you can Google "kids jokes" or "kids poems" and thousands will come up, or you can Google "Star Wars jokes" for the kids who are fans of Star Wars or "animal jokes" for those who love animals.
For ones of the right age group, have you been watching Britain's got talent/X Factor/the latest program like it? Who is your favourite act, what made you laugh? Who do you want to win?
For younger ones (remember we have some children whose mental age is behind their physical age and there will be a note on their page explaining this) what Cbeebies character do you like, is Mr Tumbles funny, does Peppa Pig "oink" all the time, can you say "Hello" in Spanish like Dora the Explora does and what's your favourite Wiggles song? Often if you Google the program or go onto the Cbeebies website you can find printable pictures for the kids to colour or pictures you could stick onto the front of a card.
If you don't want to write much you can always use lines like "just swimming by to say Hi" if its a fish/swimming/water related card, "sending lots of smiles across the miles", "wanted to roar a Hello" if it's a lion, and lots of other short lines.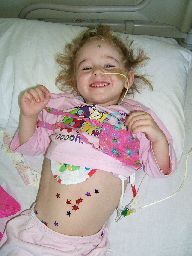 You could include a little gift if you like – this doesn't have to be expensive, once I sent some confetti stars (cost about 3p) to a young child who was screaming through her chemo and nothing they were trying would calm her down. They gave her some post to open and when she opened my card some confetti stars tumbled out. She stopped crying and started making pretty patterns with it (see photo of Samantha H above). Another girl was sent a pretty bouncy ball that cost less than 10p and she decided a magic fairy lived in it and took it with her to the hospital or school or where ever she was going so her fairy could always be with her. Including a little gift also gives you something to talk about.
Write about what is on the front of the card – if there's a dog then talk about a dog you know (I sometimes put things from the past into the present tense), is it a funny picture, could the picture give you an idea of what to write about?
Why not draw a picture or have your kids draw one, they can brighten up a hospital wall and make the child smile?
Are you a crafter? Do you sew? Could you make little dolls clothes? Hand puppets? Cute aprons or super hero capes? If you cross stitch, could you do a little one and stick it on a card, or one in a frame which could go on a child's wall? Do you make your own cards? Could you knit a tiny little bear, cute pencil toppers, cuddly friends, blankets? Could you make a rag doll, a keyring, a bracelet, candle, sock monkey etc? Do you do computer graphics to do a picture for the child with all their favorite characters on, or pictures of them as fairies? The list of possibilities are endless.
Some things we advise against saying:
"Get Well Soon" is a well meaning and great phrase, providing it is a healthy person who has appendicitis or something similar, and who will have a time of being ill then get better soon. It's not such a good phrase if your illness is never going to go away, you're young and don't realise you're ill or any different to any other child, or worse still – that will never get better.
"I hope you win your battle". A lot of the children don't know they could 'lose their battle', and others might not want to be reminded that they may not.
"I know how you feel", have you been through the same thing as the child or parent? Even then everyone reacts and feels differently about thing.
"Sorry you're ill/poorly/sick". See get well soon above.
"Poor you"- empathy is good, but sympathy isn't generally wanted. Also see above about kids often not knowing any difference.
"I don't know how you do it". The simple answer is that children and their parents don't get a choice in the matter.
"Write back". We ask that you enclose your address and email address so if able Pals can reply to you, but please don't expect one.
Over all remember that just because a child has cancer, cystic fibrosis, or is on the transplant list, they are still first and foremost a child. Also remember your post is going to make them SMILE… what is more precious than that?