Donate to childrens charity
Link to Post Pals
About us
Post Pals is a small charity run solely by volunteers who are dedicated to making seriously ill children and their siblings smile by the sending of cards, letters, little gifts, support and friendship. We support children aged 3 to 17 in the UK.
It was set up in 2002 by teenagers who were all ill themselves. Vikki George had the idea after finding that receiving cards in the post was the only thing that made her smile when bedbound and isolated due to very severe ME. Even today, Post Pals is still run from beds and hospital beds.
The concept is simple… we feature children on the website with a forwarding address, their interests and stories, and invite members of the public from around the world to log on and send cheerful post, as well as sending items ourselves. Volunteers range from toddlers drawing pictures, right up to an 106 year old who knitted finger puppets, and some like much loved Dottie the Dalmatian aren't even human!
Post Pals does much more than just sending post though, so take a look through our website to learn more about what we do.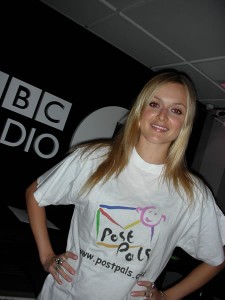 Post Pals patron – Fearne Cotton
Fearne Cotton is renowned Radio 1 DJ and Television Presenter, working on programs as versatile as the Xtra Factor, Live 8 and interviewing the Princes at the Diana Concert. As well as fronting the Children in Need Appeal. She is also well known on a variety of children television programs resulting in fans of all ages.
Fearne presented the award of 'Favourite Lottery Funded Project South East 2006' to Post Pals and has supported us from then on. In September 2007 she officially became our patron.
She says, "I'm honoured to be asked to be patron and so happy to help spread the Post Pals word! What a great idea! Its so easy to make a kid smile."
N.B. – All team members and volunteers have completed a CRB (police) check and are suitable to work with children.