Donate to childrens charity
Link to Post Pals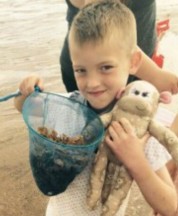 Contact Details
C/O 31 Abbey Road
Swineshead
Boston
Lincolnshire
PE20 3EN
United Kingdom
Email Pal
NB: this is a forwarding address for the Pal, we do NOT disclose home addresses
Other Information
Parents/Guardians - Samantha
Interests - Playmobil, Superheroes, Spiderman, Batman, The Avengers and Teenage Mutant Ninja Turtles are his absolute favourites. He enjoys watching them on television, colouring, doing puzzles, Hexbugs, Topsy and TimTV programme, and is really into Lego at the moment and enjoys building it into superhero things. He loves collecting Lego mini figures and the Simpsons ones. He absolutely loves Hot Wheel and Matchbox cars at the moment and plays with them all the time.
Favourite Colour - Blue
Able to read? - No
Able to use hands? - Yes
Visually/hearing impaired? - No
Suffers from any developmental delay? - No
Siblings - aged 3 to 16 wishing to receive post
About - Jamie B
Story written 2011
Jamie was diagnosed with severe long segment Hirschprung's Disease when he was 3 days old as he was born with a severe intestinal blockage and required immediate surgery.
He has since undergone five further surgeries which were major and to remove more blocked bowel. Jamie has a hickman line and receives TPN and intravenous fluid through this every night.
Jamie also has a permanent illeostomy bag because as a result of his disease, he has short bowel syndrome and not enough bowel to have a pull through procedure.
Jamie has spent at least two years of his life in hospital and is constantly in and out with dehydration and infections. Jamie will hopefully receive a small bowel transplant when he runs out of venous access as his life depends on him having a central line.
Jamie is a very happy, lovely boy who copes fantastically well with his illness but I feel he would be so pleased to receive some post from people. It would really cheer him up when he is poorly.
Update 16th January 2017
I hope everyone has had a lovely Christmas and New Year. Thank you so much to everyone who sent Jamie and Keeley presents and cards over Christmas, they were all lovely surprises and made Christmas even more special, thank you. Jamie has had lots of hospital appointments lately as he had a new central line inserted in October. After battling a bad line infection for over a month and being in hospital for much of that time, it became apparent that the infection wasn't going to clear. Unfortunately Jamie doesn't have much access left, as his veins are quite shut down, so the only place they could insert the new line was on his tummy next to his stoma bag, which makes it very hard to keep his dressing and line sterile and clean at all times. So he is having very regular check ups. Jamie tries very hard to stay positive, bless him, and tries to blend in with his friends at school and keep up with them.
There are so many lovely people to thank for your kindness and I want to say a big thank you to all of you that sent post. Me and Jamie will send letters to you very soon to say personal thank yous.
Thank you to Vikki and everyone at Post Pals for all your hard work and for making Post Pals possible.
Thank you to you too Ally, and I hope you and your baby girl are well.
Update 7th October 2016
Jamie has had a very difficult couple of months and has been in and out of hospital. He has missed a lot of school. He has got a central line skin infection, which despite a month of IV antibiotics, hasn't cleared. He is going to QMC next week to have a new central line fitted because his veins are weak, they have few places left to insert them, so this will be tricky. Jamie has also been extremely tired and has had many days where his tummy has been misbehaving and he has felt rubbish.
Thank you to everyone who has sent him and his sisters post and/ or parcels it really does brighten their day! Thank you also to Kerry and Mark, your kindness is amazing, we feel like we know you and when the kiddies open their gifts from you, they always say "ah yay look it's from Kerry and Mark" A big thank you also to Vikki and everyone at post pals for all of your hard work and for making all this magic happen.
Update 7th July 2016
Jamie's care remains the same- he is very carefully looked after and has lots of medicines and Iv fluid overnight. The regime he is on seems to work for him and he has been mostly stable touch wood although he has had a bad virus which wiped him out but thankfully he is over that now. He always struggles with his energy levels- it is a daily battle to keep him hydrated and his fluid balance positive due to his short bowel and stoma. Jamie always puts a smile on his face even when he feels tired and poorly which is why he is so amazing.
Update 30th January 2016
Jamie is very up and down and this is a constant thing. Although he has been at home for several months, on many days he has very little energy and feels very poorly due to having short bowel and not absorbing enough nutrients to give him sufficient energy. He is always brave and I'm very proud of him for how he deals with feeling very drained much of the time. He is currently having tests to assess if his kidneys are damaged due to being intravenously fed since birth.
Also we would like to say a massive thank you to everyone at Post Pals for everything they do, and a really big thank you to everyone who is kind enough to send post. It really does make the children's day and is so lovely to see the smiles on their faces which you all make possible. Thank you.
Update 13th October 2015
Jamie has been struggling with dehydration even more than usual this month. His energy levels have been very low and he has been feeling poorly much of the time. Since being back at school he has also picked up several viruses which always have a big impact on his condition and make him much weaker due to him having a short bowel. Jamie loves to receive all of your post – it puts a big smile on his face and it is so kind of you all, thank you. It also makes Charlie and Keeley's day to receive post. Big thank you the lovely Kerry and Mark for making the children very happy with their generous gifts and cards. Thank you Vikki and Ally for all your hard work, it is much appreciated.
Update 24th April 2015
Jamie had a rough couple of months at the beginning of the year, as he had a lump growing in his mouth which kept bleeding profusely. He was off school for about a month and had an operation at Queen's medical centre to remove and biopsy it. After an anxious wait, the results came back that the lump was benign. However, Jamie was in a lot of pain for a few weeks afterwards and it put him off eating which affected his bowel.
Thankfully he is having a steady month so far and the sunshine seems to be having a positive affect on him. There is no change to his condition or level of care and he is still attached to his iv fluids every night for 12 hours.
Jamie has had a fantastic amount of post over the last few months. Thank you very much to everyone that has written to Jamie or sent him a card, it makes him smile so much when he sees the postman coming up the path with post for him, or when he gets home from school and has some post waiting for him. The girls also love receiving post, thank you so much for everything you do.
The balloons were such a wonderful surprise, when they opened the boxes and the balloons floated out they looked amazed! What a lovely idea, thank you Post Pals.
Thank you to the Christmas elves; Claudia, Claire, Rachel and Rebecca, for the lovely presents they sent. Thank you to Kirsty for the frozen bubbles and the Turtles etcher sketcher, Jamie had hours of fun with it. Thank you to Natasja for the Green Lantern lego mini figure, Jamie was so excited when he opened it! Thank you to Maria for the frozen gifts as Keeley loved them. Thank you to Millie and Fly for the party bags, we hope you had a lovely birthday. Thank you Toni, Sammi and Connor, for the Halloween treats and the lego men crayons, they were super cool. Thank you to Jenny for the fossils from the Sedgewick Museum, Jamie was fascinated by them and took them into school for show and tell! Thank you to Carrie for Charlie's Halloween gift as she loved it. Jamie loved the Christmas cards from Santa, Mary and the reindeers, they were very special and made Christmas even more magical. Thank you to Little Acorns Day Nursery, the fundraiser was a brilliant idea, and Jamie loved the pictures and cards, it's so special when small children have made things for him! Thank you also to the children from nursery yellow class and class 5 at Scraptoft Primary School, the hard work the children put into making the cards was so touching and they were great!
A huge thank you to Kerry and Mark for the incredible game that you made for the children, wow I couldn't believe how much hard work and detail you had put into making it! You are so clever it's brilliant and they play with it lots! I really appreciate all of the lovely gifts that you send the children, you put so much thought into their presents and the kids really enjoy them. It is very kind of you and means a lot to the children that you have regularly thought of them.
Jamie has received a large number of cards and letters this year and I want to say a massive thank you to everyone that sent him post, there have been some really special cards and letters and the amount of effort that people have put into making them is amazing. Thank you to everyone who has sent Jamie mail, it makes him so happy.
Update 7th August 2014
Jamie is enjoying the summer sunshine, however he is having a very up and down time at the moment. He has had lots of hospital appointments lately and has been having lots of tests. He has been suffering with tummy ache due to bowel spasms which aren't nice for him.
Thank you all at Post Pals for your hard work, it makes a huge difference to our lives and means so much to Jamie, Keeley and Charlie, when kind people send cards and gifts as they know someone has been thinking about them.
I'm sorry if I miss any thank you's off the list this time but every card and present that has been sent has been very much appreciated. Thank you everyone!
I would like to say a massive thank you to Kerry and Mark, bless you. Keeley loves your presents so much – when they arrive she says it's treasure! She knows your handwriting now and says 'yay treasure from Kerry and Mark!'. The box of summer fun you sent this week is amazing, thank you. They have been playing with the indoor beach loads and the inflatable dolphin has to go everywhere with them!! The bag and towel are so cute – Keeley has put all her summery things in it. Jamie loved his pirate treasure too and Keeley's princess stories are so special.
Jamie has received lots and lots of cards, thank you everyone. We stick them up in his bedroom so he can see them. Thank you to Toni, Karen and Sami and also Sarah G for your lovely post. To Marge for the card with supersnake inside – he loved it! Thanks to Kelly Taylor for the Disney photographs – they were fab!
Thank you for lovely gifts that have been received too. Thank you to Post Pals for the lovely easter gifts and to Becky for Charlie's One Direction socks. Thank you to Karen, Toni and Sami, for the activity books and Charlie's 1D book. Thank you to Niall Collins for Jamie's turtle lego – he loved it! Thank you to Jenny for the easter treats, the children had fun making biscuits with the bunny cutter! Thank you to Gemma for the book and frog sock! Thank you to Claire Stevens for the lego – it's Jamie's fave thing to do!
If there is any one I haven't thanked this time I apologise, all of the post and gifts the children receive puts a big smile on their faces.
Update 27th February 2014
Jamie is still very up and down with his condition and he had his hickman line replaced at the end of December. The doctors struggled to get a new line in due to the shortage of good veins that are left and he was very sore for a couple of weeks afterwards because he had several wounds where they had attempted to insert new lines. At least he now has a line that bleeds back though so no more blood tests for a while.
Jamie is also having a lot of discomfort and mucus from his lower end which is another complication of his condition – it makes him very sore so we have been thinking of ways to make him smile. I think he will be going into hospital soon to have a big washout under general anesthetic. He continues to be a lovely and cheeky little chappy though.
Jamie has received lots of post since I last updated, thank you. It has been fantastic for him and it gives him such a lift when he sees the postman coming.
Thank you to Melanie Balban for the Christmas decorations book – the children had great fun making them. Thank you to Rebecca for the spiderman blanket – Jamie has enjoyed getting snuggly under it. Thank you to Kirsty and Andrea for the One Direction bracelet, card and stickers – Charlie really loved them. Thank you to Jane for the turtle hat – he wears it to school and looks very cool. Also, big thank you to Kerry and Mark for the lovely presents you sent the children – Keeley said it was like a treasure box. A big thank you to Donna for the lovely presents too – a big hit, as always.
Jamie has had lots of lovely cards too – thank you's to Toni and Karen, the pirate ship was fab. Natasha, the crocodile picture was amazing. Sara, the post card from the zoo was lovely. Jamie says his favourite animals are lions. The cards from Lilliesheaf primary school were great, thank you. Jamie also had cards from Rhett and Nina (Beacon School), Kirsty and Claire, which he loved. He sticks them all up on his wall.
He also received some lovely letters. Thank you's to Marty Longo and a Happy New Year to you too. To Jenny for the Christmas poem – I liked reading about your dog Baron. To Suzanne, your dog Skye sounds fun as well. Bayley, thanks for your superhero letter and thanks Lucy for your spiderman letter. Thank you to Laura for Keeley's lovely birthday card too.
I would also like to say a massive thank you to everyone at the Post Pals team who work so hard to make all of this possible and brighten Jamie's life up so much.
Update 11th October 2013
Jamie has received lots of cards this month because it was his birthday. Thank you very much to everyone who sent cards, he loved them. Also, many thanks to Marty Longo, Natasja, Teresa Fearon and Toni and Karen Sami for their regular post which always makes him smile. A big thank you to all of the children who made Jamie cards – they are fantastic, the children put so much effort in to making them and Jamie looks at them lots. Jamie also received a lovely spiderman letter from Lucy Sparkes, thank you. A huge thank you to Donna Trett for all of the lovely presents you have sent the children, it always makes their day when the postman brings a box of exciting treasures from you, they have been playing with their halloween goodies and the bubbles were a huge hit, thank you. Also a big thank you to Laura Jack for the ninja turtles connect four, Jamie loves it and has spent many happy hours playing it.
A massive thank you to all at Post Pals for all of your hard work, you make such a difference and make Jamie's life much brighter.
Jamie has had an unsettled few months, his hickman line is still being temperamental and he has required quite a few blood tests recently which has been very distressing for him, as he has poor vein access and is becoming increasingly afraid of needles, due to the nurses having to hold him still while the doctors have numerous attempts. I think his central line is being replaced in next couple of months.
Jamie started school in September, however he is only really achieving part time attendance due to tiredness, tummy ache and dehydration. He is picking up lots of nasty viral infections due to being around lots of other children which he is not used to. He is just recovering from a nasty chest infection, but he keeps smiling and really is a little star.
Update 20th August 2013
Jamie has been relatively stable and is looking forward to going on a teddy bears picnic on friday. He has really enjoyed his post, thank you. Thanks to Donna for the lovely gifts and he also loved his lego. Thanks to everyone for the lovely cards – Karen decorated a lovely one for him.
Update 31st May 2013
Jamie has had an up and down month, mainly due to continued complications with his hickman line. He went back to QMC to have a linogram and a few other tests which were thankfully fine. However the doctors are still deciding whether or not to replace his line in the near future.
He is looking forward to starting school in September, however his energy levels are still at times quite low. He is also looking forward to some sunshine as he loves sitting out in the garden. Jamie has a bad cough at the moment which always affects his bowel function but hopefully he will shake it off soon.
Thank you very much to everyone that has written to Jamie, Charlie and Keeley this month. Hearing from you all always puts a smile on their faces. Thank you so much to everyone who sent Jamie, Charlie and Keeley gifts this month, they love them and you all make such a difference. Thank you very much for Post Pals continued support, it makes a huge difference to our lives and it is fantastic to see the children smile when the postman brings them a treat from Post Pals.
Update 3rd April 2013
Jamie has had an up and down few months, but on the whole he has been coping well. He has had lots of days of exhaustion and dehydration when he has to be attached to his iv fluid and has to lie down and just rest. Also, a couple of weeks ago Jamie and Keeley both had the chickenpox and were both very unwell and itchy with it. Unfortunately it affected Jamie's bowel function due to his short bowel syndrome and it went into overdrive due to the virus causing dehydration, which coupled with the usual discomfort, made him sad. His spots have now scabbed over much to his relief!
Jamie's post has cheered him up enormously during this time – thank you. Jamie is going to Queens Medical Centre hospital to see his consultant next week for a check up/review.
I would like to say a really big thank you to Natashja for the lovely gifts and letters, we all love to hear from you and your little girl and really appreciate you thinking about us. Also, a big thank you to Bron from the Post Pals team for the Lego, Jamie absolutely loved it and has had hours of fun. Thank you also to the children from the Thomas Clapham School for the beautiful cards they made for Jamie, they were fantastic and he loved them. To everyone else who has sent post to Jamie and his siblings, we are very grateful and it brightens their day. Thank you all very much for your continued support, we are very grateful and Jamie and his sisters love receiving post.
Update 8th November 2012
Jamie's condition remains the same. He is managing at home mostly with a lot of medical care with short hospital stays in between for dehydration and side effects of his illness. Jamie has had quite a few problems with his Hickman central line recently so we are hoping it is not on its way out as it keeps not bleeding back, flushing etc, but thankfully each time so far it has been successfully unblocked. Jamie gets tired very easily but is still smiling and hopefully he will remain stable, fingers crossed.
I would like to thank everybody that has sent Jamie (also Charlie and Keeley) post since he has been on Post Pals. It has such a huge impact, it really cheers them up. Thank you this month to Wendy for the special cards and to Claudia for the octonauts puzzle, we have had lots of fun doing it. Also to Sarah for the cooking set, the kids made some yummy cookies. Thank you for all of your fantastic hard work, it is really appreciated.
Update 30th November 2011
I just wanted to let you know that Jamie has gone into hospital. He is very poorly, bless him. He has enterocolitis which is a nasty bowel infection and is in a lot of pain. He is being brave but cannot eat or drink anything as his bowel has shut down and he keeps vomiting. Fingers crossed he will pick up soon.
Update 25th November 2011
Jamie has had a steady month by his standards, however his energy levels are still low and he has been to hospital several times with dehydration.
Thank you to everyone who has thought of Jamie and sent him a card, all the lovely cards and thoughts have really cheered him up. Special thanks to Wendy and Yukiko for the regular post, it is lovely to hear from you. Also, many thanks to Kate for the lovely presents that you sent to the children, they all loved them and the card that she sent me meant so much. Charlie would also like me to thank people for the post she has received and the gorgeous balloons – all three children had so much fun with them. Thank you to everyone who has made Jamie feel very welcome on Post Pals and also to Kate and Viks for everything they do. Jamie really looks forward to the postman coming which makes his day. Your post really helps to keep Jamie positive when he is having a bad day so thank you.