Donate to childrens charity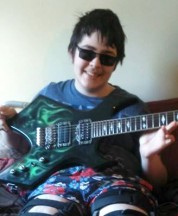 Our Pal - Wesley N
Born: 29/12/2000
Status: Moved On
Contact Details
NB: this is a forwarding address, we do NOT disclose home addresses
Other Information
Parents/Guardians - Kerensa
Interests - Enjoys Maths, Art and Graphic Design when able to go to school. Did Taekwondo and Rugby but now is part of Sportability Programme playing Boccia, wheelchair basketball etc and is an ambassador for the programme. Loves music, playing guitar, comics, Marvel, drawing, reading and watching films.
Favourite Colour - Black and red
Able to read? - Yes
Able to use hands? - Most of the time
Visually/hearing impaired? - No
Suffers from any developmental delay? - No
Siblings - aged 3 to 16 wishing to receive post
About - Wesley N
Story written 2014
Wesley was diagnosed with Charcot-Marie-Tooth, a hereditary motor and sensory neuropathy, at the age of 12. Looking back, he had always shown symptoms – high arches, feet turning inwards etc. He was a 'clumsy' child and found it difficult to run and do the things that other children seemed to do so easily. Doctors and physiotherapists put it down to over flexible joints and said he'd grow out of it. Wesley took everything in his stride – despite being teased throughout his school life, he always tried his best in everything he did and enjoyed life to the full. In his fifth year at primary, he suffered a soft tissue injury to his lower back. He was hospitalised for a time and when he returned to school he was using a walking frame to get around. Although he was eventually able to walk unaided, the pain never really went away. Nobody knew why, but still he carried on! The school awarded him a prize for 'Endeavour under difficult circumstances' and he went on to achieve high grades in primary education. In his final year at primary, he was selected to take part in an exchange trip to Germany with ten other students. Although he didn't find it easy, he enjoyed experiences such as ice skating, sledge dog racing and spent time in a German school. He was awarded a certificate for the 'best joker and the person with the most falls!'. He was an inspiration to everyone and it was the best experience of his life.
We had noticed that his feet were turning in more and he was tripping more often, but as always he took it in his stride. It was part of him. Like all kids, the transition to secondary school was a daunting but exciting time for Wesley. He settled in well in his first two weeks but the extra strain of the walk to school and the huge building started taking its toll. He began to fall daily, his legs just 'giving way' until it got to the stage where he couldn't walk more than a few steps without problems. He went to the GP, had several trips to A&E and was then admitted to hospital five times in two months. Each time he had fallen there was no injury but the pain didn't go away. Around this time, we became aware of Charcot-Marie-Tooth. It ran in our family, but no-one had thought to mention it until now. When I approached the GP he said that it was unlikely, but a blood test confirmed CMT type 1. He was sent for physio, was given a wheelchair for use in school for his own safety, and fitted with AFOs which helped him to walk with crutches. Over the next year Wesley continued the best he could. Every fall meant x-rays which showed no injury, yet the pain told a different story. It began to affect both his legs, his lower back and then his hand. He would have times when the feeling in his legs would just go altogether and he couldn't move them at all. It didn't sound like the normal effect of CMT but then everyone is different. What else could it be?
Earlier this year, Wesley was doing quite well until he took a slight knock to his upper back. The pain was excruciating but again, x-rays showed nothing. After two weeks in hospital, with no real improvement he was sent home, confined to his bed and with me becoming a full time carer. Wesley was due to be seen by a visiting neurologist in his twice yearly CMT clinic. We prayed that he would be able to shed some light on what was going on. When the day came, he was desperate for answers, but eight paramedics couldn't get him out of the house. His whole body was suffering from severe muscle spams and causing him the worst pain he had ever experienced. The slightest touch had him in tears. In the end I had to go to the appointment on my own, desperate for someone to help him. Within five minutes the neurologist gave a diagnosis – as well as CMT he was showing classic symptoms of complex regional pain syndrome type 1. It is a very difficult illness to treat – normal pain meds don't touch it and the effects can be life changing. Wesley's nerves were in overdrive, sending extreme pain signal to the brain, even though there was no injury. There is no cure. A CRPS sufferer can only learn to life through the pain and hope that intense treatment will lead to remission. Wesley has currently been in hospital in Cornwall for over sic weeks. The CRPS has spread to both legs, both arms and his back. The medical staff here don't know much about the condition. They can only help on a daily basis, keeping him safe and doing their best to make him as comfortable as possible. We have been given a date (30th of June) for an assessment at a specialist hospital in Bath. Hopefully he will be able to take part in one of their intensive rehab programs which will teach him to move his limbs again and be able to get back to some kind of normality. The key is to stay positive and to believe that he can do it!
Wesley is a strong boy. Whatever difficulty or pain he faces, he always manages to pick himself up emotionally and keep going. As there is nothing else that can be done until his referral to Bath, his consultant is hoping that with physio and psychological input he will be able to come home for a while and be with his family. In the meantime, we will continue to try and keep his spirits up and keep him smiling. Ultimately he is going to have to start moving his limbs with help, as although he believes that the pain is unbearable (The MacGill Pain index show CRPS pain being the worst – above child birth and many other painful conditions), it is his only hope.
Update 29th January 2016
Thank you to EVERYONE who has sent cards and gifts. Especially those who took the time to make hand made cards over Christmas – they were all amazing. We haven't been able to thank everyone individually as yet, but want you to know that each and every one brings a smile and is much appreciated.
Thank you also to The Extra Smiles Team and Cornwall-based quilting group who delivered the most amazing quilt in time for Christmas! The amount of work that went into it and the thought, involving Wesley's favourite colours and themes was unbelievable and it's now one of his most prized possessions!
Wesley is doing well and his CRPS is currently under control. He took delivery of his first powerchair today, which will help to give him some independence and enable him to return to school. CMT wise, he seems to be losing some strength and being unable to walk is taking some getting used to. As always though he is positive and determined to make the best of things.
Wesley's sister Lowenna has been having a hard time as she is starting to suffer some symptoms of CMT and is experiencing a lot of pain and some difficulty walking. She is currently under physio and has an appointment to discuss aids which will hopefully help her. It's a worrying time for her and for Wes, who loves her to bits!
Update 7th November 2015
Sorry for not updating for a while. Wesley and his siblings get so much joy from Post Pals and we would all like to thank you so much for your continued support.
Back in May, Wesley was suffering from dislocations in his knees due to hypermobility and was having physio etc to try and prevent further problems. We were also in the process of fundraising for a powerchair and were due to have adaptions done to the home to give him back some much needed independence.
Wesley tried very hard with his physio, but the problem continued every time he tried to move either leg. Back in July we had an appointment with a knee surgeon. Despite his best efforts, the physio didn't seem to be having much affect and his leg braces weren't doing much either. X-rays basically showed that his knee caps aren't where they should be, as well as being very hypermobile. Surgery later on may have been an option, but due to the fact that he has CRPS, any surgery carries a huge risk of the condition being aggravated and there is only a slim chance surgery would help anyway. Being told that there was nothing they could do was hard (for me at least – I cried myself to sleep that night), but Wesley took it on the chin and came to the conclusion that at least he knows and being in a wheelchair ain't that bad! We are hoping to travel to Bristol Children's Hospital for assessment later this month. Maybe they will have some ideas?
Wesley's CRPS remains 'under control' right now. Wesley says the pain is just as bad, but he is learning to live with it and he's determined not to let it get him down. November is CRPS awareness month and he has been using his design skills and the power of the Internet to spread the word about the condition. He has regular contact with some young people in America who have CRPS and they are a great support to each other. He's determined that one day we will visit and he will get to meet his new friends!
His CMT seems to slowly be progressing and is causing a lot of weakness in his hands. He exercises and stretches daily to try and keep his feet and ankles supple and to slow any muscle wasting that could occur.
As yet, we are still fighting a battle to have an outdoor lift installed. It was due to go in in February, then was delayed until July (just before the summer holidays). Unfortunately, this never happened so the summer holidays were problematic and meant a lot of time was spent indoors. The council did provide a stair climber, which enables me to get him out when the weather is good – but we live in Cornwall! We made the most of good weather when we could and had some fun times, but when the weather is bad (which it is now) we're pretty much stuck! We were all very excited about the start of the new school term! Wesley took his options and is working hard towards his GCSEs. Lowenna started a new school which she loves, and Tegan couldn't wait to get back! We had a new date for the lift installation of 7th September, which meant we would have all three children enjoying school for the first time in three years! I planned to start training again and looking at getting back to part-time work. The 7th of September came and the lift was brought down from Sheffield – only to discover that it hadn't been measured properly and had to be taken back. At this point, there is still no news.
Wesley is amazing at staying positive. He is top of his class, studying graphic design, catering and computing, but has only spent a handful of days actually in school. He has also missed out on family days out, being able to visit his family in Swindon, but still remains positive! How he does it I'll never know. I couldn't be more proud of him.
So, lets look at the positives! Through support of amazing family and friends we managed to reach our fundraising target for his powerchair! We had some great fun along the way – sponsored zip wires, coasteering, crepe making and an awesome family fun day which saw over 100 people coming to our local community centre for a day of activities! Wes was able to attend this one, dressed as Venom (the theme was super heroes, of course!) There was a visit from Elsa and Anna, which Tegan loved! Local charities including CAAP (Cornwall Accessible Activities Program) had stalls which meant we were able to raise funds for others too, which was a great feeling! The community really pulled together. Towards the end of our fundraising, the NHS agreed to reassess him and finally agreed that they could also provide help, which made up the last of the money needed. Until the famous lift is installed, we are unable to order the chair, as we can't get it in the house – but as soon as it's done we're away!
Wesley has also been provided amazing opportunities through another local organisation – Activ8! We first met them three years ago when Wesley and his sister did the 'Big Santa Fun Run' to raise money for CMT UK and they put him on a waiting list. He has started a two year course, where he and six other young people with disabilities get to go away for a weekend once a month. When he is stuck in the house so much this a massive thing for him! They have provided transport and helped him to get out of the house with carers and support workers – it has been amazing! Lowenna and Tegan also benefit from this as it means for one weekend a month they have our full attention and we have done some great things – we've been to a Status Quo concert, visited Banksy's Dismaland … fun times.
Also, through Activ8 he has joined a panel of young people on the SEN board, visiting County Hall and advocating on a range of topics that he is very passionate about. Again, transport and everything is provided through the charity. The last meeting was about wheelchair services and Wesley sure made an impression! He seems to have a knack for public speaking and isn't scared to speak his mind and be a voice for others! Hopefully, the next update will include having the new lift, ordering his wheelchair and looking forward to the new year! Until then, we will look forward to planning a family christmas. Thanks again to everyone at Post Pals and all of you who have sent cards and gifts. Love and hugs to you all x
Update 1st May 2015
Since getting Wesley's CRPS symptoms more under control and getting him back on his feet, he is now experiencing difficult times due to hyper-mobility. Every time he tries to bear any weight on his feet, both knee caps are now popping out of place! So, six weeks in leg braces, legs fully extended and being adjusted every two weeks, and also physio, to see if he can build up enough strength to prevent it from happening. If not, we will be looking at possible surgery.
At the moment, he is unable to use his newly installed stairlift, so is confined to his bed. On a brighter note though, they have started work installing a wheelchair lift outside the house and plans are in full swing for some exciting fundraising events to help him get a powered chair!
Thank you for your continued support. Your thoughtful letters and gifts mean so much. We will get around to replying, but it may take a while. In the meantime we will keep you posted!
Update 4th April 2015
The past few months has been like a roller coaster of ups and downs! Wesley has been progressing well since coming out of hospital last year. His determination has seen him return to school part time and he continues to do amazingly in all subjects. He has been deciding on his options for his GCSE years and wants to study computing and graphic design. We are lucky that his school are so supportive and what ever he is going through they do their very best to help him achieve his goals.
Wesley's CRPS seems to be pretty well under control – the daily pain is still very much there but he is learning to take it as it comes.
His latest set back has been since he has begun to be more active and walk around more using his AFOs. He dislocated his knee, tearing the tendons and causing some damage. It seems that he is hyper-mobile (which we have known for some time) which means this is likely to reoccur, so six weeks in a leg brace and then an appointment with a knee surgeon to see what can be done.
Wesley and his sisters received some amazing post while he was in hospital last week – it couldn't have come at a better time. Thank you so much!
We are in the process of fundraising for Wesley to have an electric wheelchair to help him around school and to enable him to get out and about a bit more. The support we have had from family and friends has been amazing and they're arranging some exciting events in the coming months. I'm sure we will soon have lots to write about!
Thank you to everyone who works so hard to keep Post Pals running and to everyone who sends post – it makes such a huge difference to peoples lives and we can't thank you enough.
Update 18th October 2014
Since coming out of hospital so much has happened! Wesley is finally getting the help and support he needs with regards to adaptions to our new home, home tutors and support workers who visit to give us some time out, and Wesley some much needed 1 to 1 time.
Health wise things are still tough. He has been managing to deal with his pain more effectively and we're sure this has a lot to do with being at home and around his family and friends. His spasms are a lot less frequent but he has been suffering from seizures, which can be triggered by the slightest knock to his legs. These can be very scary, particularly for him as he is aware but loses all control, feeling in his body, ability to talk or communicate, and then blacks out. All we can do is make sure he's safe and leave him to come round. So far his movement has returned within an hour or so. We are pretty sure that these are non-epileptic and a reaction to sensory overload but he will be having an EEG and tests this month to confirm this.
Despite this, it is always so important to focus on the good bits and his strength and determination make us so proud! In the past two weeks he has managed some time in school which has been a huge boost and his grades are amazing (despite missing over six months of schooling).
Every post card, gift, message, helps to lift his spirits and with his condition this is SO important, so thank you again Post Pals. We can't thank our Post Pals enough for all the lovely messages and gifts. Thank you to each and every one of you and those who do such an amazing job of running the charity and making such a difference during difficult times.
Update 13th September 2014
Just want to thank everyone who has been sending post to Wesley, Tegan and Lowenna! It really helps brighten up their day! Wes has had lots of ups and downs… he's slowly getting some time in school and making progress, but the post plays a big part in keeping him smiling and positive!
Tegan has been making cards and things to send to people – especially her favourite Post Pal Melissa. She was very happy to have a little photo of her and some lovely things for her new wall. Tegan's birthday is coming up too, and by the looks of it she's going to have lots of extra cards and pressies this year!
This group is fantastic and I am really looking forward to having some time to post Tigi's bits and send some post myself. Thank you so much everyone.
Update 1st August 2014
So much has happened since I last wrote an update. Wesley had been allowed home (staying with family as our house wasn't suitable) and was unable to use his limbs or handle any kind of touch without his body going into spasm.
Well, I am pleased to report that we exchanged houses and we were able to move into the house Wesley had been staying in and be a family again! We are settling in well and finally have a great support team around us, enabling Wes to have more interaction and independence. He has been doing amazingly with his school work (even though he has missed a whole year) and the best bit of all is he has full use of his limbs again! Having a hospital bed in our new living room has made a massive difference and we are looking at making adaptions for the future. Thanks to new splints he is able to walk a bit around the house and was able to have his first bath in two years! The spasms have calmed right down too which is making his life a lot easier and he is coping well with his pain – he's determined not to let anything hold him back!
We are certain that his improvement is down to being at home and having some normality back! He is more confident, positive and Wesley's Post Pals have had a huge part to play in that!
Thank you from Wesley, Lowenna and Tegan as they are loving the support and smiles they are receiving from Post Pals. Hopefully things are on the up and we look forward to bringing more positive news very soon.
Update 1st June 2014
After 11 weeks in hospital with severe CRPS symptoms, Wesley was very happy to be allowed home! It has been a tough time for all of us – Wesley is currently unable to use his legs or his right arm and the slightest touch (even from clothing) leaves him in severe pain. When he was first admitted, he was getting all over body spasms – these are now less frequent as he is learning to control them through breathing and sheer determination, however it does occasionally lead to him being unable to use his arms at all for a time. The plan was to send him to The National Hospital in Bath for assessment and treatment, but it was decided that this would be far too traumatic as it would involve a six hour round trip! Instead, we had a two hour conference call during which we spoke about symptoms and how it was effecting not only Wes but the entire family. He is so scared – although remission can be achieved in many cases through a combination of physio, OT and psychological therapy, his nerves are in overdrive, sending constant pain signals to the brain. He knows that he will need to start moving the affected limbs ASAP. for the best result, but for Wesley this makes the pain so much worse, as does the anxiety and stress. On the other hand, not moving will also make the pain worse and lead to complications. The Bath team have set up a treatment plan and will be visiting Cornwall in the near future to work with his care team – it was decided that the best thing for him would be to send him home, to be with friends and family and to get some normality back in his life. There is not much that can be done in hospital – pain meds don't help and he is more vulnerable to being knocked, setting off spasms and picking up bugs. Being at home should give him the motivation and strength to face the journey ahead.
For the past two years we have been fighting to get adaptions or a suitable property for Wesley without leaving our home town, our support network, school etc. The home we are currently in can't be adapted at all due to poor access to the property and doesn't have the room we need to care for him. So along came another plan – a mutual exchange with family members who live just 5 doors away and have supported us no end in recent months! The move is underway with just some forms to sign and waiting for an actual moving date. In the meantime it was suggested by the family that Wesley stay with them, so that he could come 'home' and not have to worry about being moved again when the time comes. Last Friday, a new hospital bed was delivered and support finally put in place after two long years and he came home. Apart from having to remove a window to get him into the house it was a relatively quick transfer – the paramedics were amazing and the welcome home banners, cake that his cousins had made, and a pile of post from Post Pals made him a very happy young man. We have a long way to go and it's not going to be easy but for now we're just happy to have him home. We are so lucky to have such supportive friends and family around us. Without them, it wouldn't have been possible.
Thank you for all the welcome cards received during Wesley's first month as a Post Pal! Such a lovely warm welcome which really put a smile on Wesley's and his sisters' faces during a really hard month! Tegan especially loved receiving a home made card from a 9 year old girl in Scotland. She was so excited! Wesley received a lovely letter from Germany from a Post Pal who shared lots in common. It brought back some lovely memories of his time spent in Germany in his last year at primary school and he couldn't wait to write back! Wesley, Tegan and Lowenna, were surprised to receive some lovely and thoughtful gifts, which were kept as a welcome home when he came out of hospital! Tegan spent ages colouring princesses, while Lowenna turned her hand to making friendship bands and Wesley has spent hours doing puzzles and learning to draw Marvel characters – perfect for a young man who so enjoys his art and comics! We can't thank you all enough.
Being a part of Post Pals has already been a huge boost for the whole family! A simple card can go such a long way and the kids were so overwhelmed they have started to make cards and gifts to send to other children too! Thank you so much.