Donate to childrens charity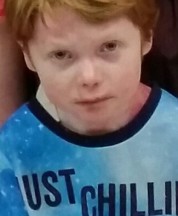 Contact Details
NB: this is a forwarding address, we do NOT disclose home addresses
Other Information
Parents/Guardians - Peter and Claire
Interests - Star Wars, Mickey Mouse and friends, Skylanders, Teenage Mutant Ninja Turtles, Spiderman, days out, drawing, crafts, trains and war planes, films and plenty of chocolate, playing on the Nintendo DS3, Wii, iPad games, playing in the garden with garden toys, Moshi Monsters, Lego, Star Wars and Transformers, Frozen film.
Favourite Colour - Red
Able to read? - No
Able to use hands? - Yes
Visually/hearing impaired? - No
Suffers from any developmental delay? - No
Siblings - aged 3 to 16 wishing to receive post
About - Tie D
Story written 2009
Tie was born with skin missing from his lower legs and feet. Within hours his tiny body had become covered in blisters and skin had torn off his left hand. Even his mouth was blistered inside after nurses tried to feed him a bottle of infant milk. No one knew what was wrong with Tie until a week or so later. A diagnosis of severe EB was made whilst at Alder Hey Hospital in Liverpool. Tie was transferred back to our local hospital in Gwynedd where it was found he had worsened to the point where we were told he would likely die. We chose to bring him home to at least be amongst his family.
After round the clock nursing the plucky little fighter turned a corner and his temperature dropped and he recovered. It still wasn't known how long Tie had to live as only a basic diagnosis of Severe EB had been made and a skin biopsy result was needed to tell how severe. The worst form of EB gives only a life expectancy of 1 year. After a painful wait we were finally told that we would have Tie a little longer! He had the second worse form. All of his bodies' linings are missing the hooks that hold them in place (skin, eyes, mouth, oesophagus etc). Any friction against a lining causes it to detach in part or wholly, leaving either blisters that have to be drained as they appear, or an open wound. When eyes blister, Tie has to spend his time in a darkened environment until they have healed. His prognosis is one of constant wound dressing that we do each day, his fingers and toes will web and fuse together as a result of repeat damage, and contractures will also add to his disability. He is (and will always be) administered morphine, paracetamol and iron until an effective treatment is found. Fluid loss and wound infections pose a constant threat and he always has to be handled extremely carefully so as not to de-skin him. Because of scarring and narrowing of the oesophagus due to repeated damage, he will eventually find eating difficult, which often leads to a gastric tube being fitted in infancy to aid nutrition and administration of painkillers and medicines. Eventually aggressive cancer will set in as his skin loses its self healing power and beings to breakdown. This is likely to happen in his late teens, but children often pass younger from other complications. Tie's life expectancy is 30 years.
So we do what we can to make his life as happy as possible and also everything we can do to help Debra charity fund the research that we pray will one day save Tie and end his pain.
Every day he lifts our hearts and amazes us with his smiles and determination.
Update 3rd March 2016
Tie has had a cold this month. Unfortunately he had sore eyes to go with the cold and had to stay in his bedroom in the dark for a few days. He is a lot better now, the cold has now passed over to his brother and baby sister who also have the same condition.
Update 12th February 2016
Tie has been doing well and nothing has really changed with him. But Calvin had an operation to have all his teeth removed and he has recovered well.
Update 26th January 2016
Tie would like to wish everyone a happy new year and thank everyone who sent out letters, gifts and cards. They mean a lot. He loves receiving them as it brightens his days.
Tie is currently still being taught at home by a tutor. Tie is doing very well, but unfortunately Calvin will be going into Birmingham Children's Hospital for an operation. They will be taking out his teeth as they are rotting away due to the condition.
Both boys are looking forward to having their bedroom redecorated with a blue theme with glitter wallpaper.
Will let everyone know how Calvin is next month.
Update 5th December 2015
Tie is well. He can't wait until Christmas. He's had a good month. He, Calvin and Princess all had their hospital check up and all is well.
Update 22nd October 2015
Tie has been well. He enjoyed his birthday and got lots of large Star Wars figures. I now home tutor Tie and Calvin due to an incident at school. Hopefully after Christmas he will be going to a different school with his siblings. Tie doesn't mind, as he loves being at home with his baby sister who is now 6 months old. But he also gets spoilt! Having the boys at home means they have less bumps and knocks, which is good for them and means less open wounds so they're less likely to get cancer in their late teens.
Update 6th August 2015
Tie is looking forward to his birthday as I am doing a build a teddy party for him with some of his friends at Teddy Wishes.
Tie is wearing less dressings on his feet and legs now as he doesn't sweat as much.
So far he has had a good summer with it not being too hot.
Tie has enjoyed receiving all the items through the post and he thanks everyone who has sent him them.
Update 4th July 2015
Tie and Calvin (his younger brother who also has EB) have been to Birmingham children's hospital for their yearly check and all is well and they seem happy with them. They are concerned about the boys' hands as the skin has crept up their fingers, so the hospital is arranging splints for the boys.
Both boys were able to enjoy my birthday (mum) at Chester Zoo last month. Tie and Calvin will also be going on a school trip to GreenWood this month which they are looking forward to. Unfortunately we won't be going to Alton Towers now, but will be going to the Blue Planet Aquarium instead. All the children are looking forward to it.
Tie and Calvin's health has been good this last month. Calvin did have an accident in school and was sent home, but he's recovering well.
Thank you for the paper cutting art work we received this month.
Update 31st May 2015
Tie had a stomach bug during this half term and had infected eyes, along with his brother Calvin. They are much better now.
We went to Gulliver World on Friday where Tie and his siblings really enjoyed themselves. Tie and Calvin found it a bit tiring but still enjoyed it. We will be going to Chester Zoo next weekend and Tie is really looking forward to seeing all the animals.
Tie and his siblings would like to thank everyone who sent them post.
Update 14th May 2015
Tie is doing very well. Unfortunately with the weather getting warmer he is suffering with more blisters and infections, and he also has a nasty cold at the moment, but is still able to attend school. Tie is doing well at school and is now in Year 3 in Juniors which he is enjoying. He goes with his class swimming every week, but is unable to go swimming himself due to his condition. Tie has started to play some sports in school which he is enjoying but has blistered his hands doing games. He loves doing arts and crafts which he does both in school and at home.
Tie is eating a lot better, he has put on weight and has started to try different foods. He still has his fortisips to help with his weight though. We also still have to attend appointments once a year at Birmingham, however they are really pleased with him lately.
Tie is looking forward to this summer as we will be taking him to Alton Towers and Gulliver's World.
Five weeks ago, Tie's new baby sister, Sapphire, was born. Sapphire has the same condition as Tie and Calvin. Tie loves his new sister and plays with her a lot as he is able to calm her down if she is crying.
Update 19th September 2014
Tie and his younger brother Calvin had a good summer! Not too bad with extra sores/damages etc brought on by the skin and body's membranes becoming irritated by the warmth. Saying that, Tie had suffered from an extreme flushing from around June/July time, which we think was just some leftover from a virus that didn't want to shift. It cleared up over the holidays thankfully.
Both boys had been booked in for their 6 month MOT at Birmingham children's hospital at the end of August, but a few days before both of them developed temperatures and BCH advised that it would be best to re-arrange the appointment. A day later and Calvin came up with what could only be chickenpox spots… they didn't look like chickenpox, but symptoms and how they appeared made us suspect chickenpox. The boys skin alters the look of somethings like chickenpox sometimes. The doctor confirmed that he felt it was chickenpox too, but gave a course of antibiotics for Calvin, just to be safe as he couldn't make a proper diagnosis. Tie had chickenpox when he was younger and did not develop anything apart from a fever this time. Within a week both boys were back on the mend.
Both young men have gained weight over the summer, but are now finding the heat very weary. Tie often just leans over his desk in school as he is so worn out by the heat there. The school have set up a fan by him, as his classroom has no air conditioning.
They sleep well as their bedroom has air conditioning installed and in this weather it gives them a well earned break.
Like I say, both boys are doing well. We are hopeful for them and their futures and are keeping that shield held up firmly in front of us, blocking out all that could potentially go wrong. We are concentrating on the positives and they are gaining weight, which is a first for Tie.
Thank you all for your support and best wishes to you all. It really makes the children smile when they receive post.
Update 17th June 2014
Tie has been suffering with a recurrence of sore eyes/blistered eyes since temperatures started to rise. On good days he has been attending school, but has often had to attend only half a day due to tiredness and getting upset. On the whole he is doing quite well I suppose for a boy with his troubles, but he does find it hard going when he is tired.
As with his brother, their best aid in a good nights sleep is alimemazane, which does help them both settle. The main problem at night now is the heat, but we do chill their room down to 18 degrees celsius before bedtime and that helps them too. We have to chill it down before bedtime, as they can't stand having the air con running all night as it dries out their throats too much!
Again, the warm weather is having the usual affect on the boys wounds and blisters as they are getting more of them, from sweating and being uncomfortable and itching.
Appetite wise, the heat makes them feel like eating less and as they are already really at the bottom of the weight charts, it is not helping! There is a good chance that they both may end up on gastric tubes to assist their nutrition, but we are still hopeful that we can avoid that outcome.
Both boys are still anaemic and receive iron every day to help them.
It's all work for the boys at the moment, even if it is just with healing and getting better! But we hope when the summer holidays arrive we will be able to give them one or two fun family days out to lighten their lives.
Thank you all for your cards, letters and kind gifts. It all helps brighten their days, especially the sore eyes days, when we live inside with the curtains closed to keep the house dark for them because the light hurts their eyes.
Thank you all and best wishes from us.
Update 22nd May 2014
Tie's major concern at the moment is his weight, or lack of, I should say. Gaining weight is always an issue with severe forms of EB! If it is not a sore, ulcerated and ripped mouth/tongue, it is a sore damaged throat or constipation!  We have movical which helps toileting difficulties quite well, but sadly it doesn't taste too nice to Tie, so he tends to wait until he has an issue before he will accept the movical!
Weight gain is such an problem for these butterfly children, most have gastric tubes fitted to aid them get to a better level of nutrition. Tie and his brother Calvin are both likely to need such a tube in the future, but neither want one and it is only the thought of having a tube fitted that drives Tie on to eat a little more than he wants to.
Another problem is sickness. We all go off our food a little when we are ill, and sadly our boys have been suffering with a viral illness of some type for the last couple of weeks, so we are just trying to keep them eating something. It is strange how they always manage to eat chocolate!!
With the warm weather starting the boys have had a few extra unsettled nights, so we have been using alimemazane a little more frequently than usual to help counter the warmth (which makes them feel sweaty and uncomfortable). The alimemazane is a anti histamine, prescribed officially to reduce their itching of dry and damaged skin, but unofficially it works more as a sedative than anything else. At least it gives them a couple of hours of proper rest each night. We do have an in built aircon unit in their double room, but we can't run it overnight as it dries out their throats too much and in the morning they are choking. The best thing we have found is to run it on an evening to chill down their room before bed, which helps a lot, so long as one of the kids doesn't go and leave their bedroom door open.
Calvin and Tie have both had sore eye days too recently when they have slept in late and then we have to close the blinds and curtains in every room to ease their suffering, as their eyes become very sensitive to light when they are sore from blistering.
Tie is enjoying school, but is missing a lot of school too. He and Calvin are both home at the moment as they are still recovering from viral illness.
Tie loved the Disneyland letter, as we went to Disneyland Paris in 2012. He got to meet Stitch in an interactive show, so Stitch is now one of Tie's special friends from another planet and he loves hearing about Disneyland and keeps asking us when he can go there again! We hope to go again in the future, but for the moment our holidays will be a bit closer to home.
Jessica is now 16 and has asked me to say a big thank you to everyone who has sent her post since Tie has been a Pal. She has loved the letters and pictures sent through to her, not to mention the vampy gifts. So thank you very much.
Next week is half term here, so we hope that Tie and Calvin will be fine soon and enjoy the holiday from school and then be fit and well to start school again after the break.
Update 14th January 2014
Both Tie and Calvin are currently doing well. They did have a bad patch after receiving the flu immunisation spray and they suffered for a couple of months with every bug and illness they could pick up after it, but came through it all fighting. We knew the flu spray would hit them hard, but we also knew that the alternative was even worse. If anyone saw Children In Need last year you may recall two brothers who suffered from the worst form of EB who passed on within a couple of weeks of each other after catching the flu. So, we knew we had to get our boys treated.
Tie has been working with physio after we found one leg to be about a cm smaller than his other. It is so minor that ordinarily it would be overlooked, but with reduced ability, it is highlighted, especially when the damage to his foot from walking shows up where the pressure is being placed. He is progressing well with it.
We are also working on separating his toes. Surgery was refused when his feet got to the stage when he could hardly walk on them as his toes were pinned to his sole and therefore scrunched up! So we knew we had to take charge and started placing straps of dressing and soft ones between each toe (well in some instances on the skin were the gaps should be between the toes) and after two months of doing this every morning and night, the toes are nearly all back! They are still pinned to an extent so his toes are curled over a bit, but they are individual toes, where they had been webbed. The light pressure we applied with the straps was enough to stretch the webbing away! So we feel like one more little battle is nearly won there. However they are little battles, the war overall is still on and we aren't quitting!
The boys had a illness free Christmas, well almost anyway. They loved it and all the cards and kind gifts. We have been very busy since before Christmas as we have gone back to work, so our apologies for a lack of personal replies to everyone, but your efforts are appreciated and hep put a smile on our boys faces – and thats priceless. Calvin has avoided a lot of pitfalls of his condition as we have been prepared for them thanks to learning through Tie's experiences, so he is doing well. He eats well too, but does sometimes get a sore throat and then chokes on everything (except chocolate strangely – how do they always manage to eat chocolate? It is truly a miracle food!) but each time he has a bad patch he gets over it.
Of course, now the cold weather is here their condition eases a little… how can i put it? If you came to them now without any previous knowledge/experience, it would be too bad and too much to handle/cope with, but as a seasoned carer you have the knowledge that in summer the condition gets ten times worse (hence the air-conditioned bedroom, which in summer is a life saver).
To sum up, both boys are continuing their battles but mostly with smiles. Plus our new toothpaste has kept their teeth in good condition for over a years checkups now so we are happy!
Thank you every one for your support.
Update 2nd April 2013
Tie would like to thank everyone who has sent him and his siblings things.
Tie has had a lovely Easter holiday with plenty of eggs. He really enjoyed his Easter egg hunt at home which I made for him and his siblings.
Update 2nd March 2013
Tie is having a bad weekend, his eyes have blistered once again, so he is having to sit on the sofa in pitch black. Hopefully he will be better by Monday for school.
Tie celebrated Saint David's day last Friday with his school where he enjoyed a disco, while Jamie-Anne sang with the school choir at our local Asda.
Update 3rd February 2013
Tie has had a good month so far, he has been back at school and has handled it very well and only had 2 days off due to tiredness.
Calvin had his routine hospital appointment which we had to travel all the way down to Birmingham for and when we got back I had loads and loads of hugs from Tie.
Update 14th January 2013
Tie has had a wonderful Christmas and we would like to thank everyone who sent cards and presents. Tie and his siblings love their post and they hope that everyone had a wonderful Christmas and New Year too.
We would especially like to thank Doncaster's computer company for giving Tie a brand new windows 8 laptop – he loves it to bits and constantly plays on it. Thank you so much.
Update 9th December 2012
Once again, Tie would like to thank everyone for their generosity. To everyone who has sent Tie or his siblings an item and has put their address on – we will be sending a Christmas card to you. Thank you all for your kind letters, cards and gifts, they are well appreciated.
Christmas is just around the corner and Tie has already made his list. He is really looking forward to santa popping in and leaving a few gifts – poor santa, it is not going to be cheap!
Tie will be in his school play – he's only a sheep, as he's been missing a lot of school due to a nasty cold which has caused him to weaken. When Tie gets weak he tends to fall a lot, but while he has been at home poorly he's only been chilling on the sofa. Unfortunately, Tie doesn't like doing the Christmas show as the music is too loud for his delicate ears – we're hoping to put extra soft earphones on him.
Have a good Christmas and a happy New Year.
Update 12th November 2012
Tie and his siblings would like to thank everyone who sent halloween items. Tie and his siblings had a halloween party which they all enjoyed. Tie was dressed as a skeleton and Calvin as a wizard. They danced to music with friends and enjoyed loads of food.
Calvin would like to thank the very nice lady who bought him the polar bear items, he really loves them.
Tie and Calvin have both recently had very poorly eyes where they have rubbed them in the night and they have blistered. Tie had sore eyes a week ago and Calvin has them today, he sat on the sofa all day unable to open his eyes, so he kept on drifting in and out of sleep.
Mercedes and Harriet would like to thank everyone who has sent out birthday cards for their birthdays this Tuesday and Thursday. Mercedes will be 5 on Tuesday and Harriet 9 on Thursday.
Tie can't wait for Christmas, in school they are starting to rehearse for the school play and he has already made a list for Santa.
Update 5th October 2012
Tie is doing well, he has had a good month with not many blisters or open wounds. He is doing very well in school and is using a special pen and pencil were he doesn't need to press when writing. Tie's teeth are also starting to come through so he can eat better now.
Last week Tie was very upset as we had to put 3 of our rabbits down due to a nasty illness, but Tie is happy as the baby rabbits are doing well and are now 5 weeks old.
Tie can't wait for Santa to come, he has already started making his Christmas list!
Once again, Tie would like to thank everyone who has generously sent post to him. Jade would like to thank the very kind children for her gifts, she loves them loads. Thanks for the children's post.
Update 16th September 2012
Tie just recently had his 6th birthday on the 2nd September – we bought him Lego star wars, and transformers, and a vintage star wars ship with people, which he loves to bits.
Tie had an operation back in July where he had all his teeth removed (apart from 4 front bottoms ones). Two months on and four front adult teeth have finally come through, so he is able to eat a bit better now.
Tie started in year 1 of school, he has settled down very quickly and is enjoying every minute of school. Instead of P.E. he does his special exercises to help his skin stretch. Unfortunately Tie is unable to run around with his friends and can't play outside with them at playtime, so he stays indoors where he won't get knocked accidently by other children. He finds it hard as he wants to play with his friends, but is scared to as his friends don't understand properly that they have to be very careful around him.
Due to Tie's condition, he can only write for a little while as the friction of the paper on his hand will cause his skin to rip off or blister. He can hold a pen and write well, but doesn't have the strength the average child has. School says he is doing very well and they are pleased with the amount of work he can do though.
Tie would like to thanks everyone who send him things, he loves receiving post.
Update 23rd June 2012
Tie is waiting to go into hospital for a operation to extract 6 teeth. He is also really enjoying school and loves taking part in school sports.
We also had a little girl two months ago and Tie loves spending time after school with his new baby sister, Sweetpea.
Tie hasn't had many accidents recently, which is good, but Calvin has been having accidents instead.
Tie is looking forward to having loads of days out in the school holidays and can't wait to celebrate his 6th birthday in September, as he has requested a Mickey mouse theme.
Tie would like to show everyone a photo of his new little sister, so here she is!
Update 29th February 2012
Tie has been suffering a lot in the past month with sore blistered inner eye lids. He has managed to put on a bit of weight though and looks a little chubby in the face. Tie has also been restless at night and has managed on several occasions to rip open his legs in the middle of the night. He is coming down with a cold, which is why he has been restless, but the last couple of nights he has slept quite well thankfully.
Tie would like to thanks everyone for the generosity; he really loves receiving all letters, cards and gifts through the post.
Update 12th February 2012
We have found a product that is working well to keep Tie's skin moisturised, it's called Allano Hand and Body lotion. It is something that we now sell ourselves as it's that good – it has helped one of our girls with an eczema problem and a couple of friends have told us that their psoriasis has been eased a whole lot too. We are promoting this with other parents of Eb sufferers and really think it could be of great help to many people.
Tie is now gaining weight well, which is a first. He is still really light, but we are making repeated steady progress so that is looking good for him and his skin is looking better – although he has had some infected patches, they are healing gradually.
Update 13th January 2012
Tie and siblings had a wonderful Christmas. Tie's best present was a trip to Disneyland Paris, thanks to the Starlight charity. Tie really enjoyed meeting Mickey Mouse and friends, Stitch, Woody and loads of other characters and had photos taken with some of them. We spent two wonderful days at one of the hotels and had a wonderful time in the parks.
Since being back Tie has been poorly with his eyes – he has had them closed for the last 2 days with blisters on the inside of his eye lids. Unfortunately he has become worse today as he has come down with a stomach bug too.
We would like to thank everyone who sent cards, letters, postcards and gifts. Tie and his siblings really enjoy receiving post. We also would like to wish everyone a happy new year.
Update 5th September 2011
Tie started school full time last Friday on his 5th birthday. His class sang happy birthday to him and his teacher got him a cake. Tie is really enjoying school.
Tie misses receiving items from Betty in Australia, as she used to send Thomas books. We hope she is ok. He loves receiving postcards and gifts and letters. We would like to thank everyone who has sent Tie or his siblings something.
Tie really enjoyed the summer holidays as we went to the local farm and forest park and the beach (he loves making big sandcastles with large moats).
Tie loves having ice cream at the moment, but he can't have it in a cone as his tongue is restricted due to all the scaring in his mouth, so he has to have it in a bowl with a spoon. Tie is now on nutritional drinks to help him put on weight too.
Update 4th March 2011
We would like to thank everyone who sent post to our kids this month; we are very grateful for your generosity.
Update 4th February 2011
Tie underwent an operation to dilate a stricture in his throat towards the end of January. He enjoyed creating Thomas the Tank Engine badges whilst he bided his time until the operation. With some trepidation he allowed an echo scan of his heart to be carried out, which showed his heart to be nearly 100% ok, which was nice to hear. Once the all clear came back on the echo scan he was booked in for the operation the following day. Tie understandably got a little upset before the operation, but it went well and the surgeon found that the stricture in his throat broke quite easily as it had been caught early. His throat was very raw after the operation and his tongue quite blistered, but once he had had a cuddle and a bit of a rest the bleeding eased and he slowly started drinking a little. By evening he was enjoying a strawberry mousse and the next day he was back to himself. Since the surgery his eating has improved a little, but this improvement has been slowed by several days of blistered eyes, which always leads him to sleep more and only snack a little.
Update 18th January 2011
Tie went through Christmas day and Boxing Day with his eyes closed, as he had blistered an eye and found opening them too painful. He felt all his presents with the help of his sisters, only to rediscover them 3 days later when he was able to open his eyes.
Tie was due to have an operation on his throat to widen it in December, but unfortunately he fell ill the day before forcing the operation to be postponed. The new date is at the end of January, so hopefully we will have some positive news to report on that soon.
Tie loved receiving lots of Christmas cards and he had many reindeer friends who wrote him lovely letters. I would like to thank everyone for their considerate gifts for Tie and his siblings; they have given them great pleasure.
Update 5th December 2010
Tie had a good month in November, with only one week away from school with a cold. We did see a few days when he had blistering on the inside of his eyelids, causing him to have a few days with his eyes closed, but on the whole it was a good month.
Update 11th November 2010
Tie had a very tiring trip to Birmingham children's hospital this month and underwent a barium test to x-ray his throat for signs of narrowing. Initial results seemed positive but further scrutiny by the team at Birmingham found that his throat has narrowed and they are now looking to book Tie in for an operation on his throat to widen it. He also had his eyes tested! They found that he has 20:20 vision, but he also has scratches on his eyes from previous blistering. Only time will tell us how his eyes will continue to cope with his condition, but it is a possibility that repeated damage may lead to blindness. His belly has been hurting a little more this month, but his special milkshakes (containing Movicol) have helped in preventing further internal damage. It took Tie a week to recover from his trip, but now he is back to his old self.
We received tickets to Legoland from Post Pals and in half term we all visited the park. Despite the chilly weather everybody loved the day out and had lots of fun. Thank you Post Pals.
I would like to thank everyone for thinking of Tie and his siblings and for always putting a smile on their faces!
Update 10th October 2010
On a short weekend break in August (the first in four years) Tie suffered a fall down some steps and opened up his left side, hand, side, knee, leg. But after an hour of fixing him up, a rather more tired Tie was back on his feet with a smile on his face.
Tie had his 4th birthday on the 2nd October and also started 2 hours a morning at nursery. He has a carer that accompanies him each day and he is enjoying his time there. He did have a small accident that saw him blister both hands and knees by falling over, but after 5 minutes he was up and about again. It looks as though Tie will be having a further test in October to check to see if his throat has narrowed with scarring as the last test was inconclusive.
We are very grateful for all the kind letters and cards, Tie and his siblings love reading them, and thank you for the gifts too. Special thanks to Marjolijn from the Netherlands, everybody loved your kind gifts.
Update 19th August 2010
July started off not too badly for Tie, with the mild summer and our three air conditioners cooling the house. However, a weight drop had been picked up and his appetite was hindered by episodes of choking on food when feeding. So the month turned in to a battle to stop the weight loss and we just about managed it with the help of chocolate doughnuts! In August Tie is booked in to have a Barium meal to see how his throat is, they suspect that it may have narrowed over the last few years with scaring and that Tie may need an operation to widen it! The test will show if this is the case.
Thank you to Sarah, Henry, Mai & Christine for their fantastic cards. Many thanks to Betty, Susan and everyone for their lovely letters. Special thanks to Alison, Cat, Samantha, Jayne, Jack & Erin, for their very thoughtful gifts which helped Tie through some difficult days and also put smiles on the faces of his sisters.
Update 10th July 2010
Tie has had a bit of a rough month with stubborn infections on his legs, which we now hope are finally healing. He also had some nasty damage to his left hand one day when out walking with his dad – he tripped over and sadly as his dad was holding his hand at the time, the skin of his hand was traumatised severely as his hand slipped leaving his skin behind. After many brave minutes, his dad had replaced as much of the original skin as possible and wrapped up his hand in dressings to protect it. I am happy to report that Tie's hand is now almost completely healed and has retained full function , in fact, his specialist nurse commented this month that his hands appear to have less webbing between the fingers than before – which is good news.
Of course there is always some bad to balance out life, and sadly Tie has continued to choke on his food more and more frequently. This really upsets his throat and causes him to bring up blood. Due to the worry that his throat may have narrowed due to damage, his nurse will now arrange for him have a barium test performed to see if his throat has narrowed. If it turns out that it has been narrowed, then we have been reassured that there is an operation they can do to expand his throat, by basically inflating a balloon in it! With no great surprise, this news of his increased choking also comes with news of a weight loss of 3lbs. So, we are once again focused on increasing his nutrition levels and food intake.
On the 23rd of June, coinciding with our 12th wedding anniversary, Tie's baby brother, Calvin, was born. Calvin has EB too, but thanks to the lessons Tie has taught us along with the co-operation of the midwife team at the hospital, Calvin was born with damage limited to his left foot and of a good weight. Since birth, he has continued to do well with little damage occurring – he has certainly had the best start to life that we could have prayed for. We had always said that we would have no further children with EB, due to the extensive affect this severe form of the condition has on them, but as diagnosis was not made until very late in the pregnancy, after much heartache and tears over what may be, we chose to make plans on how to manage the situation to the best of our abilities and feel we have been truly blessed with our second brave soldier.
Tie had a very busy month with also visiting the school that he will be attending for two hours a day come September. He found it a little overwhelming with so many other children about and tired quickly. However, we feel that due to the interest the school has taken in how to provide the best support for him and the fact that he will have his own carer watching over him whilst he is in school, that he will be ok and settle in nicely come September.
Many thanks to everyone for the gifts received this month, Tie and the girls loved playing with all the craft items and toys.
Post Pals provides such a boost for our son, even on days when he cannot open his eyes, he still has a big smile on his face when the postman brings a letter for him. He absolutely loves opening his letters and cards and looking at the pictures. He can't read yet, but loves us to read them out to him. Thank you all for caring so very much.
Update 11th June 2010
Tie has had a good month on the whole. He only had a couple of days with eye troubles. He has suffered a bit with a sore throat, but it hasn't impacted on his diet too badly and it hasn't developed into anything too dire for him. He has had more blistering with the heat and a couple of weeks of colds made his skin more prone to damage – but the air conditioning stopped the heat from affecting him too badly.
Many thanks to everyone who sent a special gift for Tie or one of his siblings this month, especially to Betty and also to all the children at Letham Nursery.
Update 19th May 2010
Tie has really enjoyed receiving his special post this month. With suffering from a stomach bug throughout, he has been very tired and often very sore – even on days when he couldn't open his eyes he was very happy to hold his post and have them read to him.
A big thank you to everyone who has sent a card to Tie, he really loves receiving them, especially when he is feeling low. Many thanks to everyone, especially Megan from Horndale County Infant & Nursery School, for her letter and picture – Tie really liked your picture.
Update 8th April 2010
Tie has had a reasonable month, with no major injury. He has suffered a few days in the dark with his eyes closed and sore though and also had a few tummy troubles which did reduce his diet a little at the time. He is currently fighting off a couple of infected wounds on his legs which have been hindering their healing, but they seem to be getting better slightly, so we hope they will continue to improve and heal soon.
A big thank you to everyone who has sent a card to Tie, he really loves receiving them – especially when he is feeling low. A very big thank you especially to Jessica and Jade for all the books we received last month. Everyone really loved their books.
Update 12th March 2010
Tie has been fairly ok in the last month. He has had a damaged throat on occasion making swallowing anything an impossibility which caused him great distress, but each occasion settled down within a couple of days. He suffered a minor accident which left him with no skin on two toes and damaged/blistered skin around the area on his foot. The incident really shook him up and he was shaking with the shock of it, but once we had dealt with the damage as best we could, he calmed down and made some craft pictures with us, which really took his mind off his foot.
A recent day trip to hospital for review has showed that he is still gaining weight and currently doing well – we are waiting for blood tests to come back to see if any increase in iron or any other medication is needed.
We would like to thank everyone for the gifts they have sent. Everyone has been thrilled with the books they received in February and Jessica and Jade in particular have enjoyed their gifts and Tie has had a lot of new stories read to him each night. Thank you all very much for letting Tie and his sisters into your hearts.
Update 10th February 2010
Tie has been having a little trouble eating lately, his appetite has been a little shaky, not of great concern, but he has hurt his throat swallowing food a few times and it has led him to eat less as his throat healed each time. It is a worry to us as most kids with Tie's form of EB have gastric tubes fitted in infancy, as throats tend to narrow with blistering and scar tissue making swallowing difficult. We hope that Tie won't need one but only time will tell. His weight is still quite reasonable and we hope he will regain his appetite soon.
I would like to thank everyone who sent a smile package to my girls, they loved them very much. It seemed like everyone had really taken their time in thinking what our girls would like and got the packages just right, making big smiles appear. Many thanks.
Update 10th January 2010
Tie had a fall from a dining room chair on the Monday before Christmas, so the brave little fella went through Christmas with a sore face and some internal blisters, but he didn't let them slow him down much and enjoyed himself. When he fell he damaged the skin on his forehead, causing blistering across it. He also took the skin off his chin and his nose and blistered his hands, elbows and knees!
He has healed up now and has started 2010 with a good appetite and a reasonable weight. As usual we are hoping for the best for Tie, and even though we know that 2010 will be a busy year for him full of new challenges like starting nursery in September, we know that he will face each challenge with a smile and a determination like no other. We are very proud of him.
We were absolutely amazed by how many people remembered us on their Christmas card list and many thanks to everyone who sent a card. Again, a big thank you to everyone who remembered Tie and his sisters this Christmas by sending post. We have never seen so many gifts come via post before and Tie and his sisters absolutely loved opening them all. Many thanks.
Update 3rd December 2009
Tie has had a good month, with no major injuries and only a few days with his eyes closed.
The kids will absolutely love their gumball machine when they unwrap it at Christmas , thank you!
Post Pals is fantastic, there is nothing that lifts your heart like seeing your child have a smile on their face!
Update 31st October 2009
Tie had another month of eye sores/infections that often left him with closed eyes a lot of the time. He has also had a number of skin rips and blisters all over. At the moment we are waiting for his current bout of blistering to ease off to give him a better chance of healing up.
He absolutely loves his post, many thanks to all his post friends. Tie loved his Iggle Piggle Doodle toy, he won't put it down and he even doodles on it when his eyes are blistered and he can't see! Everyone loved the Halloween toys that came through too.
Update 30th August 2009
Tie has had a better month this month as his eyes have been far better, suffering a lot less blistering thankfully. He has suffered a bit more than usual with blistering on his feet, and his lower back has remained raw, but the worst time he had was in mid August when he asked us to lance a blister or,"bubble" as Tie calls them, and when we looked at his belly where he was pointing there was no sign of any damage – the blister was internal in his bowels i guess, and that caused him a lot of pain over a couple of days. At the moment he is fairly ok and thrilled that his 3rd birthday is just around the corner on the 2nd September!
Thank you to everyone, it is nice to hear from people that care. A big thank you to those who remembered Jade's and Adelle's birthdays and it was really nice that everyone received a gift this month , they all loved their special lollipops! Thank you.
Update 3rd August 2009
A lot of this past month has seen Tie passing his days with his eyes closed and in a darkened environment for days at a time, whilst blisters on his eyes and the inside of eyelids healed. Touch wood he has had a few days without eye blisters now and it is feeling like he is over them for a while, or until he rubs his eyes again!
He is still eating okay and receiving post has been putting such a smile on his face! Many thanks to everyone, especially for the party goody bag and the Roary book that was sent, he absolutely loves it!
Update 11th July 2009
Sorry we couldn't make the Post Pals party, but Tie has been finding it hard going with the heat and the trip would have proved too much for him. Thank you for sending him a goody bag though.
I would just like to thank all of Tie's friends for cheering him up this last month. He has had a lot of blisters, injuries, painful insides, and has been stuck in the dark a lot of the time with eye blisters. Even when he can't see though, he still loves holding and feeling his post. Thank you everyone for helping the postman put a smile on my boy's face.
Update 30th June 2009
Tie has had a few quite bad days this month. He fell over whilst holding a spoon in his hand and it ripped off the skin from his left hand, and an hour later he fell again and took the skin off his left knee. These wounds have healed now though and he is back on his feet, but he is finding the heat a little much and tiring, so he is spending most of his time in the house in front of the air conditioning unit. He has had a change of antihistamine to Vallegan syrup for relief of his night-time itching and he has just had a stronger painkiller prescribed for his dressing changes (I'm not sure of the name, but I think it is called Midazolam). It is theatre medicine and we are waiting for the prescription to come though.
Many thanks to all of Tie's post pals. Tie especially loved the cars card that he received and the Bob the Builder pop up card. He also loved the cuddly koala bear that turned up one day. Post Pals is fantastic and it brightens Tie's mood when something nice turns up in the post for him.