Donate to childrens charity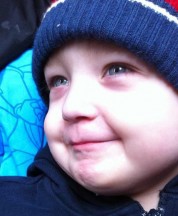 Contact Details
NB: this is a forwarding address, we do NOT disclose home addresses
Other Information
Parents/Guardians - Verity
Interests - Loves superheroes!! Adores Spiderman best of all but also ironman, hulk, captain america, batman, teenage mutant ninja turtles! Loves colouring, craft activities, painting and reading a book with an adult (among his favourites are The Gruffalo and The Gruffalos Child). Loves Hamma beads and jigsaws! Theo is especially skilled at jigsaws and finds the 100 piece ones fairly easy! Also enjoys puzzle ball jigsaws. Among his other favourite characters are mickey mouse, donald duck and captain hook! Please DO NOT SEND food or anything containing latex as he is extremely sensitive to it.
Favourite Colour - Red and blue - like spiderman!
Able to read? - No
Able to use hands? - Yes
Visually/hearing impaired? - No
Suffers from any developmental delay? - No
Siblings - aged 3 to 16 wishing to receive post
About - Theo C
Story written 2013
Theo made rather a dramatic entry into this world 4 weeks early in October 2008… right from the start we knew he was trouble and would never take the easy road in life and we were apparently right!
Right from the start we had issues with his feeding and by 3 and a half months old we were referred to a local paediatrician who diagnosed Reflux. By 8 months old Theo's problems had worsened dramatically and he was vomiting copiously, had cut out his solids diet and barely touched milk. He was put on a high calorie milk but he could only manage a tiny amount which would quickly resurface across the room. At this point he was referred to a surgeon in Leeds and when he was 10 months old he underwent a Nissans Fundoplication and had a gastrostomy placed. Everyone thought this should have been our cure, that our problems would be solved… well they weren't, in fact, his issues seemed exacerbated.
His symptoms gradually worsened and in March 2011 he was diagnosed with multiple food protein intolerance and had a large amount of the food groups removed from his diet by his doctor. Theo still continued to deteriorate and his symptoms worsened. He suffered from severe bloating, reflux, facial rashes, facial swelling, problems with his bowels and vomiting bile.
In August 2011 Theo was referred down to Great Ormond street hospital and in November he was seen for the first time. Theo had scopes in December and commenced on steroids in January 2012. Unfortunately he didn't respond to the steroids and was admitted to our local hospital in February. They tried various treatments but Theo continued to worsen and lost a lot of weight so in March 2012 he went to Leeds and had his gastrostomy changed to a gastro jejunostomy and they removed foods totally from his life.
Throughout this time Theo took everything in his stride and continually charmed all who came into contact with him, his bravery was amazing. He commenced on jejunal feeds and did well initially but then the inevitable happened and he went downhill again, he continued to lose weight and his hair began to fall out.
In June he was yet again admitted to Great Ormond Street and went through a set of tests which really were terrible for both him and for me to watch. These tests showed he had problems with his gut motility and they arranged for him to go back in September for a test which required surgery. Unfortunately Theo didn't do well post operatively and required total parental nutrition for a short time to boost his system while they built a modular feed through his jejunal feed. They eventually managed to wean him off tpn and get him onto full feeds down his tube. A supposed few day admission had turned into 6 weeks but we walked away with a diagnosis and now knew Theo suffered Chronic Intestinal Pseudo Obstruction and has Eosinophilic gut disease underlying.
Currently things aren't going well for Theo and his health is deteriorating further, we have been in our local hospital recently and are now awaiting to see our doctor at Great Ormond Street. We are hoping for a new plan for Theo.
Theo is an amazing little boy and with lots of love, laughter and cuddles, and we do our best to embrace life between the hospital admissions and appointments.
Update 6th August 2014
After a long think we have decided that now is the right time for Theo to move on from Post Pals. We have been so grateful for the immense support from yourselves and your volunteers and in the very dark days stuck in hospital it has meant the world to see a smile from Theo due to a card or gift sent from someone.
We will always be grateful. Keep helping the children and doing an amazing job!
Love always,
Verity, Nathan and Theo xxxxx
Update 11th April 2014
I have to firstly start with an apology… it has been an awfully long time since I updated Theo's page and for this I am sorry. It has been a tough time and though I know this is no excuse as people go through far worse then us, it just seemed I couldn't do it… I couldn't bring myself to put it down on paper or at least on the computer.
So, last time I updated we were awaiting a prolonged admission to Great Ormond Street. This was to remove an embedded gastro jejunal tube and also to look at Theo's bowel and how it was (or wasn't as the case was) working. We went in under the surgeons and as it turned out his tube was so badly embedded in his abdomen that it required major surgery. He was in theatre about 5 hours and came out very poorly and with a central line inserted to give him complete gut rest. It turns out it wasn't that anyone had done anything wrong but Theo had reacted to the tube and because of this he could never have that tube again. He would move onto a Mickey Gastro jejunal button once his little body had time to heal (this was 6 weeks later). Theo remained very poorly and on strong pain relief for a while and also had TPN while his gut healed.
Once Theo had begun to recover and his gut had rested he had a nasojejunal tube inserted, this in itself was incredibly tough for both him and for me to watch this process. It wasn't easy but once he finally got used to the tube being there we began feeds again into his small bowel and gradually reduced the TPN he had been relying on. This again was tough for Theo, it created pain and suffering for him and his gut really wasn't happy. We did finally manage to get him up to full feeds and then the next part of the admission began.
We then moved onto trialling various medications to try to make Theo's large bowel work better. The gastroenterology doctors tried various combinations of very high dose laxatives (to be fair they would have made a grown adult cry at the doses they gave) and again he showed his strength and bravery and endured each part of the process. The drugs made him hurt and gave him a lot of pain but we knew we had to try them throughly.
It was eventually decided that these just weren't working and we were told his only option was surgery. So after 10 weeks in Great Ormond Street we were allowed to go home in the short term and await the surgeons to move on with the next part of the plan. We went back to GOSH after about 2 weeks and saw the surgeon who explained our options and arranged for Theo to go in for a stoma imminently. We went home scared but relieved we finally knew what may help Theo to be more comfortable.
We went back into GOSH for his operation on the 4th November due to the fact Theo cannot maintain his blood sugars off feed, so he commenced iv fluids and went to theatre on the 5th November. He came back 2 hours later looking very comfortable on a good combination of pain relief for him. He was utterly amazing and we managed to reintroduce his feeds with minimal fuss and left a week later.
At home we began settling into a new routine and Theo was doing really well. There was a lot for me to learn and added procedures added into our day but Theo was happier which was what it was all about.
Theo then ended up having an emergency admission to GOSH in December after his new stoma obstructed. It was very stressful after he appeared to have been doing so well. He was on iv fluids for a few days and then, yet again, we slowly introduced his feed again. We managed to get it back in with a few issues and a week later we were on our way home again.
We were home just in time for Christmas which was lovely. We had family up to stay and Theo was utterly ruined by not only us, but by his wonderful Post Pals family. I want to say thank you so much to each and every wonderful volunteer who sent a beautiful card or gift. Theo loved opening every one and the lovely smile it brought was amazing. I am truly grateful to you all.
Since Christmas Theo has been managing to go into school all day with the support of his teaching assistant. He throughly loves school and they all adore him… how could you not!? He has lots of friends and they all fully accept Theo for being him.
He is now hooked up to his feeding pump 24 hours a day and 2 feeding pumps overnight as he loses so much fluid from his stoma we have to closely monitor and replace the fluid so he doesn't become dehydrated and therefore unwell. We have had a few close calls where we have had to go to get him checked at the local but with a few tweaks we have managed to get home again.
We have had a few appointments this month and have a few things on next week, with a gastro jejunal tube change in Leeds on Friday and a fitting for his specialist boots on Tuesday, so he keeps us busy!
Though the surgery really has been amazing for Theo, unfortunately a lot of his issues remain and his pain is really quite bad at the moment. He continually surprises us with his immense bravery and acceptance. I want to again thank each and every one of you for your support and wonderful post… it really is amazing.
Update 3rd July 2013
I want to take this opportunity to thank each and every person who has sent post to my little man. You have no idea the difference it has made for him and brightened up the toughest day… there have been a few of those unfortunately.
Last time I updated we had been to Great Ormond street and they wanted Theo in for an urgent admission. Due to problems with beds etc we have finally got a date for next Monday (8th July). I can't say I'm excited about it but it has to be done. Theo really needs some help to try and sort him out a bit so he is more comfortable.
We have had continued problems with his failing tube and have been backwards and forwards to hospital in a vain attempt to try and let them get it working. Unfortunately the flange of his tube is now embedded and the gastrostomy port has not been working for a couple of weeks. This has created issues for poor Theo but unfortunately all we can do is wait until next week for Great Ormond Street who will replace it. It is a bit of a mess now and rather infected so bring on the tube change. We have no idea what else they have planned for him so all we can do is wait for next Monday.
We have tried to make the best of family time until we go and have visited the seaside a few times. Theo has loved this but with his health deteriorating the traveling is increasingly difficult and he suffers badly in his car seat so we are limited in where we can go. His energy is lacking and he is struggling with pain. He is, however, typical gorgeous Theo, and does his best to enjoy what he can and tries his best to smile through it. We really hope this admission will bring some relief and we shall come home with a comfier little boy.
Post pals continues to be an absolute godsend for the family and especially Theo of course. It brings a lovely smile through some very tough times we have had and I want to thank everyone who has cared enough to send Theo some post. We treasure everything and all our cards and letters go in scrapbooks for Theo to look at when he wants to.
Update 9th May 2013
I firstly have to begin with a great big massive thank you to every single person who has cared enough to send Theo post and gifts. We really have been totally amazed by the kindness of strangers and these people are fast becoming friends. Theo is having a tough time so the smiles the post brings is so valuable.
The last time we updated we were waiting on an appointment with Theo's consultant at Great Ormond Street. We went at the end of April and unfortunately the news isn't good. The doctor was very unhappy with the state of Theo's gut and the amount of distention he is getting. He also felt the level of Theo's pain was unacceptable. The upshot of the appointment is that Theo requires a long term admission to Great Ormond Street to try to help him and his issues. Though this is gutting, as we are so far away when we are in there, it comes as a relief that they are going have him in and make a new plan of action.
While we are in Theo will have a new gastrojejunal tube placed as his isn't in a good way and also have upper scopes and biopsies done and then the rest is in the hands of the doctors there.
So we wait… we wait for an admission date and a bed to be available and  while we wait we continue to plod on and try to keep Theo as well and comfortable as possible.
I shall aim to keep everyone updated on when we are going in and forward the address of the ward we will go into as I'm so hoping the happy post continues as I'm sure it will be a wonderful break for Theo in the long days in hospital.
Thank you again to everyone for the amazing post. Post Pals has been truly a god send so far for Theo, it has brought him some much needed smiles and therefore for us too… it is an amazing charity.