Donate to childrens charity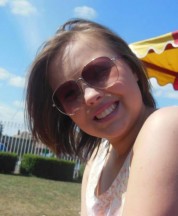 Contact Details
C/O 121 London Road
Biggleswade
Bedfordshire
SG18 8EF
United Kingdom

NB: this is a forwarding address, we do NOT disclose home addresses
Other Information
Parents/Guardians - Melanie and Mark
Interests - Loves make-up and nails, likes horseriding, dogs and animals, art.
Favourite Colour - Pink
Able to read? - Yes
Able to use hands? - Yes
Visually/hearing impaired? - No
Suffers from any developmental delay? - No
Siblings - aged 3 to 16 wishing to receive post
About - Sapphire B
Story written 2013
Sapphire was diagnosed with Cancer at the end of January 2011. A large tumour was found in her stomach and she had an operation to remove it in February. Unfortunately the tumour had grown back by March and Sapphire has so far had eight courses of chemotherapy and had to have another operation in September 2011.
She was in hospital pretty much since she was diagnosed, so has not been able to be with her friends and family much. The chemotherapy has taken its toll and she had lots of different infections to deal with. We were hoping that the operation will be a step towards recovery.
Before all of this started Sapphire was a very outdoors kind of girl, always very active, cycling, swimming, gymnastics, trampolining, skipping etc. The most frustrating thing for her is the lack of energy and not being able to do the things she loves. Through everything Sapphire has managed to stay positive and always has a smile for anyone.
Unfortunately the operation did not go as expected and the doctors discovered that Sapphire's cancer is not responding to chemotherapy and at this time there is nothing more they can do for her. We are waiting for news of clinical trials that are appropriate for Sapphire's cancer. In the meantime she is on a reduced dose of chemo on an ongoing basis to try to keep her as well as possible for as long as possible.
Update 29th January 2016
Sapphire is recovering well from transplant and it has been confirmed that she is in remission from the leukaemia. The next few months will tell us if this is permanent. She is spending a lot more time at home and is trying to get back into a normal routine, she has also started studying again for her exams later this year.
Update 6th July 2015
Sapphire had her stem cell transplant on 30th May and the last six weeks have been a real struggle for her. The treatment has been really intense and she is in a lot of pain. We are hoping to see improvement over the next few weeks.
Update 11th May 2015
Sapphire is being admitted for transplant on the 20th May and will be in for approximately 5-6 weeks if all goes well. She is quite nervous as it is going to be really tough.
Update 22nd February 2015
Sapphire has sadly returned to Post Pals as she has cancer again. This time she is battling Acute Myeloid Leukaemia caused by the chemotherapy she had in the past.
Sapphire started chemotherapy 2 days after her 16th birthday and will be in hospital for at least 6 weeks.
Update 29th July 2014
Hi, this is Sapphire. I wanted to write this update myself so I can share my amazing news with you all.
In October 2011 when the doctors told us that there is nothing more they could do for me I was a bit scared but I was determined that I would not let cancer beat me. I really don't remember most of what I went through – my mum and dad tell me and show me pictures. I do know that it was hard and it hurt a lot and I do know that all of the letters, postcards, emails and gifts, made my journey so much easier and brought fun and laughter in to my life just when I needed them the most. I will never forget the kindness shown to me and I will always remember the strength these things brought me.
So here's my news… I am officially in remission and cancer free hehehe! I can finally say that I KICKED CANCERS BUTT. Sadly this means it is time for me to move on and make way for someone else to feel the love and support shown to me by everyone involved with Post Pals. I will keep in touch on the Facebook page and send you updates from time to time.
So… my consultant says that I have to do what my parents say, knuckle down at school and pass my GCSE's next year. I think it's time for me to have some fun and be a normal teenager for a while first!
Thank you is not enough, words cannot say what I feel about Post Pals. There are so many individuals that have written to me and I will try to write to as many of you as I can. The biggest thank you goes to Vikki and Kate, two really amazing people.
That's it for now, lots of love to you all, from Sapphire xxx
Update 1st March 2014
Sapphire has spent most of February in hospital. She has had a major operation to remove the tumours from her stomach and this will be followed up with radiotherapy. We are waiting for her operation follow up appointment to find out wether the operation was a success and how much radiotherapy she will need.
As you know, in October 2011 Sapphire's cancer was deemed terminal and she was given 6 to 12 months. She fought hard and refused to let this get the better of her and as a result she has now been given his operation, which if successful, will leave her cancer free. Everyone involved in Sapphire's care over the past three years are surprised that she got here. She has fought this head on, facing each day with a positive attitude and a very big smile. We are so proud of her and are thankful that we have our little girl back.