Donate to childrens charity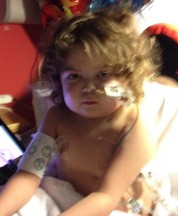 Contact Details
C/O 29a Ray Mill Road
West Maidenhead
Maidenhead
SL6 8SA
United Kingdom

NB: this is a forwarding address, we do NOT disclose home addresses
Other Information
Parents/Guardians - Luciana
Interests - Loves Mickey Mouse, Toy Story, Monster Inc, Batman, Minions, drawing, Play-Doh, painting, puzzles and Lego
Favourite Colour - Red
Able to read? - No
Able to use hands? - Yes
Visually/hearing impaired? - Yes. Rocco recently started wearing glasses full time.
Suffers from any developmental delay? - Rocco has a 2 year delay so please aim post as you would for a 3 year old
Siblings - aged 3 to 16 wishing to receive post
About - Rocco S
Story Written 2015
Rocco is 5 years old and has spent most of his life in hospital. He has been fed by TPN (total parental nutrition) since he was 9 months old. He is very complex and has intestine failure with no immunity, as well as this he has bone marrow dysplasia, hypopituitarism, hypothyroidism and hypoglycaemia.
In August 2014 Rocco had a multivisceral transplant (liver, intestine and pancreas). Unfortunately he has been in and out of hospital since due to multiple complications, which have resulted in PICU stays, and he is currently in HDU.
Despite all this Rocco is a smiley little boy who loves spending time with his sister Olivia and playing on his iPad.
Update 20th April 2020
Olivia is now 14 and loves receiving post from Post Pals. She loves beauty , Disney , Dancing and loves anything to do with hair. Her passion is cooking. She told me when she grows up she would like to own her own dance school and also become a chef
Update 19th January 2016
Sadly Rocco passed away peacefully with his Mum by his side.
Please keep sending cheerful post to his sister Olivia.
Update 11th January 2016
Rocco really enjoyed the post he was sent. Sadly on Christmas Eve Rocco deteriorated and had to be moved back to intensive care. His family have since saved his post as he hasn't woken up. Olivia is finding the post she has been sent helpful at such a difficult time for the whole family