Donate to childrens charity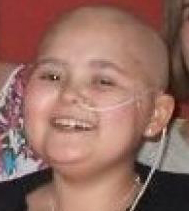 Contact Details
NB: this is a forwarding address, we do NOT disclose home addresses
Other Information
Parents/Guardians - Kerry and David
Interests - Making cards, writing stories, designing clothes, watching tv, going to the movies, having cuddles and cups of tea with Mum.
Favourite Colour - Pink and purple
Able to read? - Yes
Able to use hands? - Yes
Visually/hearing impaired? - No
Suffers from any developmental delay? - No
Siblings - aged 3 to 16 wishing to receive post
About - Rhianna J
Since joining Post Pals in 2008, Rhianna has had her diagnosis chaged from Diamond Blackfan Anemia to Aplastic Anemia and Polyarteritis Nodosa. She has recently had a bone marrow transplant.
Story written 2008
Rhianna was diagnosed with Diamond Blackfan Anemia in December 2007. Rhianna had been unwell for several months previously, but no one knew why and put it down to a viral infection.
Rhianna was taken seriously ill in December 2007 and after a blood test which was taken on the afternoon of the 6th of December 2007 we received a phone call from the GP asking us to take her straight to the local children's ward as her HB was only 4.3 (normal is above 13).
We stayed in the hospital for 4 nights before being transferred to a specialist children's hospital where Rhianna had numerous tests done for bloods before having a bone marrow biopsy and a blood transfusion.
Rhianna started steroid treatment in January 2008 and had fortnightly visits to the hospital. As they were reducing the doses her HB kept falling so it was decided that Rhianna would have regular blood transfusions and see how things go. She is currently going every 3 weeks.
Update 5th May 2010
We are very sad to say that Rhianna passed away today.
Update 3rd May 2010
I'm still in hospital with Rhianna. They've put her back on antibiotics and increased steroids. She is still very poorly but has managed to sing and jig about for few minutes to her iPod.
Hopefully we'll be in theatre on Thursday, unless Professor changes his mind again!!
Update 26th April 2010
We are still in Sheffield and will be for the next 10-14 days at least as Rhianna is still being treated for Adenovirus, Pneumocytis, Candida and Aspergillus. She is now on complete gut rest and is starting back on TPN! She had a nasty 2+ hour long nose bleed on Saturday and is very down mood again, although still not complaining. She is going to have a 2 unit blood transfusion tonight which will be the first one since having had the transplant.
A huge thank you to everyone who has sent Rhianna e-mails and cards, it's so lovely that people can take the time to do this – it really does put a smile on a child's face.
Update 22nd April 2010
Rhianna is still in hospital and is a little bit better but still has a long way to go. She is being treated for Aspergillus in her skin, Candida in her Gastro/ Digestive tract, and if that isn't enough, on Monday we were told that they think she has Pneumocytitis in her lungs. They wanted to do Bronchoscopy on Monday but it was too high a risk and the anaesthetist refused as said she would have ended up in ICU on a ventilator.
So things very much up and down and we feel like we are on a roller coaster. On a plus the transplant has worked!!
Despite all this Rhianna continues to smile (though not as much) and not moan.
Update 17th April 2010
Rhianna is still very poorly in Sheffield on M3 and we're unsure when we will be able to bring her home. After the skin biopsy she had last week she got steadily more unwell, her heart rate has increased and her Sats have decreased and she is requiring lots of oxygen to make her comfortable. They have found Aspergillus on her biopsy and think that she may have this on her lungs but are unsure but treating it anyway. It is very hard to treat and sadly can be fatal so we are hoping that she will continue to fight it. All we can do is sit back and wait and provide continued love and support.
Please can you update Rhianna's page for us to say a huge thanks to everyone who has taken the time to send us all post and some lovely gifts. I will continue to keep you  updated over next few days.
Update 19th March 2010
Rhianna is doing really well after her BMT. Although she is still very tired and is still not able to do a lot or go out in crowds. Sheffield are really pleased with her, the cells are all donor cells and for the first time since Dec 07 she has not needed any transfusions!!
She is really grateful for all the lovely cards and gifts she has received and we are slowly going through all of them and will be sending thank you cards out, although it will be a lengthy job!!
We are so sorry to hear of the sad losses of Sophie, Madison and Holly.
Update 13th January 2010
Just to let you know that all is going to plan with Rhianna.
Thanks for the cards and for the chocolates and updating this wonderful site.
Update 28th December 2009
I would just like to say a big thanks to everyone that sent Rhianna and John cards and presents, its very kind of you all.
Rhianna keeps going to hospital as her platelets are dropping quickly. She goes in on the 5th January for pre conditioning prior to BMT on 15th January at Sheffield Children's Hospital.
Thanks again for all your support.
Update 3rd November 2009
Rhianna is going to have a Bone Marrow Transplant at Sheffield Children's Hospital in January. Things are pretty hectic here as we are backwards and forwards to the hospital as her HB and Platelets keep dropping. She has also got a fractured right ankle (which local hospital missed and told her to walk on as nothing was wrong) and is in pink pot at the moment and struggling to do anything as she has problems with her left ankle too! So, good old Sheffield are sorting that out for her too. Unfortunately it is a 4 hour round trip just for a quick appointment though! She has good and bad days but never complains about all that is happening to her, she is a true inspiration to us all.
Rhianna really enjoys receiving post and is just in the process of getting together some gifts to send to other Pals.
Update 26th August 2009
Rhianna's diagnosis has changed from Diamond Blackfan Anemia to Aplastic Anemia and Polyarteritis Nodosa, as this is what she has now been confirmed as having.
Rhianna has continued to have monthly blood transfusions and recently platelets as well, due to low hb and platelets dropping to silly numbers like 14 and 8! Sheffield asked Newcastle to have a look at Rhianna and see if they could offer any answers, as Rhianna did not respond to the Chemo and is still requiring transfusions, and also because of platelets that were ok at the beginning of July but suddenly dropped towards the end of July.
We are currently anxiously awaiting the results from Newcastle which we should receive by the end of this week and with them will hopefully be a plan of action. They have said that she MAY need a Bone Marrow Transplant to help her, so at present we are in limbo land and just trying to function as best we can as a family.
The summer holidays have been very hard for Rhianna as she has not been able to do a lot with her friends (that should be the one friend that has bothered). It is heartbreaking to see her so down as she cannot walk far and refuses to go in a wheelchair in case her school friends see her. She cannot go swimming because of the risk of infections and everything else costs a fortune.
On a positive note, she says a BIG THANKYOU to you for the lovely cushion that you sent her, and to everyone who has taken the time to send her cards and letters, especially the children in America. Rhianna is going to write to everyone who has included their address but it may take some time. Also, she has been given a beautiful yorkie puppy that is now 17 days old and has his eyes open. He is called Sonny and is her motivation at the moment.
Thanks for all the hard work that you do as you really do make a difference to Rhianna.
Update 28th February 2009
Thank you for all the cards and letters Rhianna has received this month. Thanks to Post Pals for the gifts we have all received from you too.
Rhianna is currently undergoing monthly blood transfusions and chemotherapy. Although she is still smiling and laughing it really seems to be taking it out of her energy levels and she is not bouncing back as quick after her transfusions.
If anyone else knows of anyone Rhianna's age with Polyarteritis Nodosa could they please contact us.
Update 13th January 2009
Rhianna now has a second health problem. She has Polyarteritis Nodosa alongside the Diamond Blackfan Anemia and started Chemotherapy yesterday.
She would like to say a huge thanks to everyone who sends her post and will reply to everyone who has put their address on.