Donate to childrens charity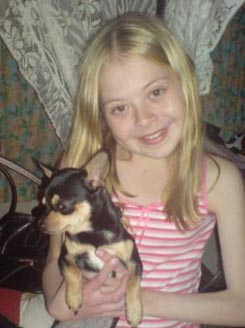 Contact Details
NB: this is a forwarding address, we do NOT disclose home addresses
Other Information
Parents/Guardians - Rachel
Interests - Stage school, acting, singing, dancing, swimming, Harry Potter, creepers, Horrible Histories, hair accessories, earrings, keyrings, anything pink or sparkly (a real girly girl!), lush products (especially bubble bath), Playboy merchandise, belly bars, Britney Spears, Gwen Stefani, Kelly Clarkson, her pink Les Paul electric guitar. Loves Chihuahua's and collects toy dogs. Her favourite author is Roald Dahl with George's Marvellous Medicine being her favourite book.
Favourite Colour - Pink
Able to read? - Yes
Able to use hands? - Yes
Visually/hearing impaired? - No
Suffers from any developmental delay? - No
Siblings - aged 3 to 16 wishing to receive post
About - Rebecca L
We are very sad to say that Rebecca L passed away on the 20/06/2008.
Sympathy cards can be sent to Rachel (Mum) and Josie (sister) via the same address.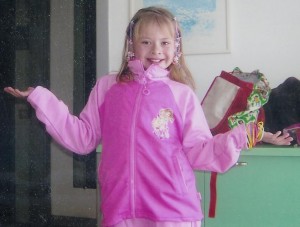 Beki 10/09/1995- 20/06/2008
Story written 2006
Becky was diagnosed with Cystic Fibrosis at three months old. Becky is ten years old and attends Italia Conti, where she recently gained a scholarship in acting. Becky loves singing, dancing and acting and tries not to let her condition affect her daily life.
Recently she had to have an operation to repair a hernia, and surgery for a new port after her last one was damaged when Becky was in a car crash. She also developed a blood clot so is on medication for that which complicates her regular IV's (antibiotics).
Update 22nd June 2008
It is with deep sadness and heartbreak that I have to inform you all that my gifted beautiful daughter Rebecca passed away on the 20/06/08 after a long battle with a C.F related lung infection. No words can express my deep heartbreak but I know I will see her again one day in heaven. Goodnight Beki Angel and the brightest star in the sky now. Love your heartbroken Mum X
Thank you for all the kindness and uplifting messages sent to Beki. Lots of love to you and each and every pal on Post Pals XXX
Update 17th June 2008
Beki is in intensive care at Plymouth's Derriford hospital due to a lung infection that she hasn't been able to fight off. We are all praying she will get better and wish to thank all those who have sent lovely uplifting cards for Beki as she loves to read them.
Anyone who wishes to send get well cards to Beki, please send them to:
Intensive Care Unit, Level 4, Derriford Hospital, Derriford Rd, Plymouth, PL6 8DH
Update 21st April 2008
Beki's recent gastrostomy operation went well, though this past week Beki has had a chest infection/bug and she may need I.V's.
Update 24th February 2008
Beki has to go to Bristol in March for an operation to fit a gastrostomy due to poor weight gain. Weight gain can be a problem with C.F sufferers so the gastrostomy should help Beki a lot.
Beki is keeping well and enjoying LAMDA at Italia Conti. Beki wants to get an agent so hopefully with some assistance financially, her dream may come true.
Beki has got her own playlist page on Myspace singing Avril Lavigne and Britney covers.
Lots of love to everyone who has sent cards and gifts and of course to all the other pals xxx
Update 10th January 2008
Beki is going into hospital for 2 weeks IV's due to her not being able to shake off a chest infection. Beki's in good spirits even though she's going into hospital and is going back to dance classes on Saturday which she is enthusiastic about.
Thanks to everybody who sent cards and gifts over the Christmas period, they really cheered Beki up.
Update 31st October 2007
Rebecca had her audition for the hit show Britain's Got Talent at Covent Garden on 30/10/07. Beki gave a sparkling performance of the song All That Jazz (Chicago). We all hope Beki gets through this stage to perform in front of Simon Cowell, Piers Morgan and Amanda Holden. We are keeping everything crossed!
Update 23rd October 2007
Beki has an audition in London for the show Britain's Got Talent. She will be singing Rhianna – Shut Up And Drive. We will keep you all posted on her progress! Beki's a lot better and will be going to Florida next month to swim with dolphins.
Thanks to all who sent cards and well wishes.
Update 16th October 2007
It has been a hectic few days as Beki went into intensive care here at Bristol. Not to worry though, as she's now doing a lot better. Beki had bronchial spasms after her operation for a new portacath, as her O2 was a bit low. Beki's getting back to her old self again and eating etc. You can send a card to Bristol Childrens Hospital Intensive Care Unit, though they will most probably move her to ward 35 tomorrow.
Update 14th August 2007
Beki has been to London Kings again for another operation involving banding of enlarged blood vessels as a result of Portal Hypertension (CF related). A new portacath is going to be fitted soon due to a breakage in her present one which was discovered at Kings. She has been in and out of 3 different hospitals.
Although Beki has had lots of things going on health wise she is happy and looking forward to going to secondary school and Italia Conti for new term. We are all being positive and hoping things will get better soon for Beki.
Update 25th June 2007
Rebecca has been airlifted to King's Hospital with Portal Hypertension related to her CF which caused her to vomit blood and for blood to come out the other end at the same time. She has been in and out having banding to prevent further bleeds and she is back again next month on 5th July for further tests, banding etc.
Please send out love to Beki, she is a fighter. Thank you all at Postpals for the love and kindness you have shown Rebecca and all the children on Postpals. Love from Rachel (Rebecca's mum).
Update 10th March 2007
Rebecca is being positive since her recent hospital tests and is carrying on with her dance classes which she loves. Thanks to everyone who sent cards.
Beki has been granted a dream holiday swimming with dolphins in Florida, planned for later in the year with Dreams Come True charity.
Update 18th January 2007
Beki has a few hospital visits this month to Bristol and Kings Hospital London. Beki has to have intensive scans to check her heart liver and spleen. Beki's spleen has recently become enlarged, partly to do with the CF and also the aftermath effects of the car accident. We are all being positive and will keep you updated on Beki's progress. Thanks to all who have sent lovely cards and gifts, my girls love them.
Best wishes, Rachel (Beki's mum)
Update 5th January 2007
Thanks to everyone who gave cards and presents to both Rebecca and Josie at Christmas, also love and best wishes to all the pals, helpers and staff at Post Pals. Happy New Year to you all xx
Update 25th October 2006
Rebecca is to be one of the children starring in Plymouth's Christmas pantomime, Snow White and the Seven Dwarfs at Plymouth's Theatre Royal. Rebecca is thrilled to be starring on stage in this year's panto with Linda Lussardi and Leslie Grantham. Rebecca got through the audition and only 8 children got through from 60 applicants. We are all very proud of Rebecca and look forward to seeing her in the panto.
Update 23rd August 2006
Becky is in for 2 weeks of IV's again but is keeping well generally. It's Becky's birthday in 2 weeks and we are going to Alton Towers for the day for a treat.
Update 27th June 2006
Rebecca has been nominated for the 2006 Woman's Own Children of Courage awards and will be featured in the July 24th issue magazine. Rebecca is doing well and practising for her show at the end of July along with her sister Josie.
Update 28th May 2006
I (Mum) have been in and out of the hospital as Becka's in for her IV's. Becky's doing ok, she's in for a routine visit and she can come home in between her IV's; which makes life easier.
Update May 2006
Becky and Josie are in a summer local theatre show with Italia Conti in July, they are singing songs from My Fair Lady and other musicals. Becky's has got 2 weeks of IV's (antibiotics) starting on 22nd May. She's a bit chesty and needs her IV's but is not too bad other than that. She has now recovered from her hernia operation.
Thank you to everybody at Post Pals, I think it's a wonderful site.