Donate to childrens charity

Contact Details
NB: this is a forwarding address, we do NOT disclose home addresses
Other Information
Parents/Guardians - Tracey
Interests - Singing, dancing, trampolining, drama, making cards and teen Love books i.e. Jacqueline Wilson books.
Favourite Colour - Lilac
Able to read? - Yes
Able to use hands? - Yes
Visually/hearing impaired? - No
Suffers from any developmental delay? - No
Siblings - aged 3 to 16 wishing to receive post
About - Nikita M
Nikita passed away on the 24h of December 2006. Thank you to everyone who sent her post.
Original Story:
Nikita was diagnosed with cancer in 1999. They removed the tumour and just under five years later it returned in her lung. She received chemotherapy for twelve weeks, and then one year later it returned in her pleura. They removed two thirds of her lung and part of the pleura, and Nikita had 5 weeks of radiotherapy. Seven months later it returned in the other lung. We decided to go to America for alternative treatment which cost £28,000. Her DNA was made into vaccines which were injected into her to try kill off the cancer, but nothing has worked. The doctors here in England haven't given her long to live, but we will still keep going until we find a cure.
Update 11th January 2007
Nikita's funeral was beautiful, she's sleeping now with the angels and she is wrapped up warm in her quilt Post Pals sent. Thank you for everything you did for us, in the short time she was on Post Pals she had many smiles brought to her face and i will cherish those memories forever.
Update 24th December 2006
Nikita passed away this afternoon, she was a brave cookie and bravely bore until the end.
Update 21st December 2006
Nikita is still hanging in there, she is in hospital and struggling to breathe. She has very little energy but finds some when it comes to opening post! She also texts the lady (whose forwarding address is used) daily to ask what has arrived.
Update 12th December 2006
Nikita was taken in to hospital yesterday afternoon as her breathing has become more difficult and the pains in her back are becoming too much for her to cope with. At the moment she is very weak. Hopefully she will rest and be home with her mum and dad soon.
Update 7th December 2006
Nikita received her parcel today from the christmas postpal elf. In the box was a huge bear (i am attaching a picture for the site). Also in the box was a beautiful heart shaped cushion with a hot water bottle inside, 2 pairs of feather socks, and a little lilac soft and cuddly doggie. Nikita was over the moon with her parcel; please thank Lou on Nikita's behalf. Nikita also received a few letters and cards, one was from Viks' grandmother, and she was pleased.
On a sad note, Nikita is getting very weak and she is saying this is all too much. She is using her oxygen almost constantly.
Can i also just mention Cherie in FL, USA? She has sent many cards and little gifts that keep Nikita smiling. Cherie, thank you so much for all your prayers and thoughts, Nikita has gotten into a habit of waiting for your next letter.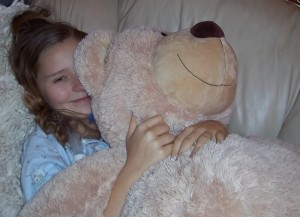 Update 4th December 2006
Nikita is still unwell having had another infection causing her to spend a day in hospital for tests. Her breathing is becoming very rapid and shallow. She is now using oxygen often and has been given a wheelchair from the Red Cross so she can go outside without being exhausted after 5 minutes.
Her personality is still outgoing and flamboyant, and her character is happy and full of mischief and fun.
She has her weepy moments (although as any teenager does) I'm sure she understands what the doctors have said. When she is due anything in the post she says 'mum do you think i will make it to Tuesday?' (if that's when her post is due). Tracey has found something on the internet written by a guy in New York who is now in contact and advising Tracey and Nikita on her diets and he has some promising results and testimonials that give us all hope.
Nikita is going to be a godmother for her friend's daughter, she has to survive to be able to teach her goddaughter about hormones and boys, (and knowing Nikita a lot of mischief will be passed on too). Nikita has every reason to live at the moment, everyday is a gift, and every smile is another one to treasure.
Nikita has received many letters, cards and little presents this month, it's almost as if she lives for her post at the moment. She looks forward to mornings; thank you to everyone, including the lady who sent the watch because Nikita loved it. Thanks also to the girl who cross stitched her card for the first time, Nikita was thrilled.
Update 29th November 2006
Nikita was taken into hospital again today as she is spiking another temperature, and her breathing is becoming shallower and shallower. Tracey said that although they didn't actually say in so many words (the doctors) it's a case of give up and go home. Anyway Nikita is home tonight with more antibiotics and her dad is picking her up a wheel chair in Melksham tomorrow from the Red Cross.
Update 22nd November 2006
Nikita received a huge box today from a balloon company and she is absolutely thrilled, inside the box there was an eeyore balloon and a changing colour pen with some other little bits and bobs. I cannot express the excitement and pleasure that came from our delightful friend so please pass on our thank you's!