Donate to childrens charity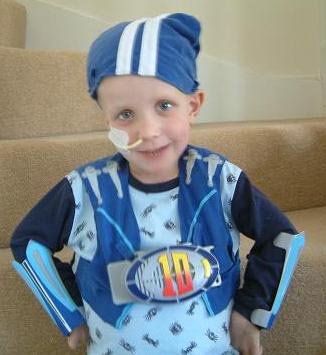 Contact Details
NB: this is a forwarding address, we do NOT disclose home addresses
Other Information
Parents/Guardians - Amanda
Interests - Playing with his Thomas the Tank Engine toys and toy cars, reading picture books, watching DVDs especially his favourite TV characters and computer animation films, singing nursery rhymes, likes drawing and colouring in, likes Thomas the Tank Engine, Bob the Builder, Fireman Sam, Charlie and Lola, Postman Pat, Noddy and Dora the Explorer to name but a few!
Favourite Colour - Blue
Able to read? - No
Able to use hands? - Yes
Visually/hearing impaired? - No
Suffers from any developmental delay? - No
Siblings - aged 3 to 16 wishing to receive post
About - Nathan V
Nathan passed away on the 21st of November 2006.
Original Story:
Nathan was born on 10th January 2003 weighing in at an impressive 10lb 6oz and continued to grow and thrive with no major health problems. Then when he was 10 months old he developed little lumps on his head and body, some slightly orange, which didn't go away. Four months later, he was diagnosed with Juvenile Xanthogranuloma (JXG) although we were reassured that the lumps were self-limiting and would disappear when he was four or five years old.
During the following 6 months I noticed that he had cafe au lait marks, which can be an early indication of Neurofibromatosis 1(NF1), a condition linked to JXG, as is Juvenile Myelomonocytic Leukaemia (JMML). I began to worry!
Although he continued to thrive and there was no outwardly signs that Nathan was seriously ill, a blood test taken by chance when Nathan had diahorrea revealed that his blood counts were seriously wrong and a couple of days later, I received the devastating news that Nathan had leukaemia. Worst of all, it was a rare form of leukaemia which accounted for only 1% of childhood leukaemia's and the survival rate was only 40% and that was with a bone marrow transplant.
Nathan has had an indolent form of the disease and so we spent the first 18 months after diagnosis, watching and waiting with the hope that he would stay stable indefinitely, as can happen in some cases. During that time, he didn't need treatment, just regular checks, so hospital visits and finger pricks are second nature to him. Around this time, NF1 was confirmed but the only problems it seems to be causing are poor balance and motor skills.
About six months ago his platelet count started to fall and once it hit below 40, he was referred back to the bone marrow clinic where the decision was taken in April 2006 to go ahead with the transplant. We knew from earlier tests that his sister Jessica wasn't a match, but have been so very luck that we have been able to find an unrelated donor. In preparation for the transplant, Nathan has had a bone marrow harvest, will have a central line inserted during August and hopefully the transplant will go ahead in September. Meanwhile, Nathan is doing OK. He has a big tummy due to an enlarged spleen and he bruises very easily. Since the NF1 makes him fall over a lot, it's not a great combination! It will be hard starting the treatment, knowing that it's going to make him so very sick when he looks pretty much like any other lively little three year old. We think that the odds for beating the leukaemia are better than they were two years ago, but 50:50 is still terrifying me.
We just have to think past the treatment and look to a day in the future when hopefully my beautiful, brave, little boy will be cancer free…
Update 28th July 2007
It seems like forever since I last held Nathan. It's only been 8 months but it could have been a lifetime ago. Jess and I are trying to reform our lives and while the grief of losing Nathan is now a part of our everyday life, we try to bring some joy in to our lives too. It's become very important that we remember how blessed we were to have Nathan, even for such a short while. I just don't want his legacy to be the devastation that cancer brought into our lives; I want to remember what a beautiful, happy little boy he was.
We have just taken part in one of Cancer Research's Race for Life events and I was so proud because our race was dedicated especially to Nathan. Jess and I set the runners off and were given star treatment by the organisers. We were even interviewed by TV and newspapers which was nerve-wracking for both of us but it kept us occupied, less time thinking about the races in the previous two years where Nathan was there to cheer us on. I'm so proud of my children and was more than happy to show everyone what amazing children they are.
Jess will be starting senior school in September but right now she's just looking forward to the school holidays. It's hard to find new things to do together, we try to avoid the places we used to take Nathan because its times like that when we feel his absence most. We're so grateful for all of the Post Pals post we've received since Nathan's death, its amazing how thoughtful people can be. Thank you all for your support.
Mandy
Update 25th November 2006
Post Pals released a balloon for Nathan, one one side it had his name and the date, on the other it had the quote "Its not how long a star shines, what is remembered is the brightness of the light".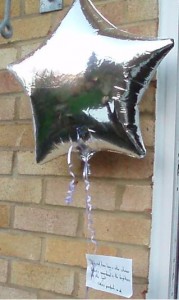 Update 21st November 2006
Sadly the treatment was too much for Nathan's body to handle, he passed away in his Mum's arms.
Update 1st November 2006
Nathan had his bone marrow transplant on 20th October 2006. This involved a week of really intensive chemo to stop his own bone marrow working during the run up to the transplant. During this time he was relatively well although he did have some nasty reactions and sickness. We then moved to isolation where we had to have really strict procedures to limit the amount of infection Nathan was exposed to including restrictions on visiting and disinfecting everything that entered the isolation room. The transplant itself was a bag of stem cells, donated by a stranger who I can't even begin to thank, which were transplanted into Nathan by a drip feed into his central line. It took two and a half hours and was pretty straight forward; Nathan slept through most of it and was totally unaware of what was happening. The last two weeks following transplant, Nathan has been at his lowest as he waits for the new cells to engraft while his own cells are totally wiped out.
Unfortunately he did get a chest infection and so far three infections in his central line, so he has been spiking temperatures for almost a week now, although they are getting less frequent and less severe. The skin across his torso was burnt pretty badly from the chemo but I think that it is finally starting to heal, and his hair is almost completely gone.
All in all, it's been a tough time so far, but the good news is that in the last few days his blood count has started to make a dramatic improvement, which means that the donor cells are starting to engraft. Good news because the transplant is working so far, but also good because Nathan can start to heal.
Update 2nd October 2006
Nathan has amazed us all by being discharged from hospital and is doing well. He has recovered from his splenectomy and the mild chemo he is on is managing to control his leukemia for now. He still needs close monitoring as his platelets are still low and he has needed plenty of platelet transfusions, although he has managed on his own for over a week now, so perhaps we have turned a corner. He isn't eating so relies totally on tube feeding which has been a big adjustment for me as well as him!
The great news is that we have a new date for the bone marrow transplant and all being well, it will happen on 20th October. Of course, we have been here before and given that it's the season for coughs and colds, I won't quite believe it until treatment actually begins. We will be admitted on 12th October to begin a week of really intensive chemo to wipe out his own marrow before the transplant of the new stem cells.
Even though he's still weak and has lost a lot of weight, Nathan is getting back to his normal, chatty self and it's only now that I can fully appreciate how ill and in how much pain he must have been in recent months. Its nice having the real Nathan back again, even though I know we are still only building him up to knock him down again.
He's enjoying receiving his post and pretend reads them all. He knows they are from some really nice people who are all willing him through this. Thanks to everyone for the post and we are trying to send our own personal thanks when we can. The next few months are going to be unimaginably tough and we've been overwhelmed by all the fantastic people we now know are out there supporting us, thanks to Post Pals.
Update 31st August 2006
Nathan was due to have his bone marrow transplant at the beginning of September but his leukaemia has progressed at a frightening speed in the last month or so. We have been in hospital for the last couple of weeks due to a chest infection and although his temperature was brought quickly under control, his spleen has grown to such a size that it is really making him miserable. He is in pain from his leukaemia too so now has continued pain relief. He isn't walking or moving around very much and he's all but stopped eating so now has a nasal tube to feed him overnight. He started a low dose chemo which has softened his spleen a little and helped with his blood counts, but his platelet count has remained dangerously low and regular transfusions just seem to go straight to his spleen. Add to this, his central line was inserted less than a month ago, and we have certainly had a lot of adapting to do in the last few weeks!
His doctors have now taken the very difficult decision to postpone his transplant, mainly because of the problems the spleen is causing. So now he is about to have his spleen removed which is a big operation because its so big but will hopefully improve things and give Nathan a chance to build himself up again. The new date for the transplant is being organised but obviously we have to arrange things with the donor too.
So we are expecting to stay at hospital for the foreseeable future but are thankfully being looked after really well by family and the staff at the hospital. Hopefully, the transplant will only be delayed a matter of weeks but right now we just have to concentrate on getting Nathan through the splenectomy and back to his usual happy self, if only for a short while before transplant!
Thanks for all the post which Nathan loves opening and for Chemo Duck. I hope at some point in the future to have the chance to send individual 'thank you's' but please know that your kind wishes are appreciated!