Donate to childrens charity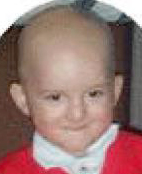 Contact Details
NB: this is a forwarding address, we do NOT disclose home addresses
Other Information
Parents/Guardians - Martin and Pauline
Interests - Anything to do with dinosaurs, Chelsea FC
Favourite Colour - Blue
Able to read? - Yes
Able to use hands? - Yes
Visually/hearing impaired? - No
Suffers from any developmental delay? - No
Siblings - aged 3 to 16 wishing to receive post
About - Simon H
Story written 2003
Simon who is 6 years old, is suffering from Acute Lymphoblastic Leukaemia. He was diagnosed in June 2002, it was a big shock to the whole family being told what the diagnosis was.
During the first week of June 2002 we were on holiday, on a boat on the Norfolk Broads. Who could have suspected the nightmare we were soon to be experiencing.
Simon had been feeling ill for some time, with constant sore throat, or colds. During our holiday Simon was always dropping off to sleep in the middle of the day, for no apparent reason. We thought it was just being out in the fresh air all of the time. It wasn't until we saw the little bruises that kept appearing that we thought something was wrong.
On completing the week long holiday we took Simon to see our local GP, who said that, after examining Simon and listening to what we had told him, he was 98% certain that Simon was suffering from some sort of Leukaemia. We felt devastated. We left the surgery in somewhat of a panic.
Going straight form the surgery to Peterborough District Hospital we went to the admissions unit in the children's' ward. After taking blood and running a couple of tests it was thought best that we were transferred to the "Children's Oncology Unit" at Addenbrooks hospital in Cambridge.
There we stayed for a long 6 and a half weeks.
Update March 2007
Simon is now doing extremely well; he is now only seeing the consultant every 2 months. He is gradually catching up at school. He is now beginning to live a normal life again. He also now has a little sister, Lilly, who is about to celebrate her 1st birthday. Simon will be 9 years old in April.
Thank you for all you did for him during his illness and for all the support given by people through the site.
Update April 2004
Simon went into hospital in April with pneumonia, his father, Martin was then admitted with the same thing after collapsing on the ward visiting Simon. Father and son are now on the mend again and Simon is back at school.
Update Summer 2003
Simon has now been having treatment for just over a year and is responding quite well. His treatment has been intense but he has tolerated it very well for someone of his age.