Donate to childrens charity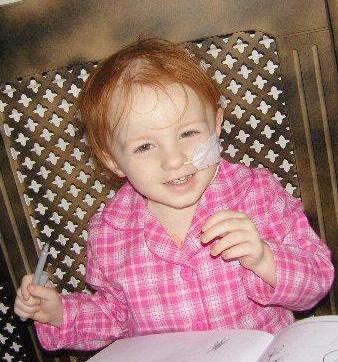 Contact Details
NB: this is a forwarding address, we do NOT disclose home addresses
Other Information
Parents/Guardians - Samantha and Steve
Interests - Dolls, Teletubbies, colouring, painting, watching DVD's, cooking, playing her car and shop, princesses and anything pink
Favourite Colour - Pink
Able to read? - No
Able to use hands? - Yes
Visually/hearing impaired? - No
Suffers from any developmental delay? - No
Siblings - aged 3 to 16 wishing to receive post
About - Emma C
Story written 2007
It all started 12 months ago when Emma developed a cough. The Doctors said it was normal as she was teething but the cough never went away so I took her to another doctor who thought it was asthma. He sent her for chest X-rays which came back clear.
Emma would cough until she was sick; she missed a lot of nursery, so I missed a lot of college. Nine months later it began to settle down, however, she would have spells when it would come back strong for 1-2 weeks.
Emma started to get ill again, only this time she went off her food completely. She was having bad diarrhoea and was always being sick so we took her to our GP, A&E and even our local walk in centre. They all said she just had a viral infection but I wasn't happy, in all we took Emma to see her GP about 40 times and our local A&E 15.In the September we took Emma to the hospital, we had to stay overnight. As well as the sickness and diarrhoea she was now having bad stomach pains. They didn't examine her stomach and diagnosed another viral infection.
Three weeks later on the 12th November 2006 we took Emma back into hospital because Emma was having these pains and we saw a different doctor in A&E who found a lump in her stomach. This is when our lives changed forever.
We were told Emma had stage 4 Neuroblastoma, a type of childhood cancer. She is currently undergoing chemotherapy at Alder Hey, treatment includes chemotherapy, surgery, stem cell transplant, and oral chemo.
We write a daily diary entry on Emma's website www.babyemma.co.uk
Update 2nd May 2008
April 23rd marked the day of Emma's first year in remission.
Emma continues to stay healthy and is so full of energy. Emma has an MIBG scan next month along with a spot urine test, so fingers crossed and lots of prayers that they both are clear.
Emma spends most of her time playing with either her peppa pig toys or Dora toys. She has developed a really cheeky little personality.
Update 15th April 2008
Thanks to the Thomas ball charity we managed to get away for a week at Easter and had an amazing time, as last year Emma was recovering from her first major operation. Emma has been really well and like always enjoying life, there isn't a minute that goes by where she is not playing with her toys.
We have had a fair bit of post within the last 2 months, such as letters and pictures for her to colour in. Emma loves getting post – she gets more post than me and her dad, so thank you to everyone who has sent post to Emma and who continues to send it. Of course thank you to post pals too for making that happen.
Emma is on round 8 of accutane, normally you do 6 rounds, but we asked if we could extend it to 9 as Emma has never shown any side effects which we understand is very lucky and we are very thankful. Emma has been in remission now for nearly a year, so please keep praying that it stays that way.
Thanks once again.
Update 27th February 2008
Emma is still really healthy at the moment and enjoying life. We were in clinic on Monday 25th February seeing her doctor to discuss New York and he was pleased her scans were clear and she doesn't need the 3F8.
She is not booked in to see her doctor until June, when she will have an MIBG, so we're going to enjoy the next 4 months. Just please keep praying Emma stays this well.
Thank you so much to every one who has and continues to send letters, cards, post cards and presents. You have no idea how much this helps when keeping your child's spirits up.
Also a massive THANK YOU to Post Pals as all this wouldn't happen without the hard work of the team.
Update 3rd February 2008
Emma is really healthy at the moment. All her scans and tests were clear at New York's MSKCC, so they do not want to do the 3F8 but want to keep a close eye on her by doing scans and tests every 3 months.
Emma is just being a typical 3 year old at the moment and all her hair is starting to come back darker and thicker than ever.
We have received over 40+ cards, letters, and presents for Emma since just before Christmas. Thank you so much!
Update 1st February 2008
I'm home safe from New York and most of all CANCER FREE! After having all the tests and scans (Bone Marrow, MIBG, CT, Urine and Blood Tests) I am now cancer free. These tests where different to the ones in the UK, they seemed more advance and done more to try and find cancer in my body. In the UK they only test the bone marrow in 2 places, at MSKCC they tested 4 different places and all came back negative. I needed to drink a contrast drink before I had the CT scan; it makes the picture clearer and more in depth. That came back all clear! Most of all, the doctor said that my MIBG scan was really good and clear, which was amazing as back in October there was some up take that looked like progressive disease, however, a CT showed nothing so it was great to see the pelvis area so clear.
So after 2 weeks of being poked with needles and getting put to sleep, I'm now home and very healthy. The doctors in New York want me to go back in 3 months time for the same test again as they believe that if the nastyblastoma comes back then the earlier they catch it the better they can treat it, but its up to Mummy and Daddy how and where I get checked up but I'm not bothered because am going to have fun fun fun!!!
Update 24th December 2007
Happy Christmas Eve! Mummy and Daddy told me that because I have been a very good girl, Father Christmas will be coming to my house tonight to leave some presents for me to open tomorrow morning. I can't wait!
I've spent the last few days in hospital with a viral infection but I am getting better now. I still have a little cough but its going.
I have started my tablets again but this time I have to have 22 tablets everyday, so I have 11 in the morning and 11 in the evening but am a big girl and take them with no problems.
I went to see Cinderella in Manchester last Tuesday and it was really funny and I laughed from start to finish.
Update 28th November 2007
I have been really busy with my birthday party, seeing friends and having fun. My birthday party was amazing!
Tomorrow night I'm going to a special awards evening with Radio City 96.7. I have been nominated for the Child Of Courage award so it's going to be a very special night as all my family are coming and it's a star studded event.
I'm on Round 3 of my oral chemo. This is why I have 20 tablets everyday for 2 weeks then I rest for 2 weeks and this gets repeated for 6 months but I'm a really good girl and I have 10 in the morning and 10 in the evening.
Update 24th October 2007
I had my scan yesterday and it lasted about 30 minutes. We then needed to go and see our doctor so we waited in day care for him, Mummy and Daddy looked nervous but I was happy playing with the day care toys. The doctor took us into a side room and explained about the MIBG scan and why they did the CT scan today. The MIBG scan showed a little uptake in my belly and pelvis so I needed a CT scan to see if it looked abnormal, but the CT scan showed NOTHING! The MIBG is not 100% so when they compare the CT to MIBG, it shows that there is nothing wrong and everything is normal, so nothing to worry about. So everything is still on track, we have asked for the scans and reports to be forwarded to us so we can take them to America and see what they think.
At the moment I'm a happy little 2 year old (3 next month, don't forget!) and because I'm on a very healthy diet I'm really well and plan to stay that way.
Update 21st October 2007
Well the doctor phoned and Daddy answered. My scan came back with something showing up on it, the doctor said it could be something or it could be nothing. I'm going back in hospital tomorrow for a CT scan and then we will have a meeting with my doctor straight after so we will know more about it tomorrow. I'm not one to be sad or feel sorry for myself so I'm spending the night playing with my toys and watching a dvd.
Update 16th October 2007
I spent the weekend in hospital because I was being sick but they don't really know what it was, it could have been the side effect of the tablets I'm taking but I feel better now so thank you to all the doctors and nurses that helped me get better.
I was sent home on Sunday, but because I was having an MIBG scan today, I had to go back yesterday. They put a needle into my hand and it really hurt. Then I went and had a radioactive dye put into my body so they could take pictures. I was asleep for 2 hours and everything went well. I will get the results sometime tomorrow. Thank you to everyone for the emails and messages of support.
Update 24th September 2007
This month has been the best month ever! I have been so well and so full of energy. I went on an aeroplane for the first time; I went to see my grandparents in Spain and to thank all the people who have been raising money for me. I loved every minute of it and hope to go again some time.
Update 16th July 2007
Last week my Daddy spoke to my doctor on the phone and was told some good news, my tumour was over 99% dead and the other 1% had dying Neuroblastoma cells in which was amazing. You wouldn't even think I had another operation as my scar looks just the same as last time.
I started my radiotherapy on the 10th July, it will stop my right kidney from working, Mummy and Daddy were very sad when they got this news as everyone has worked so hard to keep my kidney. I just hope I don't get any problems with my other kidney.
The first day of radiotherapy was OK but on my second day I was sick all over our car. I was OK on the 3rd day, sleeping a little more. On Friday I was really sleepy, I slept from 4pm until 9am on Saturday morning. I ran into Mummy and Daddy's room and woke them up you by shouting! You should have seen the look on their faces!
I have started my 2nd week of radiotherapy, but that hasn't stopped me from being my normal cheeky self. I have been doing loads of stuff over the last few weeks, driving Mummy and Daddy round the bend and playing jokes on them. I don't know where they got me from, I find Mummy asks me that at least once a day, but all you have to do is look at my Daddy and you know where I came from I got his sense of humour.
Update 26th June 2007
I had my operation last Wednesday, I went down to theatre at 9am, Mummy took me into a room and they gave me some magic milk and I went to sleep in Mummy's arms. I know Mummy gets upset every time they give me the magic milk but what she does not know is that I really go and play with the teletubbies in teletubbie-land so she does not need to worry about me. The operation lasted 5 1/2 hours. The surgeons managed to remove the entire tumour. This is amazing as we only expected them to remove 2/3's of it so thank you very much Mr Surgeon person.
I went into the recovery room and when I woke up Mummy was still there waiting for me. Everyone expected me to go to ICU but I ended up going back on my ward, I don't need ICU care, as long as Mummy and Daddy are with me then that's all that matters.
The next day I just stayed in bed watching DVDs all day but on Friday I wanted to go for a walk so I got up and went to the toy room and played with the toys. Am not going to let this operation get in the way of my toys!
I started eating and drinking on Saturday and then I was back to normal on Sunday, 4 days after an operation to remove a golf ball size tumour from my liver and I'm acting as if nothing has happened. GREAT! 🙂
So now I'm home and playing with all my toys and watching TV. The next step in my treatment is radiotherapy in July so I have a few weeks to build myself up.
Update 18th June 2007
Hello everyone, I have been a busy little girl since I last updated but it has not been good news. When I was in transplant I had an ultrasound on my belly, the one with the cold jelly! Anyway they saw something by my liver and needed to do a CT scan to see what it was. I have a tumour on my liver but the doctors don't really know what it is and if it is alive or dead. The tumour has been there since day 1 and it has gone from 6cm x 4cm to 4cm to 3cm so we know it's not growing. The doctors had a big meeting all about me and even asked for a second opinion about me. Last week went like this:
Monday – The doctor told me that after the meeting they have decided that it is to risky to remove and that the tumour is likely to be dead so they won't remove it and I wont need another operation but they will ask another doctor to see what he thinks.
Tuesday – I went to see the doctor for my radiotherapy which is to start first week in July. Mummy and Daddy said we could go away for 1 week before the next stage of treatment starts. Daddy booked a caravan in Cornwall, starting this Saturday! Can't wait!
Wednesday – Doctor calls to ask Mummy and Daddy to come in and speak to him on Friday.
Thursday – I have a CT scan for the planning of radiotherapy, Surgeon phones to say I have been booked in for the following Wednesday for operation to remove tumour from liver! WHAT?? So we need to cancel our holiday/break 🙁
Friday – Mummy and Daddy meet with the doctors and after asking loads of questions agree that the operation is in my best interest but have been told that they will not be able to remove the entire tumour!
So there you go, I started the week hoping to go away but ended up being booked in for another major operation for this Wednesday! What a life! It sucks having cancer but Mummy and Daddy make me laugh everyday and I'm in great health so I hope this operation is like the last one.
At the moment I'm in the "WHAT" stage and saying what to everything. I have taken up singing to the TV and am really cheeky to Mummy and Daddy. I'm back to my normal little self, the way I was before transplant. Dancing and singing everyday and smiling through this fight against cancer. I'm not letting this beast get me down. I'm only 2 years and 7 months old, I have my entire life ahead of me!
Update 2nd June 2007
I came home on Wednesday 30th May 2007. I was in transplant for only 19 days, and then moved into secondary transplant so I could have visitors. Those 19 days where the longest of my life, I think Mummy and Daddy will agree with me on that. I can't imagine what Mummy and Daddy went through when I had 3 infections and the doctors talked about going to ICU because I was unable to take enough oxygen by myself. I was on oxygen for 7 days in total because of a chest infection and I was on every antibiotic going! I'm feeling a lot better now I'm home and I'm eating and drinking again so I don't need the horrible NG Tube in my nose. I'm still not walking but that will come back with time. I never even lost any weight when I was in transplant, which the doctors where very pleased about.
Thank you everyone for all the cards and presents I received while I was in hospital. I received 100's of cards and presents from around the world. Mummy and Daddy received some too.
Next step is radiotherapy; we have an appointment for the 12th June so we will see what happens and when they want us to start it. I'm planning on having loads of fun the next few days.
Update 3rd May 2007
It has started! I'm feeling the after affects of high dose chemo. The treatment I'm having now is probably the worst treatment I will ever have in my life and most people will never come close to pain and emotions you go through when having such harsh treatment. To go through high dose chemo and then a stem cell rescue to save your life is madness. To see other kids having chemo and the side affects of the treatment is unfair for anyone to witness. To be told you only have a 20% chance of beating this type of cancer is just unreal.
All this and I'm only 2 years old! I should be at home playing with my dolls and going to bed dreaming about fairies and princesses but I sit here playing with my sick bowl and listening to my IV machine beeping away in my dreams. I dream about being a normal little girl, not walking around the ward dragging my IV machine, no transfusions, no drugs and no more sickness. One day I will be back to normal. Everyday is making my body weaker but my mind stronger. I know I will grow up to be a success in life, going through this is the biggest lesson in life, the lesson being respect life and enjoy it to the max, if you do this then your life is a success. I'm just learning early, very early.
I sit here as I'm having a platelet transfusion (my levels are only 13), constant fluids are going into me and I have a really sore mouth, throat, belly and bum. My eyes are red and my face is very pale. My HB levels (red cells) are just above 7 so it looks like I will be having a blood transfusion tomorrow. I'm being sick every hour, sometimes more. The chemo has made my insides red raw so that when am sick, its blood! I'm so tired that I'm falling asleep as I'm being sick. I have not eaten for almost 1 week and when I try to drink, it comes back up with blood.
Mummy and Daddy are here at my bedside 24/7. They help me as I'm being sick, they change my bed when I have had an accident, they hold my head up for me when I'm to weak to do it myself. They try their best to make me happy. Daddy does silly things that make me laugh and Mummy runs around everywhere for me to make this experience as comfortable as possible.
Update 29th April 2007
What a week! I have had my little body filled with chemo for 5 days none stop, it finished on Saturday so they unplugged me and I was off to play with my toys. I have been stuck in bed since Tuesday and I was going to make the most of being free! There have been no problems this week although I've been sick a few times but this is because all the chemicals in my body and my belly. The chemo has killed all my mother cells that make my blood, platelets etc so as I use my cells up, no more will be getting made and my blood counts will start to drop, this should start happening in the next day or two. I will be moved into the transplant unit tomorrow and given back my stem cells on Tuesday and Wednesday this week. These will take about 7 days to get back into my bone marrow and start making my new cells. If am lucky I will be out in 4-6 weeks but it can take months. Please pray and send positive thoughts that it will be 4 weeks as I can't stay away from the toy room any longer than that.
Update 27th April 2007
Well I'm here! I'm in Alder Hey Hospital in Liverpool and am having chemo and lots of it. I am on constant chemo that is going to destroy my bone marrow and make me really ill but kill any cancer cells that are hiding in my body.
I'm on the ward with other children but when my blood counts start to drop I will be moved into a special until and no one, apart from Mummy and Daddy, will be able to see me.
Update 13th April 2007
I received my start date for my bone marrow transplant; it starts on 23rd April 2007. I have 10 days to get even healthier and build my body up for this treatment. Out of everything I have been through, this is the most dangerous of all the treatments. I have chemo for 8 days straight! This will destroy my bone marrow and will make me really ill. I will be in isolation for anything from 4 to 12 weeks so I won't be able to see any of my family, only Mummy and Daddy when am in transplant.
Update 9th April 2007
I'm home! Four days after my big operation, I'm fit and well enough to go home. I feel great; I get little pains in my belly but I'm big and brave. Bring on my transplant! We are now waiting for a letter to let us know when I start my transplant so for the next few weeks I will be getting even healthier and fitter so am in the best shape for transplant.
Update 8th April 2007
First of all, Happy Easter everyone! Thank you to everyone who sent me cards and presents, I received them from all around the world!
What a week! I think we should start with the main news, my operation. I was admitted to hospital on Tuesday 3rd to make sure I was ready for my op. My platelets where only 47 so I needed a platelet transfusion. The surgeon came to see me at 6:30pm and also to explain the operation to Mummy and Daddy. Mummy said he was brilliant in explaining stuff. He also told Mummy and Daddy that it was going to be a very long day for them tomorrow.
I was given a bed space on ward K3, this is the ward where my cancer journey started way back in November 2006 so I have lots of friends on there. Mummy and Daddy were given a room in the Mc House.
At 9:30am I was given a drug to calm me down and at 10am I was told it was time.
Daddy gave me a kiss outside as only 1 person is allowed in with me. Mummy came with me while they gave me some magic milk and off I went to teletubbie land. I don't remember anything else for the rest of the day but Daddy told me that I was only in the operation for 3 hours and the surgeon said "it was the perfect operation" they managed to remove 100% of the tumour and save my kidney. I could not of asked for anything more. Thank you Mr Surgeon and his team!
I didn't even have to go into ICU; I went straight into HDU and slept for the rest of the day. The next morning the doctor said I could go back to K3 so I was moved there at 11am. Mummy and Daddy bought me loads of new DVD's so I watched them all day and night.
On Friday morning I was feeling a lot better. I was allowed a few swigs of water and some goat's milk and I was sitting up in my bed. The doctors said I was doing fine and tomorrow I could start eating again.
Saturday was just unexpected! I woke up nice and early and wanted some breakfast so Mummy made me some nice organic weetabix with my goat's milk and I ate all that up and then I wanted to go for a walk, yes a walk! The nurse said it was OK so off I went to play with the toys at the other end of the ward. I was even allowed to go for a walk off the ward so I went to see my friends on Oncology and to show off my new scar! I spent most of Saturday walking, bending and also running!
It's amazing how well I am, Mummy and Daddy thought I would spend weeks in ICU but after only 2 days am up playing and walking as normal and am not on any pain relief.
Update 28th March 2007
Well, I am supposed to be on my way to hospital now but Mummy got a call yesterday morning saying that a emergency had come up and my "BIG OP" has been delayed until next week, 3rd April! I was all ready to get this nastyblastoma out of me but this just means I have another week to get more fit and healthy for my operation.
I have really enjoyed the last few days. All my family and friends have come round to wish me well… it looks like they will have to come again next week and bring me more presents! Hehehe.
 Update 25th March 2007
Emma is having her operation to remove the tumour on the 28th March, and her stem cell transplant hopefully 4 to 6 weeks after that. All is going well at the moment and we have had a lot of lovely hand made cards and gifts that have made her very happy and it's all thanks to Post Pals.