Donate to childrens charity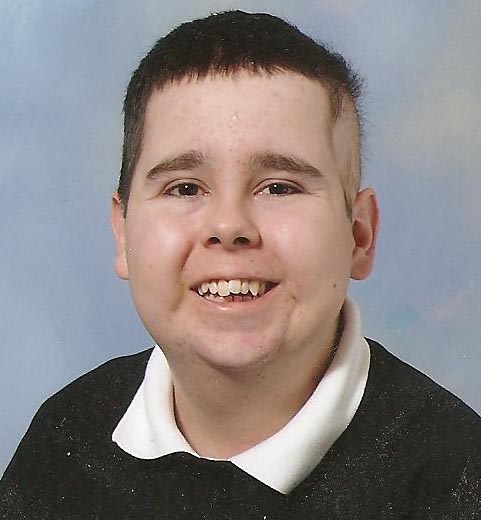 Contact Details
NB: this is a forwarding address, we do NOT disclose home addresses
Other Information
Parents/Guardians - Lorraine
Interests - Watching football, reading, crosswords, puzzles, Lego
Favourite Colour - Yellow and Blue
Able to read? - Yes
Able to use hands? - Yes
Visually/hearing impaired? - Yes
Suffers from any developmental delay? - Yes
Siblings - aged 3 to 16 wishing to receive post
About - Alex C
Story written 2008
Alex was diagnosed with a Glioblastoma Multiforme (GBM) grade 4 brain tumour in August 2002. He had emergency surgery and was kept asleep for 8 days. In December 2002 he had radiotherapy. He started chemotherapy in February 2003 after finding out the tumour had regrown. He was on Temozomide and Cisplatin first, then Temozomide with Thalidomide. He is still on treatment and takes Thalidomide which is controlling his condition.
Alex has regularly scans (MRI) and at the moment these show no active tumour.
With all his treatment and the tumour, he has been left with a number of problems. He suffers from Epilepsy, short term memory problems, slight loss of hearing, partially sighted (has tunnel vision) and is slow processing information. He uses a wheelchair for anything more than a short distance. He also has a hole in his skull (quite large).
Alex is 16 years old and keeps smiling through all his treatment. He has been so brave. Alex's tumour could recur at any time as it is so aggressive, but Alex tries to live his life happily. He doesn't know how ill he has been.
Update 29th June 2009
Alex has enjoyed a couple of holidays courtesy of cancer charities and they have been great.
He is still suffering from seizures. He has also been having lots of tests recently and is waiting for a brace to be fitted on his teeth.
We had meetings at school and it's all been sorted, it was just a case of them getting to know Alex and Alex getting to know them. He is alot happier now. He went on a school trip with them and enjoyed it. He is looking forward to going on another one next month. Hopefully he will be able to stay there for another two years.
Thanks for all the cards, letters and emails sent to Alex.
Update 14th May 2009
Alex has been ok, except for his seizures and stress over how they treat him at school. We keep having meetings with them but we're not sure anything will change and we might have to start looking for somewhere new.
He had another MRI Scan last week and we received the results yesterday. There has been no change from the previous scan, so the hospital think the problem they saw before is scarring and so they are not as worried.
Thanks for the mail and presents. The wordsearch mug was great, as was the 'egg'head'.
Update 19th February 2009
Alex did really well in his GCSE's. He went to college for 2 days and then they rang me up to say he wasn't allowed to go anymore due to health and safety. I spent weeks sorting a new school and funding for Alex. He was eventually able to start in November after his operation to repair his skull. He is studying English, Maths and Performing Arts.
In November we also found out that Alex may have a reoccurrence of his tumour as the MRI showed enhancement. A repeat scan in December showed exactly the same as November and also a cyst that was missed on the July scan. We have been trying to get treatment since December but all the hospital wants to do is scan again in February. A second opinion has been sought from Germany but we have no results yet.
Alex's first niece was born in January. He already has 3 nephews and an angel nephew. He was really excited.
Thank you for all the presents, cards, and emails. He loved the penguin as it's his favourite animal.
Update 17th August 2008
Alex is well overall. We thought we had his seizures under control but recently he's been having them every day. I think he's missing going to school. He has taken his GCSE's and is waiting for his results. We're not sure how well he did because he had seizures in them. He was allowed extra time and he was in another room on his own with his TA's.
Alex has been on a couple of holidays which he enjoyed. He went to Malcolm Sargents in Prestwick and he was also invited to visit the headquarters of The London Community Gospel Choir and sang with them.
Alex should have had an operation to have a plate put in his head during this summer holidays, but the surgeon's secretary messed up and didn't book him in, so the op will now be in October, but that has had a knock on effect on his schooling. We had to fight to get his funding, appealing twice, but then he was unable to take the place because we don't know if his seizures will be better or worse and also he will not be able to keep up his studies [AS levels in History and English] if he has to spend time in hospital. He is now going to another College to do performing skills and creative skills. There is a special unit there.
Thanks to all the people who have sent post to Alex.
Update 14th April 2008
Firstly, Alex would like to say a very big thank you to everyone who has sent him post, letters, gifts and emails. He sends his apologies to those he hasn't replied to. He has loved opening the post and his nephew Nathan has been helping him as well. He is only 6 and has been there for Alex since he has been ill; he has been like a brother to him.
We have had quite a busy month. Alex has had an interview to go to another school (sixth form) as his current school doesn't have one. He has been shown around the special unit where he will get lots of support (he has problems with short term memory). We have to wait and see if he gets funding to go there.
Alex is still waiting to start growth hormones. This has been going on since November 07, the nurse always seems to be on holiday. He is still taking Thalidomide and he is doing well, except for his seizures, which are ongoing.