Donate to childrens charity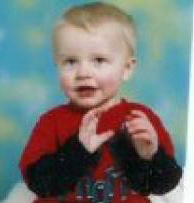 Contact Details
NB: this is a forwarding address, we do NOT disclose home addresses
Other Information
Parents/Guardians - Sarah
Interests - Playing with trains, Thomas The Tank Engine, Postman Pat, Bob The Builder, Drawing, Painting, DVD's, Books, Jumping, Helicopters, Dogs and Books.
Favourite Colour - Red
Able to read? - No
Able to use hands? - Yes
Visually/hearing impaired? - No
Suffers from any developmental delay? - Yes
Siblings - aged 3 to 16 wishing to receive post
About - Alex B
Story written 2006
When Alex was a baby he was in hospital for almost 12 weeks. He went in at 9 days old because every bottle he had he projectile vomited into, to the point where he was bringing up bile and his stomach lining. He suffered from severe de-hydration; he was on a drip and lost a lot of weight. When Alex was discharged they said he had Gastro-Reflux. Every bottle was pre-thickened with Gaviscon and he had to have Ranitidine every day. Alex attended regular visits to hospital at around nine months old and a feeding group once a week, which he still attends now.
Alex's development appeared normal at eight months old but by the time Alex was one I started to notice he would forget a lot and his development seemed to go backwards. Everyone told me he would just grow out of it. At Alex's two year check he only scored twelve months at nearly everything. Alex got referred to the portage service, also saw a speech therapist and it didn't take long for them to realise that Alex has very poor understanding and very poor speech.
I took Alex to see a doctor at Stepping Hill Hospital. It was a different doctor as; Alex's usual doctor was on maternity leave. The doctor examined him and noticed he had a lot of birth marks. She asked me if he was born with them and I told her "no, they just appear" so she said she wanted me to take him to St Mary's Hospital in Manchester where a geneticist saw him and diagnosed him with neurofibromatosis (or NF1 for short).
We are not sure how NF1 is going to affect Alex but so far we know it has affected his overall development. Alex has to go for an MRI scan because they think he has fluid on his brain. Alex also has to have a series of X-rays to make sure his bones and his spine is okay. Alex has four little lumps on his head known as Neurofibromas. In most cases you don't tend to get these until puberty, so right now we are waiting for test results and hoping and praying all is okay.
Update 1st December 2006
Alex has now got a new sister – he is very happy and loves her lots! He has started full days at school and he loves that. He would be on the bikes all day if he could too. Alex got a bit upset with halloween he did not know what to make of it. He has a new doctor now who wants him to have even more tests and Alex can say a few more words now. His younger brother Taylor has got to have some tests on him as he may have the same problems as Alex. He is looking forward to Christmas. We went to see Santa the other day, Alex has started to understand what presents are so we should have our first real Christmas and i can't wait.
Update 15th October 2006
Alex started school last week and he loves it. He also has a new doctor and they have said he has 5 light spots on his brain. Alex has to have an mri scan to see how fast they are growing; all his lumps are growing very fast so they all need to be looked at. He now has them in his back and they think there may be some in the bowel too. I don't totally understand what they think he has, i know they think he has nf1 and possibly something else, but what that something else is they don't know.
Update 26th June 2006
Thank you to everyone who sent Alex a birthday card.
Update 9th May 2006
Alex was in hospital on 7th of May with a very high temp that would not go down. On the Monday his doctor came to see us and she told us Alex had a brain tumour, they are not sure what type it is so they have asked a different doctor to look at it, if they still can't say what type it is then they want to do another MRI scan for to see if they can make it clearer to see.
They also said they thought he had a rear condition; I can't remember the name of it as it just was a lot to take in a one time. I see his doctor on the 23rd May for the rest of the results from this other doctor and will up date more then.
Update 28th April 2006
Thanks for all the Easter cards and lollypop, Alex loved them.
Alex had his eyes checked at St Mary's and all is ok. He also had his MRI scan on the 20th April and had lots of blood tests. We should find out how things went at the end of May.
Alex has had a bad month being in and out of hospital. He also had a 2 year check, to see if he has developed in the past year. The bad news is Alex is the same as he was a year ago, his speech or understanding has not improved. Alex also has to have an EEG just to make sure all is ok.
We are taking him to see Thomas the Tank Engine this weekend; he should love that.