Donate to childrens charity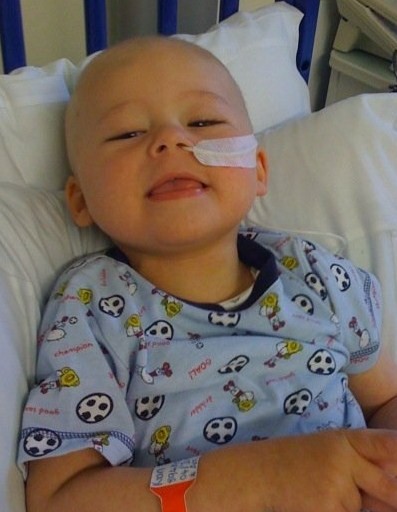 Contact Details
NB: this is a forwarding address, we do NOT disclose home addresses
Other Information
Parents/Guardians - Gemma and Steve
Interests - Playing with footballs, Thomas the Tank Engine, Peppa Pig, Bob the Builder, catching bubbles, singing songs, loves animals especially ducks.
Favourite Colour - Blue
Able to read? - No
Able to use hands? - Yes; Kian suffers from tremors so can find picking up small objects hard.
Visually/hearing impaired? - No
Suffers from any developmental delay? - Yes; has global developmental delay and enjoys toys aimed at 18 month olds.
Siblings - aged 3 to 16 wishing to receive post
About - Kian B
We noticed that Kian had developmental delay from the age of eight months. He was unable to sit, balance, his communication was extremely limited, and he was asleep for much of the time. He then contracted a number of serious infections including pneumonia and spent a lot of time in and out of hospital. During one of his stays in hospital, routine bloods found that Kian was neutropenic and lymphopenic, meaning that he had no way of fighting any infections or crises. This then led to a number of tests including weekly blood tests over a two year period.
In January 2009, Kian was diagnosed with an extremely rare form of severe combined immune deficiency called P.N.P. This is a degenerative condition for which the only cure is chemotherapy followed by a bone marrow transplant.
As a consequence of Kian's condition, he is extremely susceptible to infections and viruses. A simple common cold could prove fatal for him. Kian also has a number of neurological problems which cause him to be globally developmentally delayed. These problems especially effect his physical development and he finds this extremely frustrating.
Until Kian has his bone marrow transplant he needs to be kept at home. He is not allowed to go swimming, attend nursery or pre-school groups, go on public transport, or be in any environment where there are lots of people. In the mean time, Kian is kept at home in isolation to protect him.
Kian is scheduled for a bone marrow transplant in summer 2009. He will be admitted on July 13th and will spend approximately 3 months in hospital. Until then Kian takes a number of different medications on a daily basis to keep him well. These include prophylactic antibiotics, anti fungal treatments, inhalers, iron and weekly infusions of immunoglobulin.
Update 10th April 2010
We are very sad to say that Kian passed away in his mum's arms and with his family around him yesterday.
Update 9th April 2010
Kian has become very unwell and we have brought him to Acorns Childrens Hospice where he can be kept comfortable.
Update 27th March 2010
I wanted to let you know that unfortunately the doctors have told me that there is nothing more they can do for Kian as he is just too poorly. We will be bringing him home on Tuesday to spend whatever time we have left with him there.
He still loves receiving post as it really brightens up his day and he would love to continue to get some at home. His new address will be 10 Highland Road, Charlton Kings, Cheltenham GL53 9LT. I will post regular updates from now on.
Update 1st December 2009
Well it's been another tough month here for Kian. The antibodies that the doctors thought may help to treat Kian's GVHD did not have any effect, this was such a shock as they are usually very effective and we were told that we had only 1 option left, a type of stem cell. The only problem was that they are not available in the UK so they had to get them from Holland; Kian had these cells a couple of weeks ago so we now just have to wait and hope that they work.
Kian has continued to loose skills and now has no use in his legs and is very weak, all MRI scans have shown no changes so the doctors are baffled as to why he is getting worse.
On Friday 20th November Kian did not seem well and was started on antibiotics, his blood pressure was high and he was very sleepy. The next day Kian was much worse he had often required over night oxygen and his blood pressure was now 190 despite lots of medication to bring it down. At 11.30am Kian had a massive fit and unfortunately this was too much for his body and he stopped breathing properly. Fortunately the intensive care team were already with Kian and put him on a ventilator. Kian recovered well from this episode and it now on medication to reduce the risk of him fitting again. Kian had another MRI scan following this and unfortunately this showed extensive progression, this was devastating news and doctors have told us that Kian is unlikely to get better. Kian has been started on 1 last medication to try and fight this infection and we will know in about 2 weeks what effect it has had, so fingers crossed the next update will be good news.
Thank you so much to everyone that has sent Kian post recently, he still loves receiving it. A special thank you to the children at Yarnfield Primary School, Kian loves the pictures and they are on his wall. Hopefully when he is feeling better he will be able to send you some back.
Update 26th October 2009
After some tests we found that Kian was unfortunately suffering from a chest infection and engraftment syndrome. He became poorly very quickly and was requiring oxygen to help him breath. He was put on a high dose of steroids and a number of antibiotics and after a few days he started to feel a little better.
The engraftment syndrome that Kian was suffering from quickly turned into GVHD which caused a horrible itchy rash and continued breathing problems. As a result, Kian needed to stay on the high dose of steroids.
The steroids controlled the GVHD well but unfortunately they have also caused him to have many more infections and virus' including CMV, EBV, and BK virus which caused his bladder to bleed, and then lead to Kian having large blood clots which were impossible for him to pass and were extremely painful. He had a catheter put in to help them break down the clots and make it less painful.
Kian also picked up a serious line infection which made him very poorly as well as a fungal infection in his lung.
More recently Kian has started to have tremors and has lost some of his skills so he had an MRI scan of his brain which showed 2 lesions. The doctors think that these lesions are also fungal infection. It is now a waiting game to see if he will have long term problems as a result of these.
The doctors have tried to reduce the amount of steroids on many occasions but each time they do his GVHD flairs up so they have to be increased again. Unfortunately the GVHD is now also affecting his gut very badly, so he is not allowed to eat or drink anything and he is now on TPN to ensure he receives all the nutrients he needs.
The doctors have now decided that the best chance of Kian's GVHD getting better is to treat him with antibodies and he stared these last week. It will be approximately 1 month before we know how effective they have been for him.
I'm so sorry it has been so long since the last update but as you can probably tell Kian has been having a tough time of it.
It is so lovely for Kian to receive post from all of his Pals. He gets very excited when the post arrives. We have all of his cards displayed around his room and the gifts he has received have really kept him going. It has been so long that it is impossible for me to thank everyone individually, but it really does mean a lot to us to know that we are in your thoughts. Thank you all so much.
Update 6th August 2009
Kian has had a good couple of weeks with very few side effects from his chemo, the only one has been feeling very sick which in turn led to a refusal to eat, so he is now being feed through a tube. Hopefully this won't take too long to get better as he usually loves his food.
He has had some special splints made for his legs as the muscles are very tight and they should hopefully help him walk in time.
Kian has now started to get a little more poorly and has had a temperature which is refusing to go down. He also some breathing problems and has been started on some strong antibiotics. He will be having some tests to establish what the problem may be.
Thank you for all of Kian's post, he has been very lucky and loves it all. A big thank you to Emma for his favourite things picture, he enjoys looking at all of the things on there. Also to Tez for the little dog and duck and for the photo of your dog. Once again to Wendy who always remembers Kian, he received your Bob card this morning and he hasn't let it go since!!
Update 25th July 2009
Kian was admitted to Great Ormond Street Fox Ward on the 20/7/09. He has a lovely little room which we have already made home with lots of his toys. Kian has had his hickman line and NG tube fitted which is brilliant as he does not have to have any more needles when they are taking blood. He also has all of his oral medicines down his NG tube too which is fantastic as he has so many to take and most do not taste very nice. Kian has started chemo now and despite lots of pre meds Kian had a reaction to the first drug. This is not uncommon and gave him a high temperature and a rash. He is due to have his transplant on 30/7/09 and i will update after he has had it.
Update 18th July 2009
This month has been very busy for us. Kian has been well which has been lovely as we have been able to see everyone before his treatment begins. We spent 2 days in Great Ormond Street for pre transplant tests and this was tough for Kian as some of them were not very nice. We took him to the bear factory to get him a special bear to take to hospital with him though and ended up with 3! During this visit to Great Ormond Street we were told that Kian's transplant was to be delayed by a week due to the donor not being able to make the original date. Although this was frustrating, it has given us an extra week to prepare, which has been blessing in disguise.
Thank you so much to everyone who has sent post to Kian this month. He has loved opening his cards and gifts and gets very excited when the post arrives! A special thank you to Wendy who sent Kian his first ever Post Pals card.