Donate to childrens charity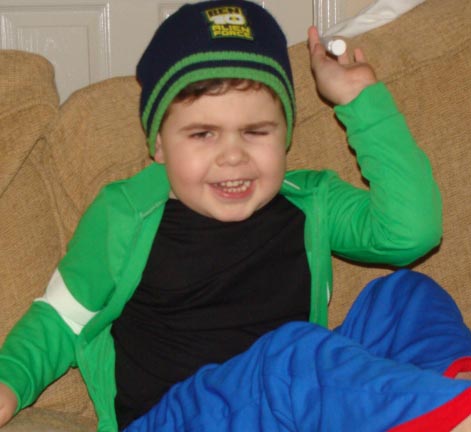 Contact Details
NB: this is a forwarding address, we do NOT disclose home addresses
Other Information
Parents/Guardians - Vicki
Interests - Loves animals - any kind from ants to lemurs. He loves making things and uses his imagination all the time. He also loves dressing up. Matt likes reading Mr Men and Little Miss books.
Favourite Colour - Blue and red
Able to read? - Yes
Able to use hands? - Yes
Visually/hearing impaired? - No
Suffers from any developmental delay? - No
Siblings - aged 3 to 16 wishing to receive post
About - Matthew P
Story written 2010
Matt was a perfectly healthy little boy, when sadly at the age of just 22 months, he was diagnosed with a malignant brain tumour measuring 4cm x 5cm in the back of his brain. He underwent 7 hours of surgery, after which he lost the ability to walk, talk, eat, even move, and had to be fed through a peg into his tummy. At the same time Matt had to start an intensive course of chemo lasting 14 months to try to kill off any remaining cancerous cells.
Matt spoke for the first time 8 weeks after surgery; it was such a long time waiting to hear his voice. With sheer determination that Matt is famous for, he also learned to walk again, albeit unsteadily, but to him he can run as fast as anybody when he is one of his Ben 10 characters!
Matt finished his chemo in March 2008, he relapsed shortly afterwards so needed more surgery then 6 weeks of radiotherapy. We had a fantastic year tumour free but during a routine scan it was discovered he had relapsed again. More surgery followed, followed by another relapse. Within 6 weeks the tumour was back again and this time Matt's doctors felt that the tumour was too aggressive to justify putting him through surgery again.
Matt has fought so hard over the last 3 years and we still hope for a miracle. Matt is on chemotherapy. This is not curative but is hopefully life prolonging.
Update 29th July 2014
Dan now feels ready to move on from Post Pals. He has loved getting post from all over the world and it has really helped him when he desperately needed support. He is an amazing 14 year old and we are so proud of him. Thanks for all your kindness.
Update 2nd February 2011
It is with a heavy heart that I'm writing to tell you Matt passed away at 17:15 yesterday evening.
He was so so peaceful and we were all with him, in true Matt style he had us all organised and made sure that we were all there with him.
A truly special boy right until the end. We miss him xxxxxxxxxxxxxxxxxxxxxxxx
Update 29th January 2011
Matt is spending more and more time in bed at the moment, he is awake but because of the pressure in his head he finds it very difficult to sit up.
We are seeing little changes everyday, but he is comfortable and still ordering us all about, which we love. He keeps telling anybody who visits to 'get out the way of my TV!', the steroids are making him a little stroppy!!!
He loves his post, he has been inundated this week and we have had lots of lovely memory making moments, seeing him smile with his letters, cards and pressies. Even the postman has commented on how much post the boys have had!!! We are in the process of making the picture frame that was sent to Matt, we will be putting a special family photo in there.
He loves his sticker books as he can lie in bed and make those. Dan has had lots of smiles this week too. A special thank you for the cards I have received too this week, thank you for thinking of me.
You have all helped to make some special memories for us and for that we are very very grateful.
Update 18th January 2011
Matt had surgery in November to remove his tumour, and recovered brilliantly.
Over the last 2 weeks he has gone downhill massively, unable to swallow and lethargic. An emergency MRI was done yesterday and it has shown that the tumour has invaded Matt's brain stem and surrounding area. This has grown so so quickly, that nobody, not even the doctors, expected this.
He is comfortable and having a good day today. His doctor has given us a prognosis of a few weeks with him. It's hard to believe whilst he is sitting here playing on his playstation.
We are devastated.
Update 19th November 2010
Just wanted to let you know that Matt is going in for surgery on Tuesday and we have to be admitted on Monday. He is getting a lot of headaches and neck pain from the tumour at the moment.
It has been manic this month. It was a definite no to re irradiation so we are currently looking at alternatives to try and stop or slow the tumour.
A massive thank you for all of Matt and Dan's post over the last month, the boys have loved all of their post.
Update 17th October 2010
It has been a manic month; we have had an amazing trip down to London to see the Lion King and to visit London Zoo where we were able to feed the tigers!! The boys had the most amazing time and were totally worn out by the end of it!!
Matt has also had a scan and we got the results on Friday. The tumour is continuing to grow and I think we all knew this as he is showing more signs of weakness down his left side and his walking is becoming more difficult. We have decided to stop the chemo as it is so obviously not working, and we don't want to be putting things into his body if it's not doing anything. Rob and I are going down to London to get a second opinion with regards to Re-irradiation and this should be in the next couple of weeks.
Matt's surgeon has suggested that we could take the tumour out again (this will not cure Matt, as surgery on its own won't get rid of it) so that we can have more time with Matt. I would give my right arm for this, so that is also in discussion at the moment.
It has all been really draining for us but as usual Matt and Dan just get on with it!!
On a brighter note, a huge THANKYOU for all the wonderful cards, postcards, letters and gifts the boys have received this month.
They have been overwhelmed. I am just so thankful to everyone who puts the time and effort into thinking of the boys. I normally like to thank everyone individually on here but there has been so much wonderful post this month that it would take up a whole page!!
All of the cards and gifts are kept and used and Matt especially loves his fab Mr Men gifts from Ireland, thank you. Our furthest postcard was from Australia and we have also had a couple from Denmark!! Post Pals is going global!! Matt continues to ask 'is there anything for me?' every time the post comes!!
A big thank you from the boys and much love from us.
Update 14th September 2010
Matty is great in himself, although his consultant is convinced that his tumour is growing.
He has been to school two afternoons this week – he loves school so much and he is so pleased to be in class 2 – I wish his ten year older brother was as keen to go to school!!
We have had a really busy week. We travelled to Nottingham last week to get a second opinion about Matt's tumour. To say the Professor is a fantastic guy would be an understatement; in Matt's own words he was 'wicked!!'
We are now awaiting a brain and spine scan to get an up to date picture, if this still shows the tumour can be taken out again the Prof has suggested we do this and re irradiate. We have options again, what a feeling!! This doesn't come without its own very serious risks but if we don't go for this Matt will die. Please keep your fingers crossed that the scan shows we can do this.
As I'm writing this, Matt, Dan and dad, are fighting on the sofa, such a simple thing but so special.
Now for the most important bit – Matt has been overjoyed by his letters, cards and presents. His usual response is 'wahoooooooooooo'! He loves it and we would like to say a massive thank you to Sheelagh for all the Dottie Dalmatian stories and most importantly our new addition to the family 'pluto'. Thanks also for the footie doorbell, Dan and Matt spent at least a good hour recording and re recording messages, much fun was had by all. Thank you for the lovely letter from 'Percy' too, a very handsome chap. Thanks go to Mandie in Ireland for the fab pictures, card and toys, the time spent making the card makes it very very special, thank you so much, Matt has decided that his turtle is a Sea Turtle.
I will update again when I get some more news, but just to say thank you for making my boys smile and for all the time and effort that you all put in to thinking of them.