Donate to childrens charity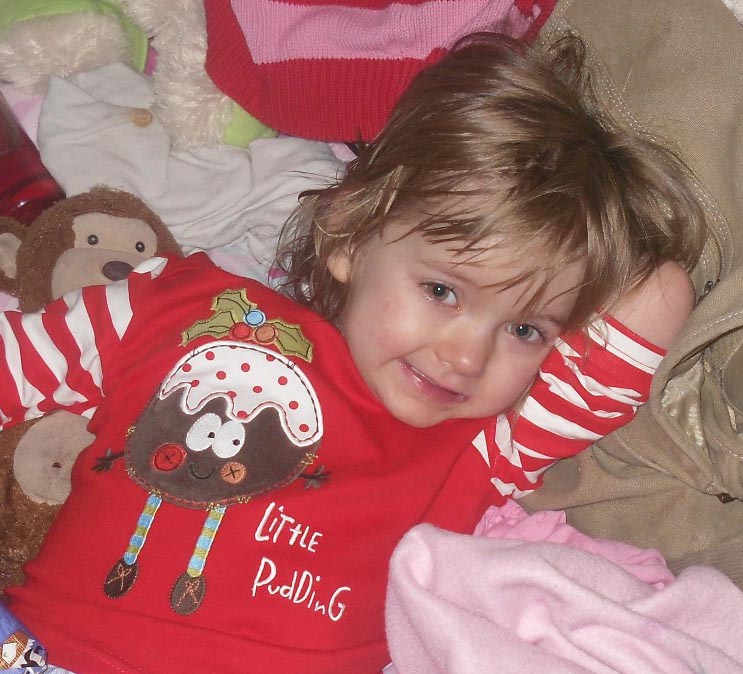 Contact Details
Megan and Tyler
C/O 29 Holdcroft Road
Stoke on Trent
Staffordshire
ST2 8LJ
United Kingdom
NB: this is a forwarding address, we do NOT disclose home addresses
Other Information
Parents/Guardians - Annette
Interests - Playing with toys, painting, arts and craft, fifi, noddy, monkeys, dolls and stickers.
Favourite Colour - Red
Able to read? - No
Able to use hands? - Yes
Visually/hearing impaired? - No
Suffers from any developmental delay? - No
Siblings - aged 3 to 16 wishing to receive post
About - Madison P
Story written 2008
Hi there, my name is Madison and I live in Staffordshire. I am 2 years old and live with my Mummy, and my sisters Lauren (14) Megan (7) and Tyler (6).
On 1st February 2008 my left leg started to hurt me so I went to the hospital for some tests. I had an MRI scan and was then diagnosed on the 18th February with cancer. I have a Rhabdoid tumour in my left pelvis capacity. I have been to Birmingham hospital and our local hospital the City General where I have started chemo. My hair fell out but it doesn't bother me. I just want this horrible disease to go away and be able to walk again. I have lots of support from all my loving family and friends.
Madison has a very rare, aggressive type of cancer. The tumour has shrunk with chemotherapy which the doctors didn't think would happen as they gave her 6 months to live back in February. She is awaiting radiotherapy to try for a cure but the doctors have said her chances are very slim. If the radiotherapy doesn't work we will loose our daughter to this horrid disease.
Update 18th March 2014
Annette, Megan and Tyler (mum and sisters of Madison) would like to say thank you to those who sent post and gifts to mark Madison's 4th memorial today. It means a lot to know she hasn't been forgotten. The girls really appreciate the post they still get, thank you.
Update 27th March 2010
We are so proud of the send off we gave Madison yesterday. Thank you to everyone who joined us and for all the beautiful cards, flowers, donations, and special gifts. Fly high now Madi, we are missing you so much.
The girls say thank you for their post too. We would still like to get some post to take to Madi's grave to show she's not been forgotten. Our love to you all xxxxxx
Update 23rd March 2010
Madison's funeral will be held on Friday 26th march 2010. Please meet at Central Hall Methodist Church, Longton, at 11.15am. Burial will take place after the service at Fenton Cemetery, Fenpark. We will then be celebrating the life of Madison at the Poole Dole pub, Fenpark Road. Please wear something bright and flowers are welcome or donations to the Donna Louise trust via Tim McGough funeral directors, Tunstall. Details will also be in tomorrow nights Sentinel paper.
Update 19th March 2010
Madison Francess Ellen Allsop Parton passed away at 7.55pm on 18th March surrounded by her mum, dad and sisters. Rest in peace our darling angel… love and miss you, but in our hearts for ever and ever xxxxxxx
Update 17th March 2010
Madison is still fighting but remains in a deep sleep.
Update 12th March 2010
Just to let you know we are still at Treetops and tonight Madison has taken a turn for the worse. She is stable but very weak and sleepy and not very aware of her surroundings. The doctors have decided its best to up her ketamine pump and her diamorphine pump to quite high levels and she's also having sedation. In the morning they are going to catheterise her as her bladder is becoming squashed by the tumour causing extra uncomfort of her bladder.
She's very swollen now and it's getting very difficult for us as we can see the tumour damage. She's black and blue over her buttock and leg, her hip is triple the size it should be and she's got a new large lump in her back.
Madison's cancer is spreading very quickly now and we only have days left with her, maybe a week or two maximum.
We are so heartbroken but we're staying strong for her. We have no more to say but will update when we can. This is a very scary time for us as Madison could pass away at anytime.
Thank you for the post received and for the beautiful flowers from Jamie and family xxxxx
Update 7th March
Madison is now tired and not well. She's hooked up to a diamorphine and a sedative drip and we know we don't have much time left with her. We are at the Treetops, Donna Louise Hospice, where Madi will pass away.
Thank you for all your support and beautiful letters and cards, we have put them all on her room wall.
Update 5th March 2010
I might not be online for a while as Madison is deteriorating very quickly. She now has cancer of the pelvis, stomach, bladder, chest and lungs. The disease is taking over her body quicker than we'd hoped. Please pray for her and her sisters. Mummy will be with her always xxxx
Update 27th February 2010
Madi has had a rough day. She has been suffering with laboured breathing and wheezing. She had a chest X-ray which showed some mucus, but mainly that the cancer is causing her breathing problems.
Update 24th February 2010
We are devastated after meeting with Birmingham consultants. Madi is too poorly to continue the trial. There is nothing more we can do for her. All we can do is comfort her until she slips away.
Update 22nd February 2010
Madison remains in hospital as she is still really poorly. She is also still on tpn and 5 different antibiotics, spiking temperatures, having lots of runny nappies despite being nil by mouth, and having blood traces in her urine too. She is still having lots of samples checked to see if they can find an underlying reason. We have asked about a scan this morning but the doctor feels she is not well enough to tolerate it yet. They have upped her ketamine once again as her pain is still bad. We are hoping to get her more comfortable even if it means lots of pain relief as the last thing we want is for Madison to suffer. She has her bright moments and yesterday she had a bowl of snow in her room to build a snowman. On Friday, Alex Winters from cbeebies came to visit her and she loved it!!! She got a very special signed photo.
Update 31st January 2010
Thank you to all the people that have post to the children. They have learnt to smile again – it makes a big difference to them all to feel special.
Update 25th January 2010
We went to Birmingham last week (as you may of read from the last update) and have been back again today for Madison's mri of her pelvis and the CT of her lungs and chest. Unfortunately we didn't see the doctor so we don't have any results as of yet. Madi coped really well with the anaesthetic and was a really brave girl.
She should be on line to start her new chemo next week in Birmingham but we don't know what we're dealing with until we get the results.
This is still a hard time for us and an anxious wait. I'll update as soon as the results come through.
Update 19th January 2010
Just to let you know that Madison is doing much better now and is over her recent illness.
We have been to Birmingham today to sign the consent forms for her new chemo trial and to have baseline bloods done, kidney function tests, and an echo and eeg. She was really good and kept really still. We get the results on Monday when we have to go back for her mri scan. If all is ok, she will start her new trial the week beginning 1st February. It is an excited but apprehensive and nervous time for us too. I'll update again on Monday to keep you informed.
Update 27th December 2009
Hi everyone I hope you have all had a fantastic Christmas. We got our wish and spent it at home all together. The children had a great day and they all had lots of lovely presents. Madison's favourite was her drum set and her electric princess scooter, Megan's was her guitar and Tyler's was all her tinkerbell stuff. It's going be a bit noisy in our house!!
On Boxing Day we had a play day where the kids got to go through all their presents and enjoy them. After dinner Madison spiked a temp and became quite snotty, she had a really bad night and continued to spike temperatures.
This morning, after 25 minutes sleep, I changed her bum and noticed some spots on her – after checking her over I noticed the poor little mite had chickenpox!!
We have been up to the hospital to the doctor as Madison is really unwell at the moment and she has been given 2 lots of antibiotics, as not only does she have chickenpox, she also has severe tonsillitis and very swollen glands. The doctor said she will get worse before she gets better, so we have got to keep a close eye on her and will have to take her up if she becomes really unwell. I'll update in a few days to let you know how she's getting on.
Hope you all had a good time and got all your wishes. Love and best wishes to you all and thank you for all the lovely cards and gifts xxxx
Update 16th December 2009
We have just got back from Birmingham Children's Hospital where we have been to see Madison's consultant and research sister. After a very long discussion, we have decided to go ahead with the trial for a new chemo for Madison. She will start around mid January after having some more scans, a new cl put in, a biopsy, and a heart scan. The chemo she will be on is new and hasn't been used before so we are hoping we get some pleasing results. We do have to remember that there are no answers to this trial, so it might not do anything whatsoever for Madi, but I will continue to hope and pray it does. Madison will have to spend 3 days out of 21 days at Birmingham hospital for treatment, she will experience most of the side effects she has before and may loose her hair again, but if we don't try this then we lose her anyway, so I'm sure that accounts for the side effects. Madison will now stop etoposide as she has to be chemo free for at least 4 weeks prior to starting the trial.
At least now we know we are going to be at home for Christmas and the New Year and are going to have a really amazing time. I have just had my Christmas present of good news and couldn't wish for anything better. I just wish Madison the best of luck and pray this will be her miracle.
Hope everyone has a fantastic Christmas and our love and best wishes to you all. Let's hope 2010 is a good one! xxxxx
Update 9th November 2009
Madison had an mri scan today and we are totally devastated by the results. Her tumour has grown and spread, there are more tumours in the area now too and lymph nodes. Life is so cruel, i feel so numb right now knowing my little babe can't beat it. So sorry to post bad news.
Thank you for all the recent post.
Update 5th November 2009
Madison is still in hospital on Ward 112 as the other swine flu swabs came back to confirm she definitely has it. She won't be allowed back on Ward 110 until she is symptom free. She is really poorly at the moment with it and has just started with more of the symptoms. She's on Tamiflu still but had to go back on 1st line antibiotics yesterday as she spiked temperatures above 38. She is also neutropenic so has no immune system to fight it. She is being recanulated every day as they keep tissuing so her little hands and foot are black and blue. The doctors have decided they want to do a long line as she's running out of veins to use. She still has c diff which is giving her horrendous diarrhea meaning her weight is dropping and she also has septic tonsillitis still.
Things at the moment are rough and its horrible being in isolation. I'm doing good and coping really well with all this, however i really miss my children as they aren't allowed to visit. We are banned from any visiting at the moment.
Let's keep hoping and praying she gets better real soon so we can have some fun. I'll update again soon. Our love to you all xxxxx
Update 21st September 2009
Just a quick update to let you know Madison is in hospital and has been since last Wednesday night. She has got a bad throat and cough but is doing ok.
We will be staying at the hospital until we get more support at home as things are very difficult for me. I have been hiding behind a false smile pretending to cope alone, but can no longer carry on as it has made me ill too.
Update 15th September 2009
Sorry it has been a while since I last updated but a lot has been happening.
Madison has been back in hospital as the pain got really bad. They have started her on ketamine and we seem to have the pain under good control now.
CONGATULATIONS to Madison as she started school on Monday. She only goes for an hour as she gets very tired, but we are so proud to see Madison reach this milestone.
Madison is at home with us now and won't be going back to the hospital until needs be. We are hoping to have lots of good times with her.
I'll update again really soon.
We would also like to say a big thank you to Margaret for the lovely gifts you sent to us.
Update 3rd September 2009
Madi is going back into hospital to start Ketamine again as she has had a bad couple of days with pain. Last night she was hallucinating and tripping really badly for hours due to medication, there wasn't anything to reverse it so we had to just ride it out.
Update 29th August 2009
Madison is back home now. She's doing ok but is declining quickly.
It's her birthday tomorrow, thank you everyone for her post, she's going have an amazing time opening it all. I will email some pictures to Viks.
Your support has been amazing; I've read Madi all your messages and she listened with a smile on her face. We are going to print all her messages off as keepsakes for her.
The doctor came see me yesterday; we are living on borrowed time now and we could lose Madi anytime as her breathing is bad when asleep. The oxygen will help for a small time.
I'll try update when i can. Please forgive me if i can't too often, Post Pals are in my thoughts, but it is difficult for me now xxxx
Update 20th August 2009
Just to let you know we made it to Disneyland Paris with Madison. Despite being in pain she had a fantastic time and it's a memory that will never die 4 us.
She is ok but on lots of medicines now. It is unlikely that the etoposide chemo is working to slow the cancer down as she has swelling in her back now too.
Will keep you updated as often as i can and thank you for all the post she has been sent.
Update 24th July 2009 (evening)
Madi had her scan and the results confirmed the tumour is growing. Madi will only have a few months left to live and we are devastated.
Update 24th July 2009 (morning)
Sorry it has taken me a while to update but Madison is still in hospital.
Last week she was thought to have swine flu so had to have a week of tamiflu. Luckily the tests were negative.
Madison is experiencing severe pain now and is on very high doses of pain relief. She has to be sedated when the pain gets really bad. She had a blood transfusion in the early hours of Wednesday morning as her blood pressure and hb dropped very low. Her resps and sats drop quite low too and the doctors warned me that she could stop breathing any time.
Madison is having a big scan under GA at 4pm today to see what is going on in her little body. We are hoping to have some indication tonight which will tell us what the future holds, although the full reports will be early next week.
Madison is very unwell and getting weaker. I'll update again later when we know more.
Love to you all and thank you for all your lovely messages.
Update 3rd July 2009
Madi was taken poorly on Wednesday morning and was kept in hospital. She is in a lot of pain and has a new lump at the front of her pelvis. After her scan it was confirmed that it as another tumour and the cancer has spread. Madison is still very poorly and on high dose morphine which they are changing to fentonal today. We are unfortunately going to loose Madison but do not have a time span as yet. She will be rescanned over the next 2 weeks to see how rapid it is growing. I'm sorry to have to tell you this. As you can imagine, we are heart broken and completely devastated.
Update 15th June 2009
Madison is in todays Sentinel paper.
Update 4th June 2009
Madison is still requiring hospital treatment for oxygen management as she still has a collapsed lung caused by pneumonia. She has had a brain, lung, and full body scan to check for any spread. We had the results back and all the scans were clear, so we now know we are only dealing with the cancer that has returned to the pelvis. Lauren, Madison, and I went to Treetops last week until Saturday, then returned back to the hospital.
Madi went to Birmingham on Monday at 7am to have a central line refitted as the doctors are keen to restart chemo as soon as possible. The next few months are going to be really difficult as we know the chemo is going to make Madison very ill. This is the only chance we have though so i'm preparing myself for whatever it takes. Madi will lose her beautiful hair again, so if anybody wants to buy gifts then please do join us in our summer hat collection.
On Monday Madi was seen by a few doctors and then taken to the surgical ward. She was put to sleep in theatre and had her new central line fitted. She was very brave and did really well. Her consultant then came to see us and explained that Madison will have 2 new chemos starting on Monday for 5 days, then 21 days off, then another 5 days chemo. After the 6 weeks she will be rescanned, they will do a full body scan, bone scan, lung scan, and brain scan, to see if there is any latest spread. She will also have a repeat MRI of the hip/pelvis where the tumour has returned to. If there is no change to the tumour or any spread, then treatment will be stopped. If there is an improvement to the tumour and no spread, then they are going to plan surgery. This surgery will be very major surgery to remove the leftside of the pelvis. It will be a very long and complicated operation and will leave Madison fully disabled and will cause later problems to operate on. We also have to concider if she will be strong enough to undergo the operation and also consider the cancer returning to another location once the pelvis has been removed. It is going to be a very hard meeting in approximately 6 weeks time. I will keep you informed as much as i can.
Love to you all xxxx
Update 21st May 2009
We went to Birmingham today about Madison's scan results and the results from her last scan were devastating. Her cancer has returned and the prognosis is very poor. She's having a lung and chest scan tomorrow to see if it has spread and a body scan nxt week. She will go back to Birmingham in 7/10 days to have a central line put in again and if there's no spread they are going to start chemo again, although she will only have a 1% chance of it working. If it has spread then they are going to start pallative care chemo. I'll update as we get more info but unfortunately things are looking very grim.
I'm so sorry to have to tell you this news. The family and myself are absolutely devastated, but i will fight this with her all the way! Please keep praying that 1% chance will be Madi.
Update 20th May 2009
Madison was rushed back into hospital in the early hours of Friday morning following 6 fits and a high temperature. She is being treated for viral meningitus and also has pneumonia. She is really unwell at the moment and is on oxygen. She's had lots of scans done and an EEG which we are waiting for the results of. We hope they won't be too long.
Update 26th April 2009
Sorry it has been a while since i last updated but Madison has been back in hospital for a while. We are home tonight on ward leave but have to return at 9am in the morning. Madison had a very nasty infection in her hickman line (candida) which then spread to her blood stream and she went completely off her legs again and was in agony. They have now got her on a level amount of morphine and painkillers. She managed to stand again yesterday and walk a bit today after having some steroids. They are now concerned the infection has gone into her hip bone causing septic arthritis so will be doing an mri scan really soon. She has been a lot better since they removed the hickman line last Saturday as an emergency and luckily we have the pain under control now. She is still on antibiotics at the moment and will be for a couple of weeks yet.
Today we took her to the pub for lunch then shopping and she loved it! So did i!
Thank you for my growing egg and my sisters say thank you too for theirs. We will have fun seeing whose grows the fastest and will take some pictures.
Take care and love to you all xxxx
Update 27th March 2009
Madison and family will be on Central News tonight at 6pm. Look out for your post again!
Update 24th March 2009
Unfortunately Madison continued to be unwell last week and had to be admitted to hospital on Friday. Her temperature shot up and she was really unwell. She then had a swelling come up on her left cheek. She had an ultrasound scan and it showed a mass but they are hoping it is part of the infection she has, as at the moment she has a nasty blood infection.
Today her left foot and leg started to swell too so they took her for an x-ray and again it is infection attacking her weak spots. She came home tonight but has got to have daily ivf antibiotics by the community team. She's not too bad, just a bit sleepier than usual. She's going back in on Friday morning for an mri scan under general anaesthetic. They are going to scan her head, face, leg and foot, to make sure there's nothing nasty there.
I will keep you updated as we know more xxxx
Update 16th March 2009
Madison will be in The Sentinel newspaper tomorrow (Tuesday 17th March) so don't forget to buy your copy or log on to www.thisisthesentinel.co.uk
We are doing a video tomorrow that you will be able to see on The Sentinel site and the latest news page on Post Pals.
We have done lots of celebrating and are starting to enjoy life again!
Update 12th March 2009
We have had a surprise phone call from the hospital. We had Madison's LP results back and she's now clear. MADISON IS CANCER FREE NOW!!!! She did it, she beat it!!!!
We have been the hospital today and they have stopped all treatment. They are hoping to take her wigglies out in approx 6 weeks, she will have fortnightly check ups, and will be closely monitored to check nothing comes back. Let's pray it stays away!!!! We are over the moon and will be arranging a big party at a later date. We hope you will all raise your glass to Madison to congratulate her.
Thanks for all the support and I'll update again soon to let you know how she's getting on. Love to you all xxxxx
Update 3rd March 2009
We have been to the hospital today for Madison's occupational therapy appointment. The doctor was lovely – he put a plaster cast on Madison's leg and she loved it, she even bore the pain of putting her ankle at 90 degrees. She got to pick some designs too for her new splints and she's having a butterfly design to wear during he day and a red with teddies on for night times. Madison has got to wear a splint on her left leg as the cancer and the chemo and the radiotherapy have killed the muscle and tendons and her main sciatic nerve is damaged, so it is important to wear a splint to help her leg develop again if at all possible. If this doesn't work then Madison could be looking at lots of operations and a lot of time in real plaster cast!
After the appointment we went to the ward to have her bloods taken. They are really good and her infection markers are low too which is very reassuring. I had a long chat with the doctor too and he made things a lot clearer.
Madison has two lesions on the membrane of her brain which suggests viral meningitis has been a complication. The LP she's having on Thursday is to determine which type! They are also going to test her salts to see if it's another tumour site, but think it is unlikely the marking in her leg is still showing some. It could also be showing bruising and swelling from the chemo and radiotherapy. They say there is no spread and are happy with her. They may have to change her chemo again but they will do what's best for Madison pending the LP results. The doctor said he hasn't said the words remission because he doesn't believe she is until 5 years of no change! Madison is doing well and isn't facing a bad prognosis but a good one! If it comes back they will decide what to with it and then treat it however they can. He explained that cancer never really goes away and it is finding a way of controlling it until the tumours don't come back. I'll keep you updated as to what they find after the LP on Thursday.
My love and thanks for your support, without your love and support I'd find it hard to go on. Many, many thanks. Keep smiling, praying, and being happy. Live each day happy, you never know do u??? xxxxxx
Update 1st March 2009
Hi there everyone, my head is a bit clearer now as I've had a talk with Madison's oncology nurse.
When Madison was in hospital a few weeks back she was very poorly, she was having lots of vacant episodes and at times was not with us. The doctors did a chest x-ray and it was really nasty so they treated her for pneumonia. However, it wasn't just pneumonia she had, she also had viral meningitis. When they did her remission scan they also did a brain scan and it has showed up 2 shadows on her brain. They are going to do a lumber puncture to see if it is the meningitis that has caused it or if it is something new. There is no obvious evidence of any large tumours but it does need to be investigated. On the MRI scan Madison had on her pelvis there is still something showing up, but again there is no large tumour or evidence of any extra growth and so this is why they will not give Madison her remission, as the scans were not all clear. She will continue on the chemo she's on for approximately 12 months and she will have scans regularly to make sure there's no change. The doctors are also going to keep a very close eye on any new symptoms. Madison will not have the all clear until the scans have showed no further growths over the next 5 years. We have just got to keep fighting this and pray the lumber puncture results are better news.
Thank you to everyone for their continued support at this hard time. Keep believing, keep praying and keep smiling xxxx
Update 24th February 2009
We had Madison's results yesterday evening and Madison is not in remission. The doctors have also said from the brain scan that it is not pneumonia we are dealing with and is viral meningitis.
I am having a meeting with the doctors this morning so hopefully we will know more later today.
Update 15th February 2009
Madison is back in hospital with pneumonia after having a massive fit and a storming temperature. She's on IVF antibiotics and oxygen but responding ok. She's still having lots of absences and is going to have an EEG. She's very poorly but the doctors are sure she will pull through.
Megan says thank you for her birthday cards, she had a good day even though she had to spend it at the hospital with us because of her sister.
Love and best wishes to you all as we all pray for Madison's recovery. God bless xxxx
Update 31st January 2009
Hi everyone, sorry we haven't had chance to update for a while but Madison's eldest sister (Lauren) has been in hospital for 2 weeks. She has a twisted ovary that is in the wrong place and a large cyst in it. She is having an operation on 19th February.
Madison is still doing really well and is getting stronger each day. She has a cold and bad chest at the moment but is doing well with it as luckily it's just viral.
Thank you for the cards and gifts that have been sent, your kindness is much appreciated. Best wishes to everyone and big hugs xxx
Update 28th December 2008
On Christmas Eve Madison went for chemo at the hospital and we got her results. Unfortunately, they could not give her remission as the scans she had done showed too much swelling from the radiotherapy. She will be rescanned in February when everything has settled down. So the scan results were inconclusive. Then later on Christmas Eve, Madison was rushed in to hospital with a raging temp of 40.8. She came home at 12 o'clock Christmas Day on penicillin for tonsillitis. At 7pm on Christmas Day we had to take her back in as the hospital rang to say her line was infected. On Boxing Day we came home again and at10pm we went back in for treatment.
At the moment Madison isn't too bad, her levels have dropped and her line has staph in both lumens, so she is being treated at home with iv antibiotics and we are hoping to have New Year at home.
Madison would like to say a very big thank you to her elf as she loved her presents and thanks also to everyone else who sent her a gift. Her sisters were very pleased with their presents and say a big thank you as well.
We hope you have all had a fab Christmas – the best part of our Christmas was going to Lapland as it was like a fairytale come true and we were in it!
Happy New Year wishes to you and our love and very best wishes to each and every one of you.
Update 23rd December 2008
Merry Christmas to you all! I have just come back from Lapland where i have been for 4 days with mummy, nanna and my sisters. We have had the most amazing time ever and we met Santa and i got a very special present from him. I have given him my list and he has promised i will get everything on it! So will mummy and my sisters too! I have told him about all you special boys and girls and he will be looking on here tomorrow and making sure he comes to your house! How cool is that?!
Well, to all my friends on here, have the best Christmas ever! To all the staff and elves and reindeers, have a very happy Christmas and a very happy New Year. I'll be posting on Christmas day as i get my results from my post radiotherapy scan and am praying for my remission… wish me some Christmas luck!
Update 15th December 2008
Hello to all my friends! I'd like to say a very big thank you for all my letters, cards and presents that my sisters and i have received. We have put our Christmas presents under our tree ready to open Christmas morning and we will take some photos of us opening them and send them in.
I have been quite well the last few weeks although the chemo upsets my tummy! I am going to Birmingham on Thursday for my post radiotherapy scan and mummy is praying that my cancer has all gone. I hope your Christmas wish comes true mummy!! We should know the results very soon after Christmas.
We are going to Lapland on Saturday and we are all really excited so if we don't get chance to post again we would all like to say happy Christmas to you and hope Santa brings you everything you wish for! Lots of love and big Christmas kisses, Madison and family x
Update 26th November 2008
Well done Post Pals on your award, it's truly deserved.
Thank you again to everyone who has sent me mail and gifts, you have really made me smile.
I am now having maintenance chemo and i have been having it for a week now. I'm neutropenic again but mummy is making sure nobody infectious is coming around me, although it's hard because we like visitors and normal life!
I went shopping with mummy last week and loved it; i even got to pick some of my Santa presents! I can't wait to go to Lapland in December and i thank mummy for getting this dream together. I love you mummy and love all my new friends on here, lots of you have made me smile.
Well i need to go to sleep now but i will sit on mummy's knee again soon to update you all. Mummy has to help me type because I'm not quite old enough yet to do it on my own. I am old enough though to tell her what to say and all i can say is thank you. My love and a big kiss to you all, Madison xxxxxxxxxx
Update 8th November 2008
Hi everyone i hope you are all well.
I have just come home from hospital after spending another month in there. I have had 6 weeks of radiotherapy but got a line infection so had to go in to hospital for some antibiotics to help me get better. I then got a really bad burn from the radiotherapy on my bum! I am ok now but I'm tired and sore and I'm neutropenic so need some TLC from mummy which i never go short of!
Thank you for the cards i have had since being in hospital… i will send you all a Christmas card very soon and will write back to the lovely letters i have received as soon as a i can.
I'm in Take A Break magazine this week (issue 46) if you want to read about me.