Donate to childrens charity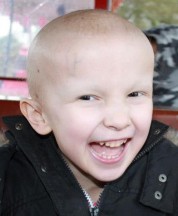 Contact Details
NB: this is a forwarding address, we do NOT disclose home addresses
Other Information
Parents/Guardians - Charis and Chris
Interests - Likes pirates, stickers, Lego, cartoon animal films, Transformers, books, dinosaurs, music. Please don't send food items due to Lydia's allergies.
Favourite Colour - Orange/Red
Able to read? - Yes
Able to use hands? - Yes
Visually/hearing impaired? - Yes, minimal visual impairment
Suffers from any developmental delay? - No
Siblings - aged 3 to 16 wishing to receive post
About - Lydia M
Story written 2012
Lydia was diagnosed with Gorlin Syndrome when she was born. Lyd's was poorly when she was little and had meningitis when she was just 7 weeks old and complications. She has spent her childhood in and out of hospital but has always been brave and our plan was to give her an amazing childhood to remember during the hospital stays she would have as an adult (which are almost guaranteed due to Gorlin Syndrome). However, Lydia got diagnosed with a Meduloblastoma (a cancerous brain tumor) this summer and is currently undergoing chemotherapy which is making her very poorly. Although we always knew she would be an ill grown up it has felt very unfair that she hasn't had much time to be a child. The days where she is very sick or in pain are hard, but she plays on, cheering up all of the adults around her with her wonderful imagination and silly games. The tests she has to have are numerous and it is hard to explain how something that hurts can be good for you, but Lydia is patient and trusting and the little things seem to help her remember that life isn't all tests and feeling ill! She has lots of trouble with her tummy, seems to get neutropenic very quickly (thank you to all the blood donors out there) and is obviously very sick from chemo. She can't have radio therapy because of her Gorlins, so the chemo has a bigger job to do and is at a higher doses to help it do it.
Thank you so much for reading this and for thinking of Lydia. Lydia and I have sent post to other Pals since Lydia was little and it's a great comfort to know that there are people out there who care enough to brighten their day, and now Lydia's too, as she is more poorly than we ever imagined. Thank you so much to the Post Pals team too, you do an amazing job!
Update 29th May 2014
We are very sad to say Lydia passed away peacefully at home, with her Mum and Dad at her side, following her battle with a brain tumour.
Update 21st June 2013
With so many Children on Post Pals I think that now is a good time for Lydia to 'move on'. She has had such fantastic post over the last 7/8 months and although we still have some hurdles and recovery to get through, I think it would be better that other children benefit from the lovely letters and post that gets sent. Lydia really enjoyed getting so many letters and presents and we will continue to send post, just as we did before Lydia got sick.
Thanks so much to everybody.
Update 10th May 2013
Lydia is home!!! Thank you so so much to everyone who has sent Lydia post this month. We are pleased to say that after 10 long weeks of isolation Lydia is back home We originally only had two days at home then back in with an infection, but have now been home for two weeks and Lydia is even managing to go to school for short spells. We won't find out how successful this high dose has been until mid June when lydia has her MRIs, so for now we are hoping for the best and enjoying all being together as a family at home. Lydia's blood levels are still very unpredictable but that should start to steady itself soon.
Thanks again for all the wonderful support Lydia had throughout the isolation period and I am slowly starting to work my way through the massive pile of thank you we need to write!
Update 20th April 2013
We are so pleased that Lydia is home, it has been a very long and tough (nearly) 10 weeks and Lydia has been mega brave the whole way through. There is still a way to go in recovery and home brings its own new challenges, but we are heading in the right direction!
Thanks to everyone who sends post.
Update 13th April 2013
Lydia is home for 24 hours! We will be back on the ward again tomorrow evening but she is still very excited to be allowed home.
Thanks again for all the lovely post, it has made a big difference. This high dose chemo and stem cell transplant was much harder than we expected but we are very proud of Lyds and the finish line is in sight!!
Update 24th February 2013
Lyds has gone down hill fairly rapidly over the last 48hrs and was only awake for about 2 hours today and even then most of that time she spent throwing up. She hasn't managed to eat for 4 days now so they are starting TPN feeds tomorrow. She hasn't opened post for a couple of days but is looking forward to doing it soon.
Update 5th February 2013
Lydia has now had enough stem cells harvested to move onto high dose chemotherapy, she will then have her stem cells returned to her (the same as a bone marrow transplant but the cells are Lydia's own. This is often the hardest part of cancer treatment and Lydia will be in hospital for quite a while.
Update 9th January 2013
We're HOME! The whole family is excited that cycle 5 is now finished and we are home. Lydia spent Christmas and New year on the ward and although the staff did an amazing job to make it special it still lacked that christmasy feeling, although Lydia made the best out of it. Unfortunately, the doctors weren't able to harvest Lydia's stem cells last month as there simply weren't enough mobile ones despite all the hospitals efforts to shift them. She still however needs to have a stem cell transplant and high dose chemo as soon as possible so they have acquired some extra drug from GOSH that they haven't used on Piam Brown before, but are hopeful it will help get some stem cells for harvest. The plan is to go in for harvest on the 26th January and start high dose the following week. This Friday (11th) Lydia has her first MRI since she started treatment which the whole family are nervous about, but after that we should have about two weeks to cram in some fun (and probably some school) before we start the next phase. Thank you, thank you, THANK YOU for all the amazing post Lydia has received, we are truly overwhelmed. I'm sorry I haven't written many thank you letters but Lydia is really grateful and it lights up her face when her post arrives.