Donate to childrens charity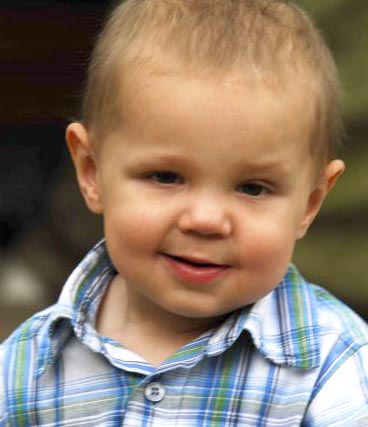 Contact Details
NB: this is a forwarding address, we do NOT disclose home addresses
Other Information
Parents/Guardians - Gayle and Stuart
Interests - Lewis loves to dance and sing with his sister on the Wii, loves being outside going for walks, going on trains, loves animals and trying to make the sounds they make. He loves playing with his tool bench and toy cars and playing outside where we live with all of the other children. Loves In the Night Garden, Handy Manny, Fireman Sam, Bob the Builder and Mickey Mouse. Oh and his favourite ever film is Kung Fu Panda! (over and over and over again).
Favourite Colour - Red and blue
Able to read? - No
Able to use hands? - Yes
Visually/hearing impaired? - No
Suffers from any developmental delay? - No
Siblings - aged 3 to 16 wishing to receive post
About - Lewis R
Story written 2010
Lewis was diagnosed with High Risk Neuroblastoma, MYCN Amplification, on 5th June 2008 at only 8 months old. He had several tumours in his abdomen, shoulder, neck and face and initially underwent intensive chemotherapy, surgery, and high dose chemotherapy and finally a course of oral drugs given at home for 6 months. Lewis' scans in February 2009 showed no evidence of disease and this was wonderful news but sadly it did not last and in May 2009 Lewis relapsed.
Lewis started another course of different chemotherapy drugs and showed a good response; although was extremely poorly after each round. The treatment was shrinking the tumour but it hadn't cleared it totally and he still had disease in his bone marrow.
Lewis had been accepted for a type of radiation treatment called MIBG in London, but this treatment needed stem cell rescue afterwards; and Lewis only had half the amount of stem cells needed. He was put on yet another combination of chemotherapy drugs to try and clear his marrow so he could harvest more stem cells.
Finally, Lewis cleared his marrow after 2 rounds of the new drugs and after 3 attempts managed to get just enough stem cells needed for the treatment in London. However, it also came to light that the tumour in his head had not responded to the new drugs and had progressed considerably. He still went to London and had half of the MiBG treatment; confined in a lead lined room for over two weeks. More scans in London discovered that the tumour in his head was now pushing onto his brain and they were concerned that the treatment would swell and cause Lewis to fit, so he was put on high dose steroids to counteract this. It was also decided that he would not receive the rest of the MIBG treatment and he would be transferred back to Birmingham for external radiotherapy to his brain and spine as they felt this would benefit him more.
So this is where Lewis' journey has brought him so far; he is due to start 6 weeks of Radiotherapy in May 2010 going under general anaesthetic every day. It is almost 2 years since diagnosis and Lewis continues to be such a loving and cheeky little boy and brings joy to everyone who meets him.
Family update January 2014
Georgia has just started a new school and seems a lot more settled so we think it is now the right time for her to move on from Post Pals. Georgia has so enjoyed receiving her post and I know she is extremely grateful to everyone who has ever written or sent her gifts, it has very much helped her.
We will always be very grateful to Post Pals for what they have done to help our family. Thank you for everything!
Family update 2nd September 2011
We would really like to thank Post Pals and everyone who has sent Georgia post in the past 12 months since Lewis died; Wendy, Jenny, Steph, Sarah, Jodie M and of course Dottie, just to name a few. Georgia gets an awful lot of comfort from her post and she is always so excited too when someone writes to her.
The last 12 months have been extremely tough for us as a family; Stuart was made redundant a month after Lewis passed away. We were trying to come to terms with Lewis' death but then we had the added stress losing all of our income. Stuart took almost 9 months to secure another position, and of course that time has put such a tremendous strain on us not only financially, but emotionally too. We had to cut back on everything that wasn't a necessity which is extremely difficult when you have a 7 year old who doesn't really understand why she can't have the things she wants on top of everything else she is trying to cope with.
Georgia has had to deal with so much over the past 3 years; it has certainly not been easy for her. It is great for her that we are a family unit again without stays away from each other in hospital, but we do see how very insecure she has become. Georgia talks about Lewis all the time, everything she writes about, draws about and talks about is Lewis, she misses him terribly, as do we all.
Post Pals has been an absolutely key part in keeping Georgia feel so special after everything she has been through and I know how much it means to her to still receive the letters that really do put a smile on her face and make her feel less isolated.
Thank you again to everyone who has supported us in the last year. Vikki and the team at Post Pals are truly amazing and what they do for our children is beyond words.
Thank you – Gayle – Georgia/Lewis' Mom xx
Update 12th July 2010
Firstly I must apologise for taking so long to send this update.
This last week has been extremely emotional for us as a family; we have walked a long journey with our brave little man and although many of you now already know, it breaks my heart to tell you that Lewis passed away last Saturday 3rd July.
Lewis' journey had taken us through some great highs and almost as many lows, but he battled on without a whimper and always with a smile. Unfortunately, Lewis' cancer had spread more than we had imagined and even though radiotherapy had shrunk the tumour in his head, the Neuroblastoma had spread to his liver and bone marrow.
The last week in hospital brought up all of these issues; presenting themselves in various ways. Lewis had an internal bleed and 3 days before he died had to have the crash team out to him as he had lost so much blood; he spent his last days in intensive care but it was here that we were told that to cure one problem it would cause another and the doctors were being backed into a corner.
Lewis was peaceful and saw his little sister Georgia the night before, she read him a story and he opened his eyes to see her, those memories she will never forget. We were told by Saturday morning his liver, kidneys and heart were failing; there was nothing more they could do and "Lewis would die today". We had hours so I held in him in my arms for the last time and he slipped away so peacefully.
May he have no more suffering now and although he lost his battle his spirit never stopped fighting.
Thank you for supporting us in our journey, and for your lovely comments that have kept us going along the way.
Gayle (Lewis' mom).
Update 3rd July 2010
I'm very sad to say that Lewis passed away in his mother's arms this afternoon at 1pm.
Update 1st July 2010
Lewis took a turn for the worse last night, we had to call crash team and we were loosing him, but he's now stable and in ICU in fantastic hands. He's ok so please keep positive for him!
Update 30th May 2010
Lewis is half way through his radiotherapy and so far is doing very well. He is coping extremely well with the treatment and the doctors are amazed with him at this point. They admitted that they didn't expect him to get this far into the treatment because they thought he may have a seizure, but Lewis is proving them all wrong (touch wood!) and we are seeing small subtle changes for the good each week. We are home at the moment but have been told that we may need to go back into hospital towards the end of his treatment for monitoring again.
We are so overwhelmed at the cards Lewis has received this month, and the time, detail and love that has gone in to making beautiful personalised hand made cards for him. He loves me sitting down and reading them all to him. Thank you – it means so much that you are all thinking of him and sending positive thoughts, it really helps. We have received some wonderful letters, mainly from children, and it is lovely that they have taken the time to write to Lewis, he really does love to listen to me reading them out and we can only say thank you so much. Thank you for all the pictures too; there has been so much effort in every one. Wow, what can we say, Lewis has received some fabulous gifts, and he is over the moon with all of them. He has had lots of books and I have to say his favourite was a Postman Pat one – he loves us reading it and he likes to try too. Lewis has had so much fun playing with all his new toys; it has certainly made him smile.