Donate to childrens charity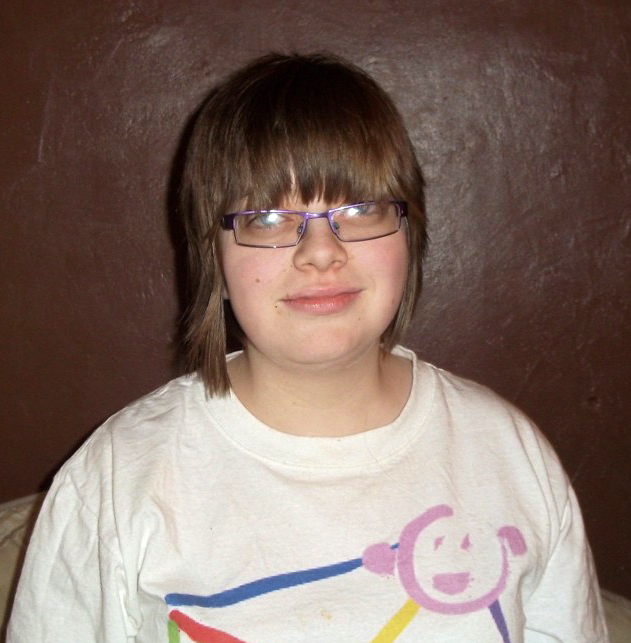 Our Pal - Laura H
Born: 07/03/1994
Illness: Cystinosis
Status: Moved On
Contact Details
NB: this is a forwarding address, we do NOT disclose home addresses
Other Information
Parents/Guardians - Kevin and Crystal
Interests - Pirates of the caribbean, The Phantom of the Opera, reading, horse riding, fundraising, helping others, crystals, anything to do with CSI: Las Vegas, Dr Who (the 9th and 10th doctors), Torchwood, Robin Hood and Merlin (tv programs) making youtube videos and writing fan fiction (Doctor Who, Merlin and Robin Hood, CSI).
Favourite Colour - Blue and Black
Able to read? - Yes
Able to use hands? - Yes
Visually/hearing impaired? - Yes
Suffers from any developmental delay? - No
Siblings - aged 3 to 16 wishing to receive post
About - Laura H
N.B. When sending letters/cards or gifts in the post to Laura, please could you put your return address as Laura would like to reply to as many as possible.
Story written 2005
When Laura was born she was listless and bruised. I insisted on Laura being taken upstairs to the Special Care Baby Unit. Laura died on her way up there!! The first of several times.
Laura was put on Oxygen, a drip and had to have various blood tests, scans, etc. to find out what was wrong with her. She was diagnosed with an Overactive Pancreas, which was producing too much Insulin and stripping her blood sugar – HYPOGLYCEAMIA – causing her to fit and lose consciousness.
We were told to prepare for the worst, so Laura was christened in Barnsley District General Hospital. On release we were informed that Laura had a Heart Murmur.
The next 12 months were even more traumatic.
February 95, Laura was diagnosed as having severe Rickets so was admitted to hospital again for further tests.
Nearly 2 weeks later, the day before her first birthday, we came home even though the hospital didn't want us to.
6th March 1995 the hospital rang to say:
"Can tell you that Laura has a Serious Kidney Problem, it's called Fanconi Syndrome / Cystinosis, don't know more than that but go straight to Sheffield Children's Hospital. There is a bed waiting for Laura as they should be able to treat her as they know more about the illness."
Within no time Laura was on a regime of medication and overnight feeds via a Nasal Gastric Tube. She also saw the Opthalmic team to check for Cystine crystals in her eyes.
At the end of March Laura came home to wait to go to Nottingham City Hospital to have a Gastrostromy Tube fitted.
Since then Laura has been closely monitored at both Sheffield and Nottingham Hospitals. She goes back now every few months usually 3 or 4 for blood tests and has a bone age X-ray yearly.
She also has regular eye checks. The Hypoglycemic attacks still occur and we are awaiting more tests for that.
The Brain damage has been very slight; Laura is a little clumsy and slightly un-coordinated at times and struggles to fasten buttons or laces but is fine in herself.
She started to eat independently, even though she still didn't get hunger pangs. It took her 4 months to go from 800mls to nil but she did it! Laura is very determined!  As Laura was maintaining her weight the button was removed.
Unfortunately the site did not heal on its own (it had been there almost 7 years) so in June 2002 Laura went into hospital to have it sealed.
Her last few sets of results have not been too favorable, but having been told upon diagnosis that a KIDNEY TRANSPLANT would be required around 6-10 years (now 10-13 as medication has improved) we take each day as it comes.
Laura does get tired, she has weak muscle tone, asthma, hyper mobility in her joints (gets lots of aches and pains), is short-sighted, has astigmatism (eyeball misshapen) and is photosensitive (due to the cystinosis).
BUT SHE IS STILL HERE!!!
Story update February 2011
Laura's Renal status has now been changed from Chronic to Severe as her kidney function is 16%
Update 19th March 2012
Firstly I must apologise for the delay in updating. I pushed myself in hospital to get mobile and get home as I really dislike hospital stays. I was allowed home on the 19th August but was told I had to return on Monday and Thursday every week for a few weeks for tests to see how the kidney was coping/working. This changed to Thursdays only in October and then fortnightly in November and now I go every month unless I don't feel well – start shaking more or have 'flu type symptoms.
With just a few "blips" and adjustments to the anti-rejection medication, I appear to be doing really well. Unfortunately the medication given has caused me to develop hand tremors which aren't good seeing as I am studying Sciences at College. I managed to get back to College part-time late September and am still only just building up enough energy to cope with full-time. My work has suffered drastically, despite fantastic support from the College but because of the subjects a few absences soon mean that you miss a major part of the topic. I know my results won't be good enough to get into my first or second choice Universities, so I have decided to re-take this year and so will sit my 'A' levels next summer instead of this.
This decision caused a lot of soul searching as I hate to admit defeat and got myself really stressed out and depressed, but hopefully in the long term it will help me to push on.
I would like to thank everyone who has continued to send me cards, gifts and e-mails, your support has really helped to lift my spirits when I have been at my lowest and for that I am extremely grateful. I am still trying to get round to replying to all of you who have supplied contact details.
As I am now 18, I think it is time to move on so that the younger children who are on this wonderful site can get the post they deserve. Don't worry, I don't intend to just disappear, I hope to continue raising money for Post Pals and doing whatever I can to help keep the site going and keep putting a smile on an ill child's face.
Once again THANK YOU TO EVERYONE WHO HAS SUPPORTED ME AND ALL THE PALS AND A SPECIAL THANK YOU TO VIKS, VIX, KATE, KATE AND ALL THE TEAM AT POST PALS FOR MAKING ME FEEL SO WELCOME OVER THE YEARS.
Love from Laura xx
Update 17th August 2011
After the traumatic couple of days when it appeared that the kidney may have been going through acute rejection or just sluggish to work, Laura is now on the mend again. She is up and steadily becoming more mobile. If her blood results continue to improve, to show that the kidney is ok, then she could be allowed home sometime on Friday rather than next week. Once home she has been told that it is usually 2 to 4 weeks away from crowds due to infection as she has limited immunity, so Laura being Laura is determined to be back at College for the start of term. We've said we will see.
She also will have to go to QMC at Nottingham twice a week on Monday and Thursday mornings for about 2 – 3 months for blood tests to monitor the function and see if any of the anti-rejection drugs need adjusting. After that it becomes weekly, monthly etc. I know this will cause Laura to stress more due to missing lessons but she will have to cope with it.
Update 13th August 2011
We've had a really trying couple of days. Yesterday Laura was in real pain and distress and so scans, x-rays and loads of tests were done, then she was started on anti-rejection drugs.
Today she has had to have a biopsy to rule out rejection. We got the results to say the kidney wasn't rejecting, it's just a little sluggish at starting to work independently. She has been given so much fluid to flush the kidney out that she has put on almost 9 kgs, so her heart and lungs had to be checked to see if they were coping.
She seems a lot more comfortable tonight and pain has subsided. In fact she has been up and out of bed and sat up in a chair.
Hopefully we can push on from here – fingers crossed!
Update 10th August 2011
Just to let you know that Laura had her kidney transplant last night/this morning (at 1.30am she went to theatre and at 6.30am she returned to High Dependency Ward). Everything seems to be ok so far. We just need to avoid rejection, so fingers crossed.
Update 18th July 2011
Once again I must start by saying sorry I haven't updated for a while. I have been busy trying to get everything sorted ready to stop what I'm doing and rush to the hospital once the call comes. I'm trying not to get stressed out and stay positive and focused on things such as trying to look at Universities to go to. I know that my grades won't be good enough to get to Vet or Medical School, also I have been warned that a transplant may only last up to 5 years so I wouldn't finish either course, so I have decided to think about something else that is Science related. I now want to study Forensic Science.
My body isn't producing enough red blood cells, which is causing my anaemia, so two months ago I was put on weekly injections to help as well as continuing with the iron infusions. I go back to the hospital on Thursday so I will find out if they are helping.
Unfortunately my brother, Christopher, can't be considered as a potential donor now as he was rushed into hospital a couple of months ago with a double pneumothorax (both lungs had collapsed) this time. He is still off work recovering and may have to have an operation to stop it happening again. Bless him; he is so upset as he thinks he has failed me. In fact, he got so upset that he made himself worse worrying about me and in return I was ill trying to get him to stop worrying about me and concentrate on getting himself fit and well. We've just been on holiday for a couple of weeks to the East Coast and touch wood both of us seem to have picked up.
College has been difficult as I had to catch up on work missed through illness, which I didn't fully manage to do but I am hoping that I have done well enough in my exams to continue onto next year – I will find out in August. If not then I will have to retake the year.
I sent off for my driving licence after my birthday but as yet am still waiting for medical clearance.
The fund raising evening went very well and we managed to raise £1010 in total. It was a very good night and everyone seemed to enjoy it – well nearly everyone, dad and his team mates may disagree about that statement!
Once again, thank you to everyone who has sent me mail. Now that College has finished, I am going to try and get round to catching up on replying to it.
Update 23rd February 2011
Laura was put on the transplant list as of 11am this morning.
Update 1st February 2011
Since the previous update in December, I have been back to Nottingham and found that my kidney function has decreased quicker than expected. It is now down to 16% and I have to see the surgeon on the 17th to see if I'm classed as fit enough for surgery and if so I will be put on the transplant list. Hopefully, I will get a transplant within a year of going on the list; however it could take up to 5 years so I would have to go on dialysis in the meantime.
My brother, Christopher, still insists that he would like to be tested to see if he can donate and so the hospital are wanting to check him over to see if he has recovered fully from the spontaneous pneumothorax he had a few years ago. I'm humbled that he wants to do this so I get the chance of a quality and quantity of life but I am also concerned that he is putting his life at risk for mine.
I don't think I did too well in the exams but have been told not to worry because if I haven't done well enough I should be able to resit them in June. College are now providing extra help to enable me to keep up with my studies.
Christmas was a quiet affair but an enjoyable one. A big THANK YOU to my Elves. I am in the process of writing to you.
I was rushed into A & E again yesterday as I had chest pains, it hurt to breathe and I had numbness then tingling in my hands and feet. After numerous tests and examinations it appears that I am losing more of my muscle tone as my grip is not as strong as it was (which was poor to start with). I am being put on some more medication to try and help build my muscles back up, or at least stop the break down. I am back home now as all I have been told to do is rest and I said I could do that better at home. Because we only live 10 minutes away from our local hospital they agreed that mum could monitor me at home and if I wasn't all right she would have to take me back in.
I'm trying to stay as positive as I can and so I am focusing on writing to companies to see if they would be prepared to donate a raffle prize for the Post Pals Fund Raiser that is being put on by friends of ours on the 5th March. It is going to be another Wrestling event, which we are hoping to make an annual one. We have been trying to get companies to donate money so we could buy a wrestling belt to present to the overall winner which he could then take with him to promote the Charity at further wrestling events and then defend the following year. Unfortunately we haven't had any offers so we are going to settle for a trophy instead.
Thank you to everyone who has and continues to write to me. I am trying to get round to replying but don't seem to have any free time at present, but I will eventually reply so please be patient.
Update 18th December 2010
Again I would like to start by saying THANK YOU to everyone who has or continues to write/email me. I am behind with my replies due to illness and college work but I am trying to get round to replying to you all, and I really do appreciate your kind words.
Since my last update, I have been back to Nottingham and my thyroid function is apparently ok so the fatigue is still unexplained other than my kidney function is getting worse so that will be making me tired.
I've been ill for nearly a month now, spending time ill in bed and also ended up going into hospital. I started with a really bad flu virus which put me in bed for two weeks and then over the weekend started with bad pains in my back across my kidney region. Mum took me into hospital on Monday morning as the pains were so bad. I'm being treated for a severe kidney infection but at first they thought it may have been kidney stones so I had to have a scan done.
I've also been back to Nottingham and had more pre-transplant testing done as my function continues to fall and I have been told that I will be going on the transplant list next year but will know more when all the test results come back.
I am seriously stressing about falling behind at college because of being ill and have exams after Christmas when we get back.
I would like to take this opportunity to wish you all the best for the Festive Season.
Update 9th October 2010
I will start by saying Thank You to everyone who continues to send post or has emailed me. I am still working through the replies but my time is taken up by my college studies so please bear with me.
I appear to be a little closer to finding out why I am constantly tired. The new Consultant at Nottingham thinks my thyroid isn't working correctly so has done some blood tests and I will find out when I go back in November. My kidney function is now down to 20% so I am now on monthly visits to the hospital and will still need iron infusions every other visit. The Consultant is going to see if he can work out a timescale of how long I have before needing a transplant/dialysis. Obviously this will only be a rough estimate but will give us an idea.
I have been in hospital and had laser treatment on erupting ulcers and also treatment on my eyes to flush out and enlarge my tear ducts and also to investigate the cysts. Both my eyes and my stomach are still a little tender but I'm fine. I didn't think I would manage to get in as I came down with a throat and chest infection the week before the surgery was scheduled, but a course of antibiotics helped so surgery went ahead.
Other than recurrent Labrynthitis, I'm fine at the moment and seem to be coping with college life.
Update 27th August 2010
I would like to start by saying THANK YOU to everyone who has sent post or emailed me. I am now trying very hard to get round to replying to everyone who has included a return address. Unfortunately I have had some lovely letters that didn't have a return address so I haven't been able to thank you in person, so I will thank you on here.
I love Russell Howard but he's caused me a lot of work as I have received at least 200 letters or emails since his programme first aired! JUST JOKING! I think it is amazing how many people are taking the time to contact me and I really appreciate it but do ask that you are patient at getting replies.
I am still waiting to be seen regarding getting diagnosed as to what is causing the fatigue, headaches and dizziness (CFS/ME?). I managed to cope with my exams despite being in pain with my back – I tried to ignore it and coped with strong pain relief and then rest and heat pads when I got home. Having come home crying/worrying after every exam and saying that I had failed I can honestly say that it was a fantastic surprise when I went to get my results on Tuesday and found that I had passed all 12, it still hasn't sunk in. I have also been to 6th Form College today (27th) and enrolled to take 'A' levels starting on the 6th September.
I've been back to Nottingham and had another Iron Infusion and have to go back in September. The Consultant I have had all my life has now retired so I have to meet the Doctor taking over from him.
I've been back to the Eye Clinic, where they tried to unblock my tear ducts but caught my eyelid as I jumped, and they still want to wait until I go in to get my stomach sorted as they would rather me only have to have one set of anaesthetic rather than two, as each time I go in it carries an increased risk of renal shutdown, which obviously they want to avoid.
I'm still having problems with my stomach and had to ring for advice, the reason I couldn't get in for further investigation and for them to laser the ulcers was because the Consultant has been away for three weeks with his family and before that we were away on holiday.
I am now under an Open Policy with the Orthopaedic Department as now I have stopped growing they can only keep checking that my bones don't start to bend again – having said that I am now old enough to be transferred to the Adult Department which is at yet another Hospital.
Thank you to Post Pals for the fantastic pillowcase, Sweet Dreams will really be applicable now! And once again, thank you to everyone who has taken the time to send post, emails and gifts, your kindness is greatly appreciated.
Update 16th May 2010
Sorry for taking so long to update, I've been very busy playing catch up with school/course work and now that I've done that I am busy revising for and sitting my GCSE exams (2 down, 17 more to do!)
I had a good birthday, thank you to everyone who sent cards and gifts.I'm still struggling with fatigue, headaches and dizziness and have had my annual review with School Health. They are referring me to another specialist to see if we can finally get to the bottom of whether it is CFS/ME – so far everyone has passed comment but done nothing so fingers crossed!
My Kidney function is still stable at 24% and I go back to Nottingham once my exams are over in June to have a further iron infusion.
I had to go to the Emergency Eye Clinic a few weeks ago as both my eyes now have cysts and I couldn't see properly. They took some photos and swabs, gave me advice (carry on with eye drops) and need me to go in as soon as possible to get treatment (the operation that I'd mentioned previously) – again it will have to wait as exams come first.
I'm still having ongoing problems with my stomach but again that will have to wait – basically I'm going to have a busy summer!
My main problem at present is that I fell awkwardly in a Drama lesson two weeks ago. I've bruised the bone around the coccyx area and this has put pressure on my sciatic nerve also causing pain down my leg. Other than taking pain relief (now got to ease off the codeine as it could end up causing me to overdose as my kidneys can't handle too much) and using heat pads/hot water bottles there isn't much that can be done other than to try and cope. This isn't great seeing as I've got to sit for a couple of hours at a time for the exams! The Doctor (in A & E) has advised me that it could take weeks/months before the pain subsides and I'm back to being fully mobile.
Many thanks to all who have contacted me by post or e-mail, I am trying to get back to you all but please appreciate that because of the circumstances with my exams it may take a while.
Update 26th February 2010
For the first time in my life I had a Christmas where I was not been ill in bed or hospital. Thank you so much for all the cards and presents I received. Special thanks to my Elves –Kate Dee/Dickinson, Louise and Nicola/ Matt. The gifts were great and I really appreciate the thought gone into choosing them. I will get round to sending you thank you letters – honest.
My health is still up and down but compared to many on this wonderful site I feel I have nothing to complain about. I'm still very tired, dizzy and achy and still can't get any real diagnosis as to whether this is connected to my underlying condition or whether it is CFS/ME.
I've been back to Nottingham and had another iron infusion and been told everything still seems ok – back in March. I've seen Eye Specialist again and they still want me in to look at the cyst and now say my tear ducts need to be enlarged as my eyes are watering too much and the water is running down my face instead of draining. I've also seen the Consultant Gastroenterologist and he says that he would like me to go in and have further investigations and maybe have any ulcers lasered to stop the pain. I still don't really want to go into hospital but it looks as if I have to. I have said I will think these two things over as I am very busy at school – I've just had my mock GCSE's and the real ones are in May and I still have work to catch up on, so would need to wait until Summer when normality returns!
The fund raising evening for Post Pals was fantastic, we had a great time (well dad may not agree about that) and raised £513.32. Dad is determined that he has retired now because he has been asked if he wants a rematch so that we can do another fundraiser next year, so it looks like we'll have to come up with something else.
Many thanks to all who have sent post, I really do appreciate your thoughtfulness and I will try and reply but I am really busy with school work at the moment so getting time to write back is difficult.
Update 26th January 2010
We are holding a Wrestling Event to raise money for Post Pals this Saturday (30th January) here in Barnsley. For one of the matches, Dad has been challenged to a fight against one of the professional wrestlers and he has accepted as it's for a good cause, despite the fact he has never done anything like this before and being nearly twice the age of the wrestler. I've also managed to get some local companies to donate prizes for a raffle so hopefully we will raise a decent amount of money for Post Pals.
Update 4th November 2009
Since my last update I've been to Queen's Medical Centre twice and had iron infusions both times as my red blood cells aren't being made as quickly as they should. This is due to my kidneys not producing enough of the hormone which produces them and then causes anaemia.
My kidney function appears to be holding at 24%.
I've been kept on medication (changed twice to stronger tablets) for the stomach ulcers as the problem with pain and sickness is not going away, so it is looking likely that I have to go in for further investigation (camera down again).
I've been back to the eye clinic to see another Specialist as I have a growth on the corner of my right eye which they say is a cyst. They could do with me going into hospital to have it removed or a needle put into it to drain it – neither option appeals to me. I suppose if I have to go back in for my stomach I could see if they can see to my eye at the same time while I'm asleep!
I've also had a water/kidney infection and swine 'flu, thankfully not at the same time. I didn't end up in hospital with either of these; I just had strong pain relief and antibiotics and slept most of the time. Mum says I was a little delirious with the 'flu and rambled a little but I can't remember.
I'm still having problems with tiredness and lethargy and am waiting for the doctors to officially say I have CFS/ME or not, as one set says its possible then another says it's not. I'm not sleeping quite as much as I was and am managing to cope with school a little more but still have the back up of a Home Tutor.
I'm just feeling a little low and depressed at the moment as I feel that I'm falling behind and can't catch up with everything. Also, being a teenager, I feel as if I'm missing out on "life" as many of my friends can do so much more than me. My close ones are very good and they try to include me as much as they can, but I feel at times that I'm stopping them from having a good time, so I often tell them to go off and enjoy themselves then sit around and feel sorry for myself. It's also a very busy year school wise and I'm just getting stressed and that doesn't help but I'll pull myself together. I always do, especially now that Christmas is coming, as shopping for family and friends always make me feel better.
Thank you to all who continue to send post, I am sorry I haven't had chance to reply but being tired all the time and having so much work to catch up on means I don't have much spare time.
Update 15th August 2009
Last week Laura had hospital trips to the Eye Clinic, to Orthopaedics, and on Thursday she went as an inpatient for an Endoscopy, biopsies and a 24 hour ph test (as she is constantly being sick). Hopefully she will be home on Friday. Next Thursday (20th) we have an Outpatient visit to Queens Medical Center at Nottingham for a renal check-up.
Laura's endoscopy showed two duodenal ulcers and quite a bit of irritation – probable cause is the H Pylori (Helicobacter pylori) germ. She has to take 3 new medications for at least two weeks and then see if it has helped – 2 types of antibiotics and one to reduce the acid.
She had to have a nasal gastric tube in for 24 hours which was connected to a probe to check her stomach acid levels and has found it very difficult to eat or drink as it felt as if she was going to be sick every time she tried to swallow.
Following her eye appointment, she has got another set of eye drops to use so now has to have 1 drop in each eye hourly if possible, 1 drop in each eye 4 – 6 times per day, and 1 drop in each eye twice a day.
Update 11th July 2009
Sorry Laura's page hasn't been updated for a while. She's been having problems trying to catch up on things as she's so tired, achy, in pain, and says she can't focus to concentrate properly. Since October she's lost 1 1/2 stone in weight through being sick and not really keeping food down (that's assuming we can tempt her to eat or drink in the first place). As well as being told it could be Chronic Fatigue Syndrome, Laura has been referred to Paediatrics to check her stomach. She has to have an upper gastrointestinal endoscopy (investigation with the camera), biopsies and a 24 hour ph study (under anaesthetic) done next month. This is to confirm/rule out a stomach ulcer. The doctors have said she has an inflamed/irritated stomach which may be bleeding and causing an ulcer and anaemia as her iron levels keep dropping again.
Kidney function still seems to be stable, but with everything else going on Laura is missing a lot of school. We have a Home Tutor for 5 hours per week to try and stop her from falling too far behind. Unfortunately we are quite a bit behind though, so much of the school holidays will consist of catching up with missed coursework to avoid Laura having to drop some of her GCSE's that she is taking. On top of that we have several hospital visits planned (as well as the above) so as Laura says "My calendar is booked up for the holidays".
Thank you so much to all who continue to send cards, letters, gifts and e-mails to Laura. It is greatly appreciated and once she feels a little brighter she will try and reply to you.
Update 10th April 2009
I'm still tired even though I can sleep for hours at a time (anything around 12 – 15 hours per day). Doctors now say they think I could be suffering from Chronic Fatigue Syndrome, following Glandular fever sometime last year, as I have been so low, tired, in pain, sick, dizzy etc., since October and don't seem to be picking up – at least that's what the latest tests from my stays in hospital suggest (I seem to be in every month or so having collapsed). I'm missing quite a lot of time from school and seeing as I'm in the first year of doing my GCSE's I really can't afford to. Thankfully, school are considerate and are trying to organise some home tuition so I don't fall too far behind.
I'd like to thank everyone for the letters, cards and gifts that continue to be sent to me, especially for all the cards I received for my birthday. I apologise that I haven't replied to anyone for ages, I'm just too tired, achy and can't concentrate properly. Please don't think I'm ungrateful as I really appreciate the time and trouble you all take to write to me.
Update 1st February 2009
Sorry I haven't updated for a while. Since my last update things have been a little erratic.
I seem to be catching whatever 'bug' is going round. I've been hospitalised twice, once before Christmas and the other time last week, with stomach bugs as I couldn't keep water let alone food or medication down. I ended up on drips to help the dehydration.
I think I'm on the mend, although I had to go back to Nottingham as my blood results are all over the place. My anaemia has kicked in again and is leaving my very tried, achy and irritable, so I need another iron infusion. The irritability is because I'm missing lots of school and have already missed exams which count towards my GCSE's. Fortunately, my teachers have said they will put me in for re-sits.
Sorry that I seem to be moaning especially as compared to some Pals and their families I'm just having 'teething troubles'. I think it's just a case of trying to cope at being a 'normal' teenager as well as having problems with my health which restrict me from doing everything my friends can.
THANK YOU to my Elves for the lovely presents – loads of make-up and a fluffy dressing gown and soft pyjamas. Also, thank you to everyone else who sent me gifts and letters. I apologise that I haven't gotten round to writing thank yous to you all yet. I really do appreciate that you take the time to send me notes just to say "Hi" as they make me feel much brighter, especially when I've had a bad day and am feeling low. THANK YOU EVERYONE YOU ARE ALL WONDERFUL!
Update 7th November 2008
Laura's Renal Function at the moment is 24%.
Prof Watson, Laura's Consultant, thinks that her loss of function may now slow down a little because it appears that Laura has stopped growing. We were told she'd only be 4′ 6″ to 5' when fully grown but she's managed to get to 5′ 3″. Apparently puberty (growth spurts) really takes it's toll on kidney function – Laura's has come down from 52% to 24% in just under 2 1/2 years, hence the concern. If the decline slows then we could delay a transplant by a year or two (fingers crossed) but if it doesn't, or she gets more tired and can't keep up with her schooling, then he'll bring transplantation forward.
He was talking to Laura and explained to her that missing 1 day of school per week meant that she was missing out on 20% of her education and that obviously he was concerned that:
Missing school = poor or no qualifications = poor or no job = no money = not being able to reach full potential and leave home/bank of mum and dad.
If we/school/he feels that things are on the slide and Laura isn't maintaining her grades etc, then we can reassess and hopefully bring transplant forward.
He's been involved with over 200 transplants so I trust his judgment.
Unless anything shows up regarding the results from the bloods taken on Thursday we're not due to see him again for 4 months (February/March), so fingers crossed.
Other than that Laura has had another up and down month, coming down with one viral infection after another which ended up putting her in hospital on a couple of occasions, but 'fingers crossed' she seems to be ok at the moment.
Again many thanks for the post, it is really appreciated.
Update 18th September 2008
Yet again I apologise for the lack of updates. August was a good month health wise, I had a good holiday in Flamborough with my family and then managed to go on shopping and cinema trips with my friends during the rest of the school holidays.
The day before I was due back at school I went to Pleasure Island with a friend and her Mum and banged my right wrist and had to have it splinted up for a week as I had badly sprained it (not great seeing as I'm right handed!).
I'm now in Year 10 (4th year at Senior School for oldies like my parents!) and have just started working towards GCSE's.
This week has been a bad one. On Monday I had to be at Queens Medical Centre in Nottingham for a full day of tests, scans and talks preparing me for when I need/have either dialysis or a transplant. These included numerous blood tests so they can get my blood group, tissue type, check for any infection (routine for hepatitis and HIV) as well as checking to see if my immune system is ok – that all my immunisations from birth have created antibodies. If not then they would have to be careful as live vaccines cannot be given 3 months before and up to 12 months after a transplant.
I then had to have a radio isotope injected into my system and have blood taken after 2 hours and then 4 further lots at 30 minute intervals. This will be screened and give a very accurate level of kidney function.
In between the taking of blood I had a heart scan to check that I would be "fit enough" for lengthy surgery and spoke to nurses about dialysis and transplant. I've quite a lot of reading material to try and digest.
It is usually a case of talking/planning dialysis when kidney function reaches 25% and talking /planning transplant at 15% but it all depends on the individual. Some patients levels suggest they should be on dialysis/facing transplant but seem to have plenty of energy and don't feel tired or ill and others who have a function of up to 30% can be rather ill and struggle to do everyday things.
Once all the results are back for when I go to clinic in October I will have more of an idea of where things stand. Realistically, it usually takes around 6 months to plan for a transplant so that's why they've started getting prepared. Apparently kidney function does take a nose dive with the onset of puberty which is why my level has halved in the past couple of years.
My Hb was down to 10 again so I also had to have another iron infusion (third in less than a year).
On Tuesday I just felt tired and achy but yesterday I couldn't stand up and kept getting really dizzy. I had to go into our local hospital so they could check me over. They think I'm coming down with a viral infection but as my body is low it's knocked me back. The Doctors did a lot more tests and will let me know if anything shows up and I need any medication. I'm back at home now so hopefully in a couple of days I'll be ok.
I will try and get round to replying to everyone who has written to me, I have quite a few letters to reply to seeing as I've been busy lately. Until then I would like to say THANK YOU for thinking of me, your kindness is really appreciated.
Update 14th July 2008
Sorry I haven't updated for a while. My health has been up and down, mainly down, and I've been feeling a little sorry for myself as I have to keep going to various hospitals for tests etc. but having read the updates from some of the pals and their families, I feel guilty moaning.
I had a busy time in June with hospital appointments supposedly to 4 different hospitals – managed some!
I started with a very bad kidney infection on the Friday before going to the hospitals and nearly ended up as an in-patient then.
Monday – Fracture Clinic (Barnsley) said I needed my shoulder pinning but the Doctor there couldn't do it as he said that as I already had renal failure an operation could push my kidneys into temporary shut down and I may need immediate treatment so he would refer me to Sheffield – where they treat my kidney failure.
Tuesday – went to eye clinic (Hallamshire in Sheffield) but ended up in so much pain I nearly passed out so was rushed round to A & E at the Children's hospital where I get seen to. I ended up being kept in for the day having blood tests, scans etc. I was eventually allowed home at 10pm with extra strong pain relief.
Wednesday – (Sheff. Children's) i managed to get to check up for my knees and everything ok. They said not to worry about my shoulder as it normally takes up to 6 months for the injury to heal and not 3 months.
Thursday – I didn't get to Nottingham as I got home and started throwing up. I don't think I should have pushed myself to get to Wednesday's appointment.
Since then my knee has swollen up again (post viral infection) so I couldn't walk again for a few days. I have had a bad ear infection and couldn't hear in my left ear, had plenty of migraines and kept vomiting and broke my big toe.
I've also managed to get to Nottingham City Hospital to be checked over by Professor Watson – my Renal Consultant, the Dietician, the Psychologist and the Social Worker as its years since I've been down there. The Professor visits Sheffield but I've now got to be transferred back down to Nottingham as my renal failure is reaching the level where they need to monitor me more and prepare me/us for dialysis/transplant.
A big THANK YOU once again to everyone who has sent me post, especially Amanda and Grace for the books/letters/cards. I am slowly getting round to replying to you.
Update 2nd May 2008
Laura was going to give an update on the 8th April but refused to do so once she had seen the message on Samantha's page as she felt that her problems were nothing compared to what Sam and her family must be going through. Laura was very annoyed with herself that she was complaining of being "off colour" when others were fighting for their lives.
Laura has been under the weather recently but most of Sunday 6th April she said she felt "wrong". She wasn't sure what was wrong but didn't feel right, felt tired and head achy. As the day wore on she said she felt a bit breathless so had her inhalers but that didn't really help. Teatime came and I made sure she had food especially sweet stuff as she said she felt "wobbly" which suggested a sugar episode again. By 8.30pm she was in real pain clutching her chest and was catching her breath so I took her straight to hospital. She said her pain score was 9+ out of 10 and she isn't one to complain but was in tears.
She had various tests done: Chest x-ray is fine, e.c.g. was a little erratic to start with but fine once we'd calmed her down. Blood results show further kidney deterioration and another dip in iron levels 9.9 should be 13.5 so altogether these created the feeling of near collapse. The doctors were brilliant. We were given the option of overnight stay or coming home and monitoring the situation at home so we decided on home – it was almost 2am.
Laura ended up in bed most of the week as she had no energy to do anything and little things like walking upstairs were too tiring for her. On Thursday she got up to go to school but after half an hour of trying to get ready she admitted defeat as she was in pain and felt sick and dizzy.
She had a very restless night on Thursday and kept saying the pain was kept getting worse. She explained it was like someone was pressing down on her chest but every so often they pressed harder and it was like a stabbing pain across her chest and into her back. She eventually fell asleep and woke up about 11am. The pain was still there then it really kicked in so around 2pm we took her back in.
She had another ECG which looked normal, but kept feeling dizzy and nauseous and couldn't stand for long before almost passing out in pain. A swelling had developed on her breastbone which was where the pain was localised so the doctors were going to x-ray it but the radiographer wouldn't saying that she had only been done on Sunday/Monday and the sternum is susceptible to radiation and he didn't feel it was necessary to do it.
We were then passed on to the paediatrics who thought the pain was: acid reflux due to all the medication she takes, thought it was anaemia problems as all the symptoms matched the ones last year, thought it could be related to the shoulder injury as collarbones shapes didn't match. So the orthopaedics were called and in the meantime we were admitted to the ward.
The orthopaedics thought it could be a trapped nerve somewhere between her shoulder/ neck, spine or even across the breastbone, and wanted x-rays of her cervical spine, shoulder and collarbone. She was kept in overnight as her pain hadn't subsided with pain relief, which wasn't surprising considering that everybody had kept poking and prodding her and making her sit up and "perform".
Needless to say, as most of the doctors knew nothing about Cystinosis, they were more bothered about the history and symptoms of that rather than treating her for the breathlessness. More doctors followed as she started to retch and then run a temperature but they just said keep an eye on her.
Saturday morning orthopaedics said they were certain it wasn't anything skeletal so it must be muscular pain. Paediatrics followed saying they were convinced that due to the renal problems, which are causing the anaemia, that it's joint/muscular related. Also, that people with Cystinosis had a tendency to grow boney deposits and one of the areas is around the breastbone. Basically, the pain is to be controlled using whatever pain relief works and we've to go to see the doctors at Sheffield as soon as possible so they can sort Laura out.
On Tuesday 22nd April she had another Iron Infusion to see if this will help boost the red blood cells again. We see the renal consultants on 13th May and hopefully we'll know whether Laura needs regular injections of erythropoietin to help combat the anaemia and also to see if we need to be transferred to Nottingham City Hospital to start planning for dialysis/transplant.
Basically, Laura has had a rough month and has been admitted to A&E twice and had an overnight stay the second time for chest pains and breathing problems. She's had various tests – E.C.G's, X-rays and bloods, been seen by various doctors and told that as her kidney function fails, the normal aches and pains she has will increase as her body has to cope with slowing down.
Thank you this month to all those at the Cardmaking Forum for the lovely cards. Thank you so much to the person who sent the autographed photo of David Tennant too – the envelope was all ripped and it came sealed in a plastic bag from the Post Office saying "Sorry this has been damaged in transit".
Update 2nd April 2008
I went back to A&E on Easter Sunday as I was in lots of pain. I had my shoulder and collarbone x-rayed this time. I've not exactly broken it but there is a separation of the ligament holding the shoulder and collarbone together, so it is out of alignment.
I went to see Orthopaedic consultant at Sheffield to see what they could suggest. Apart from pain relief and resting using the sling with occasional exercises to keep the arm mobile, I can't really do anything. Hopefully it will heal by itself but if it doesn't within 6 weeks of the injury (about 3 more weeks) then I may have to have the bones pinned back together. Altogether it could be a few months before I'm free of pain and can move my arm fully again – just what I need seeing as my SAT's are in a few weeks time!
I've been for more blood tests today to check on my kidney function/anaemia etc. By the time I go to see the Consultants in May they should have all the information so I will be able to update then.
Thanks to everyone who has sent cards, letters and gifts for my birthday and for Easter. I really appreciate your time and effort doing so. At present I can't write but am trying to reply as and when, typing one handed, in between catching up on schoolwork and revision.
Hope you all had a good Easter/month.
Update 18th March 2008
I've been struggling with constant migraines lately and they have been the abdominal type which has meant I've been vomiting as well as having the bad headaches.
I've also been very low and in lots of pain again so have spent lots of time in bed sleeping.
My kidney function has decreased again and I've got to have some more tests done during the Easter holidays so that the Doctors have all the results in for when I see them in May.
I fell off a wall at school on Friday and have jarred my shoulder. The pain is so bad and I am struggling to move my arm, so at the moment I have to wear a sling to support it. Typically it's my right arm/shoulder so I'm struggling to write/carry my school bag etc as I'm right handed. I still intend going to school though as I have too much time off due to illness.
I had a great birthday and would like to thank everyone who sent cards and gifts. I will eventually get round to replying to people but I do have a backlog as I've had lots of schoolwork to do.
Update 4th January 2008
Thankfully I've had a quiet time since coming out of hospital. I'm now walking around virtually pain free and am looking forward to returning to school next week.
I hope everyone has had an enjoyable Christmas and that the New Year is a good one for you all.
Thank you once again to everyone who takes the time to send me post. I am trying to get round to replying to all of you.
An extra special thank you to all who sent gifts, especially my Elves Kate and Emma.
Update 15th December 2007
I've had a bad few weeks. I went back to school on 9th November as I had a Science test. Still didn't feel well and had a sore throat, which turned out to be tonsillitis, so I was off school from the 15th. I went back on the 20th although I still wasn't 100% and came home saying my legs hurt. Mum thought it was due to the walking around and up and down steps at school. On the 21st I came home limping and in serious pain. My right knee was puffy and very sore. I ended up crying in pain, which isn't like me. We went to the GP's the next day and she wanted me to go to A & E at the hospital to see what I'd done. Mum rang the Orthopaedics instead and they said take pain relief and if it got worse to go to Casualty. On Friday I had to go as I couldn't walk and my knee was twice the size of the other one and the normal painkillers weren't helping. I had an x-ray and was given codeine to take. I was told to watch for vomiting, rash, headache or unexplained illness, as it could be septicaemia.
They made me an appointment to see the Orthopaedic Doctors at Sheffield Children's Hospital on Wednesday morning. I didn't feel very well before we set off, but by the time we got there I was shaking, going hot and cold and being sick, so the Doctor had to admit me. He wasn't sure if it was an infection in the fluid sack under my kneecap, around the pin site or actually in the bone. I had loads of x-rays, ultrasound, blood, urine and other tests to check for the problem. The Renal team had to be called to check that there was no problem from their side – kidney function has dropped a little with me keeping on being sick. I was kept in for a couple of days then allowed home, but told to rest and take medication to allow the infection to settle and then to go in and have the pins removed.
I've just been in and had the pins removed (13th December) and everything went well. I'm still in pain and am struggling to walk unaided, but hopefully I'll be fine by Christmas.
Thank you to everyone who has written or contacted me, I wish you all a Merry Christmas and a Happy New Year.
Love Laura x
Update 8th November 2007
I had the Iron infusion done on 26th October. My blood pressure and heart rate dropped slightly but I didn't experience any major reaction to the treatment so was allowed home after resting for a couple of hours after the treatment.
I still feel low and run down; in fact I was sent home yesterday as I went really dizzy and nearly fainted. The GP has given me some more tablets to take and wants me to have further blood tests as he thinks it is still to do with me being anaemic and my kidney illness. If the iron doesn't help my kidneys produce more red blood cells soon I will have to have regular injections.
Thank you once again to everyone who takes the time to send me post. I am trying to get round to replying to all of you. A big thank you to Jazzy for the letter and Halloween gifts. Thank you also to the girls from Mossneuk Primary School for the cards – you didn't put a return address on so I can't reply to you personally.
Update 3rd October 2007
I had more tests done early in September and then I saw the Consultants last week on the 25th. My kidney function is now 30% so I'm classed as now having severe kidney failure.
I have to go into hospital during half-term for an iron infusion (similar to a blood transfusion) to treat the anaemia, as my blood/iron level is still only 9. I still feel tired, achy and generally run down but hopefully this will help.
Thank you to Craig and Daniel for the postcards from Germany (British Forces) and thank you once again to everyone who takes the time to send me post. A big thank you to Kat for the letter and gift despite being ill and struggling to write at the moment.
Update 2nd September 2007
The day after my last update I ended up in A & E for the afternoon as I couldn't breathe properly, was shaking, my chest hurt, my heart was racing and my arms and legs had gone numb. I had to have oxygen for a couple of hours. At first the Doctors thought I was having an asthma attack combined with a low blood sugar attack. It ended up that I am anaemic, my blood level is 9 and it should be at least 11.5. This caused the trouble as there wasn't enough oxygen and rich blood getting round my system which caused me to feel so ill. The oxygen really helped and the Doctor said I must eat iron and potassium rich food to help build my blood levels back up or at least until the Renal consultant has checked what medications I can have. I see her at the end of the month but have to go to hospital for some more tests this week.
I'm also looking forward to starting back at school on Tuesday.
Thank you once again to everyone who takes the time to send me post.
Update 14th August 2007
We went away to Flamborough (near Bridlington on the East Coast of Yorkshire) on the 21st July and came back on Saturday.
I have received a quilt from a Mrs L Baldock and am about to send her a thank you letter :o)
Update 2nd July 2007
My health is up and down. Two weeks ago I had tonsillitis and then last week I had awful pains and was diagnosed as having an inflamed gallbladder. The doctor wanted to send me into hospital, but Mum has been ill with Shingles, so he gave me antibiotics and painkillers and said if the pain didn't ease off over 24 -48 hours then I had to go in. I'm still at home! The pain is still there but no where near as bad. It hurts if I eat or drink certain foods so I've got to be careful. If it gets worse again then I will have to go back and go to hospital. Other than that I'm fine.
Thank you to all who continue to send me cards, letters, emails and gifts. I am trying to reply to all who supply an address. Thank you to Kat for the lovely book on decoupage and to Elizabeth for the photo – get well soon! I'm still spreading the word about post pals and have even made a poster and put it up at school.
Update 9th June 2007
April came and went without anything major to report. However, May has been slightly different!
I ended up in hospital for a few days with suspected appendicitis which turned out to be kidney stones.
I've seen the Rheumatologist who says I haven't got Arthritis and the joint and muscle pains I have are due to the following things: my renal complaint – I had severe rickets when diagnosed with Cystinosis, my posture – I'm very flat footed and have no arch to my feet (which is why I wear splints) the hypoglycaemia at birth which caused the fitting and brain damage leaving me with delayed co-ordination and motor skills and balance problems, the slight curvature to my spine – again possibly due to rickets/Cystinosis.
I am still having physio treatment every 2 weeks and have just had a check up with the Renal team and my medicines have been adjusted again.
Thank you to all who continue to send me cards, letters, emails and gifts. I am trying to reply to all who supply an address.
Update 2nd April 2007
I've had an up and down month, but shouldn't grumble as there are many children and adults on here and elsewhere that are worse off than me.
The back and leg pain I have been having is getting worse so I'm seeing the Physio  more often and have been referred to see a Rheumatoid Arthritis Specialist to see what he can suggest.
My birthday went well… I was sent home from school as I couldn't stop vomiting. This turned to a viral infection.
Thank you to everyone who sent cards and gifts for my birthday, especially Julie and Alan Barrett, Kat R, Kate Dee, Hayley Thorn and yourselves at Post Pals. Sorry if I've missed anyone.
Update 24th February 2007
I've been for my results and routine check up. There is a slight deterioration in kidney function so we've had to adjust the medications and I'm now taking the equivalent of 57 tablets per day, not including pain relief tablets or inhalers.
I've also been to the Orthopaedic Specialist; the pins in my knees to strengthen and straighten my legs are helping a little but it hasn't worked as well as he would have hoped. We are going to give it a little longer though. He has done some X-rays on my spine and thinks the problem is more to do with my hips not being level. He is going to monitor me to make sure things don't get worse.
Update 8th February 2007
Laura broke 2 toes in an accident at school (going from changing room to dance studio and a heavy door swung shut trapping her foot as they do dance barefoot) Hospital can't do anything really except give pain relief so she ia hobbling around at present.
She has been for repeat bloods and will get results next week (14th). She also has to see Orthopaedic Surgeon on 21st about her legs, to see if operation has worked and also to check on spine curvature.
Update 3rd January 2007
Laura was ill before and during the Christmas period but as she says that's nothing compared to what other families have had to go through.
She has physio for help with her back pain on 3rd January and blood and other tests are to be repeated early in the New Year to get to the bottom of this viral infection which is causing problems.
Thank you to Celia my Elf, Kate D for the stocking full of presents, Hayley T, Elizabeth and Jack and everybody else who sent me presents and post. I really appreciate the trouble you have all gone to.
Update 2nd December 2006
Laura has had a good few weeks except for a bad migraine which left her in bed for a few days.
The doctors are pleased with her being able to tolerate her increased medication.
Thank you to Kate (Dee) and Julie and Alan Barrett and Jasmine from Texas who remain in touch.
Update 12th October 2006
Laura has had a nasty viral infection since the middle of September.  It started of as a throat chest infection and has progressed to a kidney infection, having caused an arthritis flare up in between.
Many thanks to Julie Barrett, Kate Dee and Jasmine form Texas, who all regularly keep in touch with Laura.
Update 30th August 2006
Laura's medication has been increased and she is tolerating it.
Laura has now reached 5ft which she thinks is fantastic as we were warned that she may only reach 4ft 6ins to 5ft fully grown when she was a toddler.
She's loving watching Dr Who at the moment and reading the books. In fact, she loves anything to do with the programme!
We have mentioned your website on a football forum that we post on and have asked the posters to send a message to any of the pals. Hopefully some of them will.
A big thank you to Julie Barrett for the beautiful needlework horse picture in frame that she sent Laura and thank you to everyone else who have sent things this month.
Update 8th July 2006
Laura has twisted her right knee and has a slight tear in the muscle caused by the pin/screw head cutting into it when she slipped and twisted it on the 28th June. We ended up being in A & E for over 4 hours and had to be seen by the Orthopaedic Surgeons' Registrar to check the damage. Her knee is heavily bandaged up and she is taking lots of pain relief. She is adamant that she is ok though.
Thank you for your continued support.
Update 31st May 2006
Laura came out of hospital on the 21st April and has slowly been learning to get mobile again.
On 28th April my Mother in Law, Laura's last surviving Grandparent was rushed into hospital having suffered a heart attack. We were told that there was nothing the Doctors could do as her heart, lungs and kidneys were failing and it was just a matter of time. She managed to hang on until the 19th May when she passed away peacefully in her sleep.
Laura's body went into shock and she ended up with flu type symptoms of cough, sold, sore throat, dizziness/migraine, sickness and aches and pains. The GP said she must rest to get herself better as she had overdone things trying to get up and about quickly so as not to be a burden on us whilst Gran was so ill.
The funeral took place on Friday and Laura attended – she was determined to go.
Its school holidays now so hopefully she can unwind a little before returning to school.
Update 21st April 2006
Laura has just got in from hospital. The surgeon said the operation was a complete success and doesn't need to see her for the follow up for another four months. However, she now has to learn to walk again using her crutches. Laura has little upper body strength so is finding this very tiring. Her knees are also still quite painful.
Update 6th April 2006
Laura's operation has been put back to the 20th April. She went for all her pre-op checks today, it took 3 hours plus and she has to go in on the 19th as she is on the morning list. They have said if all goes well then she will be home on the Saturday.
Update 20th March 2006
Laura is due to go into hospital to have her legs seen to on April 13th.
Laura and family would like to thank everyone who sent birthday cards, gifts and wishes to her.
Update 30th January 2006
Laura was ill all Christmas and new year and then her Gran has been in hospital with heart problems. Both are now ok, although Laura is recovering from flu.
Laura apologises for being late in replying to anyone who has sent letters etc. and an address, but she is slowly getting round to it.
Laura is due at the hospital on Wednesday 1st February, so we will let you know if anything changes.
Update 19th December 2005
On Wednesday Laura saw an Orthopaedic Surgeon about her legs (the bones are turning in at the knees and out at the ankles causing lots of pain; she has had physio etc over the years but has relied on pain relief).
He has said that she has to go into hospital for an operation on both legs to put screws in to realign the bones. Hopefully it will be an overnight stay and then on crutches for a couple of weeks. The screws will be in place for about 9 months. The operation will take place in a few months time – talking about March time.
Obviously she is upset at the news but has said that if it helps to take away some of her pain, then lets get it done.
Thanks for all your support, gifts and letters.