Donate to childrens charity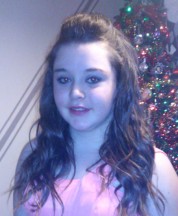 Contact Details
C/O 60 Frederick Road
Bridgwater
Somerset
TA6 4NG
United Kingdom

NB: this is a forwarding address, we do NOT disclose home addresses
Other Information
Parents/Guardians - Tracy
Interests - Horses, art, computers, music, playing games with her brother, reading, cooking, make-up and making things.
Favourite Colour - Purple
Able to read? - Yes
Able to use hands? - Yes
Visually/hearing impaired? - No
Suffers from any developmental delay? - No
Siblings - aged 3 to 16 wishing to receive post
About - Keeleigh R
Story written 2011
Keeleigh was diagnosed at age 2 with kidney and liver disease. We were told that she would need a combined kidney and liver transplant by the time that she reached age 8. She shocked all the specialists and continued to do really well. We have now reached the point, age 12, where she needs her combined kidney/liver transplant. She is on the transplant list and we are just hoping that the call comes soon.
Keeleigh is a very strong willed person and always has the attitude of not letting her illness beat her. She is fully aware of what is happening and what is going to happen and still all she says is 'Mummy, I'm going to get through this as I love you, Daddy and Klaiton so much, I don't want to see you all worry anymore and when I'm better I'm going to be the best daughter and big sister in the world.'
I know my little girl is a fighter and she will beat this. Her kidneys are only functioning at 16% now and yet she still hasn't started dialysis. Fingers crossed her transplant comes before she needs to start dialysis.
Update 2nd December 2015
Keeleigh had an appointment yesterday at Birmingham children's hospital, they are pleased with her, but her liver bloods have risen to double the normal level, we are now waiting for a call back to see what happens next. She's really down about it, its 1 year since she had liver rejection, so we're all quite scared. Her brother Klaiton is doing ok, full of cold and off school but hopefully he'll be back on track next week. I will let you know what Birmingham decide.
Update 15th October 2015
No changes, Keeleigh has been very tired lately as her medication has changed, we are Back to Birmingham  on Dec 1, for bloods and check up, will update when we've been.
Many thanks to you all for your continued support.
Update 15th July 2015
Keeleigh was at Birmingham children's hospital on Tuesday. We're waiting on blood results now and they want her to have a 24 hour blood pressure monitor, as her blood pressure is trending a little high.
We travel to Newcastle in 2 week's time for the transplant games which she's really looking forward to.
Update 11th June 2015
Keeleigh is struggling a little at the moment, as she's having pain and has now been constantly bleeding for 11 weeks. They've just started her on another new medicine to try and stop it and fingers crossed it works. She's back at Birmingham in July and I will let you know how we get on with the new medicine.
Klaiton has been suffering badly with his asthma recently and we also found out he is allergic to tea tree and eucalyptus.
Update 1st May 2015
We have had a phone call to let us know that Keeleigh's repeated bloods show an improvement in kidney function, but no change in liver. We're now waiting to see what they want to do next, as some liver bloods went up, some down, and one stayed the same.
Thank you for all Keeleigh and Klaiton's post, and for Klaiton's birthday cards.
Update 16th April 2015
Keeleigh went to Birmingham children's on Tuesday for clinic. Her liver bloods and kidney bloods have come back quite high and they want to re do them next Friday. If there's no improvement then they want to do an ultrasound to see what's going on.
Update 10th November 2014
Keeleigh is being discharged tomorrow. The doctors confirmed it was liver rejection and we're not in the clear yet, but she's a lot better. They've altered her meds and bloods are heading in the right direction. She's got bloods again in a week to keep a close eye on things.
Update 7th November 2014
Keeleigh is back in Birmingham children's hospital and she had a biopsy today. She has some liver rejection and they have started her on a 3 day course of iv steroids. They will review on Monday and if needed she will have another 3 day course.
Update 6th November 2014
We're now on our way to Birmingham and they're operating tomorrow.
Update 5th November 2014
Keeleigh's liver function has deteriorated further and we're now waiting for a call from Birmingham children's to admit her when they have a bed on the liver unit. They're going to do biopsies then hopefully treat whatever is going wrong. We don't know how long she'll be in yet and she's very down at the moment.
Update 24th October 2014
Keeleigh's bloods have come back, her kidney is doing fine but her liver bloods are abnormal. They are majorly high and they want repeat bloods done on Thursday. If there's no improvement they will admit her to Birmingham for biopsy, so fingers crossed they improve by Thursday. She's very scared and feeling down about it.
Update 21st October 2014
Keeleigh hasn't been too well and she's still not back in school. We were at Birmingham children's hospital today and everything seems to be going ok, but she's bleeding a little heavy so we have to do a seven day blood pressure observation and wait for blood results.
Klaiton is going through a rough time too as he's just been diagnosed with scoliosis.
Update 27th August 2014
Keeleigh's doing ok at the moment. She went to the transplant games in Bolton and brought back a gold, silver and 2 bronze!
They are still sorting out her starting medical tuition at the moment as the doctor says she's not fit enough to attend mainstream school. Fingers crossed she'll be back in education very soon.
Update 31st July 2014
Keeleigh's appointment went quite well. We're still waiting for blood results and will hopefully get them in the next few days.
Klaiton isn't having a good time at the moment as he's had another bad fall and has an open fracture of his knee. They've put him on antibiotics for the infection risk and the x-ray shows evidence of blood around the joint, so we have to go to fracture clinic on Tuesday to see what they're going to do. He's in a wheelchair and has a rigid splint on it. What a start to the school holidays!
Update 21st July 2014
Keeleigh is still very down. We are back at Birmingham children's hospital on 23rd July and are hoping they might be able to help. She is not in school anymore and they are sorting out medical tuition for September with support.
Klaiton has also been unwell. They're worrying about his joints a lot and he is waiting for splints and special boots.
Update 1st May 2014
Keeleigh has had a rough few days and couldn't keep anything down, but she's managed to have a few biscuits today. The doctors are happy for her not to be admitted as long as she keeps improving. I have to check her blood pressure and temperature twice a day for the next week.
Keeleigh has also been worried as her dad was in hospital but has now been discharged and must rest. He has broken 3 ribs and dislodged cartilage behind the ribs.
Update 11th April 2014
Keeleigh is still bleeding badly and they've started her on a new drug. They think she's got some bowel involvement now so she's having ongoing tests to see what's wrong. She's having a lot of anxiety and panic attacks, but her bloods are fairly stable and being re checked next week.
Update 5th February 2014
Keeleigh is having a really having a rough time at the moment. They've now found a problem with her bowel and she's having panic attacks with depression. We're waiting on more tests and she has been started on 2 new meds.
Update 2nd December 2013
Keeleigh's bloods weren't too good so we had them done again on Friday and are waiting for results. She's been a little up and down the last week and we are back to Birmingham children's hospital next Tuesday (10th), liver clinic on the 11th, and kidney clinic on the 12th. Fingers crossed bloods will be a bit better by then.
Update 11th November 2013
Keeleigh is struggling emotionally to come to terms with her transplant and what she has been through the past few years. Post seems to be the one thing that makes her smile.
She hasn't been feeling very well for the past couple of weeks and her bloods are a bit low but ok. Klaiton is having tests to see if he has Juvenile Arthritis.
Thank you to everyone who has sent cards and letters, Keeleigh loves them and thank you to everyone who sent Halloween things. Thank you for all your support.
Update 23rd December 2012
Keeleigh is doing really well at the moment. She is now 12 months post transplant and has just had biopsies and scans done which we are awaiting results of. She has at last started to grow a little too.
We have had numerous ups and downs over the last 12 months. She had her stent removed earlier in the year and this caused a few problems as it was left in situ a little too long and had embedded itself into the kidney. She picked up an infection from this and it resulted in a hospital stay. She (once again) ended up in hospital two weeks ago for a urine infection and had iv antibiotics, then she then was admitted to Birmingham children's hospital for her biopsy etc. I will update you when we have had the results of the biopsy.
She has recently started at a new school as she was being bullied for being "different" but thankfully she loves the new school and is getting on really well.
We have had bloods go funny too over the 12 months, but thankfully with a bit of adjustment on meds they have sorted themselves out.
We have also had Klaiton quite poorly and the doctors have discovered that he is highly allergic to eggs. He ended up having an anaphylactic shock after having the flu jab. He is struggling to walk now too as the arches of his feet are collapsing.
Thank you for your continued support and we all wish you a wonderful Christmas and New Year.
Update 21st February 2012
Keeleigh went to theatre today and all went well. She's back on the ward eating and drinking. She did have a bit of a wobble but is fine now and hoping to be home in the next few days if the bloods and scan is better tomorrow.
Update 19th February 2012
Keeleigh is back in hospital; the stent that was fitted during transplant has slipped and is causing some swelling inside the kidney. She has also picked up an infection and so she is going to theatre tomorrow to have the stent removed and they are hoping this will improve the kidney function. The infection is slowly working itself out and they hope to see her white blood cells improve over the next few days as they are very low. If they don't see any improvements in the next few days they will be transferring her back to Birmingham. She is feeling very down at the moment and fed up as she is on strict isolation due to infection risk.
Update December 2011
Keeleigh has had her transplant! She is now back home but the recovery is a long road.
Update 16th May 2011
Keeleigh has been back to the hospital today and we have been told that she will go live on the transplant list for kidney/liver today. They hope that we won't be waiting too long (they say around 12 weeks is the average). I will keep you all updated and thank you for her cards that have been making her smile.
Update 12th May 2011
Keeleigh went to the hospital again yesterday, she had bloods done and her kidney function has deteriorated further. She is going to Birmingham children's hospital on Monday so hopefully there will be no further decline. Keeleigh was also taken to hospital this afternoon after having a nasty fall. They are unsure if she has broken her nose as she has a black eye and a lot of bruising to her forehead and cheek bone. They said they can't tell if she's broken it until the swelling goes down. She is feeling very down now as they have advised me to keep her off school.