Donate to childrens charity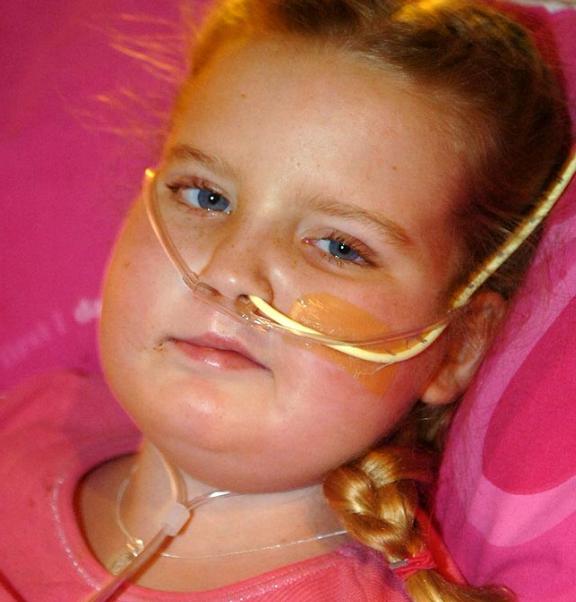 Contact Details
NB: this is a forwarding address, we do NOT disclose home addresses
Other Information
Parents/Guardians - Paula
Interests - Playing football, walking and hiking, Twilight, watching Peter Andre and Adele, Maths, Lourdes, Lion King.
Favourite Colour - Pink
Able to read? - Yes
Able to use hands? - No
Visually/hearing impaired? - No
Suffers from any developmental delay? - No
Siblings - aged 3 to 16 wishing to receive post
About - Katy H
Story written 2012
Katy was a very happy smiley child but then one day her parents noticed she wasn't smiling anymore and it rang silent alarm bells for them. She was also suffering headaches and blurred vision, which at first were thought to be migraines and the CT scan that was done came back clear. After a teacher noticed something strange in photos of one of Katy's eyes, her parents took her to A&E in October where an MRI was done. Katy was diagnosed with Brainstem Diffuse Pontine Glioma (a brain tumour in the brainstem making it inoperable and this type of tumour also does not respond to chemotherapy).
Katy was given 30 sessions of radiotherapy (the maximum amount allowed) and given 6 – 9 months to live, but 3 months later she is very poorly and in a hospice. Her family have already had to say goodbye to her 3 times although she pulled through each time to everyone's surprise. She wanted to meet her baby sister so her Mum was induced at 38 weeks and Katy has met baby Scarlet. Whenever they place Scarlet in her arms she smiles.
Katy has stabilised a little but is still very ill. The family are talking to a surgeon in Australia who is famous for performing surgery on those no one else will.
Katy is unaware of her prognosis but the family are in need of lots of TLC and smiles and they would love some cheerful happy post.
Family Update April 2013
We feel that perhaps it is now time for Charley to move on from Post Pals. She has loved every moment of being with them and the post she has received has most certainly helped her get through the most horrendous time in her life. We do feel now though that Charley is doing well and that perhaps it is time for another child to take Charley's place that is in much more need of some Post Pals love.
Thank you so much for supporting her and Katy, we'll never ever forget your kindness.
Our very best wishes,
David and Paula
Update 19th January 2012
We are sad to say that Katy passed away at 1am this morning. She had spent the day comfortable with her parents talking to her and playing her Disney CD to her.
Update 17th January 2012
Thank you for sending post to Katy. Her family have now asked 'for prayers for Katy's smooth transition' instead.
Update 16th January 2012
This illness is so cruel. Katy has been up half the night and is so poorly. She is the sweetest girl in the world and with the cruellest illness. What did she say to me at 4am? "Why don't you try to get some sleep mummy?".
Update 15th January 2012
Katy is in a lot of pain today and is being given morphine. She remains beautiful and very well mannered, thanking the nurses each time her meds are given and trying to smile at their jokes. I pray so hard all of the time. I draw strength from all your comments and prayers too. I love this girl so much my heart actually aches.
Update 13th January 2012
Our poor precious girl is really not well today. She is tired. I'm sat beside her holding her hand listening to a lovely Barbara Streisand cd. I'm trying to keep the tears away in case she looks at me. I wish I could suction the lump out of my throat.
Someone sent us a scrap book making kit which we have decorated. She wants our Florida holiday photo's inside. It'll be so special when it is done. Hopefully she'll feel better after a good long sleep and then I'll carry on with my task. We have been offered flights to USA! I just need her to be well enough.
A big balloon bouquet arrived too, thank you Post Pals!! We have had lots of mail via Post Pals too! We also received the most beautiful book of husky pictures all the way from Canada! I can't believe it; Katy is over the moon xxxx