Donate to childrens charity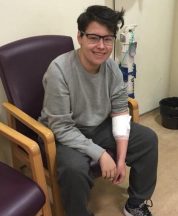 Contact Details
NB: this is a forwarding address, we do NOT disclose home addresses
Other Information
Parents/Guardians - Victoria
Interests - Loves painting and art, Arsenal FC, swimming, watching movies, Cadburys chocolate, canvases, acrylic paint, music, Arsenal FC, dogs
Favourite Colour - Baby blue
Able to read? - Yes
Able to use hands? - Yes
Visually/hearing impaired? - No
Suffers from any developmental delay? - No
Siblings - aged 3 to 16 wishing to receive post
About - Kai Y
Story written 2015
Kai was diagnosed when he was 3 with an astrocytoma. He underwent 18 months of chemo at 5 years old which had to be stopped after 12 months as Kai almost lost his life several times due to infections. Kai's tumour stayed stable for 3 years and he underwent stereo tactical radiotherapy. He had the first session on his 10th birthday, which was a rubbish way to spend it! However after the radiotherapy, Kai's tumour grew straight away and he was forced to have brain surgery two days before Christmas Day 2012!
It was when the histology report came back that they gave us the news that it was really rare. It is so rare that Kai was only 1 of 2 children here in the UK with it. The surgery took almost 6 hours and they managed to get 50% out. As the tumour was not fully resected, Kai will just keep on relapsing. So here we are, 4th time relapse. We have since found out the tumour does NOT respond to chemo or radio so our only option is more surgery which is getting very tricky because of the site of the tumour.
Kai is such a happy, loving, caring boy. I'd love to give him the world!!
Update 28th November 2019
Kai has been in a lot of pain lately, we are seeing new consultants at the new hospital and they are wanting to do more surgery on Kai's tumour. Kai will be 18 on Jan 3rd, we are hoping to take him away to his happy place Lanzarote.
Update 3rd November 2019
Kai has got a lot of appointments coming up at 4 different hospitals, he has been in a lot of pain for the past month. He's loving all his post.
Update 23rd April 2019
We would like to put a hold on post for the next month due to moving, I will send you the new address when all exchanged which should be in the next week. Kai is doing very well but is very nervous about the move so post there will be a welcome delight to him. He has had a few occasions recently where his pain has taken over but he is coping well. It will all start again when we move with new hospitals and consultants.
Update 24th October 2018
Kai is not doing very well at the moment and is in a lot of pain, we are trying to get on top of it but this time of year doesn't help! He's also got severe anxiety and that is stopping him from doing many things. We have a few hospital appointments coming up in October and November. He is still loving the small amount of post that he's receiving, mainly from Bev every month and cards from Marty Longo. I am not well myself at the moment and haven't been for 6 months so it's been difficult on Kai, but he's a star as usual! Love and hugs to you all x
Update 7th March 2017
Kai is no longer at school, it has been deemed he is too ill medically to attend mainstream school so is being home educated full time. He is missing his friends, so desperately needs cheering up!
Update 4th January 2017
Kai is doing really well. He's back to school. He has the odd few bad days, but other than that, he's great!
Update 6th September 2016
Kai is doing well, pain is well controlled most of the time with a concoction of medication. MRI next week so will see from there how things move forward.
Update 7th August 2016
Kai is doing very well, NG Tube has been removed and he is still in rehabilitation for approx next 6 months.
Update 3rd May 2016
Kai's still on a feeding tube but able to eat certain things, so please check before sending. He has had an MRI which shows a stable tumour. His pain is being managed by a lot of opiates but he is remaining well at the moment.
Update 21st January 2016
Kai is now being tube fed, so please don't send drinks and please contact us if you're sending food so we can confirm if he can eat it or not. He is due another tumour debulk at the end of January where he will be out of action until at least Easter time.
Update 23rd September 2015
Kai is doing well at the moment, he has returned to school and is enjoying doing normal things again. He still has 'off' days and looks to his post from Post Pals for comfort at those times.
Update 10th July 2015
Kai is going in to hospital this Monday at Kin's College and his operation will be first thing Tuesday morning. We will let you know how it goes.
Update 4th July 2015
We have been told if Kai is operated on again he will become blind. He will lose his sight and also the use of his arms and legs! We are seeing another neurosurgeon in Newcastle on July 29th for a second opinion.
Update 1st May 2015
We would love to say thank you to everyone sending Kai post. We will get round to replying once Kai is able to do so again. We are awaiting a date for his next brain surgery but he loves getting all his post.
Update 14th April 2015
Kai is very unwell at the moment. We are awaiting more brain surgery in Newcastle where we will have to relocate for some time. He is in a lot of pain daily and very heavily medicated but enjoys all his post and very much looks forward to it on a daily basis.
This month he has received lots of lovely happy mail and lots of post from one lady in particular, Skye in Australia. Thank you to everybody.
Update 1st February 2015
Post Pals has been fantastic and Kai has very much enjoyed receiving the post. It has given him a new lease of life to wake up every morning.