Donate to childrens charity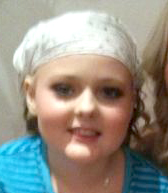 Contact Details
NB: this is a forwarding address, we do NOT disclose home addresses
Other Information
Parents/Guardians - Jade
Interests - Making things arts/crafts, High School Musical, Hannah Montana, Hello Kitty, singing and dancing.
Favourite Colour - Purple
Able to read? - Yes
Able to use hands? - Yes
Visually/hearing impaired? - No
Suffers from any developmental delay? - No
Siblings - aged 3 to 16 wishing to receive post
About - Jaz L
Story written 2010
Jazmine was diagnosed with Ewings sarcoma at the age of 6. Her primary tumour was in her femur, but after completing a 18 week course of VIDE we discovered her cancer had spread to her lungs. She then went onto another course of chemotherapy facing the reality that her cancer was possibly terminal with the best case scenario being a hind quarter amputation.
However, Jazmine beat the odds stacked against her and the tumours on her lungs went, meaning she had a chance of survival. In April 2009 she had limb salvage surgery, and in November 2009 she had her first post treatment scan which revealed she was cancer free. We were elated!!
However on Monday 5th July, I discovered a lump on Jazmine's head, and on Thursday 8th July my worst fears were confirmed. Jazmine's cancer had returned and is incurable.
On Monday 12th July I had to have a conversation with my 9 year old daughter that no parent would ever want to have. I told Jazmine her cancer was back and she is aware of the situation that her cancer is terminal.
Jazmine has compiled a 'bucket list' of all the things she wants to do before she earns her Angel wings, and we plan to enjoy every single day that we have together.
Update 31st October 2013
I would like to thank all the people that have continued to send Jess gifts and post three years after her sister passed away. There is nothing more exciting than a letter dropping through the postbox in this generation of emails and texts. I am truly touched by the people who take time out of their busy lives to stop and take the time to send a letter or a gift. I have made a few friends through this wonderful charity whom will always hold a special place in my heart. Thank you xxxx
Update 7th November 2010
We're very sad to say that Jazmine passed away last night.
Update 6th November 2010
Thanks to everyone that has given us so much support, kindness and comfort. I personally think (as does Wayne and the nurses here) that Jaz will go to sleep this weekend and earn her angel wings. As I said yesterday, she can't talk anymore and can't take oral medication anymore. She has put up one hell of a fight and my mum said yesterday she is only hanging on for me. I told her this morning she will be able to look after me much better from heaven. I don't know if she heard.
Update 5th November 2010
Jazmine can't speak today as the tumour in her mouth is taking over the right hand side of her face, which is the same side as her eye. I don't know how much more disfigured my little girl can get. I have cried more in the past 24 hours than I have in the last 3 years when this nightmare began… Jaz won't be here long. The fight is going from her.
Update 3rd November 2010
I've just been able to have a bath with Jaz. She was hoisted onto my lap and that's the closest I have been able to be to her in ages and it was lovely.
Thank you for the support.
Update 1st November 2010
Jazmine now has a tumour in her mouth and is very unsettled today and upset. Not a good day all in all.
Update 26th October 2010
Jaz not been great today during her waking moments.
Update 22nd October 2010
All is still the same here. Jaz is peaceful and settled and she is eating soft food. Jess is here now for half term and in her element!
Update 19th October 2010
Jaz has had a good day and opened her good eye and talked.
Update 17th October 2010
Jaz still peaceful but it's so hard to understand her though. She also has to be hoisted onto the commode plus she lacks the ability and strength to eat now.
Update 14th October 2010
Jaz is much the same but cancer at this stage is so undignified. I have turned into an insomniac.
On a brighter note, Kara Tointon said she will say hello to Jaz on tomorrows Strictly Come Dancing… we will have to wait and watch.
Update 13th October 2010
Since Jaz has gone onto a driver with midazolem (sedation) I am pleased to tell you all she is a lot calmer and more settled.
Update 10th October 2010
A good day was followed by an awful night. Jaz and I finally went to sleep at 6am. She had 6 hours of uncontrollable breakthrough pain and it was heartbreaking.
Update 9th October 2010
Jaz has said she has had the best day in ages… we have been here 30 days now and she hasn't been out of her room for approx 27 days. Today she got into some pj's (she hasn't wanted clothes on for ages) and she went into the multi sensory room for about 4 hours in a specially adapted comfy chair… a good day!!
Thanks for all your support, love from us at Acorns.
Update 5th October 2010
Jaz has had a comfortable night sleep, she started on methadone last night so hopefully that will stop any break through pain in future.
Update 2nd October 2010
Jaz is in good spirits and is eating for England!!!!
Update 29th September 2010
Not a lot has changed since my last update. Jaz ate a yogurt today which is the only thing that she has eaten since Saturday. Her eye started bleeding this afternoon and she is very weak, but despite the tumours getting larger and larger she is still very determined. God bless her, I am so humbled by her bravery xxxx
Update 27th September 2010
Jaz is still with us by a thread. We had our vicar out last night to read Jazmine some prayers to see her on her way.
Update 25th September 2010
Jaz is getting worse now. Her breathing is laboured and she won't have the oxygen mask. I think the change is dramatic to that of a couple of days ago and she can't fight much longer.
Update 23rd September 2010
There is no change with Jaz, she is sleeping lots and lots. Jess is very at home here though and loves it.
Update 19th September 2010
Yesterday was a hard day and very emotional all round. Jaz had a lot of breakthrough morphine. She is appearing to get weaker and weaker. I am frightened to leave her for a shower in case the inevitable happens and I'm not there. She is resting peacefully again now. Thank you for all the messages of support xxxx
Update 16th September 2010
Hi everyone just to let you know Jaz is still peaceful. I can't imagine never taking her home and when I snuggle up to her my mind plays tricks and I almost forget there is anything wrong. Jaz has a will of iron and she doesn't appear to want to give up her fight yet. She isn't ready to leave those she loves… or stop bossing us around!!
Update 15th September 2010
Had a nice night snuggling with Jazzy. She saw her eye yesterday – she ripped a bit of the paper off covering the mirror and was very distressed and scared. It's even worse today. It's inhumane.
Thank you again for all the support. I can't believe I am praying for the end for Jaz when all I want is my little brave girl here forever. Love to all from us at Acorns xxx
Update 12th September 2010
Jazmine is peaceful here and Jess is very much at home! Jazmine's tumour in her eye is getting bigger – it's so cruel! Her breathing started to change yesterday which is one of the first signs I think. I had our vicar over yesterday to pray with Jaz and all I can hope is Jesus takes her soon so the suffering can end.
Update 10th September 2010
Thank you for all that you have done for my children and my friends' children and so many others.
I will stay here at the hospice now until Jazmine passes, so could any post please be sent to acorns, also with an emphasis on Jess who is struggling. Thank you. So much love and thanks.
Update 9th September 2010
Jaz is sadly deteriorating quickly and has been moved to the hospice today.
Update 5th September 2010
Just an update on Jazmine. She is much the same. Her pain meds are being increased on a 3 daily basis and she is staying in bed the majority of the time as she is very very tired.
Last night she got out of bed and came downstairs for something to eat and Teddy our dog got under her feet and she fell over. She hurt her back and Teddy is quite literally in the dog house now!!!
Jessenia is starting school on Tuesday. She was looking forward to starting school but as Jazmine won't be going back to school, Jess is now not so keen.
Anyway, thank you for all the post and parcels that have been coming through our door, it always makes the girls smile in the mornings.
Update 26th August 2010
I just wanted to say thank you again for all the post and parcels Jazmine and Jessenia have been receiving; I am very touched by people's kind thoughts and generosity during this difficult time.
Jazmine and I got out of hospital on Tuesday evening. Her pain has been controlled now, her meds have been increased and she is very tired and sleepy all the time; however the pain that her cancer has been giving her is less frequent.
Update 7th August 2010
Thank you again for all the post and gifts that have been coming through our letterbox for Jazmine and Jessenia – it really makes a difference.
Update 23rd July 2010
Thank you to everyone that has been sending Jazmine and Jessenia post and gifts, it really is bringing a smile in the mornings. Jaz is being very sick at the moment and can't keep anything in, which is worrying in case she ends up in hospital for IV fluids if she becomes dehydrated. Anyway, thank you everyone xxxx