Donate to childrens charity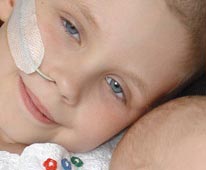 Contact Details
NB: this is a forwarding address, we do NOT disclose home addresses
Other Information
Parents/Guardians - Jenny and Andy
Interests - Horse riding, riding her bicycle, Scooby Doo, watching dvds, cooking, dressing up, art/creative activities and looking after her rabbits.
Favourite Colour - Pink and purple
Able to read? - Yes
Able to use hands? - Yes
Visually/hearing impaired? - No
Suffers from any developmental delay? - No
Siblings - aged 3 to 16 wishing to receive post
About - Jamie W
Story written 2010
Jamie's family are British but have been living overseas. Jamie was born in Bangkok but moved to Bahrain when she was 3. Jamie was diagnosed on her 4th birthday (whilst on holiday in Thailand and at the hospital she was born at) with stage 3 Intermediate risk Neuroblastoma. She undertook treatment (chemo, operation, chemo and radiotherapy) for 7 months and was well throughout treatment.
In May 2009, one week before the family were to return to Jamie's home and friends in Bahrain, Jamie was diagnosed with a relapse on her other adrenal gland. Jamie's family decided to stay permanently in the UK for treatment; her parents gave up work and have moved back to the UK, leaving Jamie away from her home and friends but near her family here.
Jamie continued chemotherapy and another major operation but 1 week after recovering from her operation she was diagnosed with an immediate relapse. Jamie was put on another course of chemo which has had no effect on her tumour at all. Sadly this has continued to grow despite chemo and it is showing a high level of resistance.
Jamie is now having MIBG treatment in London at UCL as a final treatment. She has just started this and this means that she is very radioactive, has to have a long time in isolation, and cannot be near her new brother for a month, which is making Jamie quite sad.
We are awaiting the results of the current MIBG treatment.
Update 14th April 2010
Post Pals has sad news – sadly Jamie passed away on Saturday. Her Mum said 'thank you to everyone at Post Pals who kept Jamie smiling every day'. She also said how 'Jamie had fought every day through 2 years of treatment without complaining'.
Update 31st March 2010
Jamie is quite unwell at the moment. She now has many tumours in her lungs which are causing her to have low oxygen levels, a lot of pain, and she is very tired and in her words 'feeling horrible'. We have never seen Jamie so sad and lacking in energy. We have decided not to continue with radiotherapy and are at home in Wales. We hope that Jamie feels well enough to visit London next week to see The Lion King. Please think of Jamie over the next week.
Jamie has been very unwell this week. She has had lots of smiles from the fantastic messages, cards and gifts that she has received. An enormous thank you. So many people have been so kind to Jamie, they always think of her interests and make such a special effort to cheer her up. Our house seems to be full of rabbits at the moment.
Update 19th March 2010
We arrived in Newcastle by ambulance as Jamie became unwell in Cardiff. Scans in Newcastle were a direct contrast to the Cardiff scans two days earlier (we had been told that nothing had changed since November). The CT scan showed that Jamie's tumour had grown and we were unable to have chemotherapy and we would have conventional radiotherapy to a very large area. We were then faced with news the following day that Jamie's disease has spread to her lungs and nothing further could be done. News which has devastated Andy and I.
Jamie has started radiotherapy but is very unwell and we will make a decision daily to see if it is the right thing to do to help her pain and when we should go back to Wales to be at home.
Update 12th March 2010
Jamie is in hospital in Cardiff and gave us an enormous scare yesterday. She became very ill over the previous two days and we thought the worst and that her tumour had grown again to enormous proportions over the course of a couple of days as it has now done twice. She had swollen up so much she could hardly walk and was in enormous pain. She is in better spirits now, less pain and the doctors seem to have pieced together information to work out what is going on. The added problem is that we are being treated at 3 hospitals with 3 consultants, London, Newcastle and Cardiff, so it's a bit of a jigsaw to piece together.
Jamie seems to be having bleeds into her tumour and lesions in her abdominal cavity which bleed into and cause enormous discomfort. Tests over the last two months have indicated that Jamie's tumour has continued to grow despite treatment. We had the good news today that there has been no growth since November and that Radiotherapy will go ahead next week in Newcastle so we will be there for a month as that is one of two places with a specialist machine. Its great news that it can go ahead after it was all planned last week but now needs to be re planned with all the internal changes this week.
Poor Jamie seems to have been in hospital constantly since January with Mibg twice then stem cell return and various setbacks in between. We have had one clear week out when Jamie was back to her normal self and we have even lost the NG tube as she is eating again after not eating for nearly 7 weeks.
She can now see Alfie again and we are still unsure of the results of the Mibg, it's really just wait and see for the next few weeks once again.
Jamie has loved being a member of Post Pals; she is always so excited when the post man arrives. We have all been so touched by the kindness and generosity of so many people. So many people have really thought of gifts that have suited Jamie so well and have gone to such thought, time and effort to prepare them. It really is a lovely experience to be linked with Post Pals, many thanks!