Donate to childrens charity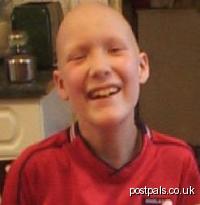 Contact Details
NB: this is a forwarding address, we do NOT disclose home addresses
Other Information
Parents/Guardians - Jon and Carole
Interests - Action Man, Playstation, Cars, Football.
Favourite Colour - Black
Able to read? - Yes
Able to use hands? - Yes
Visually/hearing impaired? - No
Suffers from any developmental delay? - No
Siblings - aged 3 to 16 wishing to receive post
About - James R
Story written 2003
Until March of 2003 James was a completely normal little boy, more like a mini whirlwind than a human being. A few months later we were told "James has Leukaemia" and our world was turned upside down.
At the very beginning concern was raised because his legs started to ache. For the subsequent four months we took him back and forth from the hospital trying to find the cause. Orthopaedics, Paediatrics, Surgicals were all approached – no idea, growing pains maybe?
James' stomach swelled up. We went to the hospital, and they announced that his liver was enlarged and they ran some blood tests. The following day we were ushered of to a quiet room with a haematologist (ominous) – "James has Leukaemia". Shock, numbness, panic – he's going to die! After we composed ourselves, the big decision was "Do we tell him? If so, how much?" We decided, tell him everything. He's a smart kid, if we don't tell him, he'll ask someone else. So we explained, as much as we knew at the time. He was so understanding. "OK" he said, "get on with the treatment then, make me better."
So, stage one – off to Birmingham for a bone marrow aspirate (a needle driven into the bone marrow of his spine and a sample of tissue taken.). The result a slightly more accurate diagnosis – "James has Acute Lymphoblastic Leukaemia." This determines the treatment regimen and off we go to Alder Hey Children's Hospital in Liverpool as Birmingham has no beds.
Three weeks down the line and James felt awful and could only move around in a wheelchair – the first dose of chemotherapy really knocked him for six. His stomach became more swollen due to the steroids, his bones hurt because of the vincristine, (chemo drug) and his arms looked like pincushions. You know a kid's ill when you ask, "What can I get you to cheer you up?" and he says "Nothing, just take me home."
I love James, everyone who knows him loves him, you will too.
Update 30th October 2007
I think the time has come for James to move on from Post Pals. During his illness you were a wonderful source of encouragement and happiness. Now that his treatment is finally complete and he is on the road to recovery, your resources would be better spent on your current group of sick children. Thank you so much for all you've done, James had a miserable time and Post Pals really helped to put a smile on his face.
Update 8th August 2007
James has pretty much fully recovered from the effects of his chemotherapy, although his feet are still flat and his stamina is very low.
He regularly takes time off school due to general tiredness, and although his school are brilliant about it, we can't help worrying that missing school frequently must be bad for him.
The doctors say that he will eventually come round and be back to normal, it's just a case of waiting and encouraging him! With any luck the long summer break will give him a chance to recharge his batteries.
Update September 2006
James is due to finish his chemo near the end of October, instead of being happy he is very depressed as he is worried about what will happen if the Leukaemia returns. It would be great to have lots of congratulation cards sent to him, as he was Post Pals' first ever Pal.
Update 25th May 2006
James is still moody but it's because of his pills. He's just had his nasty monthly drug, vincristine, and has been off school all week but can hopefully get over this during half term.
Thank you to Sue Cuin and Julie Barret for sending James and myself (Philippa, his twin) lots of cards during the past month.
Update 2nd December 2005
Philippa has been in touch to say that James is doing quite well and that he wanted to say thank you to all at Post Pals for the gifts he's received 🙂
Update 25th September 2005
James is back at school now (after 2 years at home). He is adjusting really well but finds sport and games a little hard going. With James' determination things are settling down though and he has the teachers eating out of his hand.
Health wise, all treatment is going as it should. Counts are staying stable.
Update 20th June 2005
Thank you everyone who has responded to James' low time. He really has appreciated the surge of cards and stickers and stuff that you've been sending. Thank you from him and us!
James is having a "good" time at the moment. Health fair, just suffering from the heat. But I guess a lot of people who aren't ill are doing that too!
Update 1st May 2005
James is having a rough time of maintenance at the moment. He's laid up one week each month with bad feet and legs, and he's very tearful. Sadly a side effect of vincristine and the steroids. His counts are remaining promising however.
Update 31st March 2005
Not really much doing with James' treatment at the moment, all as it should be. He's off at a church sleepover this weekend with Philippa. It's the first time he's been out of the house overnight without a parent in the last 2 years, but he's fine about it – it think its us who are having the hard time of it.
Update 5th March 2005
James is doing OK. Just seems to get really miserable once a month when he's taking his steroids.
Update November 2004
James is doing really well at the moment. Mood swings from his steroids and irritation from his drugs. Otherwise all well. He's in to hospital on Wednesday (24th November) to have his port taken out. It only seems like yesterday he had it put in.
James' mum is also in hospital following a heart attack, his Dad said it was a fairly mild one, and so she's hoping to be out around Tuesday. How ever I'm sure the family could do with some extra TLC at the moment.
Update October 2004
James and his family are taking a much deserved holiday, we hope they have a lovely time away.
Update September 2004
James is also doing ok, last week his family went to a trip to their local Snow Dome (with real snow!) organised by Post Pals, there they did tobogganing, and ice-skating, and no doubt threw a few snowballs! His Dad has uploaded photographs of the day, they can be seen here Thank you to Jon for sharing the photographs, and to the Snow Dome for kindly donating these activities.
Update June 2004
Yippeeeee!!! Finally made it to Maintenance. The Intensive bouts of treatment made James so ill that he has really been looking forward to this part. Daily pills, and monthly injections ~ what an easy life.
Still, its not going to stop until October 2006 though!!!
James is a bit more cheery now and says a huge Thank You to everyone who has mailed him with words of support.
Update May 2004
Only one more lumber puncture to go until the intensive block of chemotherapy is over, and starts on the maintenance stage.
Update September 2003
James is now thankfully in remission – which means that the original dose of chemotherapy has killed all of the leukemic cells in his bloodstream. However this does not mean that he is out of the woods. The next part of his treatment is called "maintenance" which is four-week bands of mild chemo interspersed with four-week bands of intense chemo. During this time James is expected to be neutropenic – which means that he is very susceptible and will spend much of his time in hospital. This is expected to last three years. Only then will we know for sure James has been cured.