Donate to childrens charity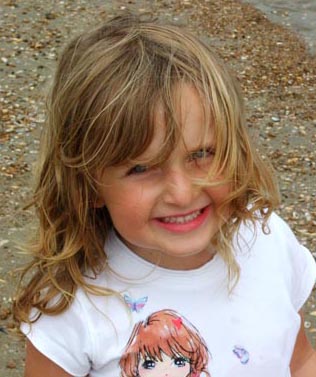 Contact Details
NB: this is a forwarding address, we do NOT disclose home addresses
Other Information
Parents/Guardians - Clare and David
Interests - Playing with friends, dancing, watching Tracy Beaker, craft and making things, dressing up and make believe.
Favourite Colour - Pink and purple
Able to read? - Yes
Able to use hands? - Yes
Visually/hearing impaired? - No
Suffers from any developmental delay? - No
Siblings - aged 3 to 16 wishing to receive post
About - Hannah E
Hannah sadly passed away on the 20th January 2010.
Story written 2007
Hannah was diagnosed with stage IV Neuroblastoma in August 2003. Her eventual diagnosis followed months of ill health and although, at one stage, we were told her condition was behavioural and she was attention seeking, we knew that was not Hannah and continued to question until we were eventually told Hannah had a tumour on her kidney and the disease had spread to her bones and bone marrow.
Hannah endured months of chemotherapy, followed by surgery, radiotherapy and a stem cell transplant. She was always positive and used what little energy she had to keep smiling.
We were given the news that Hannah was clear of disease around Christmas 2004 and she remained that way for 2 years.
However, knee pain just before Christmas 2006 led to more tests and scans and news that Hannah had relapsed and disease was in both legs and lower ribs. Now we are back on the chemotherapy, a different combination and Hannah has had two rounds to control the disease once again.
Update January 2008
Hannah has moved on from Post Pals, thank you to everyone who sent Hannah post or emails.