Donate to childrens charity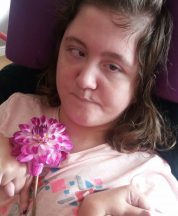 Contact Details
NB: this is a forwarding address, we do NOT disclose home addresses
Other Information
Parents/Guardians - Tracey
Interests - Music, lights, sensory items (touch and feel), hearing stories, shopping. Please do not send sweets.
Favourite Colour - Pink
Able to read? - No
Able to use hands? - No
Visually/hearing impaired? - Yes - Georgia is registered blind but we feel she has some vision.
Suffers from any developmental delay? - Yes - Georgia is unable to walk or talk and has peg feeds.
Siblings - aged 3 to 16 wishing to receive post
About - Georgia C
Story written 2012
Georgia was born a beautiful and healthy baby, but at 11 weeks old she started to have fits. I took Georgia to see our GP who said it was nothing. My instinct knew he was wrong. He refused to see us again and so I got an appointment through our health visitor later that same day. We were sent to the children's ward, where we stayed for the next 4 months.
Georgia had West Syndrome which has now developed to Lennox Gastaut Syndrome. Georgia requires 24 hour care and has daily severe seizures. Georgia has lots of severe complex medical needs.
Georgia has a beautiful quality of life as we involve her in everything we do. She goes on holiday abroad with us every year, which takes a lot of planning, but it is well worth it.
Georgia requires use of a lot of equipment – bipap ventilator, feeding pump, suction machine, sats monitor, oxygen and also has a vagal nerve simulator, but she never ever complains. She is happy, strong and perfect to us, in every way.
Update 4th January 2018
Georgia is 18 which means she's at the age where she will be leaving Post Pals. We would love to stay, you've all become part of our family over the years. But we know it's time to move on. We can't thank you enough for everything you have all done for Georgia. I've said lots of thank yous to everyone and got very emotional. Thank you from the bottom of our hearts
Update 1st October 2017
Georgia's just been to sunny Majorca for a lovely family holiday. Georgia's health is still up and down. Her epilepsy is like a roller coaster. We are seeing the consultants next week.
Update 23rd August 2017
I'm sorry I've not been on much, only Georgia's having a very rough time with her seizures. She's fitting every day and having a few each day, so apologies. Massive thanks to you and everyone at post pals and all the people who think of Georgia. It really means so much
Update 5th June 2017
Georgia has had some lovely post from all over the world. She's had letters, cards and gifts which were all so beautiful. I've also had some beautiful post. I was so overwhelmed that I had tears down my face. You're all very special people to do what you do  Thank you so much. Georgia has been doing ok, we have had an amazing family holiday to Porthmadog.  The weather was really nice and we took Georgia to the beach. She loved it. I hope all you lovely people are keeping ok and another massive thank you for everything.
Update 1st May 2016
Georgia has been having a rough time again with her seizures. Just wish we could get them under control. Everything else has stayed the same.
Update 16th November 2016
Georgia has been waiting for a date to go into hospital for major surgery on her hip. She had the date through for 7th November. All other things remain the same. A big massive thank you to everyone.
Update 12th October 2016
Georgia's having such a tough time at the moment as her hip is out of socket causing horrendous pain. She's waiting for major surgery. She's having her leg in traction tomorrow and going to theatre on Friday for injections in her hip. She stopped breathing on Saturday while we were at home and it was terrifying.
Update 2nd October 2016
Georgia didn't return to school after the big summer holidays as we moved house and unfortunately everything seemed to go wrong. We've spent the last 4 weeks staying at our local children's hospice the Donna Louise trust. Georgia's going back to school tomorrow, her first day since July, I think she will be very tired. All were very beautiful and Georgia loved them. I want to say an enormous thank you to all the lovely kind people who think of Georgia and send all the post and gifts thank you so much again
Update 5th September 2016
Georgia's going to see the consultant on Thursday to see what will happen regarding her hip. She's been have more seizures too. We should be moving house on Friday as our house is no longer suitable for Georgia's needs.
Update 16th August 2016
Georgia's just come out of hospital after having a procedure on her hip that was causing horrendous pain. Thank you so much to you all.
Update 4th May 2016
Hi, just a little update on Princess Georgia and to let you know that she got discharged from hospital at the end of March.  She was in intensive care for a long month and fought and fought to get better. Georgia had over 70 get well cards, so thank you so much to my special friends. She's had around 2 each week since she's been home. She really enjoys me reading them to her. The lovely nice light nights will be here soon and hopefully brighten our days. x
Update 4th March 2016
Georgia's not been well since Sunday and is in Intensive care. Thank you so much for all the beautiful gifts and post and balloons.
Update 5th February 2016
Georgia is still having a bad time with her seizures, we are hoping at the next hospital appointment the doctors can do something to help. Georgia loves me reading her post to her and loves to help with opening her beautiful gifts. It puts a big massive smile on her face, thank you so much.
Update 21st January 2016
Georgia is not too good this week, she's been off school since last week with increased seizures. Before this she was doing really well and really enjoying school and spending more time in her standing frame.
Update 2nd December 2015
Georgia should be going into hospital this month for Botox, but it's been delayed until the New Year. She's still having ups and downs with her fits, wish we had a magic wand. She has a few health problems going on with gynaecologically, but fingers crossed we can get them sorted. Georgia continues to smile and be happy which is so lovely to see. Hope you all have a wonderful Christmas!
Update 16th October 2015
Georgia has been very up and down for a while with her seizures, her hormones are playing a big part in the increase of them. But there's not a lot that can be done, I was hoping something like the pill would have helped, but because she's not mobile there's a high risk of blood clots. She's going into hospital before Christmas to have Botox in her arms and legs, I'm praying it has a good effect. Georgia is 16 in just over a week, we are so very proud of her.
Update 22nd July 2015
Georgia has now broken up from school for 7 weeks of summer holidays. We love the school holidays because we get to spend lots of time together. Georgia is currently on a little holiday to Centre Parcs. She's having a fabulous time but has had a seizure every day. I'm hoping she has a better day tomorrow as she's making fairy wings, a wand and a tiara. Afterwards we are going to make a hobbie pony. Georgia is also going on a lovely cruise over the holidays for 12 nights and she loves going on them.
Thanks so much to all our post pals for all the beautiful cards and gifts as it puts a big smile on Georgia's face.
Update 10th June 2015
Georgia is continuing to chat away when she's having her good days. Her teachers are so pleased and happy at how well Georgia is doing at school.
We would like to thank all of Georgia's Pals for all of her cards, letters, postcards and gifts. Georgia loves me reading them all to her. You're all so very kind and make Georgia's day. Thank you so much.
Update 3rd December 2014
Georgia has been having another rough time with her seizures. The wonderful Daisy Garland dietician has adjusted Georgia's ketogenic diet and we are keeping our fingers crossed that she will be having less seizures.
It really makes Georgia so sad when she's fitting a lot, but the post and the beautiful cards and gifts really brighten her day up. Thank you so much.
Update 22nd October 2014
Georgia is having a bad time with her seizures at the moment. She will be 15 on Monday so we are praying the seizures will settle down before then.
Update 28th September 2014
Georgia was rushed into hospital last week from school as she stopped breathing. After a very scary phone call from school, I raced there. We went to hospital on a blue light. Georgia was allowed home later that day. She also went into hospital 4 weeks ago to have 9 teeth out and she did amazingly well and came home a few hours later.
Update 2nd August 2014
Georgia would like to say a massive thank you for all the cards and gifts, they are all so beautiful. Some have come from as far as America, Australia, China, and all over the UK. Thank you so much as they really brighten our day up.
Georgia is having a lovely time at the seaside in Wales. We have come with big brother, Dan, and our two dogs, Charlie and Freddie. The sun is shining and Georgia is really happy.
Update 12th June 2014
Georgia was recently rushed into hospital because of her seizures. She also had a nasty ear infection which was treated with antibiotics. She's having yet more seizures, so I rang Manchester children's hospital today and they want us to monitor Georgia's ketone levels. They will ring us tomorrow to see if they need to alter the ketogenic diet.
Update 15th May 2014
Georgia is still on the ketogenic diet and is doing very well on it.
We took Georgia on a cruise to the Canary Islands and we all had a brilliant time. Georgia made some lovely friends. We carried Georgia along the beach so she could go into the sea, it was a special moment and she was smiling and vocalising with so much happiness.
Update 12th March 2014
Just before Christmas Georgia was in hospital in Manchester to trial the ketogenic diet as her seizures are very bad. We have seen positive results and Manchester have decided to continue with the ketogenic diet.
Thank you so much for all the beautiful cards, letters, postcards and gifts for Georgia. They always put a smile on Georgia's face when I read them all to her. She loves touching and feeling all of her lovely gifts too. Georgia has also received beautiful post from as far as China, Miami, and Canada, which is amazing. Thanks to all of you lovely people who think of Georgia. It really does mean so much.
Update 27th September 2013
Thank you to everyone for Georgia's post and lovely gifts. Georgia is not very well at the moment and was in hospital last weekend. It really cheers us up reading all the beautiful cards to Georgia. Thank you again.
Update 13th February 2013
Georgia has been off school for the past 2 weeks as she hasn't been very well and is currently on antibiotics.
Thank you for all the lovely cards, letters and gifts, that Georgia has received. We are so very grateful for all your support.