Donate to childrens charity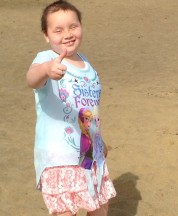 Contact Details
C/O 69 The Nursery
Erith
Kent
DA8 2EY
United Kingdom

NB: this is a forwarding address, we do NOT disclose home addresses
Other Information
Parents/Guardians - Michelle
Interests - Loves anything pink, sparkly and girly, the film Frozen, One Direction, painting her nails and toes, loves singing and was a keen dancer pre-treatment, though currently only able to walk with a frame.loving music, Tracy beaker and watching grease or Annie over and over. She has also taken up sewing.
Favourite Colour - Pink
Able to read? - Yes
Able to use hands? - Yes
Visually/hearing impaired? - No
Suffers from any developmental delay? - Radiation has affected her short term memory a little
Siblings - aged 3 to 16 wishing to receive post
About - Frankie-Rose L
Story written 2015
Frankie-Rose was falling more then normal and had sustained a lot of bruising. Countless trips to the GP were made where we were advised she had growing pains and without an examination they determined she was flat footed. On our 6th visit to the GP, a locum noticed she had coordination problems and sent us for a scan. An MRI showed she had acute hydrocephalus on the brain.
Within 24 hours Frankie-Rose was moved to Kings College for a life saving operation where a mass was found. Within a week she underwent more surgery where a biopsy was taken and she was diagnosed with a grade 2 brain tumour. She underwent 10 weeks of chemo, lost 19 kg, her hair and her spirit, only to find it was detrimental and the tumour had tripled in size.
We were advised radiation was our only hope and the NHS offered us conventional (but organ damaging) photon therapy where the risk of second malignancies are high. We started a 'go fund me' page and a miracle took place. Within 5 days we had raised enough money to fly our family to Oklahoma so she could receive proton therapy at ProCure. It is a much safer way as it targets the tumour site only and does not damage surrounding good tissue. She finished her 30th treatment today. She got to ring the bell and will  attend a graduation ceremony on Wednesday.
My baby has the courage of a lion and I am very proud of her.
Update 3rd May 2016
Frankie-Rose and the boys have received some beautiful gifts and fantastic messages of support. A huge thanks for the love and support my children and I have received during a truly difficult time. Despite the awfulness we have wonderful memories. Frankie rose continues to improve, physically, mentally, academically and socially every day. She still has a fighting spirit and an infectious giggle. She loves music and dancing and will be spending her days performing xxxx thank you
Update 27th January 2016
Frankie-rose is making huge progress every day. She continues to dance and has just started swimming lessons. She is watching grease over over and is determined to be a pink lady when she grows up. She has taken a liking to tracy beaker. She still loves one direction and had the opportunity to meet them just before Christmas. She is back in school almost full time and her confidence is improving. Alfie continues to do well at school and has completed the cherub series thanks to the post pal who got him started. Freddie has just turned 7 and received some really lovely cards. Thanks to everyone at post pals for your continued support and efforts in making my 3 children feel so special.
Update 9th September 2015
Frankie-Rose is doing very well. She returned to school on Monday and after two half days, she begged to stay all day. Although extremely tired, she managed it and was very proud of herself. Tomorrow she will get involved in her first P.E. lesson in 12 months, so she is very excited.
Frankie-Rose has also started a course of physiotherapy and plans to return to dancing next week. She is lovely the hectic lifestyle after spending so long in hospital and is being (as usual) a real superstar.
The boys are loving the normality that comes with us all being home and have also enjoyed the return to school.
We went to the Isle of Wight last week and made the most of the beaches, with everyone making sand art from Alum Bay cliffs.
Thank you for the post the children have received.
Update 27th August 2015
We finally got home from hospital after 12 weeks on 3rd August and weirdly it was a year to the day she was diagnosed. After a LOT of unpacking and a fair bit of cleaning we have finally settled in.
We went to the Tower of London yesterday, we've been to the movies, bowling, park and swimming. We are going to the Isle of Wight on Monday so we have made up for the summer we missed out on.
Frankie-Rose turned 8 on the 15th August and due to Post Pals we were inundated with cards – they covered every surface of our home. Thank you! Fred recieved some lovely water related toys and Frankie got a full Hawaiian outfit which she plans to wear everywhere! She has received a lovely framed picture, jewellery, stickers, welcome home balloon, hand made cards, beautiful words and messages, and so much more. The pleasure she feels when the postman comes every day lights up the room. She has never felt sorry for herself, but receiving such positive messages fires her belief that she is truly special.
You made her birthday so much more fantastic and that in turn has warmed my heart. Thank you will never be enough, but from Frankie-Rose's mum and dad, a huge massive THANK YOU and a big hug.
Update 9th July 2015
We are in hospital with Frankie-Rose and have been since 8th May.
Thank you so much for all our lovely post, receiving it makes it feel like Christmas.