Donate to childrens charity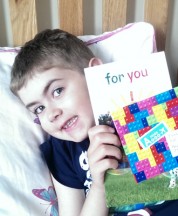 Contact Details
NB: this is a forwarding address, we do NOT disclose home addresses
Other Information
Parents/Guardians - Carole
Interests - Likes Xbox, Lego, magic, playing on the iPad, stories, Scooby Doo, Top Gear, Home Alone films, swimming, playing on the beach or at the park, Minecraft.
Favourite Colour - Blue
Able to read? - Yes
Able to use hands? - Yes
Visually/hearing impaired? - No
Suffers from any developmental delay? - No
Siblings - aged 3 to 16 wishing to receive post
About - Finley M
Story written 2014
Finley was diagnosed with ALL Leukaemia in April 2013 after numerous tests to see why his lymph nodes were swollen. Chemotherapy soon followed and the frequent hospital admissions and visits began. After his first block of treatment we were told that Finley was high risk and his treatment would have to be further intensified for another 10 weeks. At the end of the 10 weeks Finley's bone marrow results came back as high risk again meaning chemotherapy alone was not going to cure him. His only hope of a cure was by a life saving bone marrow transplant.
Jason and I were absolutely devastated. Finley is our only child and to be told that we may only have him for a few more months was not easy to accept, especially as he has been so well in himself throughout all his treatment.
We made the decision to go public with our story to help raise awareness of the bone marrow register and the need for more people to sign up. In October 2013 we held a recruitment drive on the Isle of Wight where the Island residents really showed their support, and over 4600 people joined the bone marrow register (2211 were in just one day).
We were told that Finley has a rare tissue type and a match could not be found for him, but luckily one was found on the cord blood register (where the umbilical cord is frozen from new born babies).
Finley received even more intense chemo in preparation for his transplant and was admitted to the children's hospital in Bristol during November 2013.
We returned home from Bristol hospital at the end of January where twice weekly hospital visits were made at Southampton General for a few weeks to closely monitor Finley. These then reduced to once a week. Finley now only needs to go once or twice a month but is seen by the community nurses each week.
Finley has just reached 6 months post transplant and is doing very well although has had to have a few stays in hospital due to infections. He has just celebrated his 7th birthday which he got to spend with a few of his friends.
He has not been to school since summer 2013 and misses his friends a lot, however he does love his new Xbox console and iPad which was very generously bought for him.
We have three cats (Megan, Sammy and Smartie) who Finley loves very much and he is looking forward to being fully cured and having no more hospital visits so he can get his new puppy as promised.
Update January 2015
Finley celebrated his 1st year anniversary for receiving his bone marrow transplant on the 22nd November. We celebrated this by holding a party for all his friends and family and all those that have supported us throughout Finley's illness. Finley dressed up as his favourite superhero (Superman) and arrived at the party with his girlfriend in a vintage American car. Party entertainers kept the kids amused whilst a band playing various music entertained the adults. We also got both Finley and his baby brother Sullivan christened the following day which was a lovely service.
Whilst at Finley's appointment at Bristol Children's Hospital last week we were given the best news in a long time that we can now treat Finley like any normal child with regards to illnesses. Before now for any illness/ high temperature etc we have always had to get in touch with our local hospital for advice and/or treatment, and more often than not spend a lot of time in hospital.
We have enjoyed a really lovely quiet Christmas at home this year, which is just as we wanted, especially after spending all of last year's in isolation in hospital!
Finley has really loved receiving all his mail from Post Pals and cannot believe someone in Germany, USA, Japan etc, would think to write to him, let alone here in the UK! I would like to say a really big thank you to everyone that has kept Finley in their thoughts and have taken the time to write to him and or send him really lovely gifts, they really have put a smile on his little face. It is amazing to see how a postcard for your child can make a big difference to their day, especially when they are not feeling too great.
I think now is the right time for Finley to move on from Post Pals as he starts the new year being able to be like any other child his age. Your charity is amazing so a big thank you from both Jason and I too. We wish everyone a very happy 2015.
Update 30th September 2014
Finley has been doing really well and at the end of August had both his Mr Wiggly (Hickman Line) and tummy peg removed, which meant he could return to school at the beginning of September. He has also been enjoying swimming, something he has really missed over the last 18 months.
We are due to go on our first holiday to Devon soon. Due to all his appointments and medical needs it has not been possible for him to travel far for any time before.
Finley has really enjoyed receiving all his letters, cards, Dottie updates and gifts… thank you.
Update 24th July 2014
Finley has had a busy month! First he won an 'Act of Bravery' award through our local radio station for all that he has gone through over the last 15 months or so. He then became a big brother at the end of last month to our latest addition to the house hold, baby Sullivan, who Finley loves very much.
Finley has been back in hospital a number of times over the last week due to him feeling unwell. He had a few skin conditions arise on his body, tummy cramps and generally feeling unwell. His whole body then broke out in a rash and after a meeting with his consultant at Southampton General and a visit to a dermatologist, he was given the all clear, with it being nothing too serious. Looks like his body was fighting a virus of some sort and the rash was his bodies way of dealing with it.
Finley really enjoys receiving his own mail and loves all the cards and letters that are sent to him… they really put a smile on his face. Thank you all very much.
Update 2nd June 2014
Thank you for welcoming me to Post Pals, I have enjoyed receiving my welcoming cards and letters.