Donate to childrens charity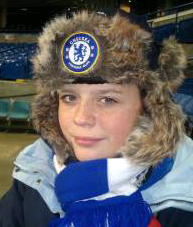 Contact Details
NB: this is a forwarding address, we do NOT disclose home addresses
Other Information
Parents/Guardians - Kerri
Interests - Watching football and supporting Chelsea Football Club and our local team Bournemouth. Faith also loves make-up, hair accessories, painting her nails, gardening, sleepovers, dancing, make believe, girly things, Cheryl Cole, Olly Murs, cake baking and cupcake decorating.
Favourite Colour - Purple and blue
Able to read? - Yes
Able to use hands? - Yes
Visually/hearing impaired? - No
Suffers from any developmental delay? - Faith has no specifc delay but is slightly slower mobility wise and tires easily. She is also slightly behind at school due to all the time she has missed.
Siblings - aged 3 to 16 wishing to receive post
About - Faith L
Story written 2011
Faith became ill with a cough at 2 weeks old and at 5 weeks old she was admitted to hospital for 'overnight' observations, as her cough was not clearing. Two weeks later Faith came home having suffered whooping cough, croup and RSV. Faith also had a diagnosis of asthma and as a precaution was being tested for Cystic Fibrosis.
The results were unclear and by 8 months and several chest infections later, Faith was readmitted. Faith was very unwell and had lost several pounds in weight and was hanging onto life. With cannula's, NG tubes and oxygen in place, Faith continued to decline and as her parent I prepared for the worst. As a final stab in the dark, Faith was retested for Cystic Fibrosis. The test came back positive and treatment began with intensity. Faith has had many ups and downs spending long periods of time in hospital and on intravenous antibiotics.
At the age of 9, Faith had her appendix removed in an emergency operation and a few weeks later developed an eye infection which again needed a hospital stay to clear an abscess in the back of her eye.
That summer, age 10, Faith was admitted with hip pain and over the next 2 weeks several joints became swollen and painful. In the summer of 2010, aged 12, Faith was finally diagnosed with Juvenile Idiopathic Arthritis, which means she has arthritis in more than 4 joints. Faith has it in her wrists, ankles, knees, shoulders and possibly hips.
Faith is a brave girl who rarely feels sorry for herself but like all children could really be helped with a smile or two.
Update 29th January 2014
Firstly can we thank everyone who sent Faith a card or gift over the Christmas period and also for all the support we have received.
It is with a lot of consideration we have decided to move Faith on from Post Pals as she is doing fairly well right now and in her last year at school. GCSE's are fast approaching and she feels more able to cope with illness and admissions to hospital now. Faith has asked if her space could be taken by a younger child who will receive the love and support she has had over the past 3 years.
As her Mum, can I thank everyone who started as strangers and became supportive loving friends to us all. You have lived our ups and downs with us and we thank you all. You have created so many smiles for both Faith and Alice and it has meant so much.
I will post to Facebook the odd update if that's ok as Faith will want to share her beautiful Prom pictures and exam results for the amazing people who have supported her.
As we leave Post Pals with happy memories, we thank you for everything, but especially our fabulous holiday and the friends we have made. To see your child smile because of a stranger is a truly humbling experience and one you can all be proud of.
Keep smiling and thank you. Love Kerri, Faith and Alice.
Update 4th December 2013
Faith has had a fairly ok month, she has continued to improve with her chest thanks to her inhaled antibiotic, and she has been able to attend school with no missed days which is fab. I had parents evening and Faith has, with a lot of hard work on her behalf, managed to really catch up with her GCSE's, and is doing extremely well. It was a very proud moment to be told she is in with a really good chance of gaining an A grade in her child development exam!! We also looked into both 6th form and college, Faith wants to follow photography at college and we are waiting to hear if she can get an interview on a course that will give her a BTEC Level 3. It is a mixture of excitement and dread (my baby is growing up).
Faith had her 'fake baby' for a weekend this month and although it was hard work she enjoyed playing 'mum' and has realised babies are hard work, especially in the night.
Health wise Faith has been ok but she did have a very nasty fall at school and landed badly on her side, knocking her knee and ended up with a bruised knee that was very swollen and a deep bruise on her thigh that took 10 days to fully come out and is nearly gone now.
We have, as ever, enjoyed reading all the smiles that have been sent and it is very exciting already getting bits to sit under the Christmas tree. Our very special thanks go to Becci Willets who (whilst on holiday) kept us very happy as she sent an amazing cream tea through the post – all 3 of us sat down today after school and enjoyed every mouthful, she must know us too well as it's a firm favourite treat in this household.
We have been busy getting ready for Christmas and as I (mum) am due an operation on 6/12 we have already put the tree up – this year we got a real one and we love it. Faith is especially proud of the lovely angel that she has with her name on, a lovely gift from Harry. We had a lovely day in London on Monday as we were lucky to be given tickets to watch the Christmas Special of Surprise Surprise being recorded and along with Alice and my Mum we had a fab afternoon/evening and we won't spoil the surprises but we can tell you we met Olly Murs and he was as charming as ever!
We hope the festive season finds you all as well as can be and look forward to telling you all about our Christmas next month.
For now we will say our thank you's to Libby (she knows just how smiley she makes us), Glad, Leslie (the sunny cards are great especially in winter), Liza (we love breaking rules too), Becci, Jenny & Fox, Chrissie (she's never had such sparkly nails), Lydia & Lyn (she thinks you're a nutty nanna(!) but loves hearing about your family). We hope we haven't missed anyone.
Faith and Alice have just signed up to do a Skydive to raise money for The CF Trust. Faith has been given permission by her consultant and we will share more news about this next year, but the date will be 17th May. Faith has been asking to do this since she was 6 but had to be 16 to be allowed to do it and she is so excited.
Much love and a merry Christmas to you all.
Update 31st October 2013
October has been a very tough month, Faith has been continually coughing and wheezing and was yet again given oral antibiotics just days after finishing her last course. This didn't seem to help so at her CF Clinic it was a tough decision as to go in for IV's or stay home on steroids and a new nebulised antibiotic. We opted for home, so Faith is now on between 3/5 nebs a day increasing if she needs help to cough up any 'gunk'. As you can imagine this is very time consuming for us all and tiring for Faith, she missed a fair bit of school and did her best to get in for controlled assessments and science exams that count towards her GCSE's. She also made sure she studied hard at home and this paid off as she has achieved a B grade in her English controlled assessment which is 40% of her final grade!! To say I am proud of her is an understatement.
All the treatments seem to be keeping IV's at bay and although Faith isn't back to normal yet she hasn't gotten any worse so we plod on with all the combinations and hope things improve. This is so tiring and stops Faith being a 'normal' teenager going out with her friends as she sleeps so much and doesn't have time between treatments right now, but her friends pop in to spend time with her and she loves that.
As we approached half term I made a spontaneous decision to take Faith away for a weekend break, and my Mum came along and took over all of Faith's treatments so I had a complete break too. Thankfully, we seemed to miss the big storm and had a fun filled weekend – we played crazy golf, pool and bowling, and then chilled in the evening after eating out watching the X Factor (a huge favourite of Faith's).
We are enjoying a calm half term trying to get some visits in to friends but our main focus is to rest and relax. We are ending our week with a slap up afternoon tea with Faith's best friend.
As ever, your post has been very welcome and has kept Faith smiling at such a long period of being under the weather. Thanks go to Emily, Emily McCauley, Meghan Penrose, Lauren DeVoogd, Teresa Fearon, A Cheryl Cole fan, Lyn (aka Naughty Nanna), Becci Willets who spoilt us all with beautiful bracelets with our names on, Rissy & Harry for Faith's Fairy with her name on, Donna Hilton, The Lawrence Family, Erin, Dee, Jenny Opwood & Natashja, who kept us all cosy watching TV with our popcorn and hot chocolate, and Kerry Mason for Faith's beautiful handmade bracelet.
Faith loved getting Becci's postcards from her cruise holiday. The Halloween treat bag and goodies were fab, Faith is having green glittery nails for Halloween and we made biscuits with Becci's cookie cutters.
Also, an EXTRA special thanks to those who sent Alice birthday wishes – we had a lovely day celebrating with family and friends – and especially to Libby who knows just how naughty she was but how much Alice loved her treat ready for December.
A huge thank you for all our smiles and I hope to report a great improvement next month. Much love to you all and thank you for your support.
Update 4th October 2013
It has been a difficult month with Faith going back to school as that is always a shock to the system, then Faith needed more antibiotics as her chest hasn't cleared up properly, and then out of the blue her knee got sore and swollen and she was seen by the doctor and told she had tendentious. She was on crutches as she couldn't weight bear and lots of pain killers. This was at the same time as we were going to watch Chelsea play football, so it was a slow day getting her there and back, but a great day was had and a win which is always good. We have started a second course of antibiotics so fingers crossed the chest will clear and we won't need another hospital admission.
Faith is working hard at school and is loving being in year 11. We have started to look round local 6th forms and colleges as she wants to study photography, so we're tying to work out the best way forward.
We have a CF check up soon and will discuss a port further at that appointment as Faith is keen to have one to avoid the continual stabbing with needles.
Our thanks to Libby, Becci, Toni and Karen (she loves the bracelet and sparkly nail varnish, well whats not to love?), Kim and little Stevie's water project was a huge hit and the bath bombs were very welcome (especially with her knee needing a good soak in the bath), Theresa, Emily McCauley, Glad – if I have missed anyone I apologise but with Alice having a birthday this week it's been hectic. On that note, a huge thank you to everyone who still sent cards and good wishes as it really does mean so much. Alice has settled into 6th form and has had her first driving lesson, which went well and she is so excited about driving.
Thanks for the smiles, lots of love and our love to you all x x x
Update 3rd September 2013
So, we have had a turbulent two months. Firstly, Faith had a fab time away with school in July to the Battlefields visiting the trenches, with lovely sunshine and a host of fun activities. Little did she know she would be hearing the devastating news that her old friend Lizzie had passed away while she was there. I spoke to Faith on the Monday morning they were coming home and broke the news, and as expected I was greeted with heart breaking tears and sobs and a Faith who was unable to carry on the conversation. Her teachers did a fab job of comforting her as did her amazing friends and she was able to get through the last day and journey home, quietly but without having to find the news online as soon as she landed back in English waters. The school had also lost one of Faith's teachers that weekend and she had just been told the news of her child development teacher passing the morning I spoke to her. She arrived home and with lots of tears we came home and talked for many hours about Lizzie, Lucy and Rachel. We have been friends with them for about 5 years and Faith made the brave decision to attend Lizzie's funeral. So with heavy hearts we got our hotel booked and made the journey, a beautiful service was attended by so many and a sad farewell, but we did finally meet some friends from the CF community that we have known for many years.
School was finished at the end of July and summer started, a lovely evening meeting up with Rissy, Ruby and Harry, was great fun as they were staying just a few miles away in the camper van. We so nearly also made it a double whammy as Tony Forder was nearish but logistics meant we had to put it off with appointments and distance, but we do plan to try and meet up with as many of our Post Pals friends as possible.
Faith was very well to start the holidays and enjoyed a fun day at Thorpe Park with her Aunty and had lots planned for the remainder of the summer, but the sound of a cough put a hold on that, it came out of nowhere and all combinations of antibiotic didn't help. So after 2 weeks of fighting we went to see the CF team and Faith eventually went in for 2 weeks of IV's and we are still on them, hoping to finish Tuesday just in time to go back to school Thursday! We have had talks about getting a port fitted so fingers crossed we will have news on this soon. She also had her new shoe inserts fitted so hopefully her walking will be less painful.
During this time Alice came home from Spain and we collected her exam results – I'm delighted to share with you all she did brilliantly and achieved 7 x C, 1 x B, 1 x A and 1 x A* so she is off to 6th form to do A-Levels. As many who are friends with us on Facebook know, Alice has been very unwell, getting rushed to hospital via ambulance with suspected meningitis. This was then changed to a suspected bleed in her brain, and eventually put down to a virus, but she is still struggling so we are seeing doctors again to hopefully get some answers. I will keep you updated but would like to thank the people who sent Alice get well cards and congratulation cards, she was totally delighted to receive them.
So life has been a bit all over the place but hopefully we will be able to settle down to some normality now.
Thanks go to Glad Shrubshall, Tony and Eileen Forder, Becci Willets (especially for the beautiful flowers she sent me and the nail art book as it has kept Faith entertained for hours in hospital), Libby, Laura J, Harriet, Jen Mellor, Rissy, Harry, Ruby and Lola, Sarah G, Rebekah, Natashya, Denise C, Daire, The girl guide's from Leicestershire, Vikki – your kind words after Lizzie's passing were so helpful to Faith, Loren C – the amazing cake card was fab, Kerry Mason, Dee, Jasmin Minshull, Karen and Toni, and Kim.
As ever, sorry if I missed anyone, thank you for the smiles and here's to better news next month. Keep smiling.
Update 13th July 2013
June has been a mixed month with Faith, hayfever set in and she was fairly ok to start with but it slowly caught up and she has sneezed her days away. Chest wise she has been ok, but her joints have caused some major problems again (her hips being the main culprit).
We have enjoyed celebrating Faith's step dad's birthday and Father's Day a week apart, Faith loves birthdays and made some yummy cakes. We also had a lovely christening with a very close family friends daughter followed by a BBQ.
We had an extra special treat as I was shopping in our local supermarket and some ice skaters from Dancing on Ice came in and Alice and I won some free tickets to the ice show. We can't tell you how exciting the show was, especially as it was sprung on us. Alice gave Faith her ticket as she knows how much Faith loves the Ice Show, but it was a lovely evening and we had great fun.
We also had a lovely week at Center Parcs at the end of the month in Suffolk – sunshine all week and quality time as a family, all 5 of us. The children enjoyed riding the bikes everywhere and my partner & I enjoyed getting the odd 10 minutes to just sit and relax and watch the teenagers become children again having a carefree time. The highlight had to be our spa day, the boys went to play golf and I introduced the girls to relaxing in style. Faith kept asking what do you do for 3 hours and will now admit she was very apprehensive, but loved it and couldn't believe the time flew by so fast and is now looking forward to many more!! It was booked to coincide with the end of Alice's exams and we are so glad they are all done and she is now enjoying a long break in Spain with friends, so Faith and I are having some lovely time alone together at home.
I am a keen tennis fan so Faith sat with me to watch history be made when Andy Murray won his first Wimbledon, but she isn't totally converted (yet).
Faith is delighted her football team have the old Manager back and is very excited to see Jose at The Bridge this upcoming season Also, our local team, Bournemouth, are looking forward to exciting times ahead in the championship, and are hosting Real Madrid in a friendly match. As a loving (or maybe mad mother) I stood in line with my sister and about 999 other people to get the hottest tickets in town, and on 21st July I will be sat in the East stand with Faith and my nephew. To say they are excited is a major understatement.
As I type this Faith is away with school on the battlefields trip with History, she was so looking forward to it, and I hope she gains some insight to the bravery of our past, it will move her I have no doubt of that, and I am just enjoying a rare time of both girls being away at the same time, but I am staying at my partners so I still have my stepson for teenage company.
I thank everyone for the lovely cards and letters and the gifts Faith has been sent, as I am not at home I do not have my list with me but a huge thank you to Tony and Ei for her Chelsea DVD, to Glad for everything she does for us, the Lawrence family for the lovely 'making your mark' project (Faith is looking forward to making the teddy and using it for story telling over the years with Willow, she decided it will be their special thing), to Libby as ever, and to everyone who took time to think of Faith and us this month.
On a personal note, thank you to everyone who wished me well as I had a hospital stay after surgery. It means a lot that you take time to think of me.
We wish you a sunny and safe month and love to you all x x x x x x x
Update 31st May 2013
Well the joys of April were very short lived and boy did May bring us back down to earth. Faith started feeling off colour at the start of the month and we soon discovered she had a bowl blockage, a fairly common CF problem and we can usually shift this at home, so it wasn't ringing any alarm bells to me, but as the next few days went by it was obvious that although the blockage had passed, Faith was getting very unwell. She couldn't eat, slept all the time and had a very high temp, dosed up on painkillers and nothing was bringing it down. So after a couple of phone calls to and from the hospital it was decided she needed to be seen, and results were she had pleurisy and a UTI, so a 2 week course of oral antibiotics and home we came, very relieved as Alice had her prom 2 days later and Faith was desperate to see her sister all dressed up.
Prom was fab and Alice looked AMAZING. The lovely Dawn Smith came in her beautiful Morris Minor, Millie, all decked out with ribbons and bows and drove Alice off in style. We have sent a separate write up for the evening to Post Pals.
Anyway the antibiotics were working their magic and Faith went back to school, only to start feeling very achy in her joints. Two days later she stood up and fell straight back down onto the sofa unable to weight bear on her hips, so more painkillers and after a very restless night we were back in A&E being seen very quickly, having blood tests and x-rays to find no explanation about all the pain, so home we came armed with stronger pain killers and crutches and told to go back if it got worse, but a fast track referral was made to be seen by peads. As the week went on the pain has got bearable and Faith is able to walk unaided but it's still sore so we are just waiting for the referral.
Obviously this stopped most of our half term plans as we couldn't go far, so we drove up to Portsmouth, to spend some time with my partner, just a small issue of a tyre blowing out on the M27 to delay us and we had some lovely restful days. We did however manage to go to Milton Keynes and the kids all went indoor skydiving, such an amazing experience for them and they loved every minute floating inside a dome and then at the end the instructor took them high flying where he held them and flew them to the top of the dome and down again at speed. We did however enjoy watching Chelsea win the European cup, and Faith was delighted with the news that Frank Lampard is staying for another year (as was mum).
As ever, your cards and gifts have been very gratefully received and Faith has become a dab hand at nail art, as she was able to practice while sat on the sofa, so a huge thank you to Sean Preece for that. Perfect timing.
We hope we have happier news next month and thank you all for your love and support as ever. Much love and keep smiling x x x
Update 30th April 2013
Well, we have had a very busy fun filled month, but most importantly and best of all, a really healthy month for Faith. We enjoyed a fun Easter with some time both with my family and the 'in-laws' and your cards brightened up our room where the weather failed, and after braving the cold we had a lovely couple of weeks off school with lazy days and simple family time.
Faith and I were lucky enough to go to watch Chelsea V Man United at Stamford Bridge in the holidays and a fab day was had by us both. In a bizarre turn of events we then met up with Alice in Covent Garden as she was going to a concert with a friend in London that evening, so it was lovely for the girls and I got some adult conversation with my friend.
We also decided it was time to tackle the back garden as it was very neglected last year due to a bad summer and Faith being unwell, so we now have a lovely tidy garden, with a clean jet washed patio and our sunbeds and hammock all ready for some lazy evenings.
Faith also saw a hand specialist who has designed some straps for her wrists so they are less painful at school and is working out a program to strengthen them.
April is also our birthday month as we seem to celebrate a birthday nearly every day, and after sharing lots of cake with everyone else it was finally Faith's 15th birthday, which I am delighted to say she loved from start to finish. I have to say this birthday is probably the best she has ever had health wise and it was lovely to see her able to enjoy the day, beam with pleasure as she opened presents, and generally have a fun day. She was spoilt at school and we went out for a big dinner, taking her best friend with her along with my parents. She continued the celebrations into the weekend and then we had a weekend in London which involved seeing Beyonce in concert at the O2. The London Eye was amazing as the sky was almost cloudless, so we got to see lots of sights from all the different angles, then we went for a bit of lunch whilst we watched the busy London life fly by. Then we went on a London Duck tour which is a fab way to see the sights, it consists of going on an amphibious vehicle along the roads around the city of Westminster and then SPLASHDOWN, as the duck takes to water and sails along the Thames. Then we headed to Greenwich and went on the Skyline, seeing the sights at sky level. Then it was show time and in Faith's words, Beyonce was amazing. We sang and danced along for the full 2 hours with sit downs at dress changes of which she had 12!!! We were all exhausted and both girls slept all the way home, so a very tired but happy household. To see the smile on Faith was priceless and Alice had her dreams come true.
Now for the all important thank-you's. As ever, thank you to Libby (our house literally smells LUSH), Glad Shrubshall (too much to mention but to say she spoils us all is a huge understatement), Tony & Ei Forder (the Big Bang Theory T-shirt for her birthday was a huge hit), Michael & Maria, Natashja (we love hearing about Jasmine's adventures), Sarah G, Becci Willets (lovely nail varnishes and sorry for giving the credit to the wrong person for her charms), Jenni, Jenny O, Bev, Kath Ronja Milla and Laura, and a huge thank you to Laura Mckeown for the amazing cake book – we simply cannot wait to get making.
To say it's been a lovely month is an understatement and we have made the very best of Faith being well as we are very aware that this good spell can be short lived. To see her walking the dog in the lovely sunshine in the early evenings though is a sight to lighten many hearts, and I cannot thank you all enough for helping her get through the tough times and keep her smiles and spirits up, they are always very much appreciated.
We are looking forward to May as Alice gets to go to Prom, and Post Pals have given us a chance to help make it super special as the lovely Dawn Smith has offered to drive her in her beautiful Morris Minor. We only know Dawn through Post Pals so it's amazing that we have made some amazing friends. Alice also starts her GCSE's on May 10th and they continue through until 17th June, so I'm sure you will all keep her in your thoughts (and Faith and I) as she is very apprehensive and is doing her best to get through. We are very proud of the hard work she is putting in preparing for them.
Well, let's hope the sunshine continues and good health stays with Faith, and as ever, may you all be blessed with smiles and the knowledge you do make a difference.
Update 30th March 2013
Well, March started with a trip to the foot doctor. Faith had casts taken of her feet so that she can get mounds and custom made inserts/splints for her feet to help ease the pain when she is walking. She found this very amusing as she had to hang her feet off the bed and couldn't stop laughing whilst the plaster was shaped as it tickled so much. We should get the final product next month.
Faith also completed her work experience, which she loved, but was totally worn out with. She was told she was a delight to have and they would miss her happy smiles.
Faith continued to cough at the start of the month and was given more oral antibiotics.
We had a lovely weekend celebrating Mothers Day, followed by my birthday the next day. The girls enjoyed bringing me teacakes and tea in bed, and kept me with a full hot cup of tea all day – again, it was lovely to be remembered by many myself, and I can honestly say it did bring a HUGE smile to my face when I saw my name when the post was collected.
Faith had her very overdue ingrown toenails removed mid month, 2 toes 3 nails, so she was hobbling about and stuck on the sofa for a week. Although the procedure was very painful she dealt with it very well and is already feeling the effects of less pain when walking, so fingers crossed that as they heal completely they will make a huge difference.
Faith enjoyed her few days back at school before finishing for the Easter break, and has been very busy baking with her special Easter cup cake set she received, and they are looking great.
As ever, thank you all for the lovely post and especially to Natashja for the lovely bracelet and to Laura for the additional charm for the bracelet she received while in hospital – she is loving getting charms and always gets compliments when she wears it. We also want to thank Dawn Smith for the lovely Easter bags and to all for the Easter wishes and the chocolates and socks from Glad Shrubshall. Also to Michael & Maria for the Easter card.
We hope that Chelsea have a good result for our trip to the Bridge on bank holiday Monday, as this will be the last trip this season no doubt.
As ever, thank you for the smiles and we hope you all have a good month.
Update 7th March 2013
Well what a month we have had. As you know, Faith went into hospital at the end of January, on the day her cousins baby was due, and she was most upset that she might miss the new baby cuddles. Part of the deal she struck with her consultant was that she could go out to meet the baby when she arrived.
So Faith was on her usual IV antibiotics and resting well, in fact as each day went on she was sleeping more and more and it was apparent to all she was rapidly getting worse not better. She was delighted with the steady stream of cards and letters that came her way and they really did make her smile. Although she was feeling grotty, she was delighted to wake up to a photo on her phone of a new baby girl called Willow on the 6th February. She was all ready for going to see the baby the next day, but spiked a temp into the 40's and was coughing so much she couldn't eat and was clearly very unwell. It was decided she might have to postpone the visit, and the next morning as soon as her drugs had been put through her line, she had a huge allergic reaction and was covered head to toe in a very angry rash. She was obviously very scared and uncomfortable, but after some strong antihistamines she slept for most the day.
She continued to be very unwell for the next few days and eventually turned a corner on the Sunday night. Her antibiotics had to be changed and it was decided she would have to stay longer than the 2 weeks planned.
On the 11th February it was Grandma's birthday and Faith was allowed to pop to see her for a cup of tea and she was delighted to meet Willow there and had a lovely cuddle – such a simple thing but it definitely made a huge difference. As the week progressed Faith got a bit better, and although she was still growing nasty bugs she was less tired and wanted to be home more than anything. So after 19 days we finally came home, and with lots more rest and chilling out she started to have some Faithy sparkle back. This admission was very hard as I was unwell myself suffering a very unpleasant kidney infection, so home was a very welcome sight.
Faith was able to then enjoy the first of a few concerts she had tickets for and off she went on Saturday night to see Little Mix at our local concert hall. She had a fab time and although she took several days to recover, she loved it. We had a very quiet half term, with Faith going to her grandparents for 2 days while I took Alice out Prom shopping. I'll keep you updated on that in May. On the last day of half term Faith went off to her best friends for the night giving me some much needed rest, and she went off to London to see her favorite boy band One Direction at the O2 arena. I had several calls through the night, so I feel I lived the experience with her. She had the best time ever (her words) and after getting home at 2.30am(!!) she slept most of the following day.
The last week of February saw Faith start a 2 week work placement for school's work experience and she is loving it. It is hard work and she is shattered at the end of the day but she is getting on and is lucky she only has to do 4 days. She is at our local hairdressers, a 2 minute walk, and I'm not sure how but she seems to get her hair styled most days.
So where do I start with our thank you's this month? The list is long and I hope no-one has been missed off. First I would like to say thank you for the girls valentines cards as both Faith and Alice got a mystery card… Faith said maybe they were from Olly Murs but I have a sneaky suspicion they were from Dawn Smith. A special thank you to Libby, Viks, Sarah G (it was lovely to hear from you again), Karen (sami), Becci for the lovely letters and post cards, Dawn Smith, Jane, Becci Willets, Kaily O'Brien, Tony & Eileen Forder, Charlie, Karen, Kerry Mason, Jenny Opwood, Glad Shrubshall, Cath Booth, Harry and Lola and Jenny for all your lovely cards, many hand made or with her name and Faith loved them all. Her wall was covered. She loved her pamper gifts as well and was blown away with her 'Faith is amazing' chocolate. She has kept the wrapper, and her sparkly duck lip balm was admired by all the staff on the ward.
It has been a while since Faith had to be admitted to hospital and this one had some very scary moments, but your continued support was amazing and being made a featured Pal made Faith feel very honored. It made her hospital stay so much more bearable.
A special thank you to everyone who included Alice in February as, although she has moved on, she loved the fact that with Faith in hospital so many continued to think of her. She has just taken her Mock exams so is now busy revising for the real thing in May/June. As mentioned before, she is also busy preparing for prom and I will be sure to keep you all updated on that. I can however reveal she has the prettiest dress ever and the sparkliest shoes any girl could wish for.
As ever, we hope you are all well, and keep smiling. Keep safe and thank you.
Update 29th January 2013
January has been a tough month on Faith, she had her annual review and although they are happy she is plodding along they would have liked to have seen her bounced back from her chest infection sooner. Faith has continued on a part-time school timetable due to the fire, but she has still been very tired and coughs continually.
Yesterday she was finally taken into hospital for a 2 week course of IV's as she is rock bottom and her body is not coping so well. She needs total rest and time to recover. Her liver results are looking OK, and again hopefully with time and rest this should improve. She will most definitely need an iron infusion during this stay as she remains very anemic. She could most definitely do with some extra TLC this month, and I have no doubt Post Pals will be the ones to bring a smile to her face.
Thank you for the lovely letter and cards that have been sent during January, it's always lovely after the rushing about after Christmas. I will give a better update when I have better internet access and some more time. But for now, if you can take my thanks and I will wish you all well. Keep smiling.
Update 7th January 2013
Well, December was definitely anything but quiet. As mentioned before, Faith continued to struggle with the cough, bad back, and sickness, and although she managed to stay home for Christmas she was very tired and sleepy. We started the month with antibiotics and Faith missed a fair amount of school with her back and this has continued to give her pain, and although she went to stay with her aunt for the first weekend while I went to a long booked concert, she didn't get out much and just pottered about, her cough continued and we had the devastating news about her liver and we await a scan on 21st January for the all important look about. We also had a podiatrist appointment the week before Christmas and it has been decided that Faith can have custom made foot supports to help her walking/pain management and also that she will need 3 more toenails removed due to ingrowing nails. This was a nice bit of good news during a tough time.
She became very unwell with her chest and had some very strong antibiotics and these left her very sleepy, but we did go to Portsmouth and had an early Christmas celebration with my partners family and although she struggled to stay awake for the whole evening she did enjoy her Chinese and had fun. We then came home to get ready for the big day.
Christmas day was lovely but quiet, we spent it with all our family and went to the local pub for a cooked lunch so nobody had the stress of cooking dinner, and a great day was had by all. We also had a trip to the cinema over Christmas and enjoyed a feel good film, Pitch Perfect. We had a very lazy day on Boxing Day and came back home to our own house that evening. An early night was in order for us all and we all looked forward to a long awaited lie-in, but at 6.30 AM our house was rocked by a huge lightening bolt, and woke everyone up, and sadly we soon discovered that the girls beautiful school had been hit by the bolt and was sadly burning down. I know many people have seen the reports about it on the TV and it was devastating. Sadly it appears that Alice has lost all her written work for her drama GCSE and her last exam performance, so we now have to wait for the exam board to decide how the grading will work out. Both girls were very upset about the fire, and it soon became clear that Faith will have a reduced timetable – having to do work at home via the VLE, which can work to her advantage as it means she can work at her pace from home.
We then went to Portsmouth for the New Year celebrations and had a lovely family night with our 'in-laws' and although Faith was mostly on the sofa she did enjoy playing with the younger children and came outside to sing in the new year, and we did manage a couple of trips to the sale – leaving it until late afternoon meant we missed the crowds and grabbed some bargains as well.
The return to school has been delayed due to the school being unsafe but as I type we are told the children will return on Wednesday and Faith will get days off on a rota basis while they try to get temporary classrooms on site.
Faith has her annual review tomorrow (8th January) and then as mentioned her scan on the 21st, so I hope to be able to update you all on the outcome next time when we have a bigger picture.
On a brighter note, we can't thank you all enough for the gifts and cards we received over Christmas, and have enjoyed using them all, and still feel overwhelmed that people think about us all throughout the year. A huge thank you for all our lovely Christmas cards, but especially to Tony & Eileen Forder for the lovely photo card and to Kerry for Faith's Christmas card with her name on it. Massive thank you's for the lovely gifts we ALL received for Christmas, especially to the families who still sent to Alice and also to me which was an unexpected treat – Tony & Eileen Forder, Glad Shrubshall, Dawn Smith, Ellie Knott, Penny Berrill, Libby, Jenny, Tek, Viks, Laura, Kerry and a special thank you to Rikki Ross Esty & Iian for treating us all (the chocolates went down a treat).
We wish you all a very Happy New Year and hope it is peaceful, healthy and see your hopes and dreams come true. With much love until next time… keep smiling.
Update 18th December 2012
We went to see the consultant today expecting an additional antibiotic and told to be seen in Jan for MOT… but she's hanging on by fingernails not to be admitted and if she does she will be in over the festive period. Her Doctor listened to her chest and said she would normally think that's not too bad, but knowing how many anti-bugs she has had, it's rubbish! Her blood results show she is severely anemic and her liver is not functioning at all well and they are very concerned about it, so we're going for a liver scan as soon as possible and they'll retest the blood to get a full picture. She also has a cracked rib and they now think she has lost too much weight, even though we have followed the dietitians advice (she put a bit on due to medication and steroids) and she is now on a BIG dose of steroids and has more antibiotics to start as soon as this course has finished, unless she gets any worse and has to go in. She is also not allowed to go back to school and Faith got upset about this. All in all, a bit of a shock, and not at all what we wanted to hear or were expecting, but we will fight and kick it's butt!
Update 2nd December 2012
Faith has had a tough month, she was taking part in PE at school and turned badly and rupture her knee causing a week of swelling and pain, and just as we got that sorted, she was struck down with a very bad muscle spasm in her back. We had just been celebrating a friends little boys birthday when Faith had shooting pains in her back, resulting in her being unable to move, so after a great deal of wiggling we got into the house and after a big dose of painkillers she went to bed. By the following day every time Faith moved she was being sick, and after a visit to the doctors she was put on super strength painkillers but her sickness still continued and she was becoming dehydrated. Nothing helped her pain and eventually we ended up in A&E and got some different meds.Finally, after a week, she was back on her feet and (all be it slowly) she is now mobile and moving again.
She has been enjoying watching The X Factor and we are planning an X Factor Final get together with food and drinks with some friends.
We are planning the 'putting up of the tree' for the 4th December and the household is getting ready and excited to spend a happy family Christmas with our close family and New Year with my partner and his family.
We wish you all a very Happy Christmas and New Year. We cannot thank you all enough for all the smiles we have received this year and hope you all find time to enjoy the festive season. A special thanks to Glad and Libby for post, also Sarah, Natashja and Fiona for the post we get regularly. With thanks for the continued smiles and wishing you all a Merry Christmas from the 3 of us.
Update 24th November 2012
I just thought I would let you know Faith is not having a great time right now. She has a nasty sickness bug and her back has gone into a huge spasm. Due to the sickness it has gone from a small section on the left side to the whole of her lower back and is traveling upwards. She is in a lot of pain all the time and is on very strong meds which are not helping the sickness, which in turn causes more pain. We are also not sure how much pain relief is staying inside her. She is very sleepy as she can't get comfy and can only sleep for short spells, so it's a vicious circle. We are hoping this is not going to end up with a hospital admission, but she is becoming dehydrated and we are fighting a losing battle to get fluids in her.
Update 9th November 2012
October has been an odd month. First we would like to thank everyone for Alice's birthday post and gifts. She had a great day and was very spoilt.
Faith has had a cough continually off and on and has had some very poorly days. She has had 4 weeks of antibiotics with the last course causing a very nasty reaction with her lips swelling and needed lots of antihistamine to reverse the swelling. She was then put back on lower meds and things are settled now although she does continue to cough.
We had a lovely long weekend break at Butlins for half term and this gave everyone a much needed break and time to recharge our batteries. The highlight of the week was meeting the lovely Olly Murs at his book signing. He had a good chat with the girls and we all had kisses from him. So lots of happy ladies went off to lunch and the day was ended in Portsmouth to see an amazing fireworks display set to music.
As ever, the post has bought smiles all round and a special thanks to Becci and Natasha, it was lovely to hear about Cornwall. Keep smiling and hope you are all making happy plans for Christmas.
As Alice is now 16, Post Pals post will be now be directly more towards Faith, but she has loved getting mail and appreciated every single piece. We'd like to say a very BIG thank you to everyone who has taken time to think of Alice. She has said it makes the tough times very much easier knowing complete
strangers are thinking of her and sharing their love with her. She has made some lovely friends on PP and will enjoy staying in touch with them.
Update 16th October 2012
We have had a steady return to school with Faith starting her GCSE's this term and that has been great fun. It's hard work but she's loving it.
Alice would like to thank everyone for her cards and gifts for her birthday which was celebrated in style and a fab time was had by all.
Faith has now finally received some insoles for her shoes so that is helping with her walking and keeping her feet in an upright position. She also had her check up at CF Clinic and although she had a very nasty cough they were generally pleased with the level of fitness she is able to do and are very pleased she has started a weekly bike ride with her Granddad. Test results showed Faith had grown some nasty bugs so as she was already on antibiotics as a precaution she stayed on them. After the 2 weeks were up things looked good, but unfortunately 4 days after they finished she was knocked for six with another chest infection along with a very nasty ear infection and throat infection. She is now on very strong tablets and trying hard to avoid a stay in hospital, as we are due to go to Butlins for a long weekend at half term. She is very much looking forward to meeting Olly Murs at a book signing at our local Waterstones. They have gone out of their way to make it happen so as you can imagine I have 2 very excited girls (and mummy) – hopefully we will have better news next month but for now thank you so much for each and every smile – the girls really do appreciate them.
Update 11th September 2012
Well since our last update Faith has managed to break her thumb, resulting in a nice purple cast from her elbow to her finger tips on the first day of the summer holidays!!
Summer has been a whirlwind of trips and days out. Firstly the girls spent a few days seeing their Dad so I had a much appreciated break and we then had a lovely day in London with their Auntie and cousin for a girls day out and we went to the V&A museum taking in the ballgown display which was breathtaking. It was after the Olympics had started and we were very worried it would be so busy but to our surprise it was lovely and quiet, so in the afternoon we stopped off for a cake and coffee in Covent Garden and then had a lovely few hours watching the street entertainers. We then went for Pizza and made our way for the highlight and went to The Cambridge Theater and watched Matilda The Musical – one word from all was FAB. It was back home for a few lazy days walking the dog along the beach when we could drag ourselves away from the Olympics, and then the time as a family we had been waiting 7 years for came – we went to the Olympics!!! Faith's doctor had recommended her to a charity called Dreams Come True and Faith's dream was to go to the Olympics in London. We were on a train to London at 8.30am and after a couple of hours we arrived in the city and took in some sightseeing and a return to Covent Garden Market to get the girls some t-shirts for Team GB – we checked in to our hotel and made our way to Earls Court to see the quarterfinals of the men's Volleyball, WOW it was everything we hoped for and more – exciting, fun, buzzing, loud and everywhere you looked there were happy smiling faces. It was a late finish and we traveled back to get some much needed sleep as we had a very early start as we had to be at the Stadium at 9am the next day! So after what seemed like no time at all we were eating a breakfast and made our way to Olympic Park. We had arranged to meet Gaynor (the lady who organised Faith's LoveQuiltUK) who was a volunteer at the games – she gave us a quick tour of the park and we made our way into the stadium, it was magical and exciting. The noise was huge and we thought it couldn't get any louder. We were wrong – TEAM GB came out and the cheer was out of this world. After a long day we went to the shop and got a few souvenirs and made our way back into London on The Javelin. We had a bite to eat and finally got back home at 10pm, tired but happy and when asked was it worth it both girls said YES without any doubt.
So a few more days rest and more sitting on the sofa watching the games come to a close and we went to get Faith's broken thumb looked at and we were delighted when they said the cast could come off. So we went to Portsmouth to stay with my partner and a day at the Romsey Rapids was great fun and tired everyone out. The highlight of the week was going to Gun Wharf for a coffee with a very special lady – we went and met Glad who sends post to us and how lovely it was to introduce the girls to her and share some stories from the summer. We also fitted a trip to Chessington in and that was great fun.
We then all came home to Poole and had a few days 'being on holiday at home' and had a great time going to the beach and eating icecreams, having fish & chips at the seaside and generally enjoying our home town and surrounding areas.
We then spent our last full week in Blackpool having a good old fashioned fun holiday, we were going to be very busy and went to The Pleasure Beach, Madame Tussuards, shopping and The Tower – we even met the sugar-dandies from BGT at the tower. We went to Liverpool for a day and took a trip round Anfield looking at the stadium, and felt very humbled when we saw the Hillsborough Memorial. All in all it was a great summer and best of all no illnesses – obviously Faith's joints took a bashing on holiday but as we mixed busy days with quiet days she was able to recover well and it seems to have worked as apart from being very tired and achy there was no serious backlash from it all.
Finally home and Faith and Alice had a few days longer off school than me so they spent a few days pottering at Grandma and Grandad's house while I went back to work. The girls returned to school and Faith went in the new uniform and looked very smart.
So all in all a great summer of being busy and well and it was so different to last year where Faith was unwell and in and out of hospital. Faith has also received her new custom made inserts for her feet so hopefully walking will get a whole lot easier now.
Well, onto post we received and a HUGE thank you for all the lovely Olympic postcards, it has been lovely seeing how excited the girls got with different pictures and knowing we would be going. I did have a list of gifts and people but my PC crashed and lost the list, so I will say every single item of post has been greatly received and enjoyed and we say thank you very much to you all. A special thank you to Tony and Eileen though for Faith's Chelsea DVD and also to Glad for the lovely Olympic gifts.
Keep smiling and thank you for making my lovely girls smile.
Update 19th June 2012
Well it's been a while since I did an update so here goes… April saw Faith have a return of the dreaded arthritis – she had 2 big flare ups, but thankfully although they were both very painful and made life uncomfortable, they were both short lived. Faith has been working very hard with physio to keep her fitness up to top notch and it seems to be working. She also has had a couple of niggly chest infections but working hard with her nebuliser has kept the infections at bay and we have so far avoided hospital – Faith hasn't been admitted since October!! We are hoping to keep this run going.
April also saw Easter and both girls were totally spoilt and we thank you all for you lovely gifts and cards and of course the mountain of chocolate they received and slowly ate throughout the following weeks. We also saw the birthdays arrive and we had a whirlwind of celebrations – Faith's Grandad, cousins, my partners son, and Mum, all had birthdays and then finally it was Faiths. She was totally spoilt and loved every minute of her day and as ever Post Pals spoilt her rotten – I can't thank you enough.
It seems a long time ago that my 14 year old was a tiny little bundle and at times I didn't think she would still be here, so birthdays are always a bit extra special for her. This years treat was to go hydro zorbing and boy, did she have fun! It's a big ball and they throw in a bucket of warm water and roll you down a hill – Faith and her best buddy had a fabulous time and looked like drowned rats when they came out.
May was a mixed month and we had a few scares with her chest again but with hard work we kept out of hospital and when the sun shined we loved it and made the most of it. Faith enjoyed spending her birthday money and did lots of clothes shopping – it's funny how careful they are with their own money!
We had the pleasure of watching Alice preform on stage at the start of the month and WOW what a show and what a star she was. Faith and I helped out behind the scenes and we had a great time helping all the little ones change clothes and make sure they kept calm. Faith was very touched when she was called up on the last night to be given a gift for helping out. We also had a lovely day out in Brighton to watch/look at the Mini's who had taken part in the London 2 Brighton mini run, what a fun day that was and lots of fun on the pier too.
May also saw a family wedding and it was lovely to all get dressed up and celebrate with everyone. The following day while Alice went to an after wedding BBQ, Faith and I went to the final game of the football season to see our beloved Chelsea and wish them well in the upcoming Champions League Match. A great day was had and we said a very sad farewell to one of Faith's favourites, Didier Drogba, who confirmed later in the month he would be leaving. We then spent a tense week waiting for THE FINAL. We went up to Portsmouth to spend the weekend with my partner and after a nail-biting 90 minutes and even more tense 30 minutes extra time it was with a heavy heart we watched the PENALTIES. Faith, as ever, was confident and I do believe the whole of Portsmouth heard the cheers when we won. We won't lie, we had tears of joy, but what a moment to watch her hero Frank Lampard lead the team out and win the game with Drogba kicking an amazing final ball for his Chelsea career. Needless to say, Faith was pretty worn out after that and it took its toll during the following days and she was totally run down, worn out and off colour. Again, she needed more antibiotics as it was another chest infection but she stayed home and bounced back very well.
June bought the long awaited Jubilee and Alice spent most of it revising for the first part of her GCSE exams. Faith, myself, my partner and his son, were treated to a day at Wembley to watch England play their friendly game before departing for The Euro's. We had a fab day and were pleased with the win and then went back to Portsmouth to enjoy some more Jubilee fun. We then had my niece's wedding and Faith and Alice both loved getting the glad rags on and partied hard all day. We chilled for the rest of the half term making sure both girls didn't become unwell with the pressure of studying and partying. So I am happy to report Faith is still doing well and although she keeps getting little flare ups we haven't had a major one in her joints for a while and we seem to be keeping her chest infections under control and still remain out of hospital and able to enjoy the Euro's.
Life hasn't been so kind to Alice who has studied hard and been doing really well at school, as she has sadly been diagnosed with polycystic ovaries which has come as a shock. She is being very grown up about it and although she is needing lots of cuddles she is still studying hard and trying to not let it upset her too much. So it's a few trips to the hospital and doctors to get some things clear and then we can start on some hormone treatment to make her more comfortable, and we are very optimistic about it.
All that remains for me to say is some thank you's and as ever if I have missed you out I can only apologise. A huge thank you for the girls lovely 'Girls night in Box' which contained such lovely treats to have while they watched the DVD's but it did not have a name card with it so from the bottom of my heart I thank you – they loved it and it happens to have one of Faith favourite films in the box set '50 first dates'. As ever, thank you to Tony and Eileen (Faith loves the DVD and is going to wear it out I'm sure!), Libby (too many to mention but the handbag is a huge hit), Glad (where do I start -you spoil us ALL so much, thank you), Becci Willets (we loved hearing about your holiday and are going to try and get to Cheddar ourselves soon), Dawn Smith (the bracelets are a huge hit and everyone loves them), Helen, Rissy, Mary & lola, Hannah Turner, Claire, Satcey, Sophie, Dottie (your adventures keep both girls smiling), and of course Post Pals themselves who continue to keep everyone smiling through good times and bad. Faith and Alice were very spoilt over Easter and enjoyed the lovely gifts and cards and not to mention the huge mountain of chocolate that they slowly ate over the following weeks. Faith was also extremely spoilt for her birthday and now has lots of lovely cake making/decorating books to help with her cupcakes and she is loving trying out new ideas – thank you so very much one and all. We can not thank you enough for continuing to send so many happy smiles to both the girls and in turn myself. The post most definitely keeps their spirits up and they appreciate every letter, card or gift they receive.May you all find some sunshine to enjoy over the next few weeks and we will catch up next month.
Update 8th April 2012
March has been a mixed month for us. Faith has had a return of her arthritis with a big flare up in her joints and also suffered a very nasty sickness bug that wiped out a whole week!! Her chest however has been ok and after a very slight infection her chest has cleared nicely, mainly with the aid of her nebs and at clinic her lung function had gone from 78% at very best to an impressive 95% so fingers crossed we can keep this up.
This month saw Alice go on holiday with friends for a few days for a well deserved break at Center Parcs in Longleat, giving Faith and Mummy some lovely quality time together.
A huge thank you for the girls books – both were delighted to receive them.
Days out this month have been few and far between but Faith was treated to an amazing night at Chelsea Football Club to see them play Benfica in the second leg – it was a nail biter and we were 3-1 down at the start and the game was end to end drama. After a show of talents and after extra time Chelsea went through to the quarter finals (and have since gone on to the semi's). We were privileged to park in the players car park and after the game Faith met several players including Ashley Cole and Fernando Torres. It was a chilly evening but the lovely fleece blanket Tony and Eileen Forder sent Faith kept her snug and warm.
Our thanks go to everyone for post this month, especially Tony and Eileen, Glad, Libby, also Sarah, Becci, Kerry, Fiaona, Claire, Stacey, Hannah and Rissy & Mary.
As this is a little late we will thank you for the overwhelming amount of Easter goodies the girls received and they were truly spoiled. We have enjoyed the Easter holidays so far but have another week to chill, so hopefully the good health will continue.
Faith did take delivery of her super dooper new bed this week and it is an electronic bed that can raise the feet up to help with pain/swelling. It can also be put in a sitting position, which is great when she needs to chill out, but it helps no end when she is very stiff in the mornings and can raise herself up without waiting for me to help her up. It gives her so much more independence in the mornings as she can sit up, wriggle about, and get out of bed on her worst days without any help form me.
March also saw me (mum) celebrate yet another birthday and I have to thank the PP friends who made my day special with messages and cards too. The same as well for Mother's Day – I can honestly say it was a lovely surprise to have post and I know now how special it makes the children feel so a huge thank you (especially to Glad).
March brought the sunshine and it has been lovely to walk the dog along the beach and see her run fast while we have walked at a leisurely pace. Fingers crossed the good weather continues.
Thank you for keeping the girls smiling and see you all next month.
Update 27th March 2012
Faith is having a rough time right now, she's feeling very unwell with a nasty sickness bug that won't leave and she has a lot of tummy pain as a result. She has possibly cracked a rib as she has had a bad cough over the weekend and her arthritis has come back and she is having a major flare up – we hoped it would be a minor one but it looks like it's going to be a full blown relapse.
Update 1st March 2012
This month has flown by, the snow was just a dusting and both girls were disappointed in our small snow fall. We had a fun filled half term with the highlight being a concert to see Olly Murs for all 3 of us at our local arena. We all had a great time and the lack of voice the following day was a result of a good night had by all. Some shopping was also on the cards and we had a lovely trip to Portsmouth to see my other half and Gunwharf Quays is always a big hit.
Faith was able to send a smile to one of her regular pals this month (an adult) as he had a birthday and she was delighted that he was made to smile and how much happiness it bought him.
Health wise we have had a very good month, a chest infection has been kept at bay we hope with the introduction of a nebuliser to be administered 2 times a day along with her physio Faith isn't keen but it helps loads and she gets on with it.
Faith has finally had her long awaited toe surgery to remove her nail that had become very badly infected and ingrown. This was very painful for her and hasn't helped with her walking – added with the distortion of her foot with arthritis, it had to come out. I'm pleased to report she was very brave and the toe is now fully sorted and over the next few months the bed will heal and the dressings can come off. Right now she looks like she has a boxing glove on her toe though, so she is in flip-flops – thank goodness for the warmer days. This has left her exhausted and the pain has been a lot more than she anticipated (Faith thinks everything will be just a bit sore) and she has been snoozing all day. This has had a knock on effect to her chest and she is showing signs of an infection, but the antibiotics are already on board and fingers crossed this will sort itself without a hospital admission.
Thanks this month to Fiona, Becci, Glad, Kerry and Sarah for their cards. It is always lovely to read letters from pals to hear about what they have been up to and the girls love hearing from everyone, but our regulars especially, as they can't wait to hear how they have got on with gardening or shopping or a special treat they have been looking forward to. Thank you for the girls' monthly project – they have both enjoyed being fashion designers. A massive warm thank you to Tony and Eileen for Faith's fleece Chelsea blanket, she loves it and snuggles with it all the time.
Update 4th February 2012
Faith had a great start to the New Year. We had a great appointment with her joint specialist and was told for the first time in 4 years that she doesn't have any active (new) arthritis and it meant we could really focus on some intensive physio to rebuild the muscles in her joints that have been unused for some time. Over the month and the onset of the cold weather her fingers have shown signs of some arthritis returning but we are working very hard to keep this at a minimum and can only hope it stays at bay.
Faith also had her Annual review and again we had great news that she has not had any major set backs this year. They are concerned at the amount of admissions she has had with symptoms of Aspergillus and are treating as such to hopefully avoid more admissions into hospital, so it means more physio and Nebs at home, but if it keeps us home it's worth the extra work. They are happy to continue with the current regime of medication and are very happy with how Faith can bounce back from illness and how she deals with it all.
During this time we had a role reversal with Alice being rushed into hospital for 6 days having an ovarian cyst that eventually burst causing huge distress and pain. However she coped well and it was very reassuring knowing the staff on the ward and Faith got to see the other side of being in hospital, mainly being spoiled by Grandma and Granddad and also not knowing what's going on. Alice also got to see it's not all fun and games when you're poorly.
All in all not a bad month – apart from the little blip with Alice – and we are looking forward to this trend continuing. We have also discovered that with Faith's passion for baking cakes we can incorporate a lot of physio with all the mixing and especially the pipping of the icing. It works her fingers really hard and best of all, we get to have yummy cakes and treat our friends when they visit. She's getting very good at it and has been asked to make the cakes for her Grandma's upcoming birthday.
Faith is in the middle of choosing her GCSE options for September so I'm feeling a little like where has my baby gone! But so far every teacher we see says they would love her in their subject, so it's not making the choices any easier, but she has been told P.E. is possible so I have a very happy girl. With all her pain management issues we were a little worried she wouldn't be able to keep up, but they are able to adapt the course slightly for her.
We are hoping for a little snow whilst we write this update, and the girls are hoping for a lot… I'm well stocked with carrots in case we get enough to build a snowman!!
All that is left to say is thank you all for your love and support as ever. Thanks to Fiona, Sarah, Glad and Libby for their cards and to Glad for the lovely bath bombs that came at a perfect time with Alice in hospital. HUGE apologies if I have forgotten to thank you personally for post, but they are all very much appreciated and always bring lovely smiles.
May you all have a good month and God bless and keep well and big smiles from us!
Update 17th January 2012
Sorry for the delay, this is due to me having an operation and making a slow but steady recovery.
November saw us in hospital with Faith's chest infection and we escaped in time for a lovely family wedding in Leeds. It was lovely to see both Alice and Faith all dressed up and looking radiant. The trip tired Faith but she loved the time away catching up with family we haven't seen for a while.
Faith continued to be in pain with her joints but this eased as the month went on. She saw the foot doctor who has braced her foot, to give extra support when walking, and it was also finally agreed that they will operate on her toe to remove the ingrown toe nail that she has had for the past 18 months. It's a little thing to you and me, but it's another problem that causes infection, pain, and discomfort to Faith.
Faith has sadly had to give up Kickboxing as the pain on her joints are very damaging and she is finding it hard to cope after sessions – it was a tough choice but health always has to come first.
The Post Pals balloons came at a time we needed a smile (while I was recovering from my op) and they did the trick and both girls loved them. To hear two teenagers squeal with delight as they floated out of the box was wonderful.
In December the family health continued to improve and for the first time in a long while we were all healthy and happy for the Christmas run up. Faith had her pre M.O.T appointment and all was looking good for the big appointment in January.
The girls had such an amazing amount of post for Christmas. As ever, thank you to everyone who has sent post, but especially Sarah, Tony & Eileen, Fiona, Glad and Libby. The elves spoilt both girls with make-up, nail varnishes, smellies, a Cheryl Cole calendar, a lovely signed photo of a Chelsea player, a Chelsea team print with Faith's name on the shirts, stationary, hair bits and Alice even had a lovely dress. Thank you all so very much. We had a very relaxed Christmas having dinner with the family at the local pub, meaning no cooking or shopping for anyone, and also no dishes to clean afterwards.
We cannot thank you all enough for the love and support you have shown us during 2011; it has really bought some HUGE smiles to my girls' faces and also to mine too. Thank you. We are looking forward to a happier and healthier 2012. Thank you all and thank you for the smiles. Lots of love and best wishes to you all.
Update 2nd November 2011
Faith has had a really bad month. Her general health deteriorated and she devolved a sinus infection that saw her face swell up and her pain went out of control. She was put on yet another course of antibiotics and things just didn't shift. Her infection went to her chest and she was admitted to hospital for IV antibiotics, rest, and intensive physio input. Whilst in hospital Faith went onto a nebuliser to help clear the gunk from her lungs – this was very successful, but left Faith extremely tired. After 5 days of constant sleep, physio and medication, she turned the corner and was able to come home in time to go to a family wedding this weekend. Her low point wasn't helped by her beloved Chelsea losing 3-5 to Arsenal but she is looking forward to going to The Bridge to see them play at the end of November, and is even more excited as her Granddad is taking her.
Whilst in hospital we had a routine appointment for her podiatrist and they have fitted her with a brace to re-align her leg bone as it is twisted, this combined with her arthritis makes her ankles very painful so this should help and give some pain relief. We go back in mid November to get some feedback and to see about having some inserts for her shoes.
Faith is still very tired and needs time to get over such a nasty and prolonged period of being unwell but is getting there with baby steps.
Alice was lucky to be away on a little holiday with one of her friends while Faith was in hospital so that made life much easier, so she was having fun shopping in Bristol and seeing the sights.
It has been lovely to get to know a bit more about our regular writers and we all love hearing what you have been up to. We would like to thank Post Pals for the lovely Halloween bags the girls received as they were great fun and the girls put them to good use for trick or treating. Even though Faith was in hospital she didn't miss out as the local radio station Heart FM came round and gave out sweets to all the children on the ward.
We look forward to sharing Faith's continued recovery next month but wish you all well and hope you all have fun with Fireworks night. Keep safe and thank you for the smiles.
Thank you to all who have sent post, especially Glad and Fiona, it creates big smiles all round. Faith was very impressed with Fiona's new found computer skills. Special thanks for all the lovely cards and gifts Alice received for her birthday too.
Thank you for you lovely support over a tough month while Faith has been unwell and in hospital.
Update 9th October 2011
September saw a return to school, both for the girls and me, which has come as a shock to the system! We had just got used to going back to school as I set off to Scotland for a weekend and the girls stayed with Grandma and Granddad as I took on the huge challenge of climbing BEN NEVIS to raise money for the CF Trust. It was a lovely moment to be able to phone Faith from the top of the mountain to tell her I had made it. She was very proud of me as were the rest of the family.
Faith isn't too keen on her new tutor but I think this is partly due to the fact she has been feeling poorly. Her chest has been very sore and for a while they thought she may have pleurisy, so treated accordingly. Also, her joints have been very stiff and sore, and mid month we went to the CF clinic and had a really good overall. The doctor is slightly worried about her chest and is keeping a close eye on her. She also had a review for her joints and it was decided that she should have more steroid injection to see if this could relive the pain and improve movement. We had these done on Wednesday but sadly they have only helped very slightly in her left ankle and no improvement in her wrists. She had both wrists and both ankles injected.
Also, by the time I have written this Alice has celebrated her birthday and we thank you for all her lovely cards, especially to Libby and also Glad who shared her birthday too. We had a surprise party at home for Alice and she loved it, and the following day I took her to London to see Buckingham Palace and the royal wedding dress and we had a fabulous day in the glorious sunshine.
I hope to bring better news next month and Faith's chest is better by then. Let's hope you all keep the winter bugs away and stay safe.
As ever, thank you to every one who has sent smiles to the girls and a special thank you to Tony and Eileen. Thanks to Laura for the lovely CD too.
Update 15th September 2011
Faith has had a good month, the highlight being the holiday Post Pals organised for us. We had lots of fun in Berwick upon Tweed and the girls both loved doing water sports, horse riding and rock climbing. We even went to Edinburgh (a first for us as we have never been over the border) and we looked around the Royal Yacht Britannia which Alice loved as she is hugely into the royal family at the moment.
Faith has suffered with swollen joints after the holidays but this is to be expected after a busy week. We will see if they continue to trouble her after a week or so back to school.
I have been to Scotland again climbing Ben Nevis for CFTrust and Faith and Alice are both very proud of my achievement. It took 9 hours but was worth all the pain in the 70mph winds, rain sleet and hail.
We hope you are all as well as you can be and keep smiling.
Can we say a special thank you to Glad this month who always sends the loveliest of smiles. A huge thank you to Post Pals for the girls' gifts too as they have enjoyed all the crafty things and the colouring pencils were fab to return to school with. Also, thank you for both stationary sets which made going back to school a happier time. A huge thank you for all post and every smile we received this month.
Update 3rd August 2011
This has been a very odd month, it started with Faith being well and we had a massive Heath fire and houses and up to 2 streets away were evicted and this left loads of thick heavy smoke in the air. This caused Faith to start coughing and developed into a nasty chest infection. After 3 weeks of fighting the infection at home, Faith was admitted into hospital and had an intensive course of IV antibiotics. She stayed for 11 days and we came home very tired and worn out. Faith returned to school part time after a week resting at home and met some new friends at school who will be joining her year group in September. Faith also said farewell to her Form Tutor so is looking forward to having a new Form Tutor next year. The first Saturday after Faith broke up from school she took her Kickboxing belt grading and was very nervous as she had missed so many training sessions with being unwell. However she passed and was just half a point away from a credit. She is very proud of herself.
Faith's joints have been up and down with her ankles swelling up and down but they seem to have settled now. However after a routine physio appointment it seems her wrists have lost some movement and they are watching that very closely, hopefully with the summer holidays to rest them and some more intensive physio they will improve.
As before both girls have been very spoilt with their post which has created loads of smiles and we thank everyone. The best by far though has to be the fact we have been given the opportunity to have a week long holiday in Northumberland in August. We are so excited and cannot wait, we are taking my Mum with us as Paul has to work and she helps out a lot. We will look forward to sharing our holiday tales with you soon.
A special thank you to Tony and Eileen from Faith and to Libby from Alice. Faith loved receiving her Chelsea pillow and Alice's favourite was her lovely mask from Libby. Continued thanks to everyone for the smiles, especially while Faith was in hospital.
Keep well and thanks for the smiles 🙂
Update 5th May 2011
Faith had a mixed month in April. Her joints have given great cause for concern becoming very stiff and sore and caused a great deal of discomfort when mobilising. After a bit of juggling of medication she is now a lot better in her joints and is able to move more freely.Her review at hospital was very positive and we are now to continue with the new regime and hopefully continue to see an improvement.
At the beginning of the month Faith was generally under the weather but we couldn't put our finger on it and after a week off school, on the first day of the Easter break, Faith had a very red and unusual looking rash all over her face, so a trip to the GP told us she had been suffering Slap Cheek Fever! Normally a fairly mild aggravation to children but with all Faith's complications it had knocked her off her feet.
The second week of the Easter break we headed to Devon for a family holiday in Ilfracombe and were blessed with glorious sunshine and no rain. The girls, my partner, his daughter and I, enjoyed long days on the beach body boarding and Faith enjoyed the simple pleasure of flying a kite and spent hours flying with Paul.
We celebrated Faith's 13th birthday after our return, but sadly since we've come home Faith has been back in hospital with suspected pancreatius, and although this was not the case, the hospital discovered she had swollen Lymph nodes. So after a week of serious pain and another week off school, she was able to come home and enjoy the Royal Wedding.
Faith has finally gone back to school this week and although being tired she is in good spirits and is returning to kickboxing training this week as she is taking her 1st grading at the end of the May (all being well).
I cannot possibly mention everyone who has sent the girls post, cards, Easter gifts, birthday presents, and happy smiley wishes for both Faith and Alice, as they have had so much, all extremely lovely and all have put a huge smile on their faces. Alice especially loved receiving her book and has already started reading it, as has Faith. All the make-up and toiletries have made for two very nice smelling girls and I now am able to get my nails painted as well with new nail varnishes. I cannot say thank you enough. But each and every one of you has bought happiness to our little family.
Hopefully next month will not be so eventful but until then God Bless and thank you for the smiles.