Donate to childrens charity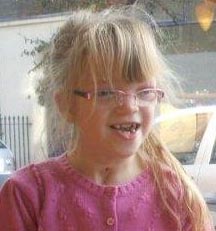 Contact Details
NB: this is a forwarding address, we do NOT disclose home addresses
Other Information
Parents/Guardians - Amanda
Interests - Ballet, craft work, fairies, playing with her dolls, cheerleading, High School Musical and riding her bike.
Favourite Colour - Pink and Purple
Able to read? - Yes
Able to use hands? - Yes
Visually/hearing impaired? - Yes
Suffers from any developmental delay? - No
Siblings - aged 3 to 16 wishing to receive post
About - Erin F
Story written 2007
Shortly after Erin's birth at the maternity unit in Maidstone hospital, her mother became anxious that all was not well with her. The paediatric team tried to reassure the family that there was nothing to worry about. However, within 6 weeks Erin and her Mum were admitted to Great Ormond Street Hospital to undergo numerous tests and examinations where upon a Crouzon Syndrome diagnosis was arrived at.
Crouzons syndrome is a genetic abnormality that severely restricts the development of the skull and facial bones and has dire consequences on breathing, feeding, visual and audio capabilities. Because of the complexity of the condition, Erin was subjected to nasogastric and nasal pharyngeal tubes at an early stage to facilitate feeding and breathing. These were subsequently superseded by the application of a gastrostomy in her tummy and a tracheostomy. Erin has recently been able to feed adequately and as a consequence she no longer has the gastrostomy. Erin remains a patient of Great Ormond Street Hospital where over the years she has undergone fearsome surgery to her skull and face.
Erin has developed into a bright, mischievous and vivacious little girl and has rightfully taken her place at the local mainstream infant school, albeit with a one to one carer for her tracheostomy maintenance. She is making steady progress at school and is a very popular little girl with her peers.
Erin has a brother, Kyle, who is 9 years old and they are very good company for each other. She also enjoys the company of her cousins who live near by, one of whom she attends ballet classes with each week.
Update 15th August 2010
Erin has remained very well over the last month. We have had a statement review for her carer at school and as Erin has now lost her trackie we have all agreed that this will be slowly reduced over the coming years. Erin has now been referred to the Children's Mental Health Team locally and we have been assigned a psychiatrist to see if they will be able to help with Erin's mutism and social anxieties. Not sure this will do much but her psychologist up at Ormond Street is very keen to get this going!
Erin has had a couple of appointments up at Ormond Street this month. One was Ophthalmology which went extremely well. Her left eye is still deteriorating slowly and she has to have slightly stronger glass, but her optic nerves look really healthy which indicated that the brain is not being restricted by her lack of skull growth. They have decided to end Erin's patching on her right eye as the age she is now if it hasn't correct itself it won't. They have decided to leave things as they are and do some corrections when she is much older. We also saw dental as Erin's mouth has grown differently to ours and her teeth are having trouble finding their right places. They have said to leave things for now and again correct things later on. She has to go back in October for some small dental procedures though. Lastly we saw the audiologist as Erin had broken one of the clips that keeps the battery in the hearing aid. They downloaded all the relevant data on a new one and replaced it for us. She was also meant to have some new ear moulds made but unfortunately were unable to do so as Erin's ears were blocked. We have to put drops in over the next three weeks and then return to London to have the moulds made. For some unknown reason she wants green glitter one's this time. How lovely!!!
Kyle and Erin have now finished school for the summer holiday.
Kyle is going to be starting his new secondary school in September and can't wait to get there. He is really growing up. He enjoyed his leavers prom at his junior school with him and some friends hiring a limo to arrive. We also had to dust down his suit and bow tie, but he did look very smart.
We enjoyed both the children's sports days with their house coming second.
We are now going to Butlins for a few days to spend some family time together before school restarts and we both go off to work.
Thanks to everybody who has sent both the children cards over the months and special thanks to our friend Angela, Kate Dee, Sam King, Jane for the Blackpool post card, Sarah G, the Post Pals team, Rob and Henry for the beautiful picture of Erin the princess (this is going in her bedroom), Percy the Poodle and Claire. Thanks to everyone who took the time to write to us this month too. In particularly, Jodie for the lovely fairy picture, Heather and David, Maria and Michael for your wonderful colourful letters, Teresa and Sam, Jane, Percy the Poodle and Claire. Huge thanks to everybody who has once again spoilt the children with gifts. We would like to thank Maria and Michael for the High School Musical Door Hanger, each morning she writes a different message on it, Sam King for the HSM Book, the lovely sea shells from Lorraine and Maddie for the HSM Pencils. Thank you all very much.
Now comes the hard bit. Erin has been a member of Post Pals for a number of years and both she and her brother have benefitted immensely from the kindness of you all. Both Glenn and I now believe that it may be time for Erin to be transferred to the Moved On list. Regularly looking through the number of children on the Post Pals list and seeing the number increase regularly, we feel that Erin has reached a stage in her health that has become quite settled (fingers crossed) and that there are other children within Post Pals that are not nearly as fortunate. I know that Erin still has lot to endure over the coming years and into early adulthood but I believe whilst we are in this position it would be slightly selfish to carry on. We would like to make room for other little ones to benefit as we have done. That said, I will remain a supporter of Post Pals and catch up with everybody on the site, and become a postie myself and have asked to remain a Christmas Elf. The only thing to do now is to wish everybody our best wishes and thank you all for the kindness and support you have shown us over the years.
Love to you all.
Update 8th July 2010
Well, what a fun packed and sunny month we have had.
Health wise, Erin has done extremely well. She has been wearing her mask every night with no fuss at all. We are still waiting for the date to go in hospital and get the machine that will help her breath at night, but, now she has got used to the mask, I am sure she will take this in her stride. Erin was due to have a dental appointment up at Ormond Street during the month but at the eleventh hour we were phoned to say the orthodontist was away sick, so we saved a day off school and work and a two hour journey to and from the hospital and a small fortune in train and bus fairs. This appointment has been re-scheduled for October. During the month we attended a junior doctor training day at our local hospital. Erin has been doing these since her early years. When Erin was born we had the traumatic time of nobody knowing or 'helping' us with her condition. We felt if we could educate these young doctors in accepting Crouzon's Syndrome, when another child is born their parents wouldn't have to go through what we went through. This was the first time since doing these days that I felt uncomfortable with the situation. Erin is now of an age when she understands exactly what is being said. Even though she doesn't communicate with the doctors her understanding is 100%. I felt Erin was being displayed by the teaching doctor who didn't acknowledge her as a little girl, he was just pointing out all her different facial features. Erin has huge social anxieties and hearing about all her differences in this manor, I am sure, doesn't help. We have now decided to not participate in the teaching days. I am happy for myself to go along and explain about Erin, but until I feel she is treated with a little understanding and dignity, Erin will remain at home.
Well, where do I start with Erin's birthday's celebrations! We were invited on the Saturday before Erin's birthday to attend the Queen's Trouping of the Colour. The invite came from our local Children's Hospice. We were given access to a Whitehall Office overlooking the parade ground. The children were enthralled for over an hour watching the marching guards and seeing the Queen arrive in a horse drawn carriage. We had a continental breakfast on our arrival and then there was a buffet throughout the morning with continuous Pimms or orange juice. The highlight of the day was when David Cameron entered the office to draw the hospice raffle! Mr Cameron and his wife then asked if he could meet all the hospice families. Wow, we couldn't believe it, we were shaking hands with our prime minister. Both David and Samantha were extremely pleasant people and we were honoured to have some time with them. Both children were given goody bags from the prime minister with 10 Downing Street cookies, pens, papers and guide books. Something we will treasure forever. Both David and Samantha were so easy to talk to and had an understanding, sadly, of what many of these families were going through. We were then led to 10 Downing Street where we were allowed to have family photo's taken outside Number 10. I don't think we will ever forget Erin's 8th Birthday!
Erin then had her party the following day with many school friends and family around ours for an Art and Craft party in the garden. We played many games and tried our skills at crown making, T shirt painting and key ring making. The day was very exhausting but the children seemed to have enjoyed themselves. The following day was Erin's actual birthday and after a day at school Erin came home to a tea party for all her family with aunts, uncles, cousins and grandparents invited. It is certainly a birthday to remember with three whole days of celebrations.
We finished the month off with an invite to the Post Pals Party. It was so nice to meet up with all the people behind Post Pals and realise how much work they do with all their ailments as well. It was a wonderful afternoon with the children enjoying the bouncy castle and the puppet lady. The balloon release at the end of the day was so special to watch, each balloon representing a special child that has been taken from us. A really special moment. Huge congratulations and thanks to all at Post Pals for a remarkable day.
Best wishes to everyone within Post Pals and hoping you all enjoy your summer breaks and for the children staring school or moving up to secondary school, good luck!
Thank you to everyone who sent the children a card this month. Erin was particularly spoilt with all the wonderful birthday cards. Angela, as always, thank you for your lovely hand made cards. Thanks to the following as well: Donna, Penny, Hannah, Michelle from the USA, Jenny, Claire, Sam K, and Jane thanks for your postcard from Sicily, we hope you enjoyed your break. Thanks to Kate D (it was lovely to see you at the party), Maria and Michael, Viks (again it was nice to finally meet you), Sarah G, Tina and Molly the Dog and lastly Despina all the way from California. Erin had a superb number of beautiful cards for her birthday from Claire, Alice and Milly, Celine B, Hiliary, Kim, Heather and David, Tracy, Maria and Michael, Susan Myke Amethyst and Breeze, Kim Lee and Bridget the cat, Hiliary, Kenyan and Zachary and Charlotte.
Thanks to everyone who took the time to write to us this month. In particular Jane, Elizabeth with the fairy poem, Majolijn from the Netherlands, Mia, Maria and Michael, Natalie enclosing pictures of Dude Missy and Ripple, the children from Institut International de Lancy in Geneva and lastly the lovely smile letter from Sarah G.
Huge thanks to everybody who has once again spoilt the children with gifts, especially those who sent presents for Erin's birthday. The people we would like to thank are, Celine for the lovely soft teddy, a firm favourite with Erin. Claire for the lovely parcel of hand puppets, paints and stamps. Penny for the knitting, Erin and I will have to ask Nanny to show us. Jill and Grace for the French Knitting, we have started this. Alice and Milly, thank you for all the High School Musical stuff, Erin is looking forward to doing the puzzles. Majolijn, thank you for remembering Kyle and sending him the 2010 World Cup Guide Book, he was enjoying watching it but is a little disappointed now England are back home without the cup. Sam K for the High School Musical Stickers, and lastly Maria and Michael for the gifts for both Kyle and Erin. Thank you all very much.
Update 6th June 2010
Erin had a post operative check up at the beginning of May which sadly was a little frustrating. Having taken Erin out of school and booked a day off work, we had a two hour wait to see the doctor and then he asked me how she was – I said fine and off we went again. He didn't even look at her, I am sure we could have done it over the phone! He has since written to our doctors to say that everything was fine and that Erin's sleep apnoea how now been sorted. Unfortunately this isn't the case.  A few days ago Erin was booked into the sleep unit at Ormond Street and hooked up to every imaginable machine possible to study her during her sleep; her levels have improved slightly since removing her tonsils but not enough to breathe better. Erin is now to go on CPAP (continuous positive air pressure) during the night. We have been given a mask for her to get used to and so far she has been wearing it for five minutes in the evening. We have slowly got to progress to wearing it in bed and keeping it on while she is asleep. We go back in about a month and half for a short stay in hospital while they connect her to the machine that will push the air into her. It usually takes a few days for them to ascertain what levels are needed. I think Erin will find all this quite daunting, but so far she is doing well. Whilst at the hospital we had an appointment with the psychologist who is becoming extremely concerned about Erin's selective mutism and social anxieties. She did say that if she doesn't get the help now then Erin will have huge problems later on in life. We have been trying for years to get some sort of help but nobody seems to know what to do with her. The psychologist is now looking into referring her on to Children's Mental Health Team, just another one to add to our ever increasing list.
Kyle and his dad went away bank holiday weekend to take part in a football tournament. Unfortunately they lost every game but enjoyed it. The team won the best sportsmanship trophy and Kyle came home with a lovely trophy of a footballer kissing the world cup. We wish! Kyle has also been taking part in cricket matches and is doing very well.
Erin has now started Cubs but is still a little unsure of it. Because of her selective mutism and in the past not being able to be left anywhere, Glenn goes along with her. She is still very clingy but we are hoping that as she gets more relaxed she will join in a bit more.
Erin is getting extremely excited about her birthday and party preparations are well under way. I can't believe where the last 8 years have gone, they say time goes quickly when you are enjoying yourself, not too sure I've enjoyed every minute of the past eight years, but there have been some great times too.
Best wishes to everybody in Post Pals. Love to you.
Thank you to everyone who sent the children a card this month. Angela, thank you for your lovely cards, and we hope you hands aren't giving you too much trouble. Thanks also to Sam, Gail Collins in Dublin, Percy the Poodle, Sarah G, Georgie for the lovely hand made card made a St Paul's Rainbows and Heather and David. Thanks for the wonderful letters sent through this month. With particular thanks to all the children from Manor Primary School for their lovely colourful letters. Thanks also to Claire H, Gemma, and Maria and Michael. Huge thanks to everybody who has once again spoilt the children. Firstly we must say a great big thank you to Sarah for Kyle's cricket gloves; he was so surprised when he opened the parcel as he was on his way to cricket. He had the biggest smile on his face, he is very proud of them. Another thank you goes to Penny who not only sent the kids pressies but me too. Samrana, thank you for the printed tape, Linda thank you for the Hello Kitty Bag (one of Erin's favourite characters at the moment), Claire thanks for the High School Musical Book and stickers, Post Pals for the Cushelle Bear (another favourite), Beth T thanks for the story book, Libby thanks for the prince princess foam pieces and Charlotte thanks for the stickers. We have also got to thank Maria and Michael for their gifts and lovely picture letters you write. Thank you all.
Update 3rd May 2010
April Showers? We don't think so. What a delightful month it has been, not only with the weather, but with the help of the Russell Howard programme, a wonderful month for post as well.
Health wise Erin has recovered extremely well from the operation last month. We have even noticed a difference (for the better) in her breathing. We are back at the hospital on the 4th May for a post operative check up. We are hoping they will be able to tell us where we go from here regarding her breathing and with the possibility of closing her tracheostomy up.
We have had a very busy social schedule in April, with us having a friends and family Easter egg hunt at our house. We even got the chocolate foundation and candy floss maker out.
The following weekend we went away with the family and Nan and Granddad to Coventry for a weekend. Once a year a support group that we belong to for Craniofacial children meet up in Coventry. We have a two day stay with professionals coming in to talk to parents, forums etc. The children have child care all weekend and are taken on the Saturday to Ten Pin Bowling which they just love. We then all gather in the evening for a disco. The night usually finishes about 10:30pm and everybody goes back to their rooms, but this year some Mum's (including me) were still up a 3 o'clock in the morning. Erin's condition is extremely rare and it is nigh on impossible to talk to anyone local with the same syndrome, so there is a lot of catching up to do that night. On the Sunday we have the AGM usually followed by one of the doctors from one of the big hospitals comes and gives a talk. We all then have dinner together and then it is the saddest time of the weekend when we have to say goodbye to the wonderful children and parents that we have met over the weekend, many old friends but always some new. For two days each year it is like going home, being among people who don't stare, who know some of the answers but amongst all are there for you. A wonderful weekend.
Erin and Kyle then returned to school the very next day, which was particularly hard for Erin has she hadn't been for the previous month. Everybody seemed pleased to see her back though.
Kyle has just started his cricket training and is now the proud owner of a box and pads and is hassling me for the helmet and gloves. Still, he does seem to enjoy it.
Best wishes to everybody in Post Pals and let's hope May's weather was as good as April's.
Thank you to everyone who sent the children a card this month and the one sent to me from Penny. Thank you for your lovely thoughts, it was certainly a pick up. Angela, thank you for your lovely cards, Kyle particularly likes the sport and music ones. Thanks also to Sarah for the spitfire card, Kim & Kev, Aaron and Kat for the High School Musical card with a really poignant poem inside. Thanks to Rheanna, Claire, Kate Dee, Sam and Anna Mc. Thanks for the wonderful letters sent through this month. With particular thanks to Charlotte, Maria and Michael, Celine, Francesca and Cee. We thought that last month we were spoilt with all the pressies coming though, but again it has been a very busy month for our postman. We would like to thank the following:- Sarah Adler for the princess art stuff, Ema for the most wonderful glass ladybug, hopefully it will bring us all a bit of good luck, Samantha for the note paper, hopefully we can use it soon to write huge thanks to everybody, Elizabeth in American again for the ballet stickers and Penny for the High School Musical Pencil Tin, Erin has now added her name to it and it is ready in her school bag for her return to school. Thank you all very very much.
Update 10th April 2010
March has flown past so quickly. It feels like most of it was spent travelling up and down to London.
Erin had her operation on the 17th March and we managed to get home on the 19th. It was originally going to be to try and make her airways bigger by removing some more adenoid tissue. They have done this but also felt more room could be made if they removed her tonsils, so these came out as well. Erin coped with it all very well. She had to have a nasal prong (tube up her nose) to keep her airways clear in case of swelling but these were removed a day later. Sadly because of the tonsils coming out Erin had to miss the last two weeks of school. Unfortunately she should have been in the school play but was unable to participate. Erin's teacher did allow us in for 10 minutes to watch her class mates though. We are due back up in London in about six weeks time to see the surgeons to see where we go from here. Hopefully having the tonsils removed has created a little bit more breathing space and fingers crossed we can avoid the CPAP machine. They may even look at seeing if it is possible to close up the hole in her neck! We will just have to wait and see.
We all had a wonderful Mother's Day at home with both Nanny and Grandma coming to dinner.
The children are enjoying their two weeks half term (apart from Erin who is having four weeks!). We are looking forward to attending a family craniofacial weekend next weekend. We have been a few times before and it is really enjoyable and informative meeting all the other families.
Best wishes to everyone at Post Pals and lets all hope the sun keeps on shining.
Thank you to everyone who sent the children a card this month and the one sent to me on Mother's Day. Angela, thank you for your lovely cards, the Easter cards were absolutely wonderful. Thanks also to Percy the Poodle, Maria, Claire, Tez, Laura, Elizabeth, Tracy, Kate D, Carice, Chris, Lisa, Amy and Brooklyn, and Martin, Jackie and James. Thank you to Sarah G, Percy and Claire for your lovely letters.
Well it was like Christmas all over again with the amount of gift sent this month. Even I received a special gift for Mother's Day. Steph and Jay thank you very much for the smellies, it was such a lovely surprise. Both Kyle and Erin would like to thank Angela for sending them the Easter Gifts. Kyle loved the tins of chocolates and Erin adored the Bunny Easter Bag. She put it to good use during our Easter egg hunt collecting all the eggs in it. Thank you. Laura, thank you for the enormous parcel you sent, Erin will be kept busy with all the making. Again, she just adored the Easter Bunny (Erin can never have enough cuddlies) and loved the flower, it is known as the tickle flower now as she chases us around with it trying to tickle us. Vickie, thanks for the bracelets. Naomi, Matthew, Megan, Alfie and Syndey thank you for the Princess Colour Set. Elizabeth from America for sending the beautiful cross stitch picture you made, Erin has placed it by her bed. Tez thank you for the cute chocolate duck. Sarah G thanks for the books for both Kyle and Erin. Erin was really pleased with the Jessica fairy book as her cousin is called Jessica, and Kyle adored making all the little cars in the Top Gear books. C Ailey (sorry we've lost your first name) for the eyeshadows. Maria for the hand puppets which Kyle helped Erin make and the Connons for the Easter chick. Again, a huge thank you for making Easter such a special time.
Update 5th March 2010
Well, at last spring is here and we are enjoying the sun. Long may it last!
February proved to be a very testing month for us with uncertainties regarding Erin's breathing. Erin went up to Ormond Street with her Dad for a couple of days to undergo another sleep study and to see ENT about her hole left in her neck. There seemed to a slight lack of communication between the Respiratory Doctors and the ENT Doctors both steering in different ways. But at the end of the two days I think we put them both on the right track. The ENT doctors have now decided that they really do want to operate on Erin sooner rather than later and left it up to the sleep study to decided when. The sleep study was very poor again with Erin's breathing deteriorating from moderate obstruction to moderate to severe obstruction. This forced the ENT doctors' hands and we were informed that Erin could not remain like this and that they would be looking at starting the surgery to try and clear her airways and create a little more space for her to breathe. We are very disappointed at this outcome, as both Glenn and I had promised Erin that we would wait at least a year before this surgery started, as we felt Erin has never had a rest from the many surgical procedures she has had to endure. Now we are drawing straws as to who is going to tell her. Today we got the date of the first of the surgeries, 18th March. We don't know how long she will stay; it could be a day or up to three. They are trying to remove more adenoid growths which they were unable to clear last time and they will also try to insert a tube down her trachea and then see if they can get the camera any further down to check out that things are not amiss down there too. She will also have nose stents inserted to keep the airway open after this surgery. Hopefully after this surgery the doctors will have more of an idea of how things are going to progress. Things are never black and white with Erin. Let's just hope things work out a little better than her last operation that had to be abandoned half way through.
We have also got to keep our appointment next week with the Respiratory Consultant to see if he still wants to put her on CPAP at night. This is a machine that pushes air into her at night when her breathing can get quite obstructed. Again, we don't really know what they are all planning. Still, we're keeping South Eastern trains in business!
Erin and Kyle had local dental appointments this month and passed with flying colours, phew. Erin also helped out at the local hospital for the junior doctors training day. She was so proud to receive a little payment at the end and this was soon spent at Build the Bear.
Kyle has been playing well at football, and has taken part in his first three mile cross country race, coming 83rd, but I don't know how many started. Tomorrow we look forward to watching him in his school play, Prince Malcolm in Macbeth.
Erin has been enjoying her cheerleading and ballet each week and we managed to go to the local theatre and watch another dance group perform.
Best wishes to you all, and to all you mummies out there have a wonderful Mothers Day, you are very, very special mums indeed.
Thank you to everyone who sent the children a card this month. Special thanks, as always, to Angela who never fails to send her cards each week. To Kate D for the Jemima card – Erin has a money box Jemima. Thanks also to Claire, Jane and Mark, Jo and Steven in Belgium and Sarah G. We would also like to thank those of you who sent the lovely Valentines cards too. Thank you Maria and Michael for your regular letters with all the little pictures in. They are always so interesting. Sarah G, we would like to thank you for your Chinese New Year Greeting. Thank you all for sending gifts this month, especially remembering the children on Valentines Day. Erin had the most wonderful 'never ending' box of goodies from Maria. We spent ages going through all the different bits and pieces in it. The 'Erin' chocolate was lovely. We are keeping the box and are going to decorate it with all Erin's fairy cut outs and stickers. Thank you very much! Thanks also to Henry and Mary for the Gift Card sent to Kyle for Valentines Day, all the way from America. Sarah G, Kyle would like to thank you for the plug bracelet with the football plugs. To Bethany, another lady from America, for the most unusual hair bobbles. She has been wearing them to school and all her friends want some. Not too sure the school feel the same though. To Claire for the High School Musical stickers attached to the many letters and cards you write, and lastly our friends Maria and Michael for the heart pencil and rubber. Thank you all very much. You are all very kind.
Update 7th February 2010
Well, what a snowy and cold January we have had.
Erin was admitted into GOSH for the first week of January for her operation to close the hole in her neck left by her tracheostomy removal. We had to battle through all the snow to get her into the hospital but we made it. The operation unfortunately did not go well and half way through the procedure they decided that they could not carry on. It became a bit messy and Erin's airway was beginning to swell up and close down. If they had carried on they said that they would have had to re-insert another tracheostomy. We were relieved that they had stopped. Both us and the surgeons were very disappointed at the outcome as we felt it was just a matter of closing up the hole. They have informed us that to do this will require another two procedures. They were willing to start these in February, but after a little thought, and bearing in mind Erin is becoming more frightened at each operation, we have decided not to go for any further work for at least six months to a year. The surgeons agreed with us.
We had Erin's statement review during January. Erin has a one to one carer at school and each year we have to review whether this is still needed as it has all got to be funded. As Erin's tracheostomy has now been removed we thought this may impact on her review. We have agreed to have another review in six months time with a view to maybe cutting the 1:1 carer down slightly then. As Erin still has a number of problems with her hearing, vision and her selective mutism, we felt we would like to carry on with some extra help.
Erin is due in hospital again at the end of February for anther sleep study as they are still concerned about her breathing at night time. She suffers from sleep apnoea during the night (her breathing stops slightly on and off during the night). We think they are looking at putting her on to CPAP at night. This is a machine that pushes air into her to stop the windpipe collapsing. We're not sure Erin is going to like it very much but if it makes her safer, all well and good.
The children have both been doing very well at school, with Erin receiving her white handwriting badge (the first) and Kyle receiving his black. He has two more to go and then it's the shield. We are still waiting for March to find out what secondary school Kyle will be going on to.
Best wishes to everybody and hope everybody receives lots of lovely Valentines messages.
Thank you to everyone who sent the children cards this month. We had another record amount. As always, huge thanks to Angela for the beautiful home made cards. Kyle really liked the rock star one it, reminds him of his rock band wii game. Thanks to Kate D for the lovely cat card, your cat Honey looks very similar to our cat Baggy, but he is a bit smaller. It was a surprise to receive a card from Fearne Cotton, thank you. Viks, thank you for the lovely fairy tree card. Claire, thanks for all the cards you sent and Kate Dee. Thanks Percy for the card and letters, it is nice to catch up with all you antics. To Kate W for the beautiful glitter card with the lovely pastel colours. To Elizabeth all the way from America, thank you. And lastly Milly P, thank you for your lovely card and presents. Erin will hopefully be writing back to you soon. Thank you Maria and Michael for your regular letters, Erin really enjoys reading them herself now. Thank you all for sending such wonderful gifs. Thanks go to Samantha and also to the Post Pals team for the chocolate lollies which the kids enjoyed. To Ann, thanks for the lovely bracelet. Maria and Michael, thanks for the lovely parcel full of wonderful things: – The Erin and The Fire Bird Book was a real winner and we read a chapter every night. To Maria and the Lush team for the box of Lush smellies. Mum enjoys them as much as Erin does. Sarah, thank you for remembering Kyle and sending the Top Gear Cards, his cousin collects them also so they can now do swaps.
Update 10th January 2010
Well, the first thing we must say is a happy new year to everyone!
December was quite manic with hospital appointment and Christmas but we survived it all!
Erin enjoyed playing her part in her Christmas Dance Group Show. She performed a lovely ballet routine and cheerleading dance. We were all very proud.
During the middle of December Erin underwent her Annual Assessment up at Great Ormond Street Hospital. This lasted three days. Erin seems to be doing well in all areas. Psychology seems to have an interest in her at the moment and we had two one hour appointments with them. They still can't work out Erin's selective mutism which seems to frustrate them. We all know Erin can talk so don't feel as frustrated as them but it can be a little off putting with them keep calling Erin in. When she feels ready and trusts the world enough I'm sure she will come out with something quite mind blowing! The only concerns shown during our three day visit was Erin's sleeping statistics during the night. It still appears that she may be having obstructive episodes during the night and they will look into this further.
We all enjoyed a lovely family Christmas with Aunts, Uncles and Grandparents. Unfortunately, Glenn being a fire-fighter meant he had to work Christmas day. The children did pop in to see dad at the fire station with home made crackers for all the firemen. Erin wheeled her new Victorian dolls pram all the way. Kyle got his wish for the Wii rock band game and instruments. Erin is proving to be quite a little drummer. Again, Glenn had to work Boxing Day night, so after a lovely afternoon around their other cousins' house, we went on to Nana and Grandads house where we all had a sleepover for the night.
Unfortunately on New Year Eve, whilst partying around a friend's house, Erin become unwell and was trying to be sick. Due to a previous stomach surgery in her early days, Erin is unable to be sick. So she spent the next two days heaving and was becoming very tired. One by one, Kyle, Glenn and I, all came down with tummy bugs. Erin was due in hospital on the 5th January to have her stoma (hole in the neck left by her tracky) closed. Luckily our bugs all cleared up in time. But then the snow started. Glenn and Erin managed to get up the hospital on the 5th for a sleep study before her operation the following day. On the 6th the skies opened and we had a downpour of snow. Glenn rang mid morning to say that her surgeons had managed to make it in and that the operation would be going ahead. I managed to catch a bus to town and then waited for an hour to catch a train to London, two trains having already been cancelled. I managed to make it to the hospital before Erin went into theatre. Erin has always been put to sleep using her trackie tube but this was the first time that she had the gas mask. Erin was not happy. She put up a tremendous fight to stop the doctors getting at her face but eventually we managed to succeed. Both I and Glenn had assumed that the closing of the stoma would be quite a straight forward procedure. We were to be proved wrong. After a couple of hours in Theatre we were called into the recovery room. We immediately saw that the operation hasn't been successful and that the stoma sight still remained opened. It appeared that there are a number of issues stopping the surgeons from completing the operation. We were told later that Erin will require a least a further two procedures before they can completely close the hole. We were all very disappointed. We were given three options, to leave Erin as she is (this means that Erin will never be able to go swimming or underwater), to start the further procedures in February, or to give it a rest for a while and see how we all feel at a later date. Both Glenn and I feel that Erin has been through so much over the last seven years that we feel giving Erin a rest from surgery would be the best option. We have an outpatient appointment in six months time when we can review things then.
Our journeys back home proved just as troublesome, with Glenn having to walk the last 5 or so miles due to trains getting stuck in the snow. Erin and I left a day later and managed to get back to our station.
We hope you are all enjoying the winter weather and that it hasn't stopped or interrupted any of your plans.
Thank you to everybody who sent cards this month, especially the very many many Christmas cards. Thank you to everybody who put pen to paper. We would like to thank all of Father Christmas's reindeers, Dancer, Comet, Cupid, Dasher, Blitzen and Donner, who religiously wrote to Erin informing her of Father Christmas's progress and on such lovely note paper too. Percy, we would like to thank you for your newsletter, it is nice to see how you celebrate Christmas too, and lastly thanks to Ellie for the lovely letters you sent through too. A huge thanks to all you generous people who sent the children gifts. Each day was like Christmas Day, we took so many parcels in during December, and the kids just loved it. Special thanks to Angela who spoilt both children. Kyle loved the games machine and I have to admit when I have a quite five minutes I find myself having a go. The boot bag will come in handy when the Football season kicks off again and he was overwhelmed by the football cuff links, he now can't wait to wear proper grown up shirts with cuff link cuffs. Erin just adored the Father Christmas bag; she's a one for handbags. The high school musical watch and bracelet were a huge hit too as well as the other bracelets hiding in the bag. You really do spoil the children!! We would like to thank Erin's Elf, a Miss E Hughes for the tremendous box of goodies. She really loves her art stuff and it will keep her busy for many months and the gloves have really come in useful with our winter weather. Kyle's Elf Laura H must also be thanked for thinking of him too. Thank you very much. You certainly know his likes; he has his tea in his Man U, Stig Mug with his name on every day. We would also like to thank the team at Post Pals for the chocolate selection boxes. Thanks also the Tez for the Snow Magic, we haven't tried it yet, we seem to have enough snow at the moment but as soon as it clears we will give it a go. Thanks to Sarah G for the Fairy Tags. Another thank you from Erin for the bath bubbles and polar bear fizz, we enjoyed our baths that night! Last but not least, Percy, for the lovely reindeer antlers, the children loved wearing them Christmas morning with the little bells jingling.
Update 7th December 2009
Well, we are now well and truly into the season of goodwill. We hope everybody is enjoying their preparations for the big day.
We have had a fairly quite month with no London appointments at all. Erin and the rest of the family had to have our swine flu jabs this month and I would like to say how brave and grown up Kyle was. I'm afraid the same can't be said about Erin who had to be fireman carried into the surgery. Little does she know that because she is under 10 she will be having a booster on Tuesday. I haven't got the courage to tell her yet! Both I and Erin then caught nasty colds but appear to be recovering well.
Erin is due up in Ormond Street on the 15th December through to the 17th for her annual assessment. We will see all the doctors involved in her care over the three days. Hopefully the results will be pretty good. We now have a date of the 5th January for Erin's surgery to close the hole in her neck left by the tracheotomy. Hopefully this should only be a few days.
Both the children are excitedly awaiting Christmas and opening their advent calendars each morning. There are presents arriving all the time from our friends at Post Pals and these are reluctantly being placed under the tree. I think our present opening session Christmas morning may well extend into the afternoon. Unfortunately, with Glenn being a fireman, he has got to work Christmas day, but I am sure the kids will get up early enough for him to see them open some of their presents before he goes off to work.
Thank you to everybody who sent cards last month, especially the many from Angela, we do hope your house move went alright. Carmen & Family for the beautifully made fairy card. To Sarah for the postcard from London for Kyle. Molly the Westie for the lovely card. To everybody involved in the Effingham Villagers and Claire and last but not least, Ellie (Erin's Christmas Elf). To Maria and Michel, again thank you for the lovely letters you write, we just love all the pictures you add. To Jane for both Kyle and Erin's letters, we had a laugh at the funny pictures. And Jane, thank you for passing on our message to Alice and Milly's mum. Also to an A Romand all the way for the USA for the lovely ERIN picture. Once again thanks for the gifts received by the children last month. Erin would like to say a tremendous thank you to everyone involved in Jaxon's Blankies. The blanket was a beautiful colour with such a bright and happy pink colour on the back and the fairies at the front match some wallpaper Erin has in her bedroom. We are going into hospital the week before Christmas and the second week of January and we will take our blankie with us, thank you very much. Another thank you to everyone at Post Pals for Kyle's Wallace and Grommet cards and the colouring crayons for Erin. And lastly to an anonymous friend from Post Pals who sent Erin three lovely Puppy in my Pocket. Thank you all very much. The kids get so excited to see parcels arrive.
Wishing everyone a wonderfully Happy Christmas and a peaceful New Year. Seasons Greetings to you all.
Update 5th November 2009
The spooky month of October proved to be very quiet on the medical side of life and we believed that we would go a month without any hospital appointments at all, but Kyle put an end to that. One afternoon the school phoned to say he'd had an accident in PE and had hurt his foot, so for a change it was Kyle being taken to the hospital to have x-rays on his foot. Luckily all proved clear and he had just landed awkwardly on his foot. His Dad said Kyle seemed to enjoy the x-ray experience and was quite inquisitive about it all, a total difference to Erin who has be held down kicking and screaming. Luckily the injury didn't last long and he was soon back on the football pitch.
Kyle received his 11+ results during October and unfortunately wasn't able to gain a place at a Grammar School. But we have now decided on a school just up the road from us and wait for March to hear whether Kyle has been granted a place. I think Kyle found the process quite disappointing but came to terms with it when he found some friends had also not managed a place at Grammar. To cheer him up and for working so hard we treated him and Erin to a meal out at a local restaurant which they both enjoyed.
We had two glowing parents' evenings at the school. Apparently Kyle is a pleasure to teach and tries very hard. Erin is also a pleasure to teach and is also trying hard. We were told that she has been placed in the bottom sets for both her Maths and English but that was progressing well. We came away very proud of both children. Keep up the good work.
For the very first time Erin was invited to a Halloween event with her best friend and she went on her own!! No carer, no suction machine. I was a little nervous to see if she would reluctantly go without me but she couldn't get in her friends' parents car quick enough, I don't think she even had time to give me a kiss. She is certainly finding her feet now. She was still reluctant to talk to her friends dad (well he is a doctor, only Erin could make friends with a doctors daughter!) but when he bought her home she was non stop talking to me about what she had done and proudly showed her loot from the trick and treating. Hopefully with time her selective mutism will start to disappear. We spent the rest of Halloween giving out sweets to all the little ghosts and ghoulies knocking at the door and Erin proudly placed our pumpkin that she had helped carve on the front porch.
Hope everybody enjoyed their Halloween and wishing you all a safe and spectacular firework night, look out for our fire lanterns.
Thanks to everyone who sent cards this month, especially Angela for the cards she sends each week and during her house move too. Thank you Angela. Thanks also to Viks, Sarah, and Tam all the way from Japan. We had some wonderful Halloween cards from Maria and Michael, Karen, and a lovely hand stitched card from Tracey. We also received some lovely letters. To Jane, thank you for writing to both Kyle and Erin, and to Maria and Michael for your letter with all the pictures in. Erin looks forward to practice her reading skills each time she opens one. The children were spoilt with Halloween treats, our thanks to Karen and Maria and Michael for them. We would also like to thank Viks for the lovely purple poodle key ring and all the team at Post Pals for the Lego and flying lanterns sent to both Kyle and Erin. We are hoping to let the lanterns go on firework night if it remains dry.
Update 7th October 2009
Well, summer is truly over and the autumn nights are setting in.
We were fairly busy in September with hospital visits three weeks out of four, each time travelling up to London's Great Ormond Street. The first two appointments were Erin's ophthalmology check ups she has every three months. These went fairly well, her vision in her left eye is still deteriorating which has meant a new pair of glasses (the second pair in a month) and she still has to wear her patches during the day.
The third appointment was the check up – post op check on her tracheostomy removal stoma site. The doctors seem really pleased at how well Erin has managed without her breathing tube, but as we had thought, the hole left hasn't fully closed up. Apparently it has healed around but healed leaving a hole. We are being booked into the hospital in January to have this surgically closed. She should only be in for about three days. The surgeons had to inform us that there is a slight risk that when they repair the opening it can cause trauma to the trachea which would mean inserting her tracheostomy back in again. They did assure us that this has only happened once in the last six years, so fingers crossed. The op needs to be done as she can't be left with a hole in her neck which goes straight in to airways. Swimming is strictly off limits until this is done again.
Kyle turned 11 at the end of September and had a wonderful weekend of partying. He had three friends stay the night after school on the Friday and then on Saturday afternoon he had his party at a local swimming pool which has inflatable islands, slides, rapids etc. He had a wonderful time. Kyle was hoping that Erin would be given the all clear to do swimming, but unfortunately this wasn't to be. She did enjoy splashing around in the baby pool though. Then they enjoyed burgers and chips in the restaurant. On his actual birthday we had family around for a little birthday tea, it was really nice to see the kids playing with their cousins. Kyle was really pleased with his IPod he had asked for and is merrily downloading tune after tune.
Glenn and I have been busy over the last few weeks with school visits with Kyle. He is due to change school next year and we have to name four schools. We have been to visit two local comprehensive schools with which we are fairly happy for him to attend either. We find out in a couple of weeks his results from his 11+ exam and if he has achieved the relevant result, then we may look at the two grammar schools in our town.
Erin has now taken up the violin at school every Wednesday and she brings it home during the week to practice – lucky us!! She has surprised me that she can make some nice sounds with it. She seems to be enjoying the lessons and practising. She has really come on at school this year and is doing her homework and reading without any fuss at all, unlike last year when books and pencils would be thrown across the room. We were a little disappointed though to receive a call from school say that they were concerned about Erin's reading age and that they needed to notify us. Apparently it is 5 years 6 months when it should be about 7 years. Her spelling age was much better at 6 years 7 months. We were quite surprised by this as since starting Junior school she really seems to want to read. Post Pals is helping here, as each time she receives her post she eagerly tries to read it. I must remind myself that Erin has had a huge amount of problems in her little life so far, from not being able to see and hear for the first few months of her life and the amount of time being spent in surgeries and hospital, that realistically she has achieved more than I had imagined for her when she was first born. Well done Erin, keep going girl!
Wishing all our Post Pals friends a Happy Halloween and Happy Trick and Treating.
We would like to thank everybody who sent cards last month and especially those sent to Kyle for this birthday. As always, thanks goes to Angela for the wonderful hand made cards, Erin particularly likes the Pickles the Elephant and Bubble the Bear cards. Bubbles is her brothers nickname. Kyle likes the Scooby Doo ones. Thanks also go to Kate Dee for the cute dog card, Tracy, Viks, Sarah for Kyle's car postcards, Kate Dee for the football card and the football strip belonged to Man U which is the team that Kyle supports. We would also like to thank the Schauer Family (Alex, Jacob, Haydon and Owen) from the USA for the cards they sent. Thank you to S Gilligan who sent the lovely origami rabbit and Katie W for the beautiful mermaid card. Kyle received many cards for his birthday and he would like to thank the following people for remembering him: – Angela, Maria and Micheal, Jane & Percy and Tracy from Bristol. Thanks. Maria and Michel, once again thank you for the lovely letters you write. The princess paper is really pretty.
More thanks for the gifts received by the children last month. Erin would like to thank Vics for the witches' sticker book and the decorating bag which she has thoroughly enjoyed decorating. Our new friends the Schauer family in USA for the beautiful fairy picture drawn by Alex and the fairy stickers. Katie W for the bouncy putty which proved a big hit with both children and can really bounce! Last but not least, our dear friend Angela as Kyle was over the moon with his Man U holdall and stationery set. He is planning a school trip to the Isle of Wight later in the year and has already earmarked the bag to take. Thank you all.
Update 5th September 2009
As the summer draws to a close, we can't believe how fast it has gone. August was just one big blur in our household with our holiday, hospitalising, and finally achieving a dream come true with Erin.
In the middle of August Erin underwent a trial decannulation (tracheotomy removal) at Great Ormond Street Hospital. It was her first ever attempt and we were only given a 50:50 chance. When we first arrived they downsized her tube to make it harder to breath through her neck and the very next morning they completely capped it off. She was then monitored through the night to check her oxygen saturations level, amazingly these remained high all night, even with her noisy breathing. The next day was totally amazing – early in the morning the nurses asked me to remove her trackie tube. It felt unreal pulling out her tube without having another one in the other hand ready to go straight in. It was the first time in six years and we have been able to fully look at her neck. The stoma site (hole) was quite a shock at first sight but slowly we got used to it. Erin then had to have an airtight dressing on for two nights while they monitored her oxygen levels to make sure she was breathing well enough. Within five days we got the all clear, had our resuscitation training, and were allowed to go home minus one trackie. We were all elated. We can now go anywhere without having to take along her heavy suctioning unit and all her spare medical bits and pieces. Sunday evenings are no longer dreaded as the hair wash and tube change day (now just the hair wash day). Erin still remains with quite noisy and restricted breathing due to her small airways from the Syndrome but the doctors are quite happy that she is breathing well enough to maintain her oxygen levels. Since being at home we haven't had any problems whatsoever – touch wood. Erin is to go back for a follow up appointment at the end of this month to check to see if the stoma site has closed. If we get the all clear, Erin will be able to go swimming for the very first time. If the hole remains open we have to wait for nine months and then she will have surgery to close it. We hope it does close naturally, but if surgery is needed then we don't worry too much because we have already got what we really wanted. Well done to our daughter. We are so very proud of you sweetheart!
We all had a wonderful celebration party on Erin's return with a lovely sunny BBQ one Sunday afternoon.
Both Kyle and Erin are now back at school and Erin is now with her brother in the Junior School. Our local BBC filmed her on her first morning as they have been following her since she was small. This time Kyle was more than happy to be on camera and even gave a little interview all by himself, saying how pleased he was to see her without her trackie and how much he was going to enjoy watching over her at school. So far Erin has adapted very well to junior life, she has kept her school carers for the time being, but we know that they will not be able to remain long now that her trackie has been removed. This is our only regret in the whole matter. Her carers have been absolutely wonderful throughout her school life and have become very close family friends.
Kyle is gearing himself up for the 11+ later this month but we have assured him that whatever he achieves we will be pleased with whatever the outcome is. Kyle has had to endure so much pressure on his life so far that we certainly won't put any more on him. His cricket season has come to and end with a tournament – sadly his team came last but they all came of the field with smiling faces. Now begins his football season – lucky me with all those muddy kits to wash!
Best wishes to all the Posties and Post Pals. We're sending happy thoughts your way.
Thank you to everyone who sent cards this month as we had an amazing number come through. Our thanks as always go to Angela for both Kyle and Erin's cards, the little school boy reminded me so much of Kyle's first school day. Thanks to Charlotte from Young Volunteers, Margret from the USA, Sheri also from the USA, Claire for the Centre Parcs card, Tracey in Bristol, Cathe – an angels touch mail, Celeste another friend from the USA, Laura H for the Flamborough Postcard, Sarah for Kyle's Racing Car Postcard which he loved, Viks for another of Erin's favourites (Troy and Gabriella from HSM), Sarah for the swan postcard, Michelle all the way from Australia for the beautifully hand made cards, Kim G, Keryn for the cheeky little girl card, and Kate. Thank you all so very much. Thank you for the wonderful letters received from Maria and Michael and of course our little doggy friend Percy the Poodle. The children were very spoilt again this month with gifts being sent too. They would like to thank the people who sent the flannel lollies all the way from Hong Kong – they look too good to take apart. Cara, thank you for the butterfly broach, Erin adores butterflies and has them hanging in her bedroom. The sticker book with baby animals from Katie W was great and so was the Match of the Day book for Kyle from Sarah. Michelle, the High School Musical stickers were a real hit with Erin. Lastly the lovely Pony Books sent by Kim G, Erin will enjoy these each night. Thank you all. Post Pals always brighten each day with the letters and cards we receive.
Update 19th August 2009
We are delighted to be able to report that Amanda and Erin returned home today from Great Ormond Street and Erin is trackie free!!
Thank you to everyone at Post Pals for the kind thoughts and consideration shown to her at this time.
Update 13th August 2009
July has been a particularly busy time what with the end of the school year, attending two sets of sports days and end of year plays. This year was particularly emotional at Erin's play as she leaves the school to carry on her schooling at the Juniors across the road. She played the part of Boo (the fairies in Cinderella) and did a wonderful tickety bickety boo dance. At the end of the play the children dedicated a most moving song to the parents to thank them for all their support and love, there wasn't a dry eye in the hall and the words seemed so appropriate with all that we have been through with Erin. I think I nearly got through a box of tissues. I must have been one of the proudest parents there! Erin is looking forward to starting Juniors and Kyle is going to be the 'Top Man' in year 6, being one of the oldest in the school. He is getting ready for his 11+ when he returns in September and has been working very hard studying a few practice papers. We just want him to try his best and be happy taking it. Both the Grammar and the Comprehensive Schools within our town are very good and we will be happy whatever his achievements are.
Erin has enjoyed a sleepover with her cousin at Nanna and Grandads house who spoilt them with a trip to Farming World. We collected a very tired little girl the next morning. Glenn and I treated ourselves to a night out with just the two of us at a local restaurant. Thanks Nanny and Grandad!
We have just returned from a lovely weeks break at Butlins Bognor Regis. The kids absolutely loved it. Kyle did things he has never done before, like high wires, climbing wall, fencing and artery, and even Mum had a go at artery but Kyle still beat her. Erin enjoyed the lively evening entertainment and loved the circus show. Kyle also spent most of his time in the pool but Erin finds it quite frustrating just paddling and wants to go in further. Hopefully, if all succeeds next week, we may finally be able to take her right into the water. The tracheostomy is so limiting regarding water fun.
Next week we go in to hospital on the 15th August for Erin's first ever trial decannualation (removal of her tracheostomy tube). It is one of our biggest dreams come true and we have all been anxiously waiting for this time. Erin now won't even talk about it and just walks away. I think she knows the importance of it all. It will make her life, and ours, so much easier but we still have in the back of our minds the 50:50 chance. It will seem strange not to care for the tube and all the gubbins that come with it, and sadly, if it is successful we loose Erin's full time carers at school. Tina has been with Erin since she started pre school aged 2 and a half, and both I and Erin will extremely miss her. We all have very mixed emotions about it all, but keep your fingers crossed that hopefully by the end of next week we will be TRACKIE FREE.
Good luck and best wishes to all the other Post Pals and Posties out there and enjoy the remainder of your summer break.
We would all like to thank everybody who sent cards this month. In particular, Claire for the Comer Postcard, Angela for all her cards she sent to both Kyle and Erin – Kyle particularly liked the football card and Erin and her mum the fairy and poppy card as the colours were beautiful. To Jane for the cards to Kyle and Erin from Devon, we're glad you enjoyed your stay at Harcombe House as much as we did. To Sarah for your postcards to Kyle. To Erica Durante for her card all the way from America. To Maria and Michael for the postcards – High School Musical being a firm favourite of Erin's. Lastly to our friends Jared and Sarah for their postcard.
Thank you to everyone who has sent the children gifts, particular thanks to Sarah and Jared for the little pad for Kyle and the beautiful bracelet and charm for Erin. She absolutely adores it. To Viks – thank you for the lovely goody bags for both children, their faces lit up looking through all the goodies.
It is so nice to know that we are always in the thoughts of our Posties, especially during such an emotional time. Thanks to you all.
Update 18th July 2009
June has just shot by with party preparations and hospital visits. Erin is still struggling with the ulcers left on her chest by the shingles. She has had two further doctors appointment and has just finished a double dose of antibiotics to try and get rid of the infection of the ulcer. We are still dressing the chest each day but Erin is now taking an active part of removing and redressing the wound all without tears, hurrah.
She went up for the dreaded ophthalmology appointments at the beginning of June to see if the pressure on her optic nerves had grown any worse. Luckily, we were given the news that the pressure was still there but hadn't increased, which means more tests in September to check again that no damage is occurring. She also underwent some new test to check her peripheral vision. We were quite shocked at the results which indicated she had quite bad blind spots in her peripheral vision. It was also decided that patching her bad eye was to increase to 7 days a week which Erin hasn't taken to kindly. I think in the last three weekends we have only managed to keep a patch on for one Saturday for two hours. We are at our wits end as to how to coax her into wearing it at the weekend. The doctors have said that if the patching doesn't correct the eye then surgery will be needed later on.
Erin had  a weekend appointment with our local hospital to help with junior doctors training. She was a very good girl and was quite willing to let the training doctors examine her. I think she knows somehow which doctors are 'safe' and which doctors to run away from.
At the end of the month we had another visit to see the specialist dentist at Ormond Street. They seemed really pleased with Erin's oral hygiene but were a little concerned about her front top teeth. During a past operation her milk top teeth were knocked and this has affected the growth of her now adult top teeth, but the dentist has assured us that these can be corrected at a later date.
Now to the hard bit. Just this week we had a small operation up at Ormond Street to check Erin's trachie and her trachea. This is done yearly to see if growths (due to the trackie being inserted) need removing and the possibility of the removal of the trackie one day. We have been going through this procedure for 6 years now with the usual result of that they can't get far enough down to see and that removal would be unsafe. Unfortunately, the day of the op, Erin's dad was unable to be with us as he needed to be with Kyle for his sports day. Luckily Granddad stepped in and was with us during the day. Erin was very unsettled during her anaesthesia and put up quite a fight. That was nothing compared to the fight in her when she came round in the recovery room though and  it took both Grandad, myself, and a recovery nurse to keep her on the trolley. It was heartbreaking to see her in such a state and not see the lovely little daughter that she usually is. Within about 20 minutes she began to calm though and had a wonderful sleep on Granddad's lap. She woke up with her usual beaming smile.
We were then given the news we have been waiting years to hear – Erin was ready for her first trial decannulation (trackie removal). I was in total shock and after waiting for so many years, was now quite fearful about agreeing to it. The doctors gave us a 50:50 chance of it working. We agreed to go away and think about it for a couple of days. We were told that if it was to go ahead it would have to be within a month. A day later we received a call from the hospital to say that they had booked Erin in on the 15th August for a 5 day decannulation programme. Our minds were made up for us. Now just a month of sleepness nights!
The children have had busy social lives during June, with Kyle enjoying a dress up day at school. They had to dress up and give a speech from a famous person from the past. Kyle opted for Neil Armstrong and looked wonderful walking to school dressed as a spaceman. He won first prize in his class and was congratulated on his speech.
Erin's birthday was a huge success. She had her glitter girls party in the morning with her school friends, each having their hair, nails and make up done. Then she had cheerleading and finally went on to limbo class. This was followed with a BBQ for family and friends and finished well in to the night. She was thoroughly spoilt by all and enjoyed every second.
Best wishes to you all and enjoy the summer break.
Thank you for all the post this monthl, I think we have broken all records of the amount of cards received in one month! Thank you to everybody who sent cards both to Kyle and Erin and to Erin for her birthday. Thanks goes to Sarah for the London Eye Post Card, Kyle is hoping to have a trip on it when Erin has a weeks stay in Ormond Street Hospital in August. Thanks to Sarah Gilligan for Kyle and Erin's cards. Angela, you never forget us with your most wonderful hand made cards and the lovely Rupert Bear stories. Maria and Michael for the London Post Card, glad you enjoyed your visit to London, especially the Science Museum which Erin recently visited with the school. Thanks also goes to Tracey and Despina from Pennsylvannia.
Erin would like to thank everybody for the cards sent for her birthday. Particular thanks to our good friends, Angela, Jane & Percy, Tracey from Bristol, Debbie, Tracey for the beautiful fairy card, Tina for the lovely ballerina, Viks for the cheeky cheerleader, Laurel and Autumn for the beautifully made mice card, Vicky M, Kate, Jenny O, Maria & Michal and Kate Dee for the lovely Beatrice Potter Cards. They were all appreciated.
A big thank you to our special friend Percy the Poodle. Kyle and Erin enjoy receiving your letters. Erin enjoyed reading about your brothers Percy and Kyle enjoyed your sister Sarah's letter about her visit to Blackpool.
Again both the children have been spoilt this month. Sarah, you never forget Kyle and he really looks forward to your packages. He loves the car stickers and pen. Thanks for the presents sent to Erin for her birthday, Debbie for the colouring book and stickers, Maria and Michael for the Barbie Babies (a real hit with Erin) and finally our friend Angela who had spoilt Erin with the most beautiful Spaniel hand bag and the wonderful necklaces hidden inside. You are all so very thoughtful.
The childrens' faces light up everytime Granddad brings the post. Post Pals has become a big part of their lives. Thank you to everyone who supports such a wonderful cause.
Update 9th June 2009
Erin's shingle scarring has now got infected but is she on a course of antibiotics and having the wounds dressed by the nurse. She remains very cheerful though apart from the dressing changes.
Update 5th June 2009
Well, we nearly did it, we had nearly gone two whole months with no appointments or hiccups in Erin's health, but just before the end of the month at the very beginning of half term, Erin came down with Shingles. She was in quite some pain and lost all her energy. She spent most of the half term tucked up under a duvet on the sofa. Luckily, at the beginning of this week she perked up and it was in time to start school again. At the moment her chest, side, and back, are very sore with the blisters all weeping and the skin coming away. We have to dress her side and back each day so not to leak over her clothes. Hopefully we won't have to do this much longer as she doesn't like it being taken off. She has now regained all her boundless energy and is once again giving us the run around. We are awaiting an appointment up in London during June to have more tests done on her eyes to check that all the swelling on the optic nerves is still on the way down. Keep your fingers crossed it is the news that we want. Kyle had his yearly appointment with the local optician and we were pleased to hear that his vision has slightly improved and he was pleased to be able to choose a new pair of glasses.
Erin got her results from both her Ballet and Cheerleading exams, she passed both exams with flying colours.
We enjoyed a bank holiday Monday down at our local stream with the village annual duck race. The weather was so warm that the kids stripped off and spent the afternoon paddling in the stream with Kyle hanging on to Erin's hand very tightly. Shortly after this we realised that Erin wasn't quite her usual self and then things progressed with Shingles. During the half term Erin was treated to a wash, cut and blow dry at the local hair salon, which she thoroughly enjoyed and never moaned once about having her hair brushed like she does at home. Kyle is really enjoying his move up to Scouts and just loves doing all the outside activities, especially log chopping and fire lighting!
Erin is now looking forward to her birthday on the 14th June and has already arranged her Glitter Girls High School Musical Party (Hair, Make Up and Nails) with all her school friends. What a little young lady she is growing into.
Thank you to everybody who sent cards during May. Thanks go firstly, as always, to Angela. Your cards are amazing and Kyle enjoys receiving his too. Alessandra from Brazil, thank you again for sending the comic post card. Your English is a lot better than our Brazilian. Sarah, again as always, Kyle just loves the old fashioned vehicle cards you send. Jane, thanks for both cards to Kyle and Erin. Kyle enjoyed getting us to repeat the colours and Erin managed to find all the horses with a little help. To Kate W for her lovely card and last but not least, Laurel and her dog Autumn all the way from Australia for the beautifully made birthday card. Thank you all. A special thank you also goes to a little girl called Katie from Bromley who sent Erin a picture of a lovely lady bug she had done at school. A very clever little girl. Jane, thank you for Kyle and Erin's water balloons. They absolutely LOVED THEM. Mind you, Dad's not so keen as they received them just after he had cleaned all the outside windows. We did notice him having a sneaky little play too though!
Thanks to everybody for their support and may you all continue to enjoy the lovely summer.
Update 5th May 2009
Wow what a month. It has gone by in a complete whizz.
Erin has remained on her course of good health with just one visit to our local hospital for a yearly consultant check up. Locally the doctors know so little about Erin's condition that it's just a matter of ticking a few boxes to say that they have seen her, asked the relevant questions, and given her another appointment for a year's time!! She was quite happy about having the morning off school though.
We have received notification that Erin is to have further eyes tests to check that the pressure in her head is still going down and that no imminent surgery is needed and this is to be at the beginning of June. We are all praying for the right result. She also has another small procedure in July for her tracheotomy, a small camera is put down to check to see if there is any chance of removal, and if there are any little growths they will laser them off. She has been having this over the last five years and sadly each year we get a negative result to her loosing the tracheotomy. Erin was so disgusted at receiving the letter of admission for the July tracheotomy procedure that she promptly tried to rip it up and put it in the bin! She so understands now and it is beginning to get harder and harder trying to explain that these things need to be done.
We all had a wonderful Easter starting with a big Easter egg hunt at our house with our friends and family. We had Easter Sunday at Nanny and Grandads' house with our cousins and were spoilt with lots and lots of Easter eggs. I had an escape for a long rest and relaxation weekend with my sister and thoroughly enjoyed being pampered and enjoyed all the yoga classes and putting all the problems of the world to the back to my mind, but then it was back to the real world.
The children celebrated St Georges Day with their schools by wearing red and white and enjoyed an afternoon show of Knights of the Realm and watched them jousting for the afternoon. The following day Erin went up to the Science Museum in London for her school trip. She was very excited as the previous year she had missed her class trip as she was having an operation. It's nice for Erin to know that London doesn't always mean hospital. Kyle paraded in the towns St. Georges Day Parade for the last time as a Cub as at the end of April he was invested as a Scout.
Hopefully this month will be a good as the last couple and best wishes to all the families and supporters of Post Pals.
Erin and Kyle have received an amazing amount of cards over the last month and enjoy opening every single one. Particular thanks for the Easter Cards from Martin, Jackie and Jamie, the Post Pals team, Claire, Maria and Michael, Angela, Sarah and Kate W. Also, thanks go again to Angela for the wonderful cards she so regularly sends to both Kyle and Erin, they are beginning to recognise her handwriting on the envelope now. Thanks also to Sarah for Kyle's postcards; he enjoys the olden day vehicles. Kyle and Erin would also like to thank Jane and Percy for their letters. Kyle was very interested to read about the fire dogs and Erin had a laugh seeing Percy's 3rd Birthday Party. Easter was a really special time with all the parcels arriving for Kyle and Erin. Thank you to everyone, the children are very lucky. They would like to thank Angela for the money sent for Easter; you really are a very naughty lady. To Sarah for the Top Gear Cards. To Sarah for the books, High Street Musical was a real hit with Erin and so was the Dr Who book for Kyle. To Jane and Percy for the Easter Egg transfers. To Victoria, the hair box was beautiful and a wonderful way to keep all Erin's hair bits together, it has pride of place on her dressing table. To the Post Pals team for the Beatrix Potter Cards which Erin has already enjoyed writing in. To Sue for the hopping bunny, pink is Erin's favourite colour. Last but not least, Maria and Michael for the Easter Egg Chicks and Easter Book. Erin also received a beautiful Easter cuddly but due to my weekend way I didn't manage to take note of the name, but a huge thank you to you. So many wonderful generous people. Thank you very much!
Update 7th April 2009
After the horrendous February we had we've had a wonderful March with absolutely no doctor/hospital appointments what so ever. A dental appointment up at London was postponed to a later date. Hurrah, long may it continue. Erin has remained very well apart from the usual coughs and colds.
Erin and Kyle both enjoyed Red Nose day with Erin dressing up as Little Miss Sunshine and Kyle having a pyjama day at school. We all enjoyed a lovely big family Mother's Day at our house with grandparents, aunts and uncles. I was spoilt by both Erin and Kyle with a beautiful bunch of flowers and toast and juice for breakfast in bed.
Erin enjoyed an end of term school disco and took great delight in dressing up in pyjamas but found it quite difficult to dance in her cow slippers.
Just before the end of March Erin and her cousin took their dance exams in Ballet and Cheerleading. We now await the results. Kyle has enjoyed a couple of hockey matches with the school, winning one and loosing one.
May we wish everybody a happy and, if possible, healthy Easter.
Thank you to everybody who sent both the children cards this month. Particular thanks goes, as always, to Angela who again has made the most beautiful cards. Erin particularly liked the ballerina card and thanks for Kyle's card too. Thanks also go to Claire for the Tiger Card (Erin often stays in Tiger Ward at hospital), Julie for the Guide dog postcard and the residents of Leonard Cheshire House (in particular, Marion, Jill and Dot). Thanks to Sarah for the Morris Minor card, Kyle is getting quite a collection on his wardrobe now. I'd like to personally thank you too for the lovely little Mother's Day message. Thank you to everyone who's sent letters this month and in particular, Alessandra all the way from Brazil, Kim Ginger on behalf of the Leonard Perkins Residence Home, to Sarah, and to Jane for your updates to both Kyle and Erin. Another big thank you to everybody who has sent gifts. The children really are spoilt by you all. To Jane – Kyle loves his Lego and Erin loves the dolphin pen. She uses it to collect Kyle from Cubs when it's dark. To Sarah, thank you again for remembering Kyle, he enjoyed the balloon racing cars. Thanks to the Post Pals team for spoiling Erin with the cuddly bear, a firm favourite.
Update 4th March 2009
Where do I start… it's been a rollercoaster of a ride during February but things so far have ended well. In the middle of February Erin went in for surgery to insert a bolt into her brain to monitor the pressure within her head as doctors felt that her eyes had been showing signs of high pressure. Erin was remarkable throughout her stay with not too much fight being given by her during her anaesthetic. She was quite tearful on her recovery complaining of a headache, but if I had a bolt coming out of my head I think I would complain too! We had a friend visit shortly after who managed to take her mind off things. Erin was attached to a computer for three days which meant she was unable to leave her bed, which for an active little girl was quite a feat, but she didn't once complain and quite enjoyed bossing me around to fetch things. The bolt was removed on the ward which caused a little anxiety as her brother was in the room at the time and he felt a little upset seeing her so frightened, but it was soon forgotten after a couple of games on the hospital Wii. Erin's surgeon saw us before we left and was quite concerned with the results which showed very high peaks of pressure while Erin was asleep and it was decided that upon his return from holiday we would be looking at a further vault expansion to both sides of her head (her skull would be cut open both sides to allow more room for her growing brain). As her surgeon has done this on three previous occasions it was something he was hoping not to do again. In the meantime we were to await an existing eye test before the operation date was given. The eye test was as the end of February and we were given the brilliant news that Erin's eyesight has not deteriorate any further and that the swelling on Erin's optic nerves was slightly better and the ophthalmologists felt that it would be worth waiting to see which way it goes. So an eleventh hour reprieve was granted and we now wait for checks in three months time to make sure everything is going in the right direction. All the worry has been quite exhausting but hopefully we can put that worry on hold until the further test.
Socially, Erin has been doing very well with school and her dancing, but sadly has missed a few classes with hospital. She had a very good report from her teacher and is working very hard.
Kyle enjoyed his half term with lots of swimming and a trip to Diggerland. He also had a glowing report from his teacher, and he even enjoyed his valentine's disco at school.
Thank you to everybody who sent cards during February. Thank you for the Valentine's cards from Maria and Michael, 'S' for both cards to Erin and Kyle, and a few others that had been forgotten to be recorded, sorry. Thanks to Jenny all the way from Finland, Angela for your amazing cards, Post Pals for the truly wonderful High School Musical card (a real favourite), Get Well Cards from Kim and Kevin, and Tracey from Bristol. Thank you also to the beautiful card made by Jared. Kyle would like to thank his post pal Sarah for the Corgi post card; his dad recognised most of the toy cars on it. Thank you Jane for your letters, glad you enjoyed your birthday treat to Dancing with the Stars, and the letter to Kyle with the amazing animal pictures. To Percy for your Certificate of Bravery to Erin, this is now up with all her other certificates of achievements, and the letter about yourself in the snow. Erin was very spoilt this month with all her postie. Thanks goes to Kim G for the Flat Stanley book and the selection of valentine's gifts and Sarah for the ever popular football cards for Kyle. Huge thanks goes to Project Linus for the two wonderful quilts for both Kyle and Erin. Stitches of Love for the most beautiful cushion and Jess for the Fairy book, which Erin and her cousin enjoyed making and the pens and pencil case.
During a quite stressful month it was wonderful to know so many people were thinking of our little girl.
Update 26th February 2009
Today we have been delighted to learn that following two days of tests at Great Ormond Street, the Vault Expansion surgery which is a horrific operation where her skull would be split to reduce cranial pressure, will now not be necessary. Instead, Erin will continue to have her cranial pressure monitored every 3 months. We are all very relieved.
Update 19th February 2009
Erin had her stitches out yesterday with no fuss at all.
We are all a bit stunned by the news that it's looking like another major head surgery. She last had this done when she was three and a half and had a lot of problems with the scar healing. Each time they make her head bigger, the skin has to stretch more which causes the scar to open! We haven't received a date yet but are due up to Ormond Street on Wednesday and Thursday next week for last check ophthalmology appointments. Erin's sight is deteriorating and if left with her pressure problem she would be totally blind.
Update 17th February 2009
A huge thank you for the card Post Pals sent to Erin while she was in hospital. She was absolutely delighted to see her face next to Troy's from High School Musical. All the hospital nurses and doctors were amazed by it. It was certainly a talking point. She now wants me to frame it and put it up in her bedroom.
Erin is going to the doctors tomorrow to have her stitches out.
Update 13th February 2009
Unfortunately, the result of her ICP test was as we feared, and it has revealed that the pressure within her skull is high. This means she will have to have a Vault Expansion operation very soon to prevent her losing her sight and other dire consequences.
Thanks to everyone who has wished her well, particularly everyone at St. Matthews Sunday School.
Update 12th February 2009
Erin had her operation to insert the probe into her skull on Wednesday 11th February. All went well and we just have to wait until Friday to see what the result is. Erin is in good spirit but a little tetchy as she is confined to bed because of the equipment.
Thanks to everyone who sent their good wishes.
Update 6th February 2009
We have just heard that Erin is to go into Ormond Street on Tuesday next week. She will have the bolt inserted on Wednesday 11th and hopefully return home late on Friday 13th. At least she's not having the op on the 13th.
Update 3rd February 2009
January seemed to be a month of hospital visits and bugs all round. Both Glenn and I caught nasty colds, then Kyle had to have three days off school, and then finally Erin caught it, which ended up with a trip to the local casualty as she was coughing up blood from her trackie and needed some antibiotics. Just before this Kyle was in casualty after a nasty football accident at school which ended up with three fingers needing strapping. We are now nearly recovered.
Erin's CT scans were phoned through to us and thankfully no great problems were evident, but because her eyes are showing a great amount of pressure, her neurosurgeon wanted to actually see her and feel the bones in her skull, so near the end of January it was another trip up to London to see her neurosurgeon. He seemed quite pleased with how the bones felt but felt it best to do everything possible to make sure there was no problem with pressure and so has asked Erin to undergo an operation with the next 2 to 4 weeks to have a bolt inserted through her skull and into her brain. This is then hooked up to a monitor that will record any pressure changes occurring. She will be attached to this for about two days and nights and then have it removed and stitched. It all sounds quite barbaric to me but to get peace of mind I'm sure it will be worth it. Hopefully we should get the results shortly after having the bolt removed. So it's more waiting – sometimes the waiting is the hardest part. We haven't broken the news to Erin yet, we weren't quite sure what she picked up at the hospital. I did ask her did she know what the hospital had said when we came out and she just replied no and very quickly changed the subject. Erin still believes that because the doctors last said that they believed Erin was now out of the woods regarding life saving operations, the next operations would be when she requested them. She took great delight in letting us know that she can choose. Now I've got to tell her that the doctors were wrong and she must have another operation. Wish me luck, I think I might have one very angry little girl!
Thank you this month, as always, to Angela for her cards. They are so pretty and Erin is beginning to recognise them now. Thanks also to Maria and Michael and Sarah for the postcard from London to Kyle. He has been enjoying the Man U games. Thanks to Percy for the Christmas letter, Erin enjoyed looking at his pictures. Sarah and Jared, it was nice to hear about your Christmas and Baggy would like to say big thank you for his letter and the treats. He is being spoilt at the moment. Many thanks to Julie B for the High School Musical Calendar. To everyone at Post Pals for the box of goodies – this was good timing as Erin had just come home from a hospital appointment. Again, to Post Pals, thanks for the cat magnets and the fizz football for Kyle and of course a big thank you from me (mum) for the gorgeous truffles. Thanks to Helen for the pink nodding dog, it got pride of place on our printer.
We send best wishes to all Post Pal families and supporters and thanks again to everyone who thinks of our special children.
Update 6th January 2009
December was a bit of a blur due to Christmas Shows, days out, hospital visits, and the final touches to the renovation of our study and dining room, both just completed in time for Christmas.
Erin enjoyed her school Christmas disco and won second prize in the dancing competition. The whole family enjoyed Erin's dance class show. She entertained us with her cheerleading and then gracefully performed her ballet as a Sugar Plum Fairy dressed in her most favourite colour, purple. For a shy little girl she certainly has a presence on stage and doesn't appear to show any stage fright. Erin also sang at our local church and shopping centre with the school choir to help raise money for our local hospice.
Just before Christmas we all had a wonderful day out at Dickens World in Rochester. We walked through the old London Victorian streets, which was perfect timing as Erin had been studying Victorians last term at school. We then went into the old theatre where we watched a pantomime (it was Dick Wittington) and the kids were totally taken by it. The day was finished by a trip to Father Christmas's grotto where they had quite a long conversation with him giving him their wish list. Kyle was wonderful explaining to Erin what Father Christmas had said and then replying for her. He always looks after his little sister when out and about.
Glenn had to work Christmas Eve night so the children and I went to the Christingle service at church and enjoyed joining in with all the carols. Glenn managed to make it back home by about 09:30 Christmas morning but by then the children has been up for about three hours and has already opened all their presents from Father Christmas. Erin was so excited with the double buggy he had bought her that she was shouting thank you up the chimney. Kyle was pleased with his wrestling set too. They were both spoilt rotten by friends and family. Both Kyle and Erin did say though, that they want to wait for Daddy to come home before opening our presents, which was really nice for Glenn. Again, Erin was over the moon with her twin dollies to go with the double buggy. She has a little girl called Daisy and a boy called Kurt and they talk and wave to each other. We had Glenn's family over for Christmas Dinner and then my family joined us for tea in the evening so the children had all their cousins over and thoroughly enjoyed the day, and went to bed absolutely exhausted but with great big smiles on their faces. Christmas is a real magical time for children. Then Erin and Kyle had the treat of High School Musical on Ice (tickets donated to the children's hospice). Erin informed Glenn of who all the characters were and Kyle was watching at how well they skated rather than the story! A lovely way to finish the old year off.
We had two appointments up at Ormond Street just before Christmas, both to do with her eyes. Luckily Glenn took her up one day for an electrode test on her eyes and brain and then the next day I took her up to check her vision and see the eye consultant. I was shocked to receive the news that the electrode test, done every six months, had dramatically fallen and that her optic nerves were under pressure, an indication of the brain being restricted and causing too much pressure build up. The news came as a shock as only in September we were told that they believed Erin had managed to make it through most of the problems she would encounter and wouldn't be looking at further major facial reconstruction until she asked for it and they may consider the removal of her tracky. It now looks like that may not be the case.
Whilst visiting, Glenn managed to talk to Erin's ENT surgeon who was to give the go ahead on the tracky removal and she was of the opinion that this would not happen, as she was still looking at a plastic surgeon reconstructing the back of her jaw bone and the possibility of reconstruction of her windpipe, which would mean a long stay in intensive care.
So we've gone from a high to a low with the worry of what happens next with Erin.
We have now had an appointment on the 5th January to CT scan Erin's brain. Granddad came up with Erin and I which was nice as Erin got very upset when seeing the scanner. As she gets older the treatments become harder because she becomes more and more aware, but Erin showed her great strength and completed the scan on the first attempt. Now it's another waiting game to find out the result and if anything needs to be done. Fingers crossed, I still hope it may just be little glitch.
Thanks you for all the cards sent over Christmas. Particular thanks to Angela who makes the most wonderful hand made cards, Claire, Kate D, Despina, Martin Jackie and James, Maria and Michael for both of your cards, Helen T, Scott Renee Gabrielle and Blake, Kate, Sarah, Annie and James, Natasha and Bob, and as always Sarah for the cards she sends to Kyle. A special thank you to Santa Clause who sent a lovely letter at the build up to Christmas! Letters were also received from Kate W and Henry the Dog who sent Baggie (the cat) the cat treats. Baggie really enjoyed them. Thanks to Charlotte for the email too.
Huge thanks to everyone who sent gifts over the Christmas period. We were all overwhelmed. We tried to keep a track of names but things were quite manic over Christmas time so hopefully we have remembered everyone!
Erin would like to thank Julie B for the electronic cat game; she's hanging the cat keyring on her school bag. Thanks to Jess at the Church of Jesus Christ for the wonderful hand made card and Santa Sack. To Julie Barrett again for the decorating Christmas tree. Thank you to Erin's Elf, Jared and his mum, for the most wonderful box full of presents – Erin couldn't believe her eyes, thank you very much. Thanks Claire for the Christmas scrunchy, she wore it throughout Christmas. To Milly and Alice, thanks for the Dora mermaid and congratulations on both of your Christmas cards. To Percy, again, thank you for the music cds, the kids really enjoy them. Maria thank you for the purse. To the Post Pals team, thanks for all the bits, particularly the High School Musical bits, Chilli the snowman (a favourite) and the sand art. Also a huge thank you to the man who donated the Polly Pocket Shopping Mall to Post Pals as both Erin and Kyle find it very amusing.
Kyle would particularly like to thank Julie B for the England Football game. His Elves, Natasha and Bob, for the wonderful football clock which is now on the wall of his bedroom. The gumballs have to be hidden from Erin who likes pinching the yellow ones and the Top Gear cards were a big hit. Alice and Milly for the electronic game and Sarah for the football cards which he really enjoys receiving.
Best wishes to everyone for 2009.
Update 17th December 2008
A huge thank you to Post Pals for the lovely Polly Pocket car mall. Erin absolutely loves it and her brother has a go when nobody is looking. She really is a very lucky girl. Thanks also for the Chilly Snowman which is another favourite of Erin's. You all spoil her. Thank you.
Update 2nd December 2008
November has been quiet for hospital visits but slightly busier for Ear Infections. Erin has had one infection after another which means she is unable to wear her hearing aids. At the moment her ears are fine and her hearing aids are back in so we don't have to listen to the telly at full blast. We are waiting for our last appointment up at Great Ormond Street for this year which is just before Christmas to check Erin's eyes.
Both Kyle and Erin have had a very social November. Erin took her cousin and her friend from school to see High School Musical and has now fallen in love with Troy. The same day Kyle took part in a mini Olympics with his scout group and thoroughly enjoyed himself.
On the 11th we had a most wonderful time at Lapland UK held at a reservoir near us. The company opened up a day early for Demelza Children (our local children's hospice) and allowed all the hospice children, siblings and parents to visits. It was all very magical with snow, elves, huskies, reindeers, sammi people. We entered through a lovely glade all lit up with fairy lights, with butterflies and birds and elves teaching us songs to sing. When we entered the Father Christmas's village it was snowing and all the trees and cabins were covered in snow. We went on to the Elves Toy Factory where we helped the elves make the rocking horses heads, apart from one little naughty elf who kept putting the ears in the wrong place which made Erin giggle. We then went next door to Mama Christmas's Gingerbread Kitchen, and helped her decorated the gingerbread men. Kyle ate his there but Erin did manage to get hers home before munching on it. Mama Christmas then sat in her enormous kitchen chair and told us all about Father Christmas and that his two most favourite foods are porridge and gingerbread, so this Christmas Eve we will be leaving a nice little drop of port with some gingerbread and a carrot of course for Rudolph. We then had a lovely hot dinner in the restaurant and then went on to see the Father Christmas in his log cabin. He had a really big book with Kyle and Erin's name in; apparently they were on the really good page! He gave us presents and Glenn a book and made him promise to read it to the children every Christmas Eve. Glenn said that he wouldn't be able to this year as he is working nights. I don't think Glenn is going to get much in his stocking this year! Glenn, Kyle and Erin then went on to the ice rink. Erin enjoyed it so much that she didn't want to get off, but Kyle was ready after a few crash landings. Jane Torville the ice skater was there and was taking the children in wheelchairs around. We finished off with a visit to the reindeers and then into a Tee Pee for a Sammi story. I think the children will remember the day for a very very long time.
Erin has now joined the school choir! This is quite remarkable really because of her selective mutism but she seems to enjoy taking part and maybe it will give her the confidence to talk to people! She has a choir day at our local church during December with other schools and I look forward to watching her. She is now practicing for her dance school show and will be on stage twice this year, once with ballet and once with cheerleading. Apparently, in ballet they will be fairies. Then just before school breaks up we have a school play 'the meaning of Christmas'. It seems she has an interest in entertainment.
We enjoyed a school assembly that Kyle took part in. Kyle was a solider in a play about Henry the Eighth and had a small speaking part which he performed brilliantly. It was very professionally done and everyone seemed to enjoy it, both parents and children.
The children are looking forward to Christmas and getting excited by the minute and have produced Christmas lists as long as your arms.
Thanks to everyone who has sent cards this month. Special thanks go to Percy, we're glad you enjoyed your doggy chews. Also to Sarah for thinking of Kyle once again with the London Postcard. To Bette all the way from America. Angela again for the pretty hand made cards, Erin particularly liked the Snow White one. To Laurette, all the way from America. To Post Pals for both Kyle and Erin's froggy cards. To Katie for the Tinkerbell card. Thank you Summer for your card, glad you liked the horse and doll. Thanks also to Claire, Julie, and Lily from St Matthews Sunday School. Thanks Ava for the Christmas card all the way from Finland, it was our first. Thank you also to Jill from America (Bette's granddaughter) for your lovely letter. I hope to reply soon. Particular thanks to Julie for the key ring, Erin will enjoy putting it all together. Also thank you to Julia for the Advent Card and the fairy/princess stickers and sticky notes. Erin has to be persuaded that she must only open one door at a time.
We would like to wish everyone a peaceful Christmas. Enjoy.
Update 4th November 2008
October has been a fairly quiet month. Erin only had one hospital appointment and that was with our local hospital to help them with their Junior Doctor Day. Erin was examined by trainee doctors who then have to diagnose her condition. We do this a couple of times a  year as we feel the more doctors that know about this condition the better, as painful memories still remain of when Erin was born and nobody at the hospital was able to help us or give us a diagnosis.
Kyle also had his check up at the ophthalmology department and had the brilliant news that he will now be discharged from their care. He will only have to have his yearly check up at the local opticians.
Both Glenn and I met the Junior School Headmistress this month. Erin changes from Infant School to Junior School in September and preparations need to be made. It was great to hear that the Headmistress is keen to keep Erin's existing carers with her but she will have to clear it with the Infant School Headmistress. Fingers crossed she allows this. Both carers are very keen to follow Erin up.
Both children had glowing parents evening reports. Erin's teacher has said it would be nice if Erin would talk to her more, I think this is something they will have to work at.
We were very lucky that at the end of October we were given tickets to Nemo on Ice at the O2 Arena in London. Erin's brother and dad were unable to make it so we took Erin's cousin Jessica and her Granddad. It was a delightful show with some amazing costumes and skating.
We finished off the month with a Halloween party at Erin's Uncle's house. After rushing around sewing Erin a new witches hat she decided minutes before going that she really wanted to be a devil (um, don't think she needs a costume for that!) and a red devil dress, horns and a tail were soon found. So off we went with our little devil and Kyle dressed as a Skelton Pirate.
Thanks this month to Percy for the cards and Maria and Michael who made a lovely Halloween card. A big thank you to Bette all the way from Chattanooga USA. Kyle would like to thank Sarah for the card and yes, he did enjoy the football. He would also like to thank Percy the Poodle for the letter. Thank you Percy for your generosity again. Erin loved the Bratz Bag and Kyle enjoyed the aeroplane. Ella, thank you for the Tiger hand puppet, it was beautifully made. A huge thank you to everybody at Post Pals who made both Kyle and Erin's day with the parcels. Kyle has been challenging his Grandma's brain with the hang man, and particularly likes joining of the body bones up. Erin hasn't put Trilo down and he even went to see High School Musical with her – luckily there were a few spare seats so he managed to have a seat to himself.
Update October 2008
Erin enjoyed a relatively quite August with only one trip up to Ormond Street to collect some new hearing aids. Grandad had taken Erin and her cousin Jessie to the park and they both seemed to attract the attention of a couple of playful dogs but both girls panicked and got in a state. After the encounter we realised that Erin had lost one of her hearing aids. Ormond Street were meant to send another one to us but realised they didn't have Erin's levels on file so a trip to London was needed. In the end it worked out well because the other hearing aid wasn't working properly and we managed to get two brand new ones and Erin got her compulsory lunch in the pub!
Erin had a three day stay in Ormond Street Hospital in September for her yearly assessment where she will see all her doctors and consultants over the three days, with a big meeting at the end. The stay went extremely well.
Audiology – Erin passed all her hearing tests with her hearing aids in. They are making new moulds for her with are pink and glittery again.
Orthoptics – Erin wasn't too keen on playing ball on this one (due to her lack of speech) and with a struggle they managed to assess her vision. The patching that she has done so far on her eyes has made no difference at all, and we have agreed to have another three month go. Her left eye is still deteriorating and next time she will need a stronger prescription for her glasses. They did say that both eyes showed signs of dryness and now Erin has eye ointment over night.
Ophthalmology – there was still some concern that Erin still has a fair amount of swelling on both optic nerves (an indication that Erin's brain pressure is too high). Erin is to go back just before Christmas to have more tests to ascertain whether this is something that Erin will always have or that there is indeed too much pressure building up which will necessitate further surgery.
Speech and Language – This department had been warned that Erin is a selective mute and didn't push Erin to hard to speak and do tests. Instead they let her play and we all enjoyed a lovely game of pop up pirates with Erin giggling through most of the meeting. They are looking to see if they can refer Erin to a specialty hospital that deals with the selective mutism issue. We all find it very frustrating as Erin talk's non stop at home but as soon as she sees unfamiliar people no more words leave her mouth. We have resorted back to Makaton sign language and we are trying to get her to thank people that way to avoid any rudeness. We have been successful on two occasions!
ENT – This was a little disappointing as we didn't see Erin's consultant and all that was said was Erin is to remain with her trackie.
Photography – Erin usually hates having the medical pictures taken but was almost like a little model this time holding all the positions the photographer asked for.
The ward round at the end of the assessment went extremely well. Her neurosurgeon who heads up the whole craniofacial team seemed thrilled with Erin's progress. Both he and her plastic surgeon are still overjoyed at Erin's face remaining so good after four years (there is a little regression). He felt the very sharp angular bones at the top of Erin's head (from previous surgeries) and could see where they are making Erin's scalp and scarring very sore at times and has said it would be no problem for him to file these down to ease this problem. Both Glenn and I decided that we wanted Erin to have a rest from surgery for a while and agreed that when we felt the situation getting worse we would look at the operation then. The Professor is also going to refer Erin back to one of their orthopedic surgeons (as Erin still gets pain from her knees) just to make sure everything is well. The Professor also indicated that they are so pleased with Erin that hopefully they feel that Erin will not need any more life saving ops and would leave it to Erin to decide when and if she wants further facial reconstruction. As Erin's condition is genetic it means that all the work they have done on her head and face so far will regress and she will look strikingly different to as she does today. We have both agreed that it will be Erin's choice to alter her face and if she feels happy to live the way she will be then we will be behind her all the way and if she chooses surgery then again we will support her through this. Usually most children opt for surgery at around 11 and then continue to have operations until around 18 – 20 years old. We are elated with all this news and finally we can see some light at the end of the tunnel. Three or fours years ago we never dreamt that we would be this far, but then Erin has always been a stubborn little fighter. Well done Erin!
Just before Erin when into hospital our local hospice gave us tickets to the Day for Hero's concert where McFly were playing. Kyle really enjoyed the day and Erin enjoyed the free fun fair there.
Kyle enjoyed his 10th birthday celebrating with his school friends at Laser Quest shooting each other and then a family tea the following day with all his cousins. Big thanks to everyone who sent Kyle birthday cards – Sarah, Angela, Maria and Michael and Percy the Dog. Kyle was very surprised.
We'd also like to say some thank you's to everyone who has sent cards, particularly Percy the Poodle for the Wall E card and postcard from London and Morecombe. Thanks also to Hayley for the lovely bubbly goldfish card. Lots of thanks to Angela for the continuing cards (Erin loves the Nursery Rhyme ones) and good luck to you Angela in your stay in hospital, we hope it all goes well. Thanks to Michelle for the postcards. Thanks to Karen for the Cow Card for Kyle. Sarah for the Jaguar Postcard for Kyle, he really likes his cars with him being a Top Gear Fan. Maria and Michael for the Banburgh Castle postcard. Ella from St. Matthews Sunday School for the card, Erin will write as soon as she can. Jane for Kyle's foortball card. Susan for the teddy medal card. Shelia and Rufus, Karen, Vikki's nan whilst staying with Vikki, Kate D and Kate W. Thank you all. Thanks to Julie and Henry the Dog for the letter. We are replying soon.
A huge thank you to those that have sent both Kyle and Erin gifts too. To Sara, Kyle was ever so excited with his Man U Bag and it has now become his swimming bag for school. Thanks to Katie for the stickers. Thanks to Rebecca's Mum and Jon Paul for the book sent on behalf of monies raised. To Percy, both Erin and Kyle enjoyed the balloons and Erin enjoyed the other CD. Julie thanks for remembering me on your holiday with the puzzle book and Kim for the cards and paper.
Update 12th August 2008
Erin's hospital stay at the end of July went relatively well. She had her MLB performed and this time they managed to get slightly further down her windpipe. It is still not enough, but it is a step in the right direction. They will take another look in a year's time. Whilst in theatre the dentist removed two back teeth which were enormous and she also had her adenoids removed which we weren't planning on – this was to help relieve her runny nose. Erin woke up very unhappy with blood coming from her nose, mouth and trackie. We had to spend the night on a ward as she went into theatre late, but she had a very peaceful night, and enjoyed playing with her 'pet hamster' who was rolling around the ward. Erin was very reluctant to eat for about a week as her mouth was very sore but slowly she got her appetite back. We are back up at Ormond Street at the end of August for ophthalmology appointments as Erin has complained several times about having a headache, but I am hoping it's more to do with a piece of angular skull rubbing/stretching the skin on her head. The ophthalmology appointment will clarify hopefully that it's not a pressure build up on her brain.
We all enjoyed a family holiday down in Dawlish in Devon at the beginning of August. Kyle enjoyed his swimming everyday and both Kyle and Erin enjoyed the night time entertainment in the club house staying up until 11:00 every night. Nanny and Granddad came with us and we had a thoroughly good time.
Erin is now on a week's summer club at a local church and so far she is enjoying it. She attends with her cousin and either me of Erin's Granddad stay as her carer.
Thanks to those who sent cards this month, particularly Olivia from your trip to the museum, Percy and his trip to Liverpool, Sarah for the steam train postcard for Kyle, Maria and Michael, Kate Dee, Kate W for the lovely poem, Sarah again for the union jack card, Michelle, Tim and Jonathan for the Doggy Card, Julie, Hayley, The Post Pals Team and Tor. Thanks for the letters from Hayley T, St Matthews Sunday School and Percy the Poodle. Kyle enjoyed the Dr Who Facts. Thanks to the person who sent the stickers and colours (I've forgotten to write your name) and also big thanks for the CD made for Erin. She loves it and plays it all the time, especially Mika Lollipop and her favourite Barbie Girl.
Update 4th July 2008
Erin has had a super month with her birthday falling in the middle of it. She had a wonderful day with a party in the morning with all her school friends at a local sports centre and then a BBQ in the afternoon for family, friends and her carers from school. She was thoroughly spoilt by all.
Erin's health has remained extremely well which we are enjoying. Erin is still enjoying her cheerleading and was delighted to receive her uniform. She cheers for the Flairteenies troup. The costume is black and silver with silver pom poms. She also enjoyed attending Kyle's football presentation which had a Caribbean theme and she looked just the part dressed in her pink grass skirt and flower garlands. She danced the night away with her dad. Kyle also enjoyed the football presentation night and came away with another trophy to add to the many he already has. He has had a couple of cricket games playing for his year at school and managed to score some runs.
Erin is due to have a small operation on the 8th July to have a look at her trachea (windpipe). Erin has this done once a year with a view to seeing if we could start a decannulation programe (removal). This is usually done every three months but because they struggle to get the instruments down Erin's mouth and through her very narrow airway, they have postponed it to every year to avoid the disappointment each time. If they can get down they may have to laser any little growths they find. We're keeping our fingers crossed but deep down I've got a feeling that it isn't going to happen this time. While in theatre her orthodontist is hoping to grab half an hour to remove a couple of back teeth so I think she's going to be pretty grumpy when she wakes up! Not too grumpy to ask for her special present in the recovery room which is fast becoming a tradition.
Again thanks to all at Post Pals for all your support and keep your fingers crossed for the 8th July.
Thanks to everyone who sent cards and birthday cards this month, especially Karen (Sami), Helen F, Julie B, Victoria, a new pal Jo, the lovely homemade card from Hayley, Maria and Michael, beautiful card from sheila, Emily from 1st Burley Brownies for the lovely flower card, Dawn, Victoria (Tor) and Clarie. Thanks also from Kyle for the Man U Card with the football jokes from Sarah. Thanks for the postcard from Despina all the way from the USA. Big thanks to Olivia for your letter, we have lost your address to reply to so please can you let us know and thanks to Percy the Poodle. A huge thank you to everyone who sent birthday gifts this month. We were overwhelmed with the amount of gifts. Particular thanks to Kate W for the Card Making set, the beautiful teddy from Lou, Maria and Michael for the lovely ballerina, Jo for the sheep and bookmark, Julie B for the polly pocket car and Katie for the Polly Pocket.
Update 5th June 2008
Erin remains extremely well at the moment and her ophthalmology appointment was extremely promising. She doesn't need to be seen again for her eyes until August. She has lost yet another tooth so the tooth fairy has had a couple of busy months. Erin has started Cheerleading classes and is thoroughly enjoying them. She has an active week now with her ballet and cheerleading. She gets a little breathless after the cheerleading as it is so much quicker than ballet. She enjoyed her school disco eventually deciding to go as Belle from Beauty and the Beast and ended up dancing most of the evening away. She is getting very excited about her birthday this month and can't wait for her party. I can't believe she is going to be six, so much has happened in the last six years!
Kyle's ophthalmology appointment also went very well and he doesn't need to be seen for another six months. Kyle has enjoyed a weekend camping away with the cubs; he really enjoyed it despite all the rain. We were invited down with other parents on the Saturday night to celebrate their centenary with a BBQ and camp fire and both Kyle and Erin enjoyed singing camp songs. Erin even managed the long walk home late at night.
Sadly, at the beginning of the month Erin and Kyle lost their great grandmother. They attended her funeral and each placed a white lily on her grave and I was extremely proud of their behaviour. Kyle proudly wore his new suit and Erin wore her dark velvet dress.
Thanks to those who sent cards this month, particularly Nichola D for the lollipop princess card, the beautifully made dolly card from Olivia Kate's Mummy, the Post Pals Team for the bobbly eye cat and Kate W for the tinkerbell card. Kyle would like to thank Sarah for her car card. Thanks for Kate W for the letter to Kyle, and thanks to Laura H and St Matthews Sunday School again for their letters. Kyle would like to say a huge thank you to Sarah for the Match Magazine because, like Sarah, he also supports Man U and this month's feature in the magazine was Man U. Once again our thanks to everyone at Post Pals.
Update 3rd May 2008
Erin has had a particularly good month again. She had her yearly update at the local hospital and they seemed very pleased with her progress. She has now caught up on her weight but is just below average in height. The dental appointment in Ormond Street went fairly well and later in July when she has a general anesthetic for her trackie, they will possibly remove two back teeth. While there they noticed two loose teeth at the front and gave us a special fairy envelope for when they fell out. An hour later, sitting on the train eating a strawberry, Erin announced to the whole of the train that her tooth had just fallen out. We didn't think it would be that soon. The day after we were back in Ormond Street for her ophthalmology appointment. These are usually quite nerve racking as they can tell if Erin's brain is suffering through lack of room. Luckily, this time we had the all clear for another three months! Erin still needs to patch for two hours a day and was very upset to hear from doctors that when she finishes school for the summer they want to patch all day for about four weeks to see it that makes any difference. Not a happy bunny!
Erin has now achieved her beige rosette in Ballet. She is looking forward to her school fancy dress disco later in the month and can't decide between a bride or a nurse.
Kyle has just returned from a school trip to an outward bounds centre. He thoroughly enjoyed his time away and came back very tired and dirty and was welcomed home by a big kiss and cuddle in the school playground by his little sister! He was surprised more by the two cards waiting for him from Post Pals. Thank you. Kyle now has an appointment date at our local hospital in May. This is to check out his eyes. Fingers crossed they don't find too much wrong. He also enjoyed a trip up to Wembley with his dad to see the under 18's play. It was Scotland V England with England winning 2 – 0.
Thanks to Helen F from Plymouth for the card and stickers, Angie for the fantastic ballet card, Seren S for the beautifully made Princess Belle card and to all at the Post Pals team. Thank you to Karen (Sami) for the fairy card, Katie D for the Tinkerbelle card, Kate W for the rabbit card with the amazing facts on rabbits. Thanks also again to St Matthews Sunday School, Julia and special thanks to Kate D for the terrific spitfire card sent to Kyle. It was a lovely welcome home after his trip away with the school. Thank you to Jules who keeps writing and particular thanks to Olivia-Kate who wrote a wonderful letter enclosing some lovely stickers. Our thanks to all of you at Post Pals for the parcel sent through. Erin had a great time looking through all the lovely bits and she particularly like trying to make the rubber duck swim. To Karen (Sami) – Erin loved the fish pencil sharpener, but not to sharpen pencils with, instead she chased Kyle around trying to bite his bum! A huge thanks to Sarah who sent the football stickers to Kyle he loved them and again they arrived on his return from his trip with the school.
Update 8th April 2008
Erin is doing very well at the moment apart from a constant runny nose (part of her condition). We only had one visit to GOSH in March and this was to assess her hearing with her new PINK SPARKLY ear moulds. She did very well in the assessment but because of her selective mutism she could only complete half the assessment. We have another appointment at GOSH at the end of April with the Dental Department which is good timing as a couple of weeks ago Erin lost her first tooth and took great delight in putting it under her pillow for the Tooth Fairy. The tooth had been wobbly for a long time due to a surgeon damaging both front teeth during an MLB examination.
Erin took her first ballet exam on 5th April and we await the result. She has recently performed as a mouse in the school production of a play called The Elf and the Shoemaker. Talking of school, we attended a parent's consultation with Erin's teacher last week when she received a really good report and we learned that she had gone up a reading group. It makes us especially proud of a special daughter.
We are awaiting an ophthalmology appointment for Kyle now as he had been complaining of headaches and blurred vision. He has seen an optician and has had to start wearing glasses immediately. He chose a lovely blue pair and wears them religiously (apart from during football, hockey, swimming and eating breakfast for some unknown reason!) The optician has advised he sees an ophthalmologist as it seems his left eye is lazy and might require patching much to Kyle's displeasure, but hopefully they will decide against it as he is nearly 10 now. It's bad enough getting Erin to wear her patch for 2 hours each day and I think Kyle would refuse outright. Kyle is looking forward to a school trip at the end of April to Sayers Croft at Guildford when he will be staying away for 3 days and I can't wait but I think Erin will miss him.
Last Sunday we went to London to see the Lion King and both Erin and Kyle were enthralled by it and thought it magical. Next weekend we go to Headlines Family Weekend at Coventry. Headlines is a support group for families with children with craniofacial conditions.
Thank you to Hanna and Julie Barrett for all their cards. Also to Karen (alias Sami) for the beautiful hand made card. Thanks also to Claire and Helen F from Plymouth for the beautiful butterfly cards with hair bands and to Kate and Eloise for Kyle and Erin's cards. Our thanks again to St. Matthews Sunday School at Torquay for their letters. Erin and Kyle will be replying soon. Thank you again to Maria and Michael for keeping us up to date. Erin received a card from a lady, I think Julie or Julia who is about to commence training as a nurse. Unfortunately, I have misplaced the card so Julie or Julia; could you please send me your address again so that Erin can reply to you? Thank you Hanna for the flower transfers, Erin enjoys very much rubbing them off. Thank you to our friend Julie Barrett for the Fifi stamps and Easter stencils. Erin loves glitter, especially covering herself from head to toe in it! Thank you Kate for the most beautiful teddy who was dressed in the most gorgeous purple dress, one really happy little girl was made the morning that arrived.
I apologise for anyone that we may have overlooked but I have been quite unwell during most of March and have had to take time off from work. I may have missed recording some post, so a huge thank you to anyone who has written that I have missed.
Update 1st March 2008
First of all we would like to say a big thank you to the children of St. Matthews Church Sunday School in Torquay for the kindness shown to Erin and Kyle.
Erin's ophthalmology appointment at Great Ormond Street on 7th February went well. They are still very concerned about the pressure on her optic nerves and were looking towards further sleep studies or CT scans, but after consultation with her Neurosurgeon it was felt that Erin may just have scarring from previous inner cranial pressures and that it would always remain. Hopefully, this should not affect her eyesight further. Erin was not at all pleased to find that she would have to continue wearing her eye patch for at least a further 3 months, some days it's such a challenge to get it on. Erin also had an audiology clinic at GOSH in February for hearing assessment. Her hearing remains stable with the aids and she has been able to choose some new moulds for her ears and you've guessed it, she's chosen pink glittery ones.
We are having a lot of appointments with professionals regarding Erin's schooling. Once a year we have an assessment to enable her to keep her statement status allowing her to remain in mainstream schooling. This assessment is due at the beginning of March so February has been busy catching up with all the professionals. As Erin still requires her tracheotomy, they should still grant her statement status. We have now been referred to a lady whose speciality is Selective Mutism and she is developing a programme to assist Erin in overcoming her aversion to speaking to certain people and situations.
Erin remains well and is coming up for her first lot of ballet exams.
Kyle has given us cause for concern of late as he has been off colour and food for several weeks. It did worry us, but a visit to our doctor was reassuring when it was felt that he probably had a virus that was dragging him down. We shall just keep a close eye on him. However, it doesn't put him off his football and his team are doing very well at the moment and are currently 5th in their league.
Post Pals remains a valuable crutch to support such families as ours with children with disabilities. We remain eternally grateful for the kindness shown by Post Pals and by all those who make contact with the children. Thank you.
Thanks to everyone who sent cards, especially Michelle in USA for the Valentine card. Kyle would like to thank the person who sent his card and thanks for the 2 lovely cards from Katie W. Special thanks to Heidi Ja Kalso for the beautiful fairy postcard all the way from Finland (congratulations Heidi on your excellent English).
Thanks to Helen F and family for the card with the Dora stickers, to Becky Butler for the beautiful postcard with the flower fairy bookmarks, to Katie W for the ballet book (Erin is now trying to balance on the tips of her toes, much to our horror) and for Kyle's football stickers with which he was really delighted. He collects all football stickers and cards.
Update 2nd February 2008
Thankfully, Erin is going through a good spell at the moment and is generally keeping clear of infections and other ailments. The family are all enjoying a spell of comparative tranquillity at present after the ordeal of the last 3 or 4 years when much time has been spent by all at Great Ormond Street Hospital (and the local hospital) for major surgery procedures. However, we know that Erin's condition means that there is much to endure in terms of major surgery in the future before she reaches adulthood. The fact that she had the mid-facial distraction with RED frame so young (at 2 yrs old) means that she will no doubt have to endure it at least once more before she is a teenager. Also, there is always the threat of the need for further vault expansions. Our next appointment at GOSH is 7th February when we attend the Ophthalmology outpatients clinic. This is to check on the unusual build up of blood vessels in one eye that the doctors are concerned about. However, on the plus side, she is making good progress at school where she is happy and popular with her classmates.
Erin's brother Kyle is also doing well at school having been upgraded in writing and reading ability. He continues to enjoy his football having recently changed teams where he gets regular games and is a frequent goal scorer.
Our thanks to Kate Dee for the lovely spongy flower card, to the Post Pals team for the lovely Princess Design cards (Erin was amazed to see Sister Rosie's name), to the Pyne family for the update on their skiing holiday (Alice and Milly looked the part in their ski suits) and Nichola D for the beautiful homemade card. Special thanks to Julie for the Monkey Purse, to Kingsley for the print, to Helen Fulcher and her family for the Scrapbook Kit, to Daisy the Dog for the package and lovely Origami bits (Daisy's picture is in the photo heart on Erin's wardrobe door). Our thanks also for the e-mails, particularly from Charlene and Becky. We remain indebted to everyone at Post Pals for the support and kindness provided to Erin and her family in the short space of time that she has been a Pal. Thank you all.
Update 11th January 2008
Erin is presently remaining stable, but Mum and Dad were a little disappointed when her recent Ophthalmology check at Great Ormond Street just before Christmas, showed some concern over an excessive build-up of blood vessels in one eye. It is felt this might be affecting the sight of the eye and as a means of combating the problem; she now has to wear a patch on the 'good' eye for 2 hours each day. The experts feel that the cause of the blood vessel problem may well be a reduced blood/oxygen level brought on by sleep apnoea. This means Erin will be enduring yet another sleep study in the near future.
Serendipity played its part in us discovering the Post Pals site, but how glad we did as it has brought home to us the kindness and caring that exists towards disadvantaged children and their families. We are forever indebted to Post Pals and everyone involved in its management, for the pleasure it has brought to our family and to no doubt hundreds of other families. Thank you all.
We were overwhelmed by the kindness and generosity of all the lovely people out there who delighted Erin and Kyle with their gifts. We thank them all from the bottom of our hearts. We are trying to write to everyone where possible but special thanks to Erin & Kyle's "Elf", Janice Casey who delighted them both with her kindness. To Julie Barret for the Christmas Stocking which Erin hung on the Christmas Tree. To Emma Hoole for the Reindeer Food with which Erin and Kyle amused the neighbours by sprinkling sparkly porridge on the front garden and to the Pyne Family in Cumbria for the lovely gifts they sent Kyle and Erin and for their offer of moral support. It is comforting that there is someone out there who understands the trials and tribulations that a child (and her family) with a craniofacial condition goes through. Special thanks to Erica from New Jersey, USA, for her letter who Erin now mischievously calls "Erica from America". Also, Maria Carney and her son Michael who wrote whilst watching the New Year in. Thanks to everyone for forwarding their love to Erin. Wherever possible, acknowledgement and thank you's are being sent in post.
Update 1st January 2008
Erin was delighted to find that she is one of this month's featured Pals, as was the rest of the family.
Erin and Kyle had a lovely Christmas with lots of good and exciting things from Santa.
Early in December, Erin spent a day at Great Ormond Street undergoing an ophthalmology examination where it was established that one of her eyes has a weakness. This has resulted in the requirement for the better of her two eyes to be covered for 2 hours each day to try to strengthen the weaker eye. It is felt that an underlying cause of her eye problem is an oxygen shortage due to sleep apnoea requiring yet another 'Sleep Study' in the near future.
Otherwise, Erin remains well and lively and ready for resuming school in the new term.