Donate to childrens charity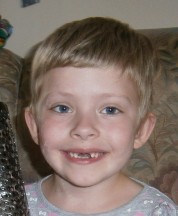 Contact Details
NB: this is a forwarding address, we do NOT disclose home addresses
Other Information
Parents/Guardians - Robert and Marie
Interests - Likes arts and crafts, music, games, Barbie.
Favourite Colour - Pink and blue.
Able to read? - Yes
Able to use hands? - Yes
Visually/hearing impaired? - No
Suffers from any developmental delay? - No
Siblings - aged 3 to 16 wishing to receive post
About - Emma T
Story written 2011
Emma was diagnosed with a Wilm's tumour on 24th June 2011 after a lump appeared on her tummy. Her chemotherapy started on 27th June.
The thing Emma misses most is playing with her friends at nursery. She doesn't have the energy to play physical games and prefers to do art activities and play board games.
Until Emma has surgery, scheduled for 23rd of August, we don't know how much chemotherapy she will need but we have been told that it will be about 9 months worth. She is being very brave about having it.
Emma's prognosis is good. She wants the 'nasty lump' gone. Emma has always been a determined little girl.
Update 26th March 2013
After talking to the family, we have decided it is time for Emma to move on from Post Pals.
It has now been nearly a year since Emma went into remission and we feel it is time for another child to receive the kindness and support that Emma and her sisters have received from all the wonderful people and supporters of Post Pals.
Words can't express how much happiness and smiles you have bought into the girls lives during such a hard time. There are so many people from all around the world that we would love to say thank you too, but there are just too many to list. So all we can say is a massive thank you to you and everyone that we have heard from.
All the best for the future, Rob, Marie and our 3 princesses xxx
Update 18th February 2013
It has been a good month as Emma had her tests on the 23rd January and everything was all clear again. So the next lot of tests are in April.
We arranged for the girls to have a party for their birthday at kids zone indoor play area and they had a fantastic time playing with their school friends and cousin. We were going to do it for them last year but because of the infection risk we couldn't, so it made it all the more special for Emma this year as she loves the indoor play areas. They got money from a lot of the family so they wanted to go clothes shopping. I was amazed at how quickly they spent their money on clothes, leaving only a couple of pounds for sweets!
Thank you everyone for all the things that the girls receive, especially when they get letters and emails from abroad. Thank you for all the lovely birthday cards sent to Emma and Amber too.
Update 16th January 2013
Emma was so excited about Christmas this year, as she could concentrate on it more than last year. She was hoping so much to get a skateboard and Santa didn't disappoint her.
She had an appointment at our local hospital on the 14th just for a routine check up and the consultant was happy with her progress. She has an appointment on the 21st of January for her quarterly tests and fingers crossed all will go well.
A big thank you to everyone for all the lovely Christmas cards, letters and gifts, that the girls received. It all helped to make Christmas more special for us all.
Update 10th November 2012
October has been a fairly quiet month, apart from Emma having another lot of tests which thankfully where all clear, so we can relax again until her next lot in January.
She has settled in really well at school and her and Amber's reading is improving every day.
The whole family got excited in the middle of October as we gained a new member of the family – his name is Casper and he is a staffie/spaniel dog, he is 7 months old and we got him from our local RSPCA centre.
We would like to say thank you to everyone who takes the time to write.
Update 11th September 2012
Emma is doing really well at the moment, she got the all clear in May, which was a great relief for us all. It felt like a giant weight had been lifted off us. She had a second lot of tests at the end of July, and again Emma got the all clear. She now has tests every three months and her next lot of tests are in October, so fingers crossed everything will be ok.
Emma has had a great summer, especially now she can enjoy the sunshine and running and playing with her sisters and her friends without having to worry about her line getting caught. We took Emma and her sisters to the beach over the summer, it was great just to see them all playing in the sand and the sea without having to worry about anything.
Emma's hair is growing back in now, it has been a bit strange seeing her with hair after so long of her being bald.
She has now started back at school full time and is thoroughly enjoying being in year 1.
We are all getting excited as we are we are packing ready for our holiday to Lanzarote this month, as the girls want to follow in Dottie's footsteps from when she went on holiday to Lanzarote last year and want to do everything she did.
They have enjoyed watching the Olympics and the Paralympics, especially as their older cousin was a torch bearer for the Paralympics. He brought it around for the girls to see and we were able to get photo's of them holding it.
We would like to say a big thank you to everyone for all the letters, cards and gifts that the girls receive.
Update 9th April 2012
After a poorly start to the month where Emma had to have a break from her chemo due to low levels, she has started to pick up now chemo has started again.
She is now being home schooled as she found going to school too tiring, but she is keeping at the same levels as her friends, just missing playing with them. Luckily, Amber keeps her up to date with what is happening at school so she isn't missing out too much.
We would like to say a big thank you to all the people that have sent cards and gifts as it always brings a smile to their faces.
Update 1st March 2012
February has been a hard month for us. Emma has had a few infections and we have spent some time in the hospital. She spent Valentines day in hospital and was so excited to get an anonymous Valentines card. It cheered her up so much. Coming home to another made her smile even more.
She had an ECHO test this month and we were very pleased to hear that the chemotherapy hasn't affected her heart and she was chuffed because the sonographer gave her an image of her heart to take home.
As a result of the infections Emma hasn't been in school and she misses going in. Thankfully she has been able to keep up as Amber brings some bits home. Due to the infections Emma's levels have been very low and her chemo treatment has had to be postposed a few times. So having her most recent lot of chemo has really knocked her for six because it has been a while since she last had it.
Emma lost her first tooth this month. When it came out we were in hospital and when she woke up it was gone. She panicked as she couldn't find it and finally discovered she was sitting on it. That night she put it under her pillow and was very excited about the Tooth Fairy coming, especially when the nurse told her that the Tooth Fairy had never come to the hospital before. The next morning she was very pleased to discover the Tooth Fairy had been and had left her some money.
Thank you for all the post and gifts that we've received, everyone is fantastic.
Update 9th February 2012
Emma had a fantastic birthday. Both she and Amber loved opening all the gifts and cards they received from everyone.
Emma has been quite well recently and seems to be coping well with everything. We now have an end in sight as she doesn't have much more chemo left to go now.
She is still going to school in the mornings and is now learning to read, which she loves. She did have to take a week off earlier in the month as she had developed a cough but thankfully nothing came of it. It was slightly worrying as Amber had tonsillitis, which we thought Emma might catch, but she didn't. We were worried for a little while as Emma's blood levels dropped and there was some question over her needing a blood transfusion but thankfully her body dealt with it and her levels are all good again.
Emma has also been attending parties, both at school and with family. She loved being able to see everyone and have fun with people she hasn't seen for a while.
Update 19th January 2012
December has been a very busy month for Emma and all the family. Luckily we didn't have any hospital stays but we did have to have a dose of antibiotics for yet another chest infection. Chemotherapy is still going and she had the last dose of the long chemo in December so now she only has little ones.
This month Emma chose to take part in a Santa Fun Run in aid of the local hospice so all the family joined her. The children's ward at the local hospital had their annual Christmas party and Emma and Amber had great fun seeing the magician and Santa and having their faces painted there. They were also lucky enough to see two pantomimes, one that the hospital organised and one in school. Emma loved being able to see them. Because Emma has been able to attend school most mornings she was also able to participate in the school nativity and was given the option of what character to be. She chose to play a shepherd.
Christmas morning in our house was great; the children were so excited opening every single present and card. So by bedtime they were thoroughly exhausted but so content.
Just after Christmas, Emma had her last big chemo and we were so pleased to discover that over the course of the holiday period Emma had put on almost 1kg which is fantastic.
She is also now taking part in The Beads Of Courage programme and we are also looking at getting Emma into school for 2 full days a week as well as mornings.
Thank you for all the Elf parcels as it made Christmas even more magical. We want to thank you for doing a wonderful thing for all the children.
Update 7th November 2011
Emma has now finished her radiotherapy course, but whilst having it she got a few infections so had to spend a few weeks in hospital. Hopefully her body is now starting to recover from the side effects and she is getting better. She is now on antibiotics for a chest infection.
Emma has managed to get back into school for a few mornings and has thoroughly enjoyed being back with all her friends.
Thank you to all of the people who have taken the times to send post, she still loves getting post, as do all three girls.
Update 3rd October 2011
Emma's operation went well. It lasted 5 and a half hours and afterwards she was taken down to PICU, where she had to stay for a few days after developing a temperature. The tumour was larger than they thought as it was hidden up behind her stomach. The surgeons think that it is possible the tumour may have leaked and have decided to give her Radiotherapy as well as Chemotherapy. After 3 days she was moved back to a normal ward and was home after 7 days, feeling well and trying to get back to normal. The surgery left her tired for a few weeks but the scar is healing very well and she is now getting back to her bouncy self.
Since her operation, Emma has recovered well. She is just about to start radiotherapy but thankfully only has to have 8 sessions. She does have to have 6 months of Chemo as well.
She is looking forward to getting back to school and being with her friends and we are hoping that she can get back in for half days next week then start again full time once she is more settled into her Chemo routine.
I'd like to say a big thank you for all the post received.
Update 4th September 2011
Emma will be going into St George's hospital in London on the 12th September ready for her surgery on the 13th. She should only be in for about a week, all being well. Emma is keeping very brave and can't wait for the 'operation to get rid of nasty lump' as this is what she is calling it.
I just want to say thank you to everyone at Post Pals for all the smiles they bring to Emma and her sister's faces.
Update 18th August 2011
Emma's surgery that was scheduled for the 23rd of August has now been cancelled. We have been told that the chemo is working well and has shrunk the tumour but they want to shrink it some more to make surgery easier for Emma. Also, the lesions on the lungs are barely visible on the CT scan, so they restarted her on chemo on 17th August and did a chest x-ray as they want to see if the lesions on the lungs are visible. If they are, then Emma will need radiotherapy.
At the moment we do not know the outcome of the x-ray, but Emma has another 3 weeks of chemo and on the third one they will be doing another CT scan. Fingers crossed everything has worked as they hope so that they can rearrange surgery for the middle to the end of September. We are now back and forward to The Royal Marsden and our local hospital for the rest of the chemo.
I would like to thank everyone at Post Pals for all the letters, cards, and gifts that Emma and her two sisters have received. It always brings a smile to their faces.