Donate to childrens charity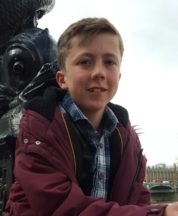 Contact Details
NB: this is a forwarding address, we do NOT disclose home addresses
Other Information
Parents/Guardians - Melissa
Interests - Fifa 15/16 collector cards, football, Aston Villa, WWE, playing the keyboard, Xbox and PlayStation, drawing and colouring, lego.
Favourite Colour - Red or Blue
Able to read? - Yes
Able to use hands? - Yes
Visually/hearing impaired? - No
Suffers from any developmental delay? - No
Siblings - aged 3 to 16 wishing to receive post
About - Dion F
Story written 2014
Dion's heart condition was diagnosed at my detailed scan, where they said he would need three stages of operations which would help him but never cure him.
Dion's first operation was done at a day old and he spent four weeks at Birmingham Children's hospital before he was allowed home. He had only been home a couple of months when he got septicemia and a blood clot in his heart, which required another operation.
Dion's second stage operation was done when he was around six months old. This went to plan and he was home a few weeks later and continued to do well. He had to undergo several cardiac catheters (camera to look at his heart) every so often to check things was going ok.
Around the age of 1 he had to have another operation to try and widen his aortic arch and after several attempts it worked.
Dion's fifth operation was in 2007 he was aged 7. This was the third stage called a Fontan and we were in hospital for six weeks due to him needing to go on a special diet. He was home for a month and needed to go back in over Christmas 2007 due to a build up of fluid around his heart.
As of January 2014, Dion is doing as well as he can. Doctors have confirmed he now has heart block and will require a pacemaker within six months. Dion does not let his heart issues get him down, he tries to get on with things as much as he can.
Update 6th October 2016
Myself, Dion and Kaleb would like to say a massive thank you for everything and everybody's kindness. We have decided to move on to let another little one have some happy post. Dion is doing OK at the moment and although he is due a pacemaker, we have no idea when as we have to work very slowly with Dion, but thank you from the bottom of our hearts.
Update 6th August 2016
Dion has been struggling lately to keep up with his friends, he is sick if he over does things. We have several appointments in August, all to do with his heart and also his weight/ height.  Dion has just recently started hormone treatment in the hope this will help him grow etc.
Update 11th July 2016
Dion's MRI results came back and although they have said something's slightly lower than last year, everything else is how it should be. Dion has just recently started his hormone treatment, he was so excited, as he really wants to be taller, like his friends. Many thanks to everyone for the boys gifts/letters postcards etc.
Update 2nd June 2o16
Dion has had a few hospital appointments and they are still trying all sorts of supplements to help with his weight. Dion is due an MRI of his heart next week, so will update once I know more.
Update 7th February 2016
Dion has been unwell recently with a bad cold and cough which put him in hospital for a day as he was being sick a lot. He is also sleeping a lot, so I have tried to get his cardiac check brought forward.
Update 3rd January 2016
Dion, Kaleb and I would love to say thank you so much to everybody for all their post. Dion has had a few episodes over Christmas where his heart rate has been really slow, this really knocks him down for a few days. His weight still remains an issue and dietitians have said to just feed full fat milks, cheese etc as he hates all the special drinks.
Update 9th November 2015
Dion has been doing well and is due a scan on his stomach in next two weeks as having a few issues.  Many thanks to everyone for the boys' post.
Update 13th October 2015
Dion has had a good stable few months, although he is experiencing a lot of headaches and no one seems to know why yet. A big thank you to everyone.
Update 13th August 2015
Kaleb has been in hospital and had an operation recently so it's been very busy here. Dion is doing well, though he recently had a 24 hour ECG and we're waiting on the results at the moment.
A big thank you to everyone who sends post to the boys. Thanks to Post Pals for everything they do.
Update 8th July 2015
Dion had his yearly check up this month where all went well and his consultant was pleased with how his heart is doing. He has to have another 24 hour heart monitor in a few weeks and there is still concern over his weight, but this has been a problem for a long time now.
Many thanks for all the post sent to the boys and a big thank you to the WLPC group for our lovely paper cuts.
Update 2nd June 2015
Dion has been complaining a lot lately of chest pains, so we are counting down the days until we see the consultant, other wise he has been quite well.
A big thank you to everyone that sends the boys post, it is gratefully received and makes their day.
Update 1st May 2015
Dion is doing ok heart wise but is still struggling with his weight gain and height. He has had several appointments regarding this and at the moment they are keeping a very close eye on him. He is due a heart checkup soon so I will update with how it goes.
Update 2nd March 2015
Dion has been doing okay lately, he still gets very tired quickly so is having to take regular rests though. We recently had a stay at the hospice for some respite, which we all love.
Update 6th January 2015
Dion has been doing well. He has had the odd cold etc, which knocks him about for a few days though. Dion has to undergo another exercise test at the end of the month to keep an eye on his heart block.
Many thanks to everybody who sent Dion and Kaleb Christmas presents and cards, they were over the moon with everything and can't thank everyone enough!
Update 6th November 2014
Dion has been doing well. He has recently undergone an MRI to get a better view of his heart and we are waiting on results. The cold is starting to affect him though and we do dread this time of year.
We would like to thank everyone for Dion and Kaleb's post, you certainly have all made them smile.
Update 8th September 2014
Heart wise, Dion is doing well. However, he is still losing weight and not gaining anything at all. The hospital want to do more tests if this is still happened when he's weighed in November/December time.
We'd like to say thank you so much to everyone who has sent post.
Update 31st July 2014
Dion has been doing as well as expected from his heart point of view. He is now on a special high calorie drink to help boost his weight though as he has dropped off the chart.
Dion and Kaleb would like to say thank you to everyone for their kind letters, cards, gifts etc. They will try to write some replies but this could take a while.
Update 8th July 2014
Dion has been doing well the last month and is enjoying all his lovely post. He has now had to start a special diet to help him gain some weight.
Update 1st June 2014
As of May 2014 Dion has been doing ok. He is due to see a dietician next month as he is losing weight. Due to all his fears Dion refuses any blood tests to find out whats going on.
Would like to say thank you to everyone that has sent post to Dion and Kaleb. To see their faces light up when they receive mail is magical. Thank you.