Donate to childrens charity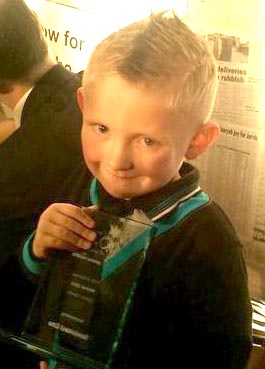 Contact Details
NB: this is a forwarding address, we do NOT disclose home addresses
Other Information
Parents/Guardians - Elaine
Interests - Lightning McQueen, any kind of cars, learning to write and draw pictures at the minute, football, little charley bear from cbeebies and playing with his baby brother.
Favourite Colour - Blue
Able to read? - Yes
Able to use hands? - Yes
Visually/hearing impaired? - No
Suffers from any developmental delay? - No
Siblings - aged 3 to 16 wishing to receive post
About - Connor C
Story written 2010
Connor was diagnosed with stage 4 Neuroblastoma in November 2008. He started with 7 cycles of chemotherapy followed by a 7 hour operation to remove the tumour. He then had an 8 week stay in hospital for high dose chemo, followed by 3 weeks of radiotherapy, and last but not least, 6 months of tablets called retinoic acid.
Finally, after 16 months of treatment, Connor was given the all clear. Things were on the up until June 2010 when we were given the worst possible news anyone could ever hear. Neuroblastoma was back and this time there was no way of getting rid of the horrible disease, he was terminal.
The little fighter he is has now started more chemotherapy to try to slow things down. He's not letting anything stop him and is living life to the full and is still the cheeky little boy he always was and will be.
Update January 2015
Nathan is doing well at school and enjoying himself once again. He would like to move on from Post Pals now so that other children can have a chance to enjoy receiving post, just like he did.
Thanks again for all your support.
Update 29th October 2013
Nathan started nursery in September and is loving it. He's had quite a few hospital appointments as he's having trouble walking due to his feet turning in. The consultant said he has relaxed joints and his hips are turned in so it will cause pain and he will fall over more than normal. We are waiting on an appointment for a second opinion.
Update 28th February 2012
We are very sad to say that Connor passed away this morning. Our thoughts go out to his family.
Update 9th June 2011
Not good news like I was hoping for with scans. They have showed that since treatment in London there is now an extra three spots of disease in his body, so not good news at all. He is now back on the chemo like before – 1 week on and 2 weeks off. He's doing really well though, never misses school and is still his normal active cheeky self.
He doesn't know yet but he's got his wish on the 27th of this month from Make a Wish Foundation. He's getting to go to a racing car track as he's mad on cars so he should really enjoy his day. We're also taking him away for a week in a caravan – he doesn't know about this either. So 2 big treats for him, but he deserves them all.
Update 2nd May 2011
Connor has had all his treatment down in London and is doing well. He is back to school full time apart from the odd day when he has a check-up at hospital. He has a few scans/tests coming up this month to show what the treatment at London has done exactly. A bit of positive thinking though is that the levels in his urine they use to test for Neuroblastoma has gone down since the previous one he had done.
Update 17th February 2011
Connor has very recently just come back from a very hard time at the UCL (University College London hospital) where he has had two courses of MIBG therapy and chemotherapy.
He was isolated from everyone and wasn't allowed out of the room with being radioactive. There were a lot of rules and regulations but Connor tried his hardest to stick to them all.
When he returned home he wasn't allowed near pregnant women and under 18's meaning he couldn't be near his baby brother. It's been hard but he's only got another week left and he can see him. But as if that wasn't bad enough, Connor went to his hospital for a blood and platelet transfusion and got a temperature so with being neutropenic he has to stay in for three days IV antibiotics. It just seems to be one thing after the other for him but he hasn't complained yet.
The little gifts have helped lots and he brought the pens and sticker books etc into hospital with him. A big thanks to all the lovely people that have helped him through this, not forgetting Dottie, who he is cuddled up in bed with as I write this.
Update 19th December 2010
Connor is doing really well at the minute. He is still having chemo until he gets MIBG therapy at London after Christmas. He's just had more scans that showed no improvement, but the consultant was pleased with that because it shows the chemo is controlling the horrible disease. So, finally some good news not long before Christmas.
Post Pals really cheers Connor up, he loves coming home from school to see what he's got that day – letters, pictures or presents – he loves them all.