Donate to childrens charity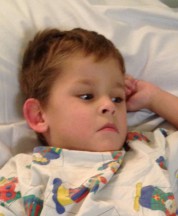 Contact Details
NB: this is a forwarding address, we do NOT disclose home addresses
Other Information
Parents/Guardians - Carrie and Chris
Interests - Loves The Polar Express film and trains, Lego/Duplo, George and Peppa Pig, Teletubbies, cars and Toy Story film.
Favourite Colour - Bright colours
Able to read? - No
Able to use hands? - Yes
Visually/hearing impaired? - No
Suffers from any developmental delay? - Yes
Siblings - aged 3 to 16 wishing to receive post
About - Brooklyn A
Story written 2010
Brooklyn was born on the 21st of September 2007 at just 24 weeks old and weighing 970 grams. Through his extreme prematurity he suffered respiratory distress syndrome, group strep b, high infection risk, jaundice, anaemia, chronic lung disease with Bronchopulmonary dysplasia. The paediatric team that delivered Brooklyn gave him just 20% chance of survival.
Once the team had stabilised Brooklyn he was transferred from Lister Stevenage to Luton and Dunstable Hospital but still inside the plastic bag he had been put directly into at birth.
On the 24th of October 2007, due to worsening respiratory failure whilst being ventilated, a CXR was done which showed changes consistent with chronic lung disease and patchy atelectasis, which is a collapse of the lung tissue. The diagnosis for Brooklyn was that he had a PDA with left heart ventricular over load.
Brooklyn spent his first Christmas in the NICU, eventually coming home at the end of January 2008 on oxygen. Brooklyn is now aged 2 and has Cerebral Palsy – mixed 'athetoid hypertonia'. He cannot and will not ever be able to walk or sit. He has severe stiffness of the lower motor system followed by a floppiness.
Sadly Brooklyn's chronic lung disease still remains and he travels frequently to hospital by ambulance when his breathing deteriorates.
Brooklyn has autistic tendencies too, which causes him to have many frustrations.
Please take a look at Brooklyn's CarePage to read more about him.
Update February 2014
Brooklyn is moving on from Post Pals. Thank you to everyone who has supported him and his sisters over the years. We wish Brooklyn and his family all the best for the future.
Update 29th September 2013
Brooklyn is still on his life support machine but they have had to now run it through the nose and not through the mouth as it is more comfortable in the long run for children who are not going to come off them yet. He has gone back onto the paralysis meds and so has no awareness that anyone is there at all so I'm going to get some sleep I hope until tomorrow. Please pray everyone and the chaplain is going to visit him tomorrow too.
Update 25th September 2013
Brooklyn is very poorly. He has been rushed into hospital and is fully ventilated and unable to breathe on his own.
Update 14th August 2013
Brooklyn is well at this present moment in time, although he is still up and down respiratory wise. His latest admission to hospital was last week where he desaturated to 85 on air and kept me quite on my toes! As everyone who reads his updates will know, he is quite unsociable with his breathing and for some reason seems to think it's ok not to take in oxygen. However, we love him regardless and keep fighting for him.
We have been told that any forthcoming operations are not advised as the anaesthetic is sure not to agree with him and we could find ourselves without our little boy, so we are caught between a rock and a hard place between what he needs and what he can actually have. We are all keeping strong for him and using the summer holidays to attempt small adventures to places that he will perhaps relate to and enjoy.
Update 19th May 2013
Just a quick update. Brooklyn will be back in hospital on the 3rd of June for an operation as his sleep apneas have become worse and his saturations are really poor at night. He is still smiling though and as a family we try to keep normality going, although I'm personally shattered, as I'm sure all you mums can relate to. I shall let all know know what happens after the operation.
Update 15th April 2013
Over the past month Brooklyn has been quite up and down. We have not really known what each day will hold but hoping for the best each time.
Brooklyn has had several hospital admissions due to respiratory distress (the ambulance crew are getting to know him very well). It was decided by an ENT consultant that Brooklyn may benefit from having his adenoids and tonsils out which was due to happen today (15th April) but sadly the consultant anesthetist doesn't think he is stable and strong enough with his lungs to be able to undergo the anesthetic, so we are going to re-schedule in 6 weeks and see if that will make any difference for us.
I would also like to thank the people that sent Brooklyn, Lisa and Amy, an Easter egg. It was very kind and thoughtful.
Update 30th December 2012
Firstly, I would like to say a big thank you to all the people that follow my beautiful Brooklyn and who have sent lovely Christmas cards, and to all the hard work the reindeers have put into writing to us this month and sending gifts which have been placed under the tree.
Over the last months we have had some worrying times with Brooklyn. He has been in and out of hospital and been keeping us on our toes. Breathing has not been his greatest asset of late and the paradoxal movement of his vocal chords doesn't allow for him to saturate well. The staff in the resuscitation areas have been great and there is always a lovely team trying to keep Brooklyn as calm as possible. With the latest bout of illness, Brooklyn's breathing has become quite bad and a very close eye is being kept at all times. His sisters have been amazing and as always are on tap to help out. He has been saturating at 85 and so we have been told he will need to be operated on (I will keep you up to date on this).
Brooklyn has had some great days though too and has finally learnt to say 'mummy' and his sisters names! He is able to communicate a lot better with us and make his needs much clearer.
Lisa is 14 and looking forward to turning 15 in January. She is currently working her way through her mock exams whilst being a brilliant helper to Brooklyn and myself allowing me times to rest up when needed. She still loves to dance and has recently become very interested in baking cakes and other bits. Santa is going to being her a cake pop maker.
Amy is now 13 and acts like a second mum to Brooklyn. Since December she has become actively involved at the yard and has taken on the responsibility of looking after our horse as I cannot at the moment. She rides 3 times a week and would love to become some form of vet physio when she's older. Amy has one passion only now with pure tunnel vision and that is for horses. She came first in the last dressage competition which was a wonderful achievement for all her hard work. She helps to care for Brooklyn and every morning she shares the duty of getting Brooklyn dressed with her sister and then makes me a tea before school. She really is wonderful.
We all pray that our wonderful little fighter remains as he is and constantly proving people wrong. He made it to five in September and that was a day in itself to rejoice. Everyday is a miracle and to be thankful for.
Wishing all the Pals and everyone involved, a very merry Christmas and God bless all.
Update 16th November 2011
Brooklyn has suffered on and off quite badly since January. As you know, in January he caught Pneumonia, which to be honest has left its scar and made him so much weaker. He does however carry a smile most days and brings a massive amount of joy to us a family. We are still holding out that one day we will be told he will make an anaesthetic and then we can yet again consider the stem cell treatment.
For now, Brooklyn is back again under the ENT care, neurologists and has just received his first treatment of botox to his legs. He was cast on Monday and hasn't really had any sleep due to being in pain every minute of the day. He exhausts himself by the evening and then by around midnight he is able to grab a small amount of sleep before the pain wakes him again. His sisters, Lisa and Amy, have been amazing and they help me everyday and without them I really don't know how I would cope or get through the days.
Brooklyn has learnt to count to 10 and loves nursery rhymes and number counting now. He shows a real passion when counting rhymes are played or sung to him. He still loves to watch his DVDs and in fact he is at his happiest when he receives a new DVD. He calls them "D".
Everyday is a blessing for us and I hope to one day write an update that fills me with joy rather than the sadness I feel when I update. Brooklyn is a positive fighter of a little boy and I ask everyday people keep him in their hearts.
Thank you for all our post.
Update 7th July 2011
Dear all past readers and new. Firstly I must apologise for the lack in updates but things have been a little rocky, although there have been good days too.
The last update talked about the pneumonia Brooklyn suffered in January. Since then he has been up and down. We have been waiting for a placement at a specialist hospital so that Brooklyn's legs can be looked at but so much time is passing so very quickly. Lisa and Amy are my rocks and without sisters like he has I don't know how I would manage.
Brooklyn seems to have at most a fortnight of happiness and activities that distract him from his everyday pain, but then the slightest illness seems to drag him down. Just a few weeks ago I took Brooklyn and the girls to the farm for some fun – they had a wonderful day full of laughter but it was so short lived. I honestly thought that it was time we interacted with friends and pets again seeing as the simple things like watching the dogs in the park and our cats run around make him laugh so very much. His breathing started to deteriorate and his skin started to swell and bleed. I tried everything to help him but by the time the paramedics arrived Brooklyn was unconscious. I cried so much, I couldn't believe he was being offered his angel wings yet again! Not now! I sat at his bedside while the doctors did their bit and miraculously kept him alive. We never know if he will stay in this world or if he will attach his wings and leave.
Update 29th January 2011
Once again I find myself apologising for the late updates, but it had been very hard for us over the past few months. I don't really know what to write to be honest as I look at Brooklyn sleeping peacefully and want to tell you all that everything is ok but we have had laughs and tears of late.
Christmas was lovely and Brooklyn received some lovely cards and prezzies. The reindeers were very good with their letters and he listened as I read every one to him. He enjoyed opening his post so much; it was great and kept him occupied at times of difficulty.
The week before Christmas I took the plunge and took Brooklyn to Italy for his baptism. The plane journey was really frightening for us as he had to be on a high flow of oxygen for the entire journey to make it. The ceremony was beautiful though and gave me a sense of peace.
Without going into all the details, we have just spent 11 days in hospital as Brooklyn caught pneumonia which almost took him from us. The illness has sadly exacerbated his CP and now he has no use of his legs to be able to straighten them or his arm. The spasms are pushing his hip out if its socket too. He has been dosed up on morphine for the pain and we are waiting now to go to a London hospital to see the surgeons there. It's a little confusing as the brain damage shouldn't really have let this happen.
I will update again but it's very sad and difficult for us all. His sisters have been great and their friends have all offered to help and put them up to help out.
Update 23rd November 2010
Firstly I would just like to say thank you for the cards and letters we received last month as they were most thoughtful, as always.
Brooklyn is currently in hospital, we are now on week two. It has been 6 weeks since Brooklyn last ate any food and the doctors are trying to work out what could be wrong. He is breaking out into sweats in the night and this morning his pyjama top and vest and the bed sheet had a huge amount of mould growing onto it, as you can imagine this has caused huge concern (this is how much he sweats just over night). We go through one pair of Pyjamas per night.
Brooklyn is now having his bloods and urine tested for salts. Hopefully he will soon have a full assessment as his sats are not stable either, as he is suffering respiratory distress. He is still smiling though and I will update as and when I can.
Update 17th November 2010
Brooklyn is currently in hospital and it has been 6 weeks since he last ate. The doctors do not know what's wrong but sadly the weight is dropping off him. He has Hugo Mouse as company from Sarah.
His sisters Lisa and Amy are being so good and supportive. Please all keep him in your thoughts.
Update 23rd September 2010
Thank you to the very kind people that sent Brooklyn a birthday card. He had a lovely birthday at home with us all and we decorated the dining room with lots of Toy Story bits. We bought him the pink talking cuddly bear from Toy Story 3 and he loves it. It goes everywhere with him.
Update 12th September 2010
I would like to say thank you again for all the kind cards Brooklyn has received this month and the lovely thoughtful letters. Some of you have put your address on the back and I would normally reply to you but have been rushed off my feet.
Amy has started secondary school and is having a great time. Lisa is glad to be back with her friends.
Brooklyn is in hospital at the moment with respiratory distress so I am not getting much sleep. He has formed a bond with Buzz from Toy Story and has a Buzz Lightyear in his bed to keep him company. I will keep updating as and when I can.
Update 8th August 2010
Firstly I would like to apologise for the delay in Brooklyn's update but every time I think I have 5 minutes to sit down and write something happens!
I would like to thank all who have taken the time to email, write, and send little gifts in the post. It is true to say Post Pals is a wonderful thing. Brooklyn recognises now when a package is put in front of him that there is a little goody inside and he can't wait to dig in! He loves listening as I read his cards so please don't stop sending him letters.
I would like to flood this page with good news and yes Brooklyn has had some really good days where he has been so happy. He recently received his TomCat tiger trike which is amazing as it gives him a chance to be pushed around the garden and even have short trips out. Because of the design, as he is being pushed around it gives him quite intense physio to his legs which are sadly still cramping up quite severely.
We tried to get Brooklyn in again for stem cell treatment but received a letter saying NO! He cannot travel by plane due to the oxygen change and is still not strong enough to undergo a general anaesthetic as he will not wake up if he does.
As a family we still persevere everyday. Brooklyn has lost a lot of his memory at the moment, so whereas before he was talking slightly saying mum dad and animals, he cannot remember any of this now.
At this precise moment Brooklyn is quite poorly as he has caught a chill to his chest which means for him that his airways have tightened up, and the paradoxal movement of his vocal chords make it difficult for him to breathe. We're trying to keep him out of hospital, so fingers crossed. I will update again as soon as I can.
Update 14th May 2010
Firstly I would just like to say that everyone who left me a contact address should have received a heartfelt thank you from Brooklyn. Your post and kind words meant not only a lot to us as a family, but also to little Brooklyn, who I have to say had so much fun opening his cards.
I don't really know where to start on Brooklyn's update as he has been so up and down. I think I have good news and then it all comes crashing down around us again.
Brooklyn's health has been very unpredictable. He started the month quite positively and with lots of beans inside him and full of smiles. As a family we have been trying to keep our chin up and stay positive as we know that Brooklyn can become ill at the drop of a hat.
Brooklyn has started treatment at a centre called the CPPC which I was hoping would provide the miracle answer for him with regards to strengthening him up and giving him a better chance of a normal life with regards to his sitting and possibly walking. Sadly at the moment this does not seem to be the case. They are really trying their best but it is like we are just fighting the demon at the moment.
Brooklyn has mixed CP so although the treatment is good to keep him stretched, every time they try to straighten his body and weight bear, he just collapses from his weight. I was told last Friday that the outcome for him does not look good as we can't fight the stiffness against the floppy side of him. Brooklyn is such a happy boy it just doesn't seem fair.
He has had quite a few episodes of respiratory distress lately due to the change in the weather and will be going to hospital later today as his paradoxal movement of the vocal chords are making the oxygen intake extremely difficult. He is also running a temperature and has been unable to gain any proper sleep at the moment so we don't really have a choice but to take him in, AGAIN! Sadly, with the amount of medication Brooklyn is on, if we are unable to keep him stable at home, we have to let him go. It is always so scary as Brooklyn is so unsociable when it comes to breathing and we end up being on tender hooks each and every time, as we always seem to receive bad news.
We have also just received in writing now that the stem cell treatment on Brooklyn's brain cannot go ahead at the moment as Brooklyn is not strong enough to undergo a general anaesthetic and will not be able to wake. He also cannot travel to the clinic either as he would not be able to make the plane journey due to the change in the air pressure. We are all so sad as we don't know what will happen next.
My little boy is my life and always will be. I hope everyone who reads this keeps a smile for him. Keep your post coming as it really has made a difference to know that people do care.
Update 20th April 2010
Today Brooklyn went to the CPPC in Luton and it was amazing. They are a specialist centre dedicated to Cerebral Palsy.
Brooklyn had the right hump while we were there and so having an assessment was not as easy as I hoped. When we got there they offered us a cup of tea which both Chris and I could have bitten their arm for as it is not often we get a cuppa made for us and actually get to drink it while it is still hot!
They then took Brooklyn into a treatment room which looked amazing. The physiotherapist looked so confident and it was obvious that she knew exactly what she was doing and was extremely good at her job! The Director and founder of the CPPC also stayed throughout the assessment and answered a multitude of questions. Agnes, the lovely Physiotherapist, first took Brooklyn over to the therapy table and tried to manipulate the muscles in his legs but he screamed so loudly and tears just started to pour.
The extent to which his legs scissor became apparent to me for the first time, as I have never seen him worked in this manner. Sitting was also tried and the fetal positioning with all his weight being on the backs of his calves. He has no safety movement or control in his arms either which is a problem. I wanted to cry when I realized just how bad things are – it was as if I could see how Brooklyn's whole body would end up if action isn't taken now.
Life is hard enough for Brooklyn but watching the pain and the tears and the severity of his handicap has broken my heart yet again.
They discovered some rounding in his spine and also pointed out that he has quadriplegic CP (which is all four limbs).
His involuntary movements are what cause him so many problems, and the fact that his brain has been damaged means that the movement that he does have is totally uncoordinated as the brain cannot differ between movements.
His hips are displaced and work almost like a ball bearing does but cannot hold the core of his body in place. We were told at the start of all this by our local doctors that if Brooklyn had not sat on his own by the age of 2 he would never sit or walk. So far this has all run true.
At the end of his assessment we all sat down and had a good chat about what Brooklyn would need if finances basically could make the stretch. They were very honest and said that Brooklyn would not manage just yet on their 5 day a week routine and it would be more beneficial to ease him into it. Ideally that means an hour a day at a cost of £41ph.
The way they spoke to me and the treatment style they have proposed for Brooklyn, has for the first time in his life opened a doorway to him having a chance at some kind of life where he can be the best that he can be, and maybe able to interact with other people on a different level that before was only ever a dream to us.
By retraining his brain and retraining his muscles to start from stage one, we may be able to get him to crawl. If this happens they are very confident of getting the core of his body to accept the seating position. All this takes time, money, expertise, and a lot of hard work from me too as I will have to set into place a whole new regimented routine with Brooklyn to help him stand a chance of achieving this.
Living away from my mum means that I do not have any help on my door step and the only person I can rely upon for help is Tammy (Brooklyn's carer) but then she can only come for 4 hours a week. So we are in a huge pickle. It is going to be hard as Brooklyn's dad is going to have to take a huge amount of time away from work to manage school runs and then he will be losing out on work as he cannot leave the girls as I will not be here.
This is all going to be very painful for Brooklyn as was seen today during the assessment and it is going to be very hard watching him undergo the intense work needed to give him a chance, but it is a chance! A chance we all thought would never be here.
Our local Trust is trying to set up a gift aid page for all who are able to, to donate towards the treatment for Brooklyn. Every single penny counts no matter how little. Having a child with so many special needs and a child that suffers daily from pain and not being able to help is heartbreaking. No-one realises just how exhausting and time consuming it is. Brooklyn's sisters are affected and so is our whole world. I am totally run down and exhausted but I have to keep smiling and I have to keep going otherwise who will be here for my family.
People like to believe that because you are smiling everything is ok but never take the time to ask if this is actually the case. It saddens me as my son doesn't deserve people to 'keep away' because he is disabled, or stare at him in his mobility chair. What has happened to him is not his fault and he is fighting to be here with his other problems as it is, so help him win his fight.
We cannot rely on physical help from anyone as this never seems to materialize so pleas send Brooklyn a smile and pray xxx
Update 19th April 2010
Hi everyone this is Brooklyn's mum. I want to help others and I wanted to ask for some help. If I can get lots of people to view Brooklyn's story (link below) and comment and give it a 'thumbs up' I may be able to get onto the home page and then I can really start to raise awareness for poorly children. I will be mentioning Post Pals in my future blogs but I have to wait until I am at that stage in his story.
http://blogs.gurgle.com/BlogDetails.aspx?blId=20929B0EADD17E49&did=1004&UserID=3177