Donate to childrens charity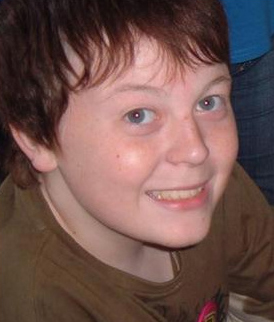 Other Information
Parents/Guardians - Roslyn
Interests - Dr Who, rock and pop music, Wii, PS2, DS, drawing, writing short stories, reading (fun facts, mystery, comedy, mythical) and riddles, Batman and the new film The Dark Night, DC comics and figures.
Favourite Colour - Green
Able to read? - Yes
Able to use hands? - Yes
Visually/hearing impaired? - No
Suffers from any developmental delay? - No
Siblings - aged 3 to 16 wishing to receive post
About - Anthony M
We are very sad to say that Anthony passed away on the 8th of February 2009.
Story written 2008
Anthony was diagnosed with renal cell carcinoma in February 2006. He had keyhole surgery to remove the kidney containing the tumour. Chemotherapy and Radiotherapy are not affective with this type of cancer, which is rare in children. We had follow up at clinic every 6 weeks. Anthony suffered back ache for months following this. In May 2007 after an MRI, it was discovered that the cancer had reoccurred. It was localised in Anthony's renal bed where the kidney had been and the muscle above which was within his back and was pressing on 3 ribs.
After applying for funds Anthony was approved for the new drug Sutent. Capsules are taken daily and Anthony can have various side effects from blisters on his feet (which can make walking difficult) mouth ulcers, sickness, constipation, loose bowels, indigestion, loss of hair colour, low appetite and rash on his hands.
Anthony is waiting on the surgical team at Sick Kids Edinburgh Hospital to agree to surgery. They are reluctant to do this as he could be left with nerve damage in his legs and no guarantee the cancer will not grow back. We await news following a MRI and CT in March.
Update from Anthony's family, April 2011
I'd just like to say that it has been wonderful to be part of this super charity/cause. My Anthony loved getting his post, presents and so on. It was a real boost at times and all the boys, Chandler and Zack included, have enjoyed getting post. I feel with Anthony now an angel and the boys getting older, it is time to move on.
Thank you so much to everyone who took the time and effort to post.
We set up a charity in Anthony's name and if you would like to visit it can be found here http://onlineborders.org.uk/community/ammf
Update 23rd February 2009
A huge thank you for all the cards we have received sending condolences to us. Also to the Thomas Ball charity for sending the bath bombs from lush (note from Viks – Anthony and his brothers love Lush bath bombs, so we had the idea of sending one of every bath bomb Lush make. We couldn't afford it though so hunted around for some funding and the Thomas Ball charity kindly sent them and offered the family a holiday). The boys tried their first one last night, Zack with a bubble bar called ma ba which was chocolately, and Chandler with a green one which was very fruity smelling and turned the water green! I have noticed that the lush products are great for the skin. Also thanks to Fearne Cotton for her signed photos.
I want to say Post Pals is wonderful and we are blessed to have such support from you all.
Update 10th February 2009
"It is with a very heavy heart that i let you all know that Anthony lost his battle with renal cell carcinoma at 11am on Sunday 8th February 2009 aged 13 years. My wee angel, my star xxxxxxxxxx"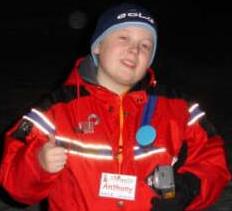 12/09/1995-08/02/2009
Update 25th January 2009
Anthony got a blood transfusion on Friday 16th January. He had been sleeping off and on all day the day before after not recovering well from a chest infection in December. We were concerned as he would be up for a half hour then wanted to go back to bed. We phoned sick kids and they wanted to see him.
On arrival he was sent for a CT scan and we were given a bed for him to rest in whilst waiting on results. He had bloods taken to be analyzed as normal. He slept off and on the whole afternoon.
Keith and i were asked to speak to one of the oncology consultants to discuss the CT scan. The results showed a spread in the right lung and on the surrounding rib. She told us that there was fluid build up and it would need to be drained. We discussed pain relief and a change of medication as everolimus is clearly not working. A new drug was ordered right away called etoposide. It is a cytotoxic drug and is taken twice daily in capsule form. He started it that night. This was another blow after the December 1st scans showed increased size in all tumours and he was on double dose of medication.
His bloods were delayed for some reason and were not started until 11pm. He was given 2 units over 4 hours. The machine bleeped off and on until 3.15am. Finally when the bloods stopped, Anthony was able to sleep. We got home Saturday (17th) morning. Sick kids will be in regular contact and a community nurse is to visit once or twice a week. We will get lots of support at home. We may be up to the hospital depending on how Anthony is.
Update 28th November 2008
Anthony has not had a brilliant few weeks. He has suffered off and on from back ache, sore thigh, a sore neck, extreme tiredness, and has been back and forth to the clinic to get checked out. He has not been hospitalized thankfully. I am thinking its teenage aches and pains but know that the back ache is from his tumour site.
This week he was sent home from school after being sick – i took him to the GP and it seems there is rattling on his chest and he is on antibiotics for this infection. He looked so white and was lethargic.
He had a lung function test and MRI and CT scans done recently and will get the results of these Monday 1st December. Hopefully his tumours will be stable.
Chandler and Zack are well and all the boys are looking forward to Christmas.
Update 11th November 2008
Anthony hasn't had a great week with a sore thigh which made him limp for 3 days and he looked and felt so tired and had back pain on Saturday night. We arranged to go to clinic to have him checked over as he looked grey, but the clinic think the tiredness is from the flu jab, and his back pain is from the tumour site which has activity in it and feels warm. Apparently this is good as it means the medication is working. His leg, we're not so sure about. His bloods are good but often are and in my opinion is not an indicator of how well he is. We pray its teenage aches and pains and pray his medication is working.
He would like to thank you for the balloons sent today, they arrived this morning and he is excited by them. So thank you so much for this lovely gift. What a surprise. We also want to thank you for the lovely blankets given to Anthony, Chandler and Zack, – they are fab!!
Update 2nd November 2008
We had a clinic appointment yesterday. It was to see how Anthony is coping on Everolimus. We spoke with one of the doctors who hasn't seen Anthony for a while. He is a Reg and was with us at the start of this cancer journey. Anthony really has a great relationship with him and this doctor made Ant feel secure. Ant asked for him to take bloods last year when he first started Sutent, but the doctor had taken a leave from oncology at that time and we got to know our consultants new Reg. I feel it's such an important part of the whole aspect of dealing with cancer to build up good rapport with the doctors. When this happens there is trust built not only with Ant but with us too as parents. I know through work that in Paediatrics, nurses and doctor are usually known on first name basis. I never see that in the adult nursing world.
Any way the appointment went really well. We described how Ant has been this month and I began to feel quite positive that he has generally been well. Ant has not felt his feet sore, had no blisters, he has been more energetic, not as stiff, less nausea, no indigestion, and not as much grey in his hair. In fact he has had a brilliant month. And it's when you reel it all back that you think, gosh I am so pleased. Our consultant was smiling and happy with how things are. Ant was weighed, measured and had his BP taken. He has lost weight, but is 5ft now.
Next clinic appointment at sick kids will be after the MRI, CT scans and lung function tests. We hope and pray for good results, that the drug is holding the tumour, or stopped growth. Ant will continue to have bloods fortnightly unless they say otherwise. We are having these done at ambulatory care, BGH, as he is very relaxed now at getting them done. Next appointment there is this Thursday. His back ache is under control with regular Codine and he takes paracetomol if needed and his cough is improving.
Chandler is improving also and the three of them are looking forward to Halloween. You should see our front garden – Keith has it very well decorated!
Update 13th September 2008
Thank you all so very much for the many birthday wishes sent for my 13th birthday.
Thanks to Grace and Linus for the Dr Who find your destiny books and the Dr Who log book. Thanks to Jenny for the Dalek card. I also received cards from Kate Dee, Julie, Tracy, June Junko, St Matthews Sunday School and an email from Nicole. It is so kind of u all, thank you, from Anthony x
Update 30th August 2008
Anthony started his meds last Monday and has had a very sore back and been sick. He was off school just 2 times though. With the side affects beginning now, I hope it is a sign the medication is taking hold.
He is looking forward to his 13th birthday in a fortnight and wants to go with friends to the cinema.
Thanks to all those who regularly write to Anthony and Zack loves getting some of the colour pages, cars and stickers etc. If anyone would also be so kind to write to Chandler he would love it. Many thanks.
Update 27th August 2008
Yesterday we attended clinic and were given new medication for Anthony. It is called everolimus, a drug which acts on different signals within the tumour to sutent. The aim of this medication is to keep the tumour stable. It has just come out of stage 3 clinical trial and is found overall to extend life, on average, for 4 months. This is reported on the journal at time of trial compared to having no medication. It is used when sutent stops working or has become stagnant.
We were told it is time to try another medication as there are slight changes in the size of his tumours and they are questioning new lesions on lungs and lymph nodes under the arm and up along Anthony's right side. We are trying to remember that they have been wrong before and are not concentrating too much on this news and are focusing on this new drug. Let's hope it does what it should. The tablet is to be taken daily for 3 months and then we are to re-scan.
Anthony is excited about the new drug and thinks it's wonderful to be the only child/possible person in Scotland to be getting this and they will be writing about him. He was very cheery yesterday and asked excellent questions about the affects on his lungs and whether to up his inhaler dosage, as the medication can affect the lungs as well as have similar side affects to the drug sutent. He is to have full blood count next week and be seen at clinic every 2 weeks to monitor his progress.
Speak soon and we are happy to hear from you all.
Update 9th June 2008
Anthony started his 8th round of sutent, taking 1 tablet daily for 4 weeks. He is on week 2 of this cycle. He has had a fairly settled month and felt more energetic. The side affects set in about now, sore mouth, grey hair returning, and feeling sick and lots of trips to loo at various times day and night.
He started 2nd Year today at high school. He loves being there and enjoys english, art, science and history.
Thank you for the cards sent to him and his brothers. Zack and Chandler feel really special when receiving post too!
Update 2nd May 2008
Anthony is on treatment at the moment. He takes capsules daily. He is often tired and sore. Back in October 07, Anthony lost the pigmentation in his hair and it turned grey, which for a 12 year old is immense. He asked recently if he could have his hair dyed and there was no objection from the hospital. His hairdresser showed us that his hair was unique and instead of individual strands of grey, the hairs were grey and brown in parts and from this could tell how many weeks off and on his medication he had been on. His hair is now a super brown colour which he loves and thinks makes him handsome.
We received a card for Anthony's brother Chandler's birthday, thank you. We have also received some lovely letters and although we will try and reply, it may take a while.
My boys get so excited when the post arrives, it's wonderful reading the cards and letters they receive, thank you.
Update 15th April 2008
Anthony got good news – the lung biopsy showed no sign of cancer. He has started a new round of sutent on a lower dose. His consultant is looking into other medication for him. Anthony is better after needing more antibiotics last week. He went back to school yesterday, although he is a little tired and his back is sore.
Thank you for all the cards sent recently. Anthony loves reading them and it gives him a boost.
Update 31st March 2008
Anthony was admitted to the surgical ward at The Royal Hospital for Sick Children last week to have a biopsy of his lungs. Following the biopsy he returned to the ward with a chest drain and lots of pain relief. He then developed an infection, high temperature and started having haematuria. This was especially difficult for us as that's the initial presentation of his cancer 2years ago. After ultra sound and chest x-rays, it was thought he had inflammation of the kidney. This is very serious with him only having the one kidney. We were so pleased that there was no sign of spread to the kidney. Thankfully everything has settled down and we returned home today. Two days had turned into a week and his brothers were only able to visit during the weekend. We were able to stay in a CLIC Sargent villa during his time up at the hospital. He is on oral antibiotics to clear up the chest infection and kidney inflammation but is pleased to be home with his family. We will receive news of his lung biopsy next week.