Donate to childrens charity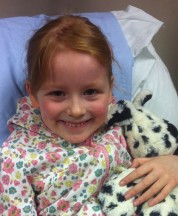 Our Pal - Annabelle V
Born: 15/10/2008
Status: Moved On
Contact Details
NB: this is a forwarding address, we do NOT disclose home addresses
Other Information
Parents/Guardians - Charmaine
Interests - Likes Disney princesses, God and going to church, singing, writing, making things (art work), dollies, reading, having her hair done, clothes, cats (has 2 called Dizzy and Rascal), Mister Maker and CBeebies
Favourite Colour -
Able to read? - Yes
Able to use hands? - Yes
Visually/hearing impaired? - Wears glasses and hearing aids
Suffers from any developmental delay? - No
Siblings - aged 3 to 16 wishing to receive post
About - Annabelle V
Story written 2014
My daughter Annabelle became ill on the 7th December 2012, just one day after I'd given birth to my fourth child, a little boy. She had all the usual signs and symptoms of a bug and a quick telephone call to the doctors confirmed that was the case and we were to dose her with Calpol. We did but she deteriorated quickly and within 48 hours she was in hospital fighting for her life. We were told it was meningitis and our world fell apart. I was re-admitted to hospital myself with an infection in my Caesarean scar. My 2 older children had to be shipped around the country to be cared for by relatives. Lee (my partner and Annabelle's Dad) had to sort out work and we had a three day old baby we were meant to be bonding with. All this was happening at what was meant to be the happiest time of the year.
Annabelle spent a week in our local hospital on the high dependency unit and although doctors were pretty certain she had meningitis she was too poorly to have the tests and procedures to confirm it. In the doctors' words, she was too unstable. After a week with no confirmed diagnosis Annabelle had a seizure lasting an hour and 45 minutes. They couldn't stabilise her and we were warned if it continued that way she would need to be transferred to a specalist London hospital. Sadly that's what happened and after taking a turn for the worse she ended up on life support. Christmas passed in a blur and we were told to say our goodbyes.
However, after numerous MRIs, lumber punctures, CT scans and blood tests, we finally had a diagnosis – ADEM. It's a very rare brain disease – her brain was swollen and her spinal fluid was affected too. Things couldn't get much worse, our lives had been shattered. What made it worse was that because ADEMs is very rare doctors couldn't tell us exactly how things were going to turn out. She was started on a cocktail of drugs and steroids to attempt to bring the swelling down and all we could do was pray and wait.
Somehow by the grace of God, miraculously the swelling started to go down and after weeks on life support she was finally off it and was eventually transferred to a neurological ward. Although immensely pleased she was off life support and breathing for herself, we were distraught by the 'shell' of the happy, cheerful, energetic little girl she once was. She couldn't do anything now, couldn't move, speak, smile, swallow, chew or even move her eyes. Her doctors warned us our newborn baby would be able to do more and they were right. Her muscles had totally given up and she had no muscle control whatsoever. She was put on an intense physiotherapy course and had a specially adapted wheelchair made, we took her on 'walks' round the ward and together the combination of medication, physio and love from both us and the staff we started to see improvement. Then, out of the blue, E. coli hit the ward and unfortunately Annabelle got it and it put her straight back to square one. She had a long road ahead but kept fighting. Three months in hospital and once again things slowly started to improve. Eventually she was transferred back to our local hospital, then another month later armed with medical supplies and medicines we finally brought her home! This was wonderful news, however it wasn't without its problems and life changed for us all. We had physio and therapists in and continued to encourage Annabelle to talk, sit, stand, swallow and eat.
She is doing fantastically well now, so much so that to look at her you wouldn't even know that there's anything wrong. She still has muscle weakness, swallowing/throat problems, hearing and sight impairments and suffers with extreme exhaustion. We've been told by her neurology doctors that one of the main side effects for her will be constant pins and needles and nerve pain as her brain attempts to re-wire itself. The strangest sensations can cause pain, irritability and confusion. She takes her cocktail of drugs like a real trooper, even administering them herself once I've measured them out. She regularly goes under anaesthetic for MRIs and different procedures. She's on a waiting list for counselling as recently she's having trouble expressing herself and her emotions and understanding what's happening to her.
We count our blessings everyday and although she's never been the same little Annabelle I gave birth to, we are very fortunate she is still here with us.
Update 15th April 2016
Annabelle and her family are now moving on from Post Pals, we would like to wish them all the very best for the future, Annabelle's Mum said this:
We would like to say the biggest thank you ever to every single person that has taken the time to send all the very lovely messages, letters, cards and gifts to both Annabelle and Aimee during their time with Post Pals. I can assure you every single thing they have received has generated lots of smiles and happiness.
Annabelle now has a friend for life in the name of 'Spotty' whom accompanies her when she's in hospital and to appointments (Thank you to Clare Bray) Both girls also have lots of postcards from around the world which they have found very interesting.
Post Pals will always have a very special place in our heart – Thank you for helping us through a very tough time.
A huge Thankyou to Vikki George too your work is truly inspiring.
Update 12th March 2016
Nothing much has happened this month, our house has been hit by all the horrid coughs, colds and bugs floating about, which combined with all her usual aches, pains and problems didn't make for a happy Annabelle. She's also has had to have new glasses which we collected this month.
Update 13th February 2016
This month Annabelle saw her ENT specialist. He advised a tonsillectomy as her tonsils are so big and have been for over three years now. They are causing her problems with her swallow and pain. They will test them when they are taken out to find out what was making them so big. We are now just awaiting the date, she has an appointment in March for the pre-op assessment.
She also had an appointment this month with the ophthalmologist who examined her eyes using the drops (that Annabelle hated having!) and then we saw the consultant who told us there are no big changes with her vision.
Thank you to everyone that has sent the girls post this month.
Update 6th December 2015
We've found out this month that Annabelle is going to need surgery to remove her tonsils. They're so enlarged that they are what's causing a lot of her eating/throat issues. We are now just awaiting an ENT specialist doctor.
Annabelle had more physio this month and we had the news that her muscles are imbalanced. She's being put on a block of therapy. Although it's not nice to hear it gives us some answers as to why she's in such pain with her legs and joints.
Some good news though..our little lady went up a group at swimming! She's been in the same class for a year and a half and has always struggled to find the strength to swim… well finally this month she did it! She swam all the way across the pool without stopping and has been put up to the next group in the bigger pool! We are so proud!!
Thankyou to everyone that has sent post this month. Happy Christmas to you all, Thank you for thinking of our family.  
Update 5th November 2015
Annabelle's had her seventh birthday this month and we would like to thank everyone who sent birthday cards and gifts. She also had feeding clinic this month where we discussed aspiration and the pain Annabelle's been experiencing on swallowing for which we have now got to go to the GP. We've had to resort back to medication for the neuropathy (nerve pain) as it's become quite bad this month.
As always thank you to everyone who has sent post to both Aimee and Annabelle, it means such a lot.
Update 22nd October 2015
Annabelle had a hospital appointment up in London this month with her neurologist. No changes to report, the same problems are still there and there's no quick fix as it's just a case of waiting till her brain 'adjusts' itself. We saw her MRI results which showed the lesions are still there but have not got worse, apparently this is quite common and he said her brain will probably never totally recover and be how it was before. Annabelle and Aimee say a huge thank you to everyone that has sent post this month and Annabelle says an extra big thank you to everyone who sent birthday post. Thank you all.
Update 12th September 2015
We have nothing much to report this month as there's been no real change and we are just plodding along.
We are pleased that the weather has finally started to cool down, as the heat exacerbates Annabelle's symptoms and it means she can now go out for longer periods.
We have had to pay a visit to the optician as she is still complaining of pain in her eyes. They did an eye test but nothing was spotted and so we have to wait for our next ophthalmic appointment.
Thank you to everyone for all the lovely post you have sent. Post always makes a difference to Annabelle and Aimee, but has especially helped this month, due to Annabelle spending a lot of time indoors.
Update 8th August 2015
Annabelle was sad to miss the last few days of her school year before she broke up for summer, as she just wasn't well enough to go and needed to spend time in bed regaining strength. During the first week of the holiday she developed an infection, on top of her usual problems, that really knocked her. It took weeks for her to recover from it.
We haven't been out much so far, apart from the odd trip to the corner shop. This because the heat really knocks Annabelle, making her feel ill and lands her back in bed. It's hard when her friends are out on day trips to the beach, but health always comes first.
Annabelle had hospital again this month for her eyes. They told us she will need a visual field test next visit.
Thanks again to everyone who has sent post to both Annabelle and Aimee as it really does help keep spirits up.
Update 7th July 2015
Not much has really happened this month. The heats exhausts Annabelle and makes her feel sick and delirious, so this month has required a few days off school. Her hypothalamus (part of the brain that controls body temperature) was damaged by her illness and as a result doesn't function properly, meaning she can easily overheat or get too cold. We have to keep a close eye on what she wears, as she will often wrap up too warm (on the hottest day of the year she had a thermal vest, a pair of tights, leggings, a jumper, and a coat on), which of course can have serious consequences. The hot weather in general causes relentless fatigue and muscle pain and Annabelle will often be found taking regular naps throughout the summer season. We know it's what she needs to keep going, but she's been getting annoyed and frustrated with herself, it's like her brain is telling her to do something but her body can't.
Thank you for everyone's kind cards, letters and gifts this month. Lots of love to you all.
Update 6th June 2015
Nothing much has changed really this month. Annabelle's legs are still giving her grief which sent us back to the doctor but unfortunately there's nothing they can do and we just have to carry on with her physio programme of exercises. It's just part and parcel of ADEM and the nerves re-wiring themselves. She had her ENT appointment this month and she still has hearing loss so we have to go back in three months. She also had an optometrist appointment and her eyes are still the same and haven't got worse, which is great news! We are still awaiting the results of her blood tests regarding coeliac disease too. We had to take a trip back to the speech and language therapist again this month as her swallow is still causing her problems and has come back with a bit of a vengeance these last few weeks. We're keeping a diary and will go back in a few months.
On a brighter note… myself, daddy, Annabelle, and her little brother, Teddy, had a lovely reunion with the paramedics that came to our aid when she first became ill. It was a touching, albeit emotional, day that we will never forget and it was featured in our local paper.
Thank you to everyone who has sent Annabelle and her sister Aimee post this month, it really helps them and means so much to us. God bless you all.
Update 3rd May 2015
This month Annabelle has been back and forth to the doctors querying Chron's/coeliac disease as she's been in a lot of pain with her stomach, has been very lethargic and keeps getting bad bouts of diarrhoea. It's been hard to keep her spirits up and we are now awaiting test results.
She had her ENT appointment yesterday where the doctor diagnosed her with SSHL (sudden sensorineural hearing loss). She's going to see her again in a few weeks to re-test and if it hasn't cleared up she will further refer her on to a specialist. The doctor thinks it may be to do with the nerves having been affected by the encephalitis.
Muscle pain and leg spasms have been catching Annabelle out a lot this month, so much so that she may have to go back on her nerve pain medicine. However, some good news is she finally learnt to swim this week after years of trying! She can't swim far because of the body weakness and the muscle pains, but she actually swam!
She was called up for some blood tests to check if the anemia had gone but it was still present. She's eating well so I'm hoping next time she has her bloods done it will have cleared up.
Update 6th April 2015
Firstly, my family and I would like to say a huge thank you to every single person that has very kindly sent post to our Annabelle and Aimee. It really, really does mean so very much to us all.
Annabelle has been suffering with her eyes and stomach this month. She had an appointment with the consultant ophthalmologist who diagnosed her with anisometropic amblyopia. Her eyesight had deteriorated so she gave us a new stronger prescription and we have to continue with the patching and wearing glasses. She has to go back for a field vision test and for normal regular checks with the optician.
Annabelle had also been getting chronic episodes of diarrhoea and pain whilst very lethargic and fatigued. Both lethargy and fatigue are common residual symptoms of ADEM so she was sent for blood tests which came back showing she's anaemic and our doctor thinks she may also have either Crohn's or coeliac disease so she is going to be tested for those.
As always she has been a trooper in coping with her leg pains, general aches and pains, numbness and tingling sensations. She described it as her body was 'down in the dumps'. She has a physio programme that we do daily and we hope it will soon give some relief.
She's had a hearing test this month which showed her glue ears had returned. We are to go back in three months and if it's not improved she will either have grommets fitted or hearing aids.
Medical things/gadgets and anything to do with hospitals are still high on Annabelle's 'favourite' things list and every time we are there she's always asking what the equipment/machines are for! Very inquisitive, we call her doctor Annabelle at home.
Update 17th January 2015
Happy new year to everyone at Post Pals. Firstly my family and I would like to thank everyone that very kindly sent correspondence over Christmas. Both Annabelle and Aimee received some truly lovely and thoughtful gifts, cards and letters, and believe you me when I say everything generated a smile on those girls faces!
Annabelle's still suffering with muscle spasms and daily aches and pains, especially in her legs. She's experiencing numbness and tingling throughout her body which we have been told by her neurologist is her brain attempting to 're-wire' itself. She's trying very hard to regain her bowl and bladder control but it is very hard for her. She's getting agitated a lot and seems to struggle to 'calm down' and have quiet moments but apparently this is all normal of a brain injury.
She's been a real trooper with her glasses and has been wearing them all day without fuss. At her recent ophthalmic appointment her eyesight had unfortunately deteriorated so she is now wearing an eyepatch. Although she complies with it, she doesn't like it and struggles with it so it normally results in tears.
Her consultant requested a hearing test for Annabelle which she failed so she's now been referred to ENT. Her consultant also discovered she's got asymmetric enlarged tonsils so an eye is being kept on those too. She still has the Thick and Easy thickener in her drinks but her dietician and those she sees at the feeding clinic are happy with her progress so we are hoping to try and wean her off it soon.
Due to the many appointments and time she spends at hospital she seems to have developed a love for all things medical! One of her nurses recently gave her one of their light pens that's used to check the eyes and she loves it!! Takes it everywhere! Always playing doctors and nurses and checking ours and her dolly's 'eye size' as she calls it! She loves plasters, bandages, BP monitors, she even asked for a hospital gown the other day! She often goes on Google images and looks at the brain and heart and many a question follows! She told us the other day 'on Monday she wants to be a brain doctor, Tuesday a teacher, Wednesday Missus Maker, Thursday a nurse, and Friday an operation doctor!' She enjoys medical documentaries and we've started recording 24 hours in A&E for her as she seems to find it fascinating and is forever asking about what happened to her. She wants a case of 'encephalitis' to be shown (ADEM would be even better but knowing how rare it is I don't think we'll see a case of that!) She's has gone back to asking 'am I in life' again on a daily basis and her consultant is looking into perhaps having some counselling for this.