Donate to childrens charity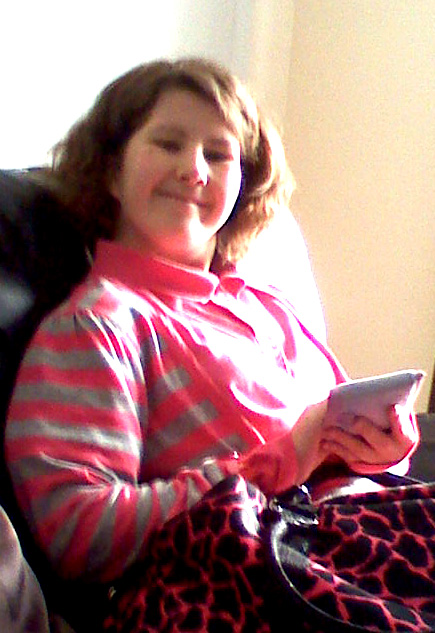 Contact Details
NB: this is a forwarding address, we do NOT disclose home addresses
Other Information
Parents/Guardians - Louise and Tom
Interests - Dancing (Disco, Ballet), all things girly and pink, reading (princess, girly etc), watching films, Glee, pop music, doesn't really eat chocolate.
Favourite Colour - Pink
Able to read? - Yes
Able to use hands? - Yes
Visually/hearing impaired? - No
Suffers from any developmental delay? - No
Siblings - aged 3 to 16 wishing to receive post
About - Amy P
Story written 2004
Amy was diagnosed with Blackfan Diamond Anaemia at 28 days, after being born a month early and having had a HB level of only 3.4. After a blood transfusion given only hours after her birthday, her doctors hoped this was because of a tear in my placenta, but her HB started to drop again and after numerous tests was sent to Birmingham Children's hospital and was diagnosed after a Bone Marrow test was completed. Amy's condition is not just present at birth, it can be up to a year after until diagnosis is made. Amy was given steroids but this failed to kick start her red cells so she is dependent on transfusions every 4-5 weeks. Her first 2 years were extremely bad as she had no immune system and the slightest cold had her back in hospital with dramatically low HB levels and anaemic fevers. She has Chelaton therapy for 8 hours a night (she cannot use up her red cells so they lodge in her organs and can eventually damage them if not given Cheleton Therapy to get rid of them). She also has a Vascaport which is used for her transfusions and she is due in hospital for a replacement vascaport sometime soon (in a waiting list as we speak). Amy has a slight behavioural problem as she is not used to interactions (or doesn't know how to) with children as she is constantly surrounded by adults who have their entire life revolved around her. Amy is a bright, happy, strong-willed and funny child, with a wonderful smile and a hug for anyone (even people she doesn't know!)
Update 7th October 2013
Amy is now moving on from Post Pals, thank you to everyone who has supported her and her siblings over the years she has been a Post Pals.
Update 14th November 2012
We have just been granted power of attorney over Amy's money issues as she finds things like this too hard to manage, so we can sort all her finances now and she can just get on with learning and building up her confidence. We are applying for a key worker to help build up her confidence away from home as she relies on me for everything even down to telling her to clean her teeth! She will also have to learn to be independent on the buses too as she has to go to college in September, so is losing her safety bubble and this is terrifying her to the extreme now. Health wise she is as well as can be expected for a child dependent on transfusions and we are awaiting a bone density scan as she is in the high bracket for osteoporosis so this is being double checked. We've also just found out children on chelation treatment can become vitamin d deficient as Amy has been for the past year. This is all being closely monitored now. Thanks to all who sent mail this month, the children are always happy checking the post.
Update 28th September 2012
We had a wonderful holiday in France and the kids loved it. Amy got to ride a horse and all came back with lovely tans as the weather was around 30 degrees every day. It was so lovely that we're going back again next year, but to another part of France this time. Amy's ADHD meds have been raised and this seems to be working. She has just undertaken an intense 3 week course to add 2 B's to her GCSEs. Transfusions are all back to normal now and Amy is in her last year at school. We're waiting to see what the consultant has to say to us in November, as after last time he suggested dealing with Amy's fast dropping HB levels by having a transplant – we refuse to put her through that when she s so healthy!! The kids would like to say thank you for all the post they have received. They check the post every day and even Cody now asks if it is for him!
Update 8th July 2012
Amy has just found out her consultant is leaving next year, and other changes in her life are unsettling her at the moment, so she is a little down right now. We are trying to get her HB levels back up to what they were before the forced aneamia and this is going slowly. It has affected Amy this month as she missed a week of school because she was having extremely bad headaches and feeling more tired than usual. We are also getting Amy's adhd changed and counseling sorted at the end of the month, as school are seeing bad behavior come back. We think her sudden growth spurt is effecting her levels of medication working correctly. Thanks to everyone who sent mail this month, the children always happily check the post.
Update 15th March 2012
Amy's consultant recently decided to try forced anaemia. This basically means they kept her in an anaemic state to see if her bone marrow would start producing red cells, as this has happened to children going through puberty. We gave it a try for 2 months and nothing happened – she was ill over the 2 months as her red cells dropped faster than they expected and so we are now back on usual transfusions. Amy is on her work experience this week and has decided she would defiantly like to work as a nursery assistant and loves every minute of real work! I'm very happy with her boost of confidence as she has very little confidence in the world outside her school and home. I'm hoping this will make her realize not everyone is nasty because she is different! Thank you for the post, the children loved their books and every time Cody gets mail he asks me if it is another book.
Update 19th November 2011
Amy is doing well and her consultant is extremely pleased with her progress. She is doing very well at school too. We are running around with not just Amy, but her baby brother with medical problems at the moment too, so I'm a very tired mum. The kids asked me to pass on their thanks for all the cards and gifts and the balloons also went down well! Thank you to all the posties and Post Pals too.
Update 5th September 2011
Amy had a great time in France, the weather was wonderful for us and the staff on site were wonderful and friendly. Amy was a little reluctant to use French and it's the first time we have seen her shy when it comes to talking to someone. The journey was 8 hours to get there and Amy realised she hasn't got sea legs on the ferry. We loved France so much we are planning on going there again as we had no problems and know if we do the staff are very happy to help us out. A huge thank you from the children for the huge craft pack they received, it has all been used up and even Cody had a good time sticking all day!!
Update 9th August 2011
Amy is doing well at school, though socially she is still isolated and never goes out the door unless I can get to pop to the shops. We are trying to get her to see she will be safe outside the house but she is afraid if she goes out she will be picked on. This hasn't happened though. We are going to France this weekend and this will be the children's first trip abroad via a boat. We have been too afraid to take Amy before but are now ready to try, all armed with medicines and letters galore. Next year it's the first plane journey as their aunt is marrying abroad. We would like to thank everyone for Kyle's post for his birthday as he loved them all. Amy sends on her thanks for all her post this month too.
Update 8th June 2011
Amy is doing really well at the moment. There was talk of a bone marrow transplant but she decided against it as she and we are happy with her health and care at this time, and we're wary of the dangers of a transplant. Her scans for her suspected deep infection in her ears was clear so we are back to square one yet again. Amy is doing fine on her ADHD treatment and her weight loss has slowed down. School is happy with her behavior at the present time and she is still enjoying school.
Update 28th February 2011
Amy is doing well and her health at the moment is excellent. Her iron levels are at an all time low though. Transfusions are still every 4 weeks and her vascaport is working really well. She is now on pump when she has her blood and that means we get out before 9pm every time we go.Amy is doing excellent in school, her teachers are really pleased and her grades have gone up ten fold which we are happy about. She is due for surgery again this year as it looks like she had a deep infection in both ears and this has gone on far too long and it now means surgery is the only way forward!! We are making sure it is put off until after her holiday as it means no swimming, or physical activity for 3-4 months, and it may mean more than one surgery as well. We are having a ct scan next week to check what is going on and then see another consultant to decide where and when surgery will happen. Amy is also 14 this year – growing up fast now! I'd like to say a big thank you for all the children's postie as they love waiting for the post to come.
Update 25th November 2010
Amy is doing well with her health at the moment which is excellent but her iron levels are at an all time low. Transfusions are still every 4 weeks but with a review on how much next visit. We have a small problem with too much weight loss due to her adhd tablets, so a break from them may be in order, but I am hoping the Christmas break and eating lots of stuff that's really bad for you will pile on some weight, plus a 2 week medication break we have planned. Counselling has now finished for Amy for now as we seem to go round and round over the same stupid things, so we decided to stop as it wasn't really doing any good. The only good thing really is the fact they diagnosed Amy's ADHD and got her moved to another school for children with medical problems and social problems etc. So we will stroll along and hope for the best now I think. I would like to say thank you for all the cards and gifts the children received, especially the chocolate!
Update 6th September 2010
Amy is doing well with her health at the moment and transfusions are going well. She has just started back at school after a long 6 weeks – she needs her routine back as boredom has definitely set in. Counselling sessions are still going on until the near future to help her deal with the problems she has. Thank you for Amy's post and for her heart pillow, she loved it.
Update 21st May 2010
Amy is really enjoying her new school and is now inviting her friends over which is good for her as they also have some of the problems Amy has to face too. It's nice to see her making real friends. At the moment we are having a huge problem with transfusions and are waiting to see her consultant next week as to why it's taking so long for surgery as we are really struggling to find access to decent veins now. We know every time she goes for blood she is going to have major trouble for access which is very upsetting for Amy even though her nurses are really good with her and wait for her before they retry anything. It's still up setting both for her and us though. Amy is enjoying after school club and socializing at school and is having some speech therapy to help her understand words and how to speak to people etc. The school is very good with the extra help she needs and it seems to be slowly working. A very special thank you to Paul who got a signed picture of Zac Efron for Amy. It's now going in a frame in her room. Thank you so much, it was such a kind gesture.
Update 24th March 2010
Amy is really enjoying her new school and has settled in nicely and is making friends now to our delight. She is a complete change from the depressed little girl we had for years. It's such a joy to see her excitedly waiting for the taxi and running out to meet the driver. She has joined in after school bowling and is really doing well; it's such a relief for us. She is still waiting for surgery and having problems getting lines still but we're still waiting for that call or letter!! Health-wise she is doing really well though. We have just celebrated Cody's first birthday and we can't believe its been a year already. So much has happened with Amy it seems the year has flown by. Amy is still receiving counseling and this will be a long term thing, but her counselor is pleased with her change of mood and her bounce has come back which they have never seen before, so that's really good for us all. Amy is getting help with her dyspraxia at school and her aim is to learn to ride a big bike safely so she can have one for Christmas. She is also learning to use a laptop as writing is a major issue for Amy at school and she tends to avoid anything to do with writing and is still trying to learn the basics on a pc (hence why no reply to emails as she gets stuck with what to do and how to write back).
Update 9th March 2010
Amy is doing very well in school and has settled in nicely. She is a lot happier now and more excited about school. We're still waiting for surgery and having problems finding lines for transfusions at the moment. Amy is still in counseling so she has some other outlet for her emotions and problems and this will be a long term thing for her.
Update 1st February 2010
Amy started at the new school today. We had a home visit last week and then went to visit on Thursday and were offered a place straight away. Amy is very happy to be starting and hopefully will get all the help she needs now. Fingers crossed home life will become calmer now she is happier too.
Update 12th January 2010
We have a meeting about Amy's referral and we have been told Amy has a good chance of getting in on her medical and social problems and we just have to go before the panel now. We're playing the waiting game again, but if no success this time, we have informed everyone she will be home schooled for definite. We can't put her through the constant agony of forcing her to go to school, so would rather take out that problem totally for her own mental well being. A huge thank you to all elves this year, the children are in the process of writing thank you cards to the addresses they had.
Update 16th December 2009
Amy is at last being referred to a special needs centre for either extra support or a change of schools that can cope with her needs. We are awaiting a meeting to sort out what happens next and what goes into the referral. She is coping at the moment but is still unable to cope socially or with the fact she has been placed in lower groups and too many distractions from other children. She's a very unhappy little bunny at the moment and is fed up of waiting for things to be done faster. We are still having counseling to help her and the family cope with her ADHD and school. Fingers crossed Amy will be moved, but if not, home schooling is our next avenue. Thank you to all that have sent Christmas presents, they are all under the tree waiting for Christmas day. May I wish all the other families a very merry Christmas and a good New Year.
Update 14th October 2009
Amy is doing well in school and the medication she is on for her ADHD is working well. She is still on transfusions every 4 weeks. This is going well even though there are problems finding a vein for transfusions and we are currently on 3 units a month.
Update 31st August 2009
Amy is doing well on her ADHD meds and her transfusions are going well every 4 weeks still. We're just waiting for some more tests for concentration and to see what results are found to help her at school!
Update 18th August 2009
Amy has just been diagnosed with ADHD. After 10 years she is now on medication and life is a lot easier for her at the moment. She understands now what has been happening and is very happy to have a name for it instead of thinking it was her that was the problem. She is still in therapy to help her cope with everything she goes through and sharing her feelings with someone other than us seems to be helping her. Amy has also lost over a stone in weight since starting her medication, which for her is wonderful and makes up for not being able to eat herself silly! A much happier little girl!
Update 4th May 2009
Amy is doing well this month, apart from finding a vein for her transfusions which is proving a little difficult. She is doing fairly well at school although is still not happy being at her present school. We are proud to announce the arrival of Cody Alan Giles on the 23rd of April. He was delivered by C-Section at 10.07 and weighed a healthy 8lbs 6oz and is doing well. The children are over the moon and buzzing around him all day. A big thank you to Julie Barrat who sends regular cards and letters to all the children.
Update 1st April 2009
Amy is ok this month. She is doing fine at school despite the problems she is having, we're hoping to try extra support and see what happens. She is still receiving counseling and is doing well at each session. She is now looking forward to her baby brother arriving on the 23rd of April and 2 weeks of Easter holidays. A big thank you to Julie Barrat who sends regular cards and letters to all the children.
Update 24th February 2009
Amy had her port removed on Monday and all went well. She came home an hour and a half after she woke up and was asking for food as soon as she got on the ward. She is in a bit of pain but has done really well this time and there were no complications. We are now using the veins she has that are working well for about a year. We hope to give her a break from ports and more surgery. Amy is still receiving counseling and we are trying to move her to a special school for her emotional and behavioral problems, but as usual, it takes time. She is a very unhappy girl and hates school. On the bright side, transfusions are every 4 weeks and her iron levels are low, so health wise things are going smoothly at the moment.
Update 31st December 2008
Thank you to the children's elves for their elf boxes this Christmas.
Update 14th November 2008
Amy is being assessed at school for extra help and is finding it a little difficult there at the moment. As you can imagine, lots of telling off and lack of new friends is making her feel a little lonely and down, as she isn't as grown up as her peers. Due to her dyspraxia she is also feeling down. Amy has been referred for some counseling with the rest of the family due to all the pressures and to help her and us deal with it a lot better. She is due to see her consultant next week to decide on whether to remove her unusable port for good or get it replaced. We are hoping to give her a break for the time being and see if this improves her behavior too. We are pleased to announce that a new member to the household will be here in May and Amy is hoping for a new baby sister, so fingers crossed she gets her wish this time. A big thank you to Julie Barrat for letters to all the children.
Update 5th August 2008
Things are ok with Amy at the moment. She is under occupational therapy to help us out with her dyspraxia. She did really well in her sats and she did better than her teacher expected her to do. She received a progress shield from school for all her hard work and the effort she put in since Christmas which was nice as she has had such a hard time at school.
Update 27th May 2008
Amy is having problems with her port at the moment as access is a nightmare. We are waiting for 6 months and if problems still arise then she will have the port out (more surgery!) and a break so she can just have canullas in to save having double surgery yet again, as she had a hard time of it last surgery. We have just been told her little brother could also have dyspraxia, but probably a milder form, so we're in the process of changing schools to save all the problems we have had with his sister in the same school. So it's double the trouble for mum and dad now!
Update 4th April 2008
Amy is having problems with her port access at the moment and having a full transfusion through it is a nightmare. Cannulised every time through the back of her hand, we're hoping she wont need a another port yet, as hers is only 3 years old and her last one lasted 5 years. School problems are still a nightmare and she is now having another set of assessments done in her new school which will put her back with coursework as her junior school didn't bother and just labeled her the naughty child, not the child who has dyspraxia! We are so dreading senior school, they are trying their best to set things in place for her for her first term, and this is the most help we have had in years thank goodness! We had lots of Easter cards for all the kids, plus valentine's cards too. We also had lots of things for the boys and they loved it, so thank you for everything.
Update 30th January 2008
Amy has been diagnosed with learning disabilities as well as dyspraxia, so we now have to fight the education board for help yet again. The only thing in place is the fact she gets extra time in her SATs which helps. Her new medication is working well, fingers crossed, but she has had a slight glitch in her liver results so we're praying it isn't affecting her liver, otherwise its back on the pump if it is! Apart from that, she is doing well and is on the mend programme for kids to help get her moving and lose some weight and she loves it!
Update 19th December 2007
Amy has had so many appointments this month to sort out how we address her behaviour as she is now under the learning difficulties label. We don't think anything will be sorted until senior school which doesn't help her or our sanity, but what can you do! On a lighter note, her health is great and her new meds are working great, the only problem we have is port access – every transfusion we have to pin her down and try to get in a needle at the moment and she isn't easy to pin down now she is getting bigger! We wish everyone at Post Pals a great Christmas and New Year and thank you for all the parcels and cards!
Update 1st October 2007
Amy is having OT appointments at the moment and is being referred for behaviour therapy too as she is having a lot of emotional difficulty due to her illness. This is a major problem at the moment and is a very difficult time for all the family. Health wise she is good and is now being bumped up to 4 units a month as she is getting bigger and the transfusions are not lasting as long. Her chelation therapy is working well and she is now being put onto a new drug that saves her having to use her sub cut pumps at night, so we are keeping our fingers crossed that this works for her, if not it means going back onto the sub-cut pumps again. Thanks to everyone who regularly sends cards and letters to Amy and a big thanks for the lads cards and small packages they love them too.
Update 27th March 2007
Sorry I haven't written for a while but I have been busy with appointments and organizing our annual conference for families. Amy has had a good 6 months regarding school, although we had a set back last week with her behaviour and so will have to see how she responds to the way we are trying to correct things. We're still waiting for her to be assessed for dyspraxia but as we have been waiting almost a year we are plodding along as best as we can. Health wise, she is fine and her treatment is working well. She is very healthy and happy at the moment. Thanks to everyone who regularly sends cards and letters to Amy and also for the cards and small packages that arrive for the boys.
Update 13th June 2006
Amy is being tested for ADHD as she is being so disruptive at school. She has also been bumped up to a lovely batch of 3 units of blood every month now as she was running way too low and we could tell!! (It's going to be long days or nights for us now). Some good news is that her iron count is low at the moment. Apart from that she is fine, though the hot weather is hitting her hard this year so she has not been able to play outside for long in this extreme heat. Thanks to Katie for the cards etc they are still being kept on view in the living room and her box is full now so time for a sort out of old cards and letters I think.
Update 13th April 2006
Amy had bad news when we went to see her doctor; he told her it will be another few months before she can come off her sub-cut pump (we are not holding our breaths for her to come off it at all) so needless to say she was upset!! She has finished her sessions for her behaviour at home, as she has settled back down again thank goodness. School wise she is under the educational psychologist, who is monitoring her, but she has been really good for the past week and a half … it's surprising what a lack of chocolate and biscuits can achieve!!! She is getting more stars on her chart and asks can someone send her some heart stickers so she can use them on her chart as she is running low on hearts and stars!! Health wise she is still ok – up every 4 weeks for blood transfusions but we are on 2 bags one month then 3 the next to keep her topped up nicely. Everything else is ok at the moment (fingers kept crossed). Her little brother has suffered some anemia but I am constantly assured it's not DBA so we have another appointment to see Amy's doctor for her and Kyle in the summer to check up on them both.
Update 2nd March 2006
Amy is just starting a few sessions to find out what the problem that's causing her behaviour problems is. She settled for a bit, but has suddenly restarted her bad behaviour at school again, so we have to wait a while until she has done a few more sessions to find out the cause. Amy is due to find out tomorrow if she can reduce or stop her sub cut pump as the oral treatment she is also on is working well at the moment. Thanks again to everyone who has sent her mail.
Update 29th January 2006
Amy's health is great at the moment but her behaviour is being looked into as she is having a few problems at home and school. I will update again when we know what is going on. Thanks to everyone for the many cards from all over the world she's received this year. Thank you also to the class of children in Japan. Big thanks to Jennie and friends for the big postie box sent at Christmas – it took an hour to open and Amy was delighted with all the gifts.  Thanks to everyone who sent all the kids a small present, they loved them. Great pleasure is seen on the kid's faces when they get a card or letter and even stickers – a small thing such as that is loved too.
Update October 2005
Amy is in good health at the moment, we have had so many appointments all in one go we have had to run around everywhere almost every week for one thing and another. Amy also had a liver biopsy and was a great little patient was up and asking for food within 5 mins of waking up and was home the same day. The only problem we had was keeping her from jumping and running around the house for a week after, because she felt fine she couldn't understand why she had to be calm. So a good few months, plenty of letters, and still getting postcards too. Her oldest brother has a new post pal who he is writing to, even if it is a girl! Oh lads – you have to love them!
Update May 1st 2005
Amy is fine at the moment and is in good health apart from the odd cold and ear infection. She is due a transfusion in 2 weeks time. The kids are loving being on Post Pals, especially Amy. The lads also had some stickers from Sue which made their day.
Update 1st April 2005
Amy is fine at the moment, wasn't well last month had a really bad ear infection for 4 weeks, but is ok now and back to normal.
Update 17th January 2005
Amy's hospital ruined her first port access and I had to take her home before they used her as a human pin cushion again. She had her blood (although being 1 unit short) today on the outpatients ward. She had her friend Mikey come to stay over the weekend who also has DBA.
Update 31st December 2004
LOTS of great cards this month which made Amy very happy. She was waiting for post every day and was not disappointed. It made her Christmas to know people out there online do care and take notice of things posted on there. Amy has had her operation to have her port replaced and is doing well. It only took her a week to get over the operation and she is running around like nothing happened. She is due to use her new port in 2 weeks so hopefully it will make transfusions easier and shorter. She is now staying overnight in hospital for transfusions as she is having more units so it takes around 10 hours to do. She is in good health at the moment which is always a bonus, no illness for 6 months now so her immune system is a.o.k! Hope it stays that way.
Update 22nd December 2004
Amy went in for her vascaport replacement on Monday (too near Christmas but it had to be done). She did extremely well had the anesthetist in stitches and wasn't scared at all. She was in a lot of pain on Monday when she came back from theatre, but we got home at around 7pm that night. Her first couple of days have been quite bad, but today she seems to be back to her old self and is smiling again and playing with her toys. We went out the house for about 20 mins today which was a bad idea because it wore her out too much. She has 2 weeks of no showers, which for a kid is a bonus! She will have a vascaport that now works for transfusions and as she had a transfusion on Friday night she will last out now till the New Year and we will see how well this new port now works. All my thanks to everyone who is sending cards and parcels she is very excited and knows every day she will get mail. She gets more than us now and has a whole door full of cards from post pals friends. It has brightened up her day and even more so when our neighbour sent round a parcel the postman had delivered on Monday so that made her smile.