Donate to childrens charity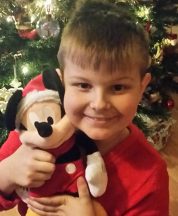 Contact Details
C/O 25 Doncaster Avenue

Sandiacre
Nottingham
NG10 5FH
United Kingdom
NB: this is a forwarding address, we do NOT disclose home addresses
Other Information
Parents/Guardians - Lisa
Interests - Likes Xbox One/3DS gaming, Lego, Star Wars, Minecraft, WWE wrestling, Formula 1 (Lewis Hamilton), Nerf guns, films, swimming, superheroes, tag rugby, football club, supports Nottingham Forest .
Favourite Colour - Blue and green
Able to read? - Yes
Able to use hands? - Yes but some of the chemotherapy can limit his ability to grip and write.
Visually/hearing impaired? - No
Suffers from any developmental delay? - No
Siblings - aged 3 to 16 wishing to receive post
About - Alfie M
Story written 2014
Alfie was diagnosed with acute lymphoblastic leukaemia (ALL) on 10th February 2014. The genetics of his cells meant that he was put on regimen C which is the strongest form of treatment. Throughout this devastating time he has been a very brave boy and has never complained. He has always fought hard while keeping his ability to amuse everyone he meets with his cheeky personality and constant singing! He is quite simply a superhero! Alfie has always stayed positive with the help of his four sisters, who keep him upbeat with lots of play and fun activities. Plus, even though he has missed a lot of school due to his illness, he has managed a few visits, even just for lunch with his friends to keep up to date what is going on in their lives.
Alfie has responded extremely well to treatment so far and will reach end of treatment on 10/06/2017.
Update 4th January 2017
Alfie has been well over the Christmas period and enjoyed the break from school. He is currently tolerating 125% chemo dose but this does take its toll and he tires quickly.
Again I would like to thank everyone for all the lovely post we have received. Both Alfie and Ruby have been thrilled with all of it, from handmade cards to reindeer revealing magic tricks, to some truly generous gifts. Thank you xx
Update 17th October 2016
Alfie has been in hospital twice this past week with temperature spikes, but only has a cold so has been allowed home. Grace, Ella and Niamh have now been moved on, I wanted to thank you for all the lovely post they have received in the past.
Update 7th July 2016
Alfie has had a few issues this past couple of months with his tummy, due to effects of steroids and also had food poisoning, so was off treatment for a week, but seems to have recovered well.
I just wanted to add an additional thank you for the butterfly garden we received, we had a holiday so only recently got the caterpillars, but we all enjoyed this experience. The whole family got involved and it was lovely to see the butterflies emerge! We released them yesterday on our allotment and Ruby managed to hold one for a few seconds before it flew off.
Update 6th June 2016
Alfie is still doing well apart from a few blips when on steroids!
Update 14th March 2016
Special mention for Alfie's gift of Lewis Hamilton car and canvas picture, a cushion from Alfie's cause, the extra post when he was ill – especially the handmade cards and stickers. Also a Star Wars themed parcel from Rachel. Evie's monthly project parcels for Ruby. And also the Mums parcel for myself – thank you. Alfie has received so many letters and cards and also loved his valentine balloon and card. Alfie seems to have recovered well from his lingering chest infections, so much so that his chemo dose has increased!
Thank you to everyone who has sent post, Alfie and his sisters, love every single thing that they receive and it has helped to put a smile on his face while he has been feeling poorly.
Update 6th January 2016
Alfie got much enjoyment from the toy Advent Calendar, the Guess the Logo game and also decorating the Gingerbread House, the Lego set from Marty Longo, and all the elf parcels, but mainly all the handmade cards and letters that people took time to send. Thank you to everyone who sent something.
Update 5th December 2015
Just wanted to give a special thanks to Evie for Ruby's monthly project parcel – she was absolutely thrilled with it! Also for Alfie's as he watched his dinosaur egg hatch with much enthusiasm.
Update 8th November 2015
Alfie is still doing very well, is at school full time and goes to football and dodgeball after school clubs.
Just wanted to mention that we had some really cool Halloween themed post this month, including handmade cards and a fabulous jigsaw, as well as lots of fun activities to do – so thank you to all who send us things.
From Lisa (Alfie's mum) xx
Update 26th September 2015
Alfie has now started back at school full time and has started plying football in the after school club.
We'd like to say a big thank you to all the people who have sent us post over these few months. We've received regular post from Marty Longo and Dottie Dalmatian; a letter from Regan; cards and updates from Hilary and Jem; a WWE card from Karen, Toni and snoopy; a letter from John Dziak from USA with a secret Star Wars message!; postcards for everyone from Michelle; numerous postcards for Grace from Belinda; an Alice card with tea bags for Ella and cards and letters for everyone from Natashja; postcards from Tanya and Essi; birthday cards for Ella and Grace; beautiful handmade cards from Ann; and Ruby also loves her personalised handmade cards and messages from Laura.
Alfie received a fabulous parcel from Wendy with craft items, including glow in the dark solar system and pump rocket. He got a Star Wars pop character which he loves and Hilary and Jem sent him a hand knitted minions hat. Ella received a lovely parcel from Sue Jenkins including butterfly mobile, soap and jewellery. A fabulous parcel was sent from Evie for Ruby with a bag, craft items, some lovely stationery, handmade purse and pencil case, plus her earlier parcel of globes and craft items from Evie. Grace received a lovely butterfly jewellery set and lights from Halima. Ruby had a letter from Maria and Michael and a lovely arts and crafts parcel from Stacey, the artist. The children also received a party pack from Dottie which they all had so much fun with.
Thank you to you all.
Update 24th July 2015
Alfie is doing very well at present and we are hoping he will be going back to school full time in September.
He has joined a cricket club and is also keenly following Hamilton in the Grand Prix!
Thank you for our beautiful paper cuts this month.
Update 10th June 2015
A massive thank you to Katy O'Brine for sending colour in cushions and pens, pillowcase and headbands to the kids, plus a mum book that is paper cut to show a heart design especially for me! Thank you also for the senses gift box from Evie and stickers from Jannine. We received a yuck tin of gruesome things which all the kids loved as there was fake poo! We also had lots of birthday cards for Alfie. Thank you to everybody.
Alfie has now started cricket club after school as tag rugby has finished.
Update 9th May 2015
Alfie is still doing well and has joined tag rugby club after school.
Thank you to Little Rascals nursery for their handmade card and Chryston high school for their cards and letters. Thanks also go to Natashja and Lindsay for the children's post, to Ann Savage for the beautiful handmade cards, and to Belinda for the updates Grace gets as she loves them. The kids also loved their senses parcels which had some great items including glow sticks, sweets, perfume, books and a fart toy!
Update 10th April 2015
The children received some lovely books this month for the monthly projects theme, including bedtime stories, penguins of Madagascar, lego sticker books and a lego heroes book from Karen and Connor. They also received an xbox 360 game from the Nerd Basement, a box of sweets from Candy Chaos, a brilliant handmade Minecraft creeper from Laura, and some very impressive bath bomb sets which the girls were keen to try out. Alfie also received his personalised Easter egg from Post Pals. We had updates from Belinda and Swedish tradition info from Jenny. We also received letters from students at Park View School in Illinois and our regular cards from Marty Longo and Dottie the Dalmatian. Thank you for all the post that was sent.
Update 23rd March 2015
Thank you for all our post this month and for the personalised Valentine's cards and their boxes of sunshine, which they all loved receiving. Thanks!
Update 7th February 2015
Our five lovely balloons arrived from Post Pals this month. We also received our Dottie the Dalmatian which the children love! Niamh has had some fluffy socks and stickers, Ella also got some socks, a hot water bottle and dreamcatcher, Grace had some pencils and stickers, Alfie got a blow up toy, and Ruby got a book and some crayon rings – which she was very impressed with! Alfie also loves his chemo duck (which I forgot to mention he got in December!) and he has found his duck very helpful to show his friends where his medicine goes.
Update 24th January 2015
Alfie is still doing well and manages to attend school about three times a week.
The children get so excited when something arrives from Post Pals. It really is humbling that so many people want to send their best wishes. We have received some beautifully handmade Christmas cards, along with lovely letters from Class 108 at Guryong Middle School in Seoul, South Korea. We also had some fantastic letters from students at a high school in Croatia. Finlay Mellor sent Alfie a robot to build and he loved it! Grace also loves her Jacqueline Wilson books. A box of craft from the little crafty bugs company for Christmas which was great. Each of the children also got a parcel – diaries, make up, Lego figures, plus a Minion gun for the bath!
Update 17th December 2014
Alfie is now in the maintenance phase of his treatment, meaning he only has monthly visits to hospital and the rest of his medication is given at home. He appears to be doing well and has managed to attend school a couple of times a week.
We are very impressed with all the cards, letters and messages received so far from Post Pals. There are so many kind people writing to us all as a family as well as individually and it has really cheered us all.
Thank you for the 3D viewer from Kim and Stevie, a green Lego crayon from Toni, Karen and Connor, some lovely letters for Grace with photos from Belinda in Austria, and of course the fantastic balloons from Post Pals! Alfie loved his Batman balloon!