Donate to childrens charity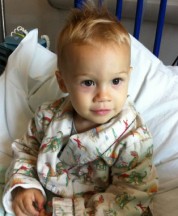 Contact Details
C/O 32 Festing Road
London
SW15 1LP
United Kingdom


NB: this is a forwarding address, we do NOT disclose home addresses
Other Information
Parents/Guardians - Harriet
Interests - Likes Teenage Mutant Ninja Turtles, Paw Patrol, Transformers, Power rangers, superheroes, Lego, karate, anything that can fly.
Favourite Colour - Blue and red
Able to read? - No
Able to use hands? - Yes
Visually/hearing impaired? - No
Suffers from any developmental delay? - No
Siblings - aged 3 to 16 wishing to receive post
About - Alfie K
Story written 2015
Alfie was diagnosed with Acute Lymphoblastic Leukaemia shortly before his second birthday. It was utterly unexpected as he had very few symptoms; I took him to the doctors in the morning thinking he may have a virus, and a few hours later, we were told it was 99% likely Alfie had ALL. We were taken straight to Great Ormond Street Hospital, where we spent 10 days starting Alfie's chemotherapy treatment before being allowed back home. We had entered what felt like a completely new and frightening world where nothing would be the same again.
The treatment for ALL in boys is 3.5 years, with chemotherapy being given daily, alongside various other medicines (our kitchen is like a chemist!). Alfie had a port-a-cath inserted shortly after his diagnosis, through which he receives IV chemotherapy, and from which his bloods are checked every week. We go to Great Ormond Street Hospital every three months, when Alfie has chemotherapy given directly into his spine under general anaesthetic. Very sweetly, Alfie quite enjoys the feeling of being put to sleep – the doctors always laugh when he nods off smiling! – although finds not eating and drinking beforehand rather tricky!
The hardest part of Alfie's journey has been the side-effects of the treatment, which are feeling very lethargic, sometimes quite sick, a little agitated and tearful (particularly due to the steroids). The other main day-to-day difficulty Alfie has to deal with is having his port-a-cath accessed with the needle. Although he assures us it does not hurt, he finds it very stressful, especially being held still when he wants to be doing his own thing (like any other 4 year old!).
We spend quite a bit of time in hospital due to infections, and this is also quite hard on Alfie as he misses out on a lot of things, like friend's parties and nursery, and finds it quite boring and tiring. Despite the numerous ways in which Alfie's life has changed due to his illness, he has blossomed into the most lovely, caring little boy. He tries so hard to please everybody by being brave and helping the doctors when they are examining him, even though he finds many of the processes traumatic. He has learnt to count down from 5 before his port-a-cath is accessed, which has helped him regain some control over the procedure. He is so willing to try. I am so proud of him.
The opportunity to be part of Post Pals would be incredibly rewarding for Alfie. To know that we are part of a bigger community of people that are being so kind makes us feel like there's a network of support around us. We are so grateful for the chance.
Update 11th January 2016
Thank you for your message and Happy New Year! Alfie had such a wonderful Christmas despite quite a bit of time in hospital. The letters, cards and gifts sent by Post Pals made such a huge difference. It is such a special charity!! Alfie finished his treatment for ALL on Friday, which is very exciting (and slightly nerve-wracking!) time for our family. For this reason, we could like to be moved to the 'moved on' page please.
Wishing you all the best. My heartfelt thanks go out to you – I have tears in my eyes as I write this. I cannot overestimate the different Post Pals has made to our lives. It's made us feel like we are not fighting this alone.
Update 5th December 2015
We had a short spell in hospital in November as Alfie developed a high temperature, which thankfully came down after being on mega-strength IV antibiotics. He and his little brother found being admitted to hospital harder this time round, probably because they both are understanding more and therefore questioning more as they get older. Alfie was so frustrated and fed up at times. I used the Post Pals post to cheer him up, and it worked no end. It was reassuring to me to have it saved up in my bag to pull out when things went downhill. It's so lovely hearing from new people, as well as the kind people who have written to us over the past year or so. Thank you to everyone xxx
Update 13th October 2015
Alfie started school in September, so it's been an month of new and exciting changes. He's settled in really well so far, despite being very tired and picking up a viral bug in the first few days (unavoidable I think with 450 kids in one place!). The monthly dose of steroids continue to be one of our hardest obstacles; they really make Alf feel so rotten. The post we receive from Post Pals helps enormously during this time particularly as it provides such a brilliant distraction. It's so lovely hearing from new friends from all round the world, as well as those kind people who have written to us repeatedly over the months. To know you are thinking about us helps hugely, and Alfie benefits enormously. We have received cards and packages for Alfie's birthday which has been the source of much excitement! I feel like I repeat myself every month, but thank you so much to everyone involved in this. It's so special
Update 14th August 2015
Alfie is due to finish his treatment for ALL in January 2016, which is exciting and nerve-racking. We all felt like it would get easier as we edged towards the end, as finally, after three years, the end is in sight. Strangely it is actually feeling harder – Alfie is so fed up of having his bloods done and can't bear to be in hospital. His tolerance to the chemotherapy has increased as time has gone on, which is a good thing in a way, but means that the dosages keep going up and up. This has had an impact on Alfie in terms of the side effects of medication. He is more lethargic, has a permanent rash on his face and most of his body, and has lost his appetite. We have been very lucky however and haven't had to have a lengthy stay in hospital for almost 5 months – truly such a blessing.
Thank you to everyone who has written to us in the past month! The letters, cards and packages provide such a wonderful distraction for Alfie when he is distressed or fed up. Every single one has enhanced his – and my – feeling of wellbeing. Thank you all!
Update 8th July 2015
We have been so touched by the emails, letters and parcels we have received. I am so sorry we have not replied to anyone, I wish I could write to you all individually to let you know how much your pure kindness means to us. Please know that you have made such a meaningful difference to our lives.
Update 31st May 2015
Thank you so much to Wendy for the lovely and incredibly thoughtful package she sent Alfie. The balloons are hanging in his room – Alfie couldn't believe you even sent the ribbon in his favourite colours! We are going to hospital for IV chemo next week, so we are saving the superhero sticker book for while we are there. It's always quite a stressful day, so the book will be a brilliant distraction, and provide a perfect treat for afterwards. Thank you so much. Thank you also to Skye, who emailed us all the way from Australia. Your words were so kind and I will remember them and think of you when we are feeling low.