Donate to childrens charity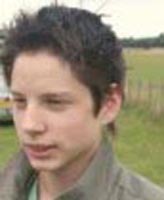 Contact Details
NB: this is a forwarding address, we do NOT disclose home addresses
Other Information
Parents/Guardians - Lesley and Neil
Interests - PS3, computers, fast cars, Top Gear, tv comedy series Two and a Half Men, airfix models.
Favourite Colour - Lime green and orange
Able to read? - Yes
Able to use hands? - Yes
Visually/hearing impaired? - No
Suffers from any developmental delay? - No
Siblings - aged 3 to 16 wishing to receive post
About - Adam C
Story written 2010
Adam was born at 31 weeks, 9 weeks premature. His bowel was gangrenous and volvus and he lost a third of it.
Adam has had 52 operations and procedures to date. Adam is TPN dependant and now is on the transplant waiting list at Kings College Hospital London.
In 2008, Adam was also diagnosed with Bilateral Cystic Kidney Disease.
Adam's mum, Lesley, has written below how 2010 has been for Adam so far, in order to help everyone understand a little more about what life is like for him.
At the start of 2010 Adam was in hospital. He had a line infection that started at the end of November and had been on IV antibiotics since. He ended up staying until the middle of the month and he got very down this time as the infection took a lot out of him.
By February the line infection had finally gone. He had a kidney function test before going into GOSH for some of the other transplant assessment test. GOSH confirmed Adam does have polycystic kidneys disease. Then Adam went to Kings for the rest of the transplant assessment test and to meet the team. This was not easy for Adam as he was told he would lose colon and most of his stomach or it may also need transplanting.
In March, Adam started the vaccination course that Kings wanted, which was 2 x HEP A, 3 x HEP B, 1 X MENINGITIS, 1x BCG, 2 x ROTAVIRUS, 2 x SWINE FLU. Adam also had a heart function test and heart scan.
In April Adam had to have his wisdom teeth out and they were still under his gums. This was just in case they cause problems after transplant, so they had to cut his gums to get them out. Bless him, he was bruised, swollen and had stitches. He also had a course of urokinase and an ethanol lock for his central line problems that month.
By May, Adam's central line was still causing problems, so another ethanol lock was needed. At a meeting between KINGS AND GOSH they decided Adam does needs a transplant and they can offer no other treatment. The surgeons all say it is to dangerous to go into Adam's gut and have a look before transplant. Last time the surgeon had to call 2 other surgeons to help and to do his stoma it took 3 of them 9 hours. This has been really hard for Adam and he is now suffering from depression and anxiety so they started him on fluoxetine to help.
By June, Adam's dehydration was becoming more of a problem in the hot weather so he is now 24/7 on his drip. He also sat his GCSEs at home at he hasn't been to school for 3 years and he has home medical schooling.
In July Adam was put on the transplant waiting list – it has taken such a long time to get to this. Then Adam got a line infection that spread to his blood and then on top of that he got tonsillitis. We had another stay in hospital and lots of IV's antibiotics but this time his gut stopped tolerating all other meds as well. All meds now have to be done IV.
Adam has been a little more stable in August, but his gut still won't tolerate oral meds. Adam also started treatment for his colon which is short chain fatty acid enemas and are very unpleasant for Adam, he hates it but he has ulcerative colitis and diverticulitis as well. Adam's nurse comes round every week to do this at home which helps as he really doesn't like it. Adam's platelets and neutrophils have also been low so they are keep a close check on him, lots of blood tests and they can't use the central line. His dehydration is still a big problem but this won't get better until he has the transplant.
Update 15th May 2011
Adam's j-peg operation went well and we are now on top of the line infection which is good news. Adam has been transferred to Poole hospital and we are hoping he will be home this week, yippee!
Update 5th May 2011
Adam's j-peg operation went well and we are now on top of the line infection which is good news. Adam has been transferred to Poole hospital and we are hoping he will be home this week, yippee!
Update 21st April 2011
Adam is home for Easter on tpn and peg feeds. Adam has to go back next Tuesday to start other treatment. Thank you all for your support.
Update 10th April 2011
Adam has lost a lot of weight from 54kg and is now 47kg. TPN stopped but he has had a bowel blockage already. He went back to saline for 24 hours and now we are starting pegs feeds up to 10mls per hour with saline. The problem is he is getting more and more tired and is in pain. Adam is getting very upset with the doctors as he feels they don't listen to him. He has asked to speak to the surgeons about the pain he is in as he never had pain when he had a stoma.
Thank you for the box of wonderful goodies and for all the support you are giving Adam and our family. Also thank you for all the cards and well wishes as it really makes Adam smile. Adam will be in Kings for a while yet.
Update 25th March 2011
Adam's bowel is still not working, he has lost half his colon and his small bowel is now made up from many bowel resections. The doctors are still hoping his bowel will start to work soon. He has lost about 5kg in weight so far. He is going to try peg feeds later today, starting at 5 mls per hour. The doctors want to put a j peg in but Adam has refused and said try his peg first. It looks like he will be here for a good few weeks more.
Thank you for all the post everyone has sent.
Update by the Post Pals team, March 2011
Adam received his call and went to theatre. He didn't receive his transplant though and spent many days in ICU. He is now back on his normal ward and is in need of some smiles in the post.
Update 2nd February 2011
Adam has been on the transplant list now for 7 months and is finding it stressful. We had a false call – the ambulance came and off we set but when we got half way the transplant team called and said the surgeon had just refused the organ. We were told to turn round and go home and wait again. Adam was very grateful to the other family that wanted to help and was very sad for them as they have just lost their child. That evening we lit a candle for them and said a little prayer.
Adam has also sat some GCSE exams at home as he isn't well enough to attend school. He thinks he did ok, so cross fingers for him.
Adam had all the pre transplant tests done a year ago now and has to have most of them done again now. One of Adam's doctors decided he wanted Adam to transition to adult care and refused to do it properly, he just transferred him. Adam hadn't even met his new doctor and this caused a lot of stress and we had some problems with his tpn. Adam is getting low in iron and the doctors think he will need to start infusions soon and he is low in vitamin D so he may have to have that infused as well.
We are looking forward to his birthday this month and thank you for all your support.
It has been lovely getting cards and well wishes from all over the world. Thank so much everyone for caring, it bring lots of smiles. Thank you for your kind and thoughtful gifts too. They really do make Adam smile when he is having a tough time. It's really amazing that so many people are so caring and thoughtful. Thank you from all of us for supporting Adam.
Update 8th January 2011
December was a good month and the only problem Adam had was his central line keeps blocking so he has to have urokinase infusions to unblock and a couple of ethanol locks. The doctors have increased his calories again in his tpn to 3000 per day as weight gain is very slow. Tiredness is still a problem and Adam doesn't like going out, but overall a good month.
Thank you to everyone who sent Adam Christmas cards and postcards, we were amazed at how many Adam received. Adam had cards and well wishes come from Japan, USA, Australia, New Zealand, Finland, China and many more. Thank you! He also had a lot of cards from home as well. Some of the cards were made by children and others were personalised. Thank you for all your kindness and support.
Thank you also for the gifts Adam received, they were amazing and lovely. Adam loved all the smellies, Stig and Top Gear presents. The orange t shirt he wore on Christmas day, the 007 cars he has on his window in his bedroom, the calendar on his door, and the dvds he is saving for when he goes into hospital. Also, the rotating picture cube and the maze ball, the picture which was hand painted and the magazines and car information were all great, thank all so much for caring.
Update 2nd December 2010
It's been a very stressful month emotionally as we have met again with the transplant team. They are doing everything they can to get a transplant as soon as possible, but they have increased the size of the donor organ now twice, as they think the transplant needs to be done sooner. The problem with this is Adam will have an open graft and a lot of operations to close his tummy after and Adam is very upset by this. The risk of infection is higher so it's understandable that Adam is feeling anxious.
Adam said thank you for all your support and sorry he is feeling down and he hasn't replied yet to letters or emails. Adam doesn't get out much (only twice this month) so your letters and cards are most welcome. Thank you to you all for supporting Adam.
Update 5th November 2010
Adam has spent some time this month back in hospital and had a worrying few days when we lost tpn feeding. Adam had an allergic reaction to a batch of his feed. Adam has no other means of feeding so it was very stressful but we had a new batch made up which took a few days and so far all is good. We also lost access to his central line as that blocked but with urokinase put in the line for 24 hours it cleared the line. However he had to have a canular in and with damaged veins it's not nice and as he had no feed for a couple of days he lost 3kg in weight.
We met with the transplant team and had words of caution from the surgeons because he is not putting on weight with the tpn and it is not doing its job anymore – it is keeping him stable but nothing else. Adam was first listed for transplant as lifestyle, but that has changed and he is now listed for survival. They think the tpn will stop working in the future and Adam needs his transplant now for the best chance of survival. I'm so proud of Adam as he asked all the right questions and listened to the doctors. The surgeons have also said they think Adam is at greater risk of an open graft as he has a very small abdomen. This will mean more operations and a higher risk of infections after.
Thank you for all your cards and letters this month, Adam will try and reply. It was very kind of Kate and Post Pals to send Adam a gift package of Halloween goodies – thank you. Thank you also to Debbie for sending Halloween goodies – Adam made a Halloween pumpkin face with your wonderful gift. Thank you to everyone who has sent letters, cards and gifts, it is very kind of you.
Update 17th October 2010
Just a quick update on Adam. He is in hospital and is unable to have tpn which is a worry as he has no other means of feeding. Every time he is put on tpn he comes up in a painful rash and he is showing signs of being allergic to his feed. I will keep you informed.
Update 1st October 2010
Adam has had all the routine hospital appointments and blood tests etc. Adam's biggest problem still remains the amount of time he spends each day on his drips. It means he doesn't see his friends much (only twice this month). He is very isolated most of the time so your letters, cards and well wishes, are good for him.
Adam has a very good community nurse who comes out at least once or twice a week to do treatment at home and to keeps an eye on how dehydrated he is getting. We do all iv's at home now which really helps, as Adam doesn't like going to the hospital.
Thank you Post Pals for all you support. Thank you to everyone who is wishing Adam well. It's a very stressful time with Adam being on the transplant list so thank you for thinking of him and caring. Thanks for the lovely cards and letters and to Hannah for the chuckling monkey, it's very kind of you. Adam also received a lovely balloon with a happy smiley face and a lovely pillow case which he keeps on his bed.