Donate to childrens charity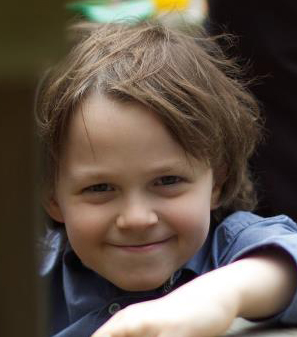 Contact Details
NB: this is a forwarding address, we do NOT disclose home addresses
Other Information
Parents/Guardians - Nicholas and Alison
Interests - He watches lots of TV - SpongeBob, Tom & Jerry, Scooby-Doo, Phineas & Ferb, Power Rangers, MI High, iCarly and more. He collects and hoards stuff; stickers, keyrings, healing stones(!), erasers. Enjoys playing when he's up to it. Make-believe/spy games, pretend gadgets.
Favourite Colour - Blue or Green
Able to read? - No
Able to use hands? - Yes
Visually/hearing impaired? - No
Suffers from any developmental delay? - No
Siblings - aged 3 to 16 wishing to receive post
About - Adam B
Story written 2010
In July 2009 Adam was diagnosed with High-Risk Neuroblastoma (Stage Four), a rare and aggressive cancer that affects about 100 children in the UK each year. In addition to the primary tumour in his abdomen, the disease had spread to his bone marrow, his lymphatic system, and other distant areas of his body. Like the vast majority of children, Adam had an advanced form of the disease before it was discovered.
Since his diagnosis Adam has been cared for by one of the country's leading paediatric cancer care units. He has so far had surgery to remove a gland in his neck, had an intravenous line fitted directly into his heart for drug administration, undergone 8 months of intensive chemotherapy, endured dozens of invasive testing procedures and needed numerous blood and platelet transfusions. He also has to take a daily cocktail of other drugs to counter the side-effects of the chemotherapy and to try and keep his body functioning normally.
So far Adam's cancer has not responded well enough to treatment. His bone marrow remains infected and scans still show disease spread throughout his body. Without being clear of detectable disease Adam cannot move forward to the other stages of treatment – surgery, high-dose chemo, stem-cell transplant, radiotherapy, oral chemotherapy and immunotherapy.
He is to undergo two more 7-day cycles of a harsh chemotherapy regimen called TVD to try and get him to the next stage. Another series of bone marrow tests, CT and mIBG scans will follow at the start of May and his next course of treatment will be determined by the outcome of those scans.
Update 5th November 2013
We are doing well, considering everything. Jessica has started secondary school and has been selected to play netball for her school. She is settling in very, very well. She gets lots of homework but still manages some hobbies – one of which is making pop videos.
Jake has has now started his GCSE years. He's still playing football, still playing cricket (indoor in the winter) and has started a Saturday job as a football referee.
Adam is missed every day and we have his birthday this Saturday. We're planning a trip to London to see The Lord Mayors fireworks, followed by a meal at Wagamamas. This was a firm favourite of Adam's.
Update 11th July 2013
Just after 9 this morning lying in our bed at home as we held his hand, stroked his hair, and told him we loved him, our beautiful son Adam took his last breath and left this world. He will live on forever in our hearts.
Update May 2013
Adam's parents have updated their blog with an update we have posted below. Please send Adam, Jessica and Jacob some happy post without mentioning Adam's condition. We have a guide to writing happy post here.
The blog;
After four years, though it seems like longer still, the final stage of our journey has begun. We have left America for the last time, our principle task now to make Adam as comfortable, and free from pain, as possible.
We haven't told Adam what the future holds, and neither do we intend to; for what purpose would it serve except to add mental stress and anguish on top of the physical pain? Jake and Jessica do know — a conversation like no other I have ever had, or ever want to have again — but it was necessary to be honest with them. For their sakes, please be sensitive with any comments.
Adam remains the same as ever. He reminisces about what he used to do when he wasn't like he is now. He talks about what he's going to do when he's better. He informs me that we can buy some more sticky velcro so his replica WWE championship belts still fit him when he's bigger. He asks me if he can have a pocket tool with scissors, and bottle opener, and screwdriver, when he's older? He wonders if the cricket bat we bought him last summer will still be big enough for him this year? Out of the mouth of a child, an embodiment of innocence even now despite everything he's been forced to endure. And they cut through my heart like a knife.
Just over a fortnight ago, on Tuesday morning, Adam went into theatre just after 9am to have a tube inserted into his chest, and 1.5 litres of fluid removed from his right lung. By 4:30pm he was in the car, connected to a 4ft hose into a chest drain collection kit, and hooked up to a portable oxygen compressor, on his way to Detroit airport for the flight home. Not the standard discharge process after such a procedure, but there was genuine concern that if we didn't get Adam home as soon as possible, he might not be able to fly. He was retaining large amounts of fluid throughout his body, and in the days prior to our return his output had reduced to practically nothing despite the repeated use of strong diuretics.
A huge thank you is due to everyone at Helen De Vos Children's Hospital for pulling out all the stops to get Adam home safely. And also to the cabin crew on our Delta flight from Detroit to Heathrow, who were helpful, considerate and patient with us throughout. I'm still not entirely sure how we made it back so (relatively) uneventfully, but we did.
Since returning to Epsom we've been to the hospitals we needed to go to, talked to the people we needed to talk to, and set in motion the things we needed to set in motion. We have access to the 24-hour symptom management team at the Royal Marsden, our community team are also able to provide round-the-clock cover when we need it, and we've been referred to the Shooting Star CHASE hospice in Guildford. Now we'll just take life one day at a time.
For the moment Adam is reasonably well in himself; he is comfortable and has even been back playing on the xbox a little — something he'd shown very little interest in for many many weeks. Simply being home has been a huge fillip for him. He has a whole list of things he wants to do, places he wants to go, and things he wants to buy. Whether he's well enough to do any of them on any given day is another matter though. His fluid retention has resolved — which two weeks ago we had seriously doubted it would, suggesting the immediate cause, at least in part, was a side-effect of the medications he'd been on.
So here we are. And it's turned out to be of no consequence how long I have known it would come to this. It's mattered not how long I have spent trying to prepare myself for it. I was not, and am not, prepared. Nothing could have prepared me; for how difficult, and painful, and unfathomable, the reality is.
We are now going to deal with things privately, in our own way. I'm not intending to update regularly, the nor elsewhere, it's just not me. Instead I will post as and when I feel I have something to say. In the meantime please keep my little boy, and his bigger brother and sister, in your thoughts and in your prayers.
Update 30th March 2013
Since the last update, Adam has flown out to Michigan to begin a new course of treatment here. After a brilliant day flying out here, Adam woke the following morning with probably the highest temperature I've known him to have. He was admitted to hospital for antibiotics. The infection proved to be a nasty one but after the first 24 hours gave Adam very little trouble. Because of this, we still managed to have all the investigations done and there were no delays in starting treatment.
Whilst Adam was an in patient, he received the biggest, and loudest, balloon he's ever had. It was a Superman one and if you tapped it, it played a short, noisy burst of the theme music. He also had, and continues to have, hundreds of emails sent to the 9th floor of the hospital. Even though he is no longer sleeping on the 9th floor, the nurses are forwarding them on to him. There are lots of jokes and messages. A big thank you to everyone who sent them.
Adam is still struggling a bit here as disease and now treatment are causing pain. Hopefully, as the treatment works, this will diminish. We are now looking forward to seeing Jake and Jessica. They have finished school for Easter and are flying out to see us all in a few days.
Update 12th March 2013 from Post Pals team
Adam flew out to America for more tests and to decide on future treatment options, however he has been admitted to hospital with a stubborn infection. The hospital have an E-card system, you just type in a message, they print it out and take it up to the child. We are asking volunteers to flood him with cheerful messages, why not send your favourite joke and a note to say "Hello"? Just click here, enter the name Adam Bird and instead of room number please put '9th floor'. Thank you for making Adam smile.
Update 4th March 2013
Firstly, many apologies for the lack of updates on Adam. We've had a hard few weeks with him, either here at home or in the US. My last update said that we were due out to America that week. Well we made it.
On arrival, Adam was looking and feeling very well. Unfortunately, that didn't last long as some of the aches and pains returned. He had a good birthday but his pains got worse in the days that followed. These, and the placement of a new port, meant Adam had an uncomfortable couple of weeks. Our doctor there started Adam on a new treatment plan. We stayed for a month to see how he coped with this and, after scans that showed the disease was stable, we returned home just in time for Christmas.
Adam, however, never takes the easy route. He returned home with an abscess on his bottom which burst on Christmas Day! After a visit to St George's for surgery to drain the rest of the abscess, Adam then spent the next four weeks with daily visits from our wonderful community nurses to administer some TLC to his bottom.
A month after we came home, we returned to Grand Rapids for scans. The results were mixed – a common occurrence with Adam. So with a little tweaking to his treatment plan we returned home after just a week in the States. This time Adam returned with a urine infection. We managed to avoid hospital in patient stays and yet again we had daily visits from our nurses.
We are due to go back again to the US this week. Adam is due to be rescanned. His aches and pains have become more persistent which is worrying but we will get some answers next week.
Once again, Jake and Jessica are at home with the grandparents who do a wonderful job whilst we are away. The children cope remarkably well. Obviously this is helped by keeping to their daily routines of school and sports and they are remembered by many of Post Pals.
Which leads me to say once again thank you to all who help bring a smile to each of my children's faces. And thanks to Kevin who also wrote to Nick and myself, as well as to each of the children.
Update 4th November 2012
A big thank you to everyone who has written to Adam over the last few weeks. They have been tough on him and the post has really cheered him up. A special thanks must go to Alice Pyne who highlighted Adam's current spell in hospital on her Facebook page. Congratulations to Alice too on her Teenager of Courage award – a well deserved honour and recognition for a very special young lady.
So to Adam. Having been in our local hospital and then the Marsden for over 2 weeks, Adam was admitted to have his Port removed as this was quite possibly the source of infection giving Adam temperatures. Since then, he has been home and eating well – and playing well! And more importantly, no temperatures!
He's had a lovely couple of days at home with Jake and Jessica but tomorrow Adam, Nick and myself, will be flying back to Michigan to review Adam's treatment – something that a couple of weeks ago I never thought we'd be in a position to do. We've packed a few Post Pals cards with us, along with gifts from family and friends as this Friday is Adam's 9th birthday. He knows we're going to be away from home but we will make try to make it the best we possibly can.
We are, however, very likely to miss Jessica's 11th birthday. Good luck to Nanny and Grandad who will be supervising Jessica and her friends for a birthday dinner, followed by a sleepover (yikes). This birthday was organised before I realised that Adam's quick visit to the States for scans was extended to incorporate the inevitable changes in treatment. For the second year in a row, Nick and I will be missing Jessica's birthday.
P.S. Thank you Yoda – Luke Skywalker (Adam) has been noisily battling Darth Vader (Jake) on several occasions.
Update 26th October 2012
Adam returned from the US towards the end of September, having completed the first cycle of treatment under the care of the Helen DeVos Children's Hospital in Grand Rapids, Michigan. He coped pretty well with the treatment but did have to be admitted for high temperatures just as we were due to fly home. Having rearranged our flight, we finally returned home after 7 weeks.
Adam was only home a couple of days before we had to visit our local hospital, once again because of high temperatures. These are probably a side effect of one of the drugs he's on. After 4 days we were discharged. He has been very tired but was happy to be home. This was unfortunately short lived as once again his temperature started to soar – and at this point he wasn't on the drugs that could cause it.
So far Adam has been in hospital for 12 days. He's had the occasional home visit in between but his temperature is still rising at various points in the day. He is currently on a different combination of antibiotics and is getting better in himself. Hopefully, this latest combination will do the trick. He has an infection somewhere but so far neither Epsom Hospital nor the Marsden can find a source. It's all very frustrating and upsetting when Adam is obviously unwell.
It has been lovely for him to receive his post pals mail. He had a bundle on his return from America and Jessica has bought into hospital the more recent post – she particularly enjoyed bringing in the rather large box containing a Spongebob Squarepants balloon that was almost as big as Adam. Thank you, Post Pals.
Update 10th September 2012
A lot had been going on in Adam's life recently. He's back on treatment as his disease has progressed. He initially had treatment at the Marsden. He finished his last course there just in time for the school holidays to start. I went away for a few days with the children. We had a good few days at our caravan, interspersed with a few trips to the local hospital for blood counts! We had a lovely time but on August 6th, I flew to Chicago with Adam so that he could potentially start a new treatment plan at the Helen DeVos Children's Hospital in Grand Rapids.
After two weeks of tests, Adam was started on 2 chemotherapy drugs. Because these drugs are not usually prescribed together we have had to stay in Grand Rapids for the duration of the first cycle (28 days) under the supervision of the hospital. The intention is to take the drugs back to the UK for future cycles with the help of the Marsden and to fly back for scans/amendments to treatment plans. This has yet to be confirmed! (Not panicking yet as still not finished cycle 1.)
In the meantime, Adam and I are trying our best to enjoy our time here. When we're not at the hospital, we have been to the zoo and museums, explored the shopping malls, swam, played crazy golf and gone go karting. We have also been to the beach on Lake Michigan. The sand there is lovely and the water has been slightly warmer than the sea off West Sussex where we'd normally go paddling!
As our time here has been extended indefinitely from our original two weeks, we had a visit from Dad, Jake and Jessica. It was lovely to see them and very sad when they flew off home again. I hope it's not too long before we can see them and to catch up with Post Pals…
Update 19th June 2012
A lot has happened since I last updated in April. Unfortunately, at the end of April, Adam had a MIBG scan which showed that his disease, having been stable for almost 2 years, had progressed. The lymph node that had worried us on his MRI earlier in the year was now definitely neuroblastoma. Obviously, this was all very, very upsetting but we decided we needed a plan of action for treatment.
In early May, Adam and I flew to Hershey in Pennsylvania so that Adam could have blood taken and be assessed for a trial at the Childrens' Hospital there. The trial consists of forming a vaccine using parts of Adam's blood and takes a few weeks to make. It was a flying visit. We flew Monday night, spent Tuesday in hospital and flew home Wednesday night. We were made to feel very welcome both at the hospital and at the Ronald McDonald House there. We managed to go to a car museum on Wednesday morning before going to the airport. And because, it was midweek, we had a very own tour guide whilst there. Adam took a photo of just about every car there.
Once home, Adam had a Port fitted (he'd had 2 very happy, carefree months without a central line) and then started a course of chemo here at the Marsden. Whatever our future plans are, we had to start some treatment in the hope of stabilising the disease. Adam had now had 2 courses and we are due for scans next week. Once we have those results, we can plan what treatment we feel is right for Adam. It is almost certainly going to be in the US.
In the meatime, we are going about our daily lives as normally as possible.  Which means Jake playing as much sport as he can (football merges into cricket over the summer) and Jessica participating in lots of school activities. We all went to a family wedding which was lovely. And we have had a few family days out too – on the few rain free days we've had.
Update 10th April 2012
Thank you to everyone for the letters, cards and gifts that are sent to Adam, Jake and Jessica – and even me, last month! I had a treat from Post Pals for Mothers Day. Jake offered to make me breakfast in bed but, as Nick was off somewhere doing a 20 mile run, I had to get up and make Adam his porridge.  It was the thought that counted!
The following weekend, we went to Center Parcs to celebrate Adam's grandad's 70th birthday. We have been several times over the years but this is the first time since we'd been since Adam became ill. The weather was lovely so we cycled everywhere and the timing couldn't have been better. Adam had his Hickman Line removed 2 weeks before due to it being infected. At some point, he will have a replacement but for now he is wiggly-free, and boy, did he make the most of it that weekend. We spent hours in the pool. It was great for us all but especially for my Dad who fully appreciated having all of his grandchildren with him for the weekend to celebrate his birthday.
Since then, Adam has had a few more days off school before the Easter holidays started. We've pottered around at home on the whole although we did have one trip up into London to visit Madame Tussauds. It was very busy and I thought it wasn't the best idea I'd ever had until we go got to the last exhibition. It was all about superheroes! Adam had a great time and loved the 4D film that finished it all off.
Update 13th March 2012
It's been a very busy few months for Adam. He completed his treatment in Germany at the beginning of January. The whole family travelled out in mid-December for the final cycle of immunotherapy. Adam had a week as an outpatient, a weekend off, and then went into the hospital as an inpatient for a couple of nights before being treated as an outpatient again. And during the weekend off? Well, that just happened to be December 24th and 25th! So the five of us celebrated Christmas in a rented house in Germany and it was lovely. I cooked a chicken and we had Christmas pudding and crackers. Our landlords had put a few decorations up before we arrived and we took the children shopping to choose a few more. Santa was very clever at finding the house to deliver the presents. I think Adam was a little concerned that he'd deliver them to home, but he needn't have worried. Our campervan was rather full on the journey home.
We all came home for a couple of weeks, before Adam, myself and his dad took our last trip to Germany for final scans. Although his mibg once back home at the Marsden showed that his disease was as stable as ever, the German MRI indicated a new tumour. We had a very worrying 10 days before the mibg and results from our consultant here. A follow up MRI at the Marsden shows that there is no change to the 'mass' from the first MRI. What it is, we still don't know and it will be monitored. What we do know is that its not fast growing, aggressive, mibg-avid neuroblastoma.
So back home, Adam had attempted to have a routine that includes going to school. It'll be a while before he's full time but we had got his hours to 10.30 to 3.30 and he was thoroughly enjoying being with his classmates. At some point, we will have to address his lack of education for the last 2 and half years but for now the idea is to concentrate in integrating back into school life.
He's had a bit a hiccup in the last couple of weeks. He got an infection in his Hickman line. In fact, he had about 5 infections! So off to the local hospital he went for IV antibiotics. And as the only thing planned to be going into his infected line for the next couple of months is antibiotics, the decision was made to remove the line. Adam now has no Hickman line. He is thrilled. At some point we may have to consider having something else placed but for now, he is wiggly-free! He plans to go swimming in the very near future. And to get back to school…
Thank you to everyone for our post and Valentines cards.
Update 30th November 2011
It's been a while since I've updated – we've been doing lots of travelling to Germany and back and we don't always have easy Internet access.
After an awful time with cycle one of immunotherapy in Germany (Adam was knocked out by the morphine and ended up in our local with pneumonia), he has positively sailed through the last 2, mainly due to switching from morphine to a different drug with few of the side affects. We spend 2 and a half weeks in Germany and then 2 and a half at home – and whilst at home, Adam has managed to go to school for a few hours each day.
Adam is now at junior school and when there he thoroughly enjoys himself. He sees old friends and has generally settled into the class and school with new teachers. He is now "a proper schoolboy" and came home sporting a black eye – a result of clashing heads whilst playing cops and robbers on the playground. How normal is that?
However, "normal" grinds to a halt every fifth Saturday, when we wave goodbye to our other 2 children and drive across Europe to hospital. Adam is taking it all in his stride. He has the occasional wobble as we leave but we've made the whole time as comfortable as possible. Because we drive, we take a fair few home comforts, and when we arrive, Adam's new friend Ryan – another English boy being forced to make the journey to Germany – is there waiting for him. We spend far longer at the hospital each day than we need to because the boys are having such a good time together.
When we get home there is always a bag of Post Pals post waiting for us. Adam and Jessica love diving through the post. A big thank you to everyone who sends things to the children. Also, a big thank you to Dominic as he writes almost every week – and even sent Adam a postcard from his holiday this month. He was at Disney and I would have thought he'd have too many exciting things to do.
Today (Sunday 6th November) Adam had a birthday party – he will be 8 on Wednesday. He had a handful of friends to play football in the garden and I don't think we could have planned anything better for him. His Dad and big brother did a spot of training with the boys and then they had a short match. Once again, it was all so normal.
We will miss Jessica's birthday though. She is 10 one week after Adam is 8 and we will be in Germany by then. Her grandparents are going to be looking after her and she is already planning what treats they are going to do for her.
Adam recently had a MIBG scan to see how his disease is going. The result is that everything looks to be stable which is good news. He has another couple of scans during the next cycle in Germany and its fingers crossed that the results will back up the MIBG.
Update 5th July 2011
Thank you to everyone who sends mail to Adam, Jess and Jake. The arrival of the post continues to bring smiles to all. Adam is doing very well at the moment. Apart from very dry skin and having to avoid the sun (and yes we have had lots of sunny days this summer!) because of his current oral chemo, he's enjoying life.
Adam, Jess and dad Nick had a great time at the Post Pals party a couple of weeks ago. The bouncy castle and slide was a huge hit as far as they were concerned. A big thanks to all the people involved in organising such a lovely day.
Since May half term, he has been going to school almost every day – although not for the whole day. He very quickly settled into a routine with his old friends. He even has his old reception teacher as his current teacher. He's been on school trips including an entire day at Chessington. He's practising for his year 2 leavers' assembly and as I type this, is attending his induction day at his new junior school. It's about as 'normal' a life as we can make it at the moment.
However, we are now waiting to be given dates for Adam to start immunotherapy in Germany. He has been accepted on the trial there but, as yet, we don't know when we are going. When we do go, we're expecting to spend 2 weeks at the hospital there out of every 5. So we will be home in between. For now though, we're enjoying our home life as much as we can.
Update 11th May 2011
Adam is doing very well at the moment. It's been 3 months since high dose chemo and stem cell transplant. He has recovered all the weight that he lost and seems to be recovering some of his energy levels too. His blood counts are still on the low side but are stable. Easter holidays were quite a turning point. I'm not quite sure if it was the sun coming out or having Jake and Jess off school to play with, but he was full of energy. He did lots of cycling and walking, playing in the garden and we had a few trips to the beach. We even spent an afternoon at West Wittering with Adam wrapped in cling film to protect his Hickman line whilst he paddled. He got a little wet when a wave came over the side of the dingy he was in, but he was a very happy little boy.
Scans show that the high dose chemo has had no effect on the visible disease in Adam. As this is chemo designed to rid the body of any hidden cancer cells to prevent relapse, the fact that Adam's disease burden was stable came as no surprise. We are now in the process of deciding what future treatment Adam is to have. He will have scans next week to see if the disease that's left is still active. The outcome of this will determine which course of action we take. What we do know is that any further treatment is going to be abroad. There are no options here. It's a scary thought and we are trying to get as much family time as we can.
Update 1st March 2011
Adam is home again following his stem cell transplant. I don't think he broke the record for starting pre-transplant conditioning and coming home but he would have been close. Three weeks and 4 days!
As with everything that gets thrown at him, Adam coped with it all with very little complaint. He had 2 weeks where he was unwell but once his blood counts (well, the "white" ones) started to recover, so did he. His red blood cells are going to take longer because of this chemo and the MIBG therapy he had at the start of January – visits to Epsom General for blood and platelet transfusions will be frequent.
He is tired and feels the cold more than he did before but he still has a smile on his face most of the time. His first task on coming home from the Marsden was to play the Xbox with Jake. I think they both missed their play sessions. There will be scans and lots of discussions about what the next course of action is for Adam but for now he's home!
Thank you to everyone who sent post to The Royal Marsden. Adam thought it was great when a letter or two (or three…) arrived at his bed.
Update 31st January 2011
As of yesterday, Adam is at the Royal Marsden in Sutton for high dose chemotherapy and stem cell transplant. It's going to be scary time for all of us but particularly Adam. He's had a lovely couple of weeks at home – he was pronounced no longer radioactive just a week after leaving UCH having had MIBG therapy. So all three children got to run around home – laughing and arguing – as normal. Adam is about as healthy as he'll ever be undertaking this next stage of his treatment. All we can do now is cross our fingers that he's strong enough to cope with whatever it throws at him.
Update 3rd January 2011
We all spent Christmas at home! We were never really sure what the plan for Adam was going to be and at one point he was due to have his next dose of mibg therapy on 15th December which would have made him radioactive over Christmas. As a family, I think we would have had to have had a late Christmas Day if that had happened. However, the doctors had a rethink and he is now due at UCLH on January 5th. So we've had a medical free festive season.
Christmas at home was lovely – grandparents and other relatives came to visit and all the children had a great time. We even managed to go away to the other grandparents at New Year – the first time we've been visiting anyone since Adam was diagnosed in July 2009. Adam was over the moon to be going somewhere different, "where can we go next?" he said. I think he just appreciated the normality of it.
Once again Post Pals have been very generous – to all of us and not just Adam. I even had a box of chocolates or two. A big thank you. It's been a very long year and it has been brightened by the kind people who are Adam's post pals.
Update 26th November 2010
It's been a busy month for us – November usually is – as both Adam and Jessica have their birthday. Adam started off the birthday season a few days before his birthday with a Spiderman party held in his school hall. It was great for him to see his friends as he still isn't able to go to school very often. His actual birthday was a very special day for us all. This was thanks to a wonderful charity called Dreams Come True. Adam got to meet his hero, American wrestler John Cena and to watch the WWE Raw event at the O2. Adam had no idea what was going that evening and it was great to watch his face when John Cena walked into the room. The man himself was very accommodating and had his picture taken with Adam, then with Adam, Jake and Jessica, and then with Adam, Jake, Jess, Nick and myself. We then went to watch the show. I don't think we could have asked for better seats as Adam shouted himself hoarse over the next couple of hours. We all had a great time. His birthday couldn't have been any better. Jessica had a lovely birthday too albeit slightly less exciting! I took her and several friends to the cinema and for a meal. I guess we can't meet wrestling stars every time there's a birthday…
Adam is about to have a short course of chemo in readiness for a third stem cell harvest. Once the harvest is done – cross fingers please that it is more successful than previous attempts – he will go for another course of internal mibg radiotherapy. We have yet to find out how this will affect Christmas but we will make the most of it wherever we are.
A big thank you to everyone who sent birthday greetings and gifts to both Adam and Jessica.
Update 2nd November 2010
Adam is again feeling quite well. He spent the earlier part of October radioactive due to internal radiotherapy. He was isolated in a room for 6 days with only a little contact with his mom and dad and then once he could leave the hospital, wasn't allowed to go home as he couldn't have close contact with other children. So I (mom) took him to our caravan near Bognor Regis. It turned out to be a lovely week. The sun shone every day. We cycled, fed the ducks and did a little bit of tennis and golf! Once Adam was tested and his radioactivity levels had dropped, we came home. Only to go back to the caravan but this time with all five of us.
Since then, he's had a couple of visits to school and enjoyed half term with Jake and Jessica. Now we're waiting for blood counts to go up and we'll be back for hospital visits. Another stem cell harvest is planned, followed by another dose of internal radiotherapy. But for now, we're all home together.
Update 31st August 2010
Adam has had a lovely few weeks – we've spent every weekend of the school holidays at our caravan as a family. Jake's broken arm has meant that we've not been tied down to his sporting activities as we normally would. Every cloud…!! Jake's cast came off today and he'll be off sports for another 6-8 weeks.
There have been a few hospital visits for Adam, but generally he has been well. We've had walks to the beach, played golf and played lots and lots and lots of card games.
Summer is now over for us though. Adam is now at St Georges, Tooting, ready for surgery to remove the tumour in his abdomen. It is a daunting experience for us all but it also a milestone in Adam's treatment.
Update 9th August 2010
Adam is currently in the Royal Marsden for a second stem cell harvest – the first failed to get sufficient cells for future treatment. Adam finally achieved a clear bone marrow result so he can now finally move forward with treatment. He has remained well for the last few weeks and has even managed a short holiday with the family on the south coast. It was lovely to just be away from hospitals and treatment – although he didn't entirely escape. As we were packing the car to go home, Adam got stung by a wasp. He did have a slight reaction to it so we checked him out at a local hospital. Luckily the reaction didn't spread any further than the hand stung, so we continued our journey home a couple of hours later than planned.
Adam's older brother, Jake, broke his arm a few weeks ago whilst re-enacting the TV show Gladiators. He was on a podium above an inflatable with a pugil stick. His opponent knocked him off – as he was supposed to – but Jake managed to fall off the inflatable too. So he's had his fair share of hospital visits.
Once again, Dominic and his mum have made Adam and his parents smile. Adam regularly gets letters – and gifts – from Dominic which are full of tales of life in their household. A big thank you for the letters – one day they should be put together to make a wonderful book!
Big brother Jake has received a few more cards than normal due to the news that he broke his arm just before school ended. He would like to say thank you for the cards and especially for the very kind lady who sent him a skull and crossbones sling!
Update 12th July 2010
This afternoon Adam's brother Jake broke his arm (quite badly) in an accident and he is in surgery having it fixed up. Obviously the family have got a lot to deal with already with Adam's Cancer and this must have quite an effect on the other children in itself. Given Jake's own predicament I think it would cheer him up to receive some mail himself. Thanks very much.
Update 29th June 2010
Adam and Jessica had a lovely time at the Post Pals party. It was great to meet those responsible for helping to put a smile on their faces.
We'd like to say a big "Thank you" to Dominic. He is a fellow 6 year old and his letters are very, very funny. Adam and his mum look forward to them. Adam even got an invite to Dominic's birthday party but it was a little too far to travel. Also, thank you to Jasper and his parents, Matt and Lucy, for sending Adam a lovely collection of foreign coins. We had lots of fun figuring out which country they came from.
Update 10th May 2010
After undergoing the last two rounds of TVD chemotherapy, Adam's latest set of examinations showed that the cancer remains active in both his bone marrow and throughout his body. He had no response to the previous two months of treatment and so his condition has been re-classified as 'stable' rather than 'responding'. Adam has just begun a new course of chemotherapy and will be retested again in July following two cycles of this new drug combination.
We have been amazed at the kindness of people sending messages, cards, letters, and gifts to Adam. We feel guilty that we are unable to respond to all the wonderful people who have taken the time to brighten Adam's day, however, it's simply not possible to do so, and we hope people understand and don't mistake this for lack of gratitude. It is now a definite highlight of Adam's day to receive Post Pals mail. He has started asking what time the postman comes and today as we were driving back from hospital he said he was excited to be going home because he wanted to see if there was anything from Post Pals for him to open when he got home.