Donate to childrens charity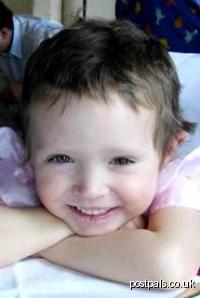 Contact Details
NB: this is a forwarding address, we do NOT disclose home addresses
Other Information
Parents/Guardians - Mike
Interests - Drawing, colouring, craft, swimming, loves dogs and Mr Men
Favourite Colour - Pink
Able to read? - No
Able to use hands? - No
Visually/hearing impaired? - No
Suffers from any developmental delay? - No
Siblings - aged 3 to 16 wishing to receive post
About - Abbie S
Story written 2006
Abbie was diagnosed with Neuroblastoma, an aggressive childhood cancer, in December 2002 at the age of 21 months. The initial signs were positive with the cancer being localised. Sadly Abbie relapsed 6 months later and endured 8 months of gruelling treatment of chemotherapy, high dose chemotherapy and radiotherapy. She was pronounced in remission in early 2004 and enjoyed a year of good health before sadly a relapse was diagnosed. Once again, Abbie endured a range of treatments and was once again pronounced clear of the disease in February 2006. Sadly the success was short lived and a routine scan 3 months later showed that the disease was back stronger than ever.
Abbie has an amazing spirit and is incredibly strong in her fight with this awful disease. By choice she would undergo morning out patient chemo before dashing back to school, anxious not to miss anything. Sadly the only option now is to try and keep the disease at bay with low dose oral chemotherapy but the benefits will only be short lived. The aggressiveness of the disease is such than she can appear better than she has been in months on one day and in the lowest of lowest lows with all the pain and discomfort this involves the next.
Family update 3rd April 2007
A big thank you for the balloons, cards and presents for Jamie's birthday and those who continue to write.
Update September 2006
Post Pals released some balloons in memory of Abbie.
Update 11th September 2006
Our beautiful daughter Abbie died at 7.36 am this morning. After a fairly restless night she began to experience intense pain in her leg at 5.30am this morning. I managed to give her a dose of oral morphine and at around 6.00am I climbed into bed with her and was comforting her. At around 6.45am she began to fit and I was able to cuddle, comfort and reassure her. This was the first time in a while that I had been able to cuddle her as she had been in too much discomfort. Mike took over while I had a bath, then Jamie who was getting ready for school went to her room to say goodbye and she just died.
We are truly devastated that we have lost our child but pleased she is no longer suffering. It is a real comfort to know that only five weeks ago she was playing, running and swimming at a party and this time four weeks ago spent 2 hours disco dancing. Last Monday she made flower shaped biscuits, on Wednesday made a supermarket till out of boxes and collected Jamie from school and Thursday painted egg cups. On Saturday morning we took her for a walk in her buggy to the local shops and she insisted on renewing her library book.
We have arranged Abbie's funeral for Friday.
Update 1st September 2006
Abbie has had a really rough fortnight. She was beginning to perk up and eat a bit more but then suddenly went very subdued, withdrawn and depressed. She has had an upset tummy and some very disturbed nights. We discovered yesterday that she has a very bad gum infection (which may or may not be caused by a tumour in her jaw) and is now on antibiotics. Today she is brighter and really enjoyed making a mirror which arrived from a wonderful Post Pal this morning.
Thanks to everyone for cheering up both Abbie & Jamie – they love opening their post. People's generosity is amazing.